In a culture that rewards going big, the idea of thinking small sounds contradictory. But in the case of design, being constrained by size is a common Peninsula occurrence—whether you're buying a first home, downsizing after the kids are gone, creating an in-law unit for an aging parent or just trying to optimize a particularly petite room. "You want it to look beautiful but you also need it to be livable and really functional," is how Rosanna Bassford describes the small space challenge. As the interior designer behind Eggshell Home, Rosanna helps clients create places "they feel good coming home to every day," no matter the square footage.
Originally from Cupertino, Rosanna took a roundabout road to design. After graduating from UCLA, her first career was in public accounting, followed by an MBA from Northwestern and a second career in marketing. "I had my day job, but I always loved interior design and started doing work on the side," Rosanna recounts. "Then I finally quit my day job and made the leap to full-time design." For Rosanna, leaving the corporate world turned out to be the right decision—her third career is clearly the charm.
While big is often equated with better, Rosanna says there can be real advantages in cozier abodes. "What happens when you have a lot of space is you'll say, 'I need a chair and I need this and I need that' just to fill the space, but in a small space, you don't have that problem. If you have a small space, it makes sense to fill it with things that you really love."
According to Rosanna, making the most of the space you have starts with layout—your floor plan. "With small spaces, you need it to be really functional and sometimes one space can have multiple functions," she explains. The second most important thing is the scale and proportion of your furniture—and the number of pieces. And then, from a decorative standpoint, Rosanna employs a number of design tricks to make small spaces feel larger. By way of illustration, she points to "Modern Glam Peninsula Condo," an Eggshell Home design project in Redwood Shores. The owner wanted to update and refresh this 800-square-foot unit, consisting of one bedroom, one bathroom and one flexible, open-space area. Here are some highlights from Rosanna's approach:
Layout: The owner used the open-space room for three purposes: living room, dining room and home office. Rosanna's client had positioned her office closest to the window with a blue sofa cutting the room in half. Rosanna's first priority: ensuring the most functional floor plan possible. Taking traffic patterns into consideration, she swapped the office and living room, moving the couch against the back wall. "Now when you walk in the door, instead of seeing a desk with piles of papers, you see this beautiful living room, which now flows with the dining room. It really opened up the room and improved the flow of traffic and created an entertaining space. Plus, it brought all of this light into the living room," notes Rosanna.
Furniture: Selecting the right pieces is key with small spaces. "Don't go itty-bitty with furniture just because the space is small. That can make it look even smaller," Rosanna cautions. "Make sure furniture is appropriately proportioned." Rosanna started with the client's own blue sofa and then added flexible, more neutral furniture. "The chairs swivel, which is nice in an open space because you can turn in any direction. And we chose rounded chairs so there aren't as many angles and corners to bump into since they're floating in the middle of a small space." Rosanna suggests selecting streamlined pieces with smaller, thinner arms or more slender framing and storage ottomans and stools that can double as seating or tables and be easily moved around as needed.
Decor: Rosanna always looks for opportunities to take advantage of glass and mirrors—to move light around the room and create a sense of spaciousness. In the condo, the bottom level of the coffee table is mirrored, the dining room table is glass and there's also a mirror in the entryway. For light fixtures, Rosanna's advice is the opposite of what you might think: "I'd err on the side of bigger rather than smaller. One great light fixture is like a piece of jewelry in the room so you don't need a lot of other decor." Introducing strategically-placed area rugs is another way to deliver high-impact results. "The rugs clearly say this is the living room and this is the dining room," Rosanna says. "Instead of just a bunch of furniture kind of floating in the room, we used rugs to effectively create two spaces out of one big space."
Color: Rosanna recognized the perfect jumping-off point in the client's striking blue sofa. "In a small space, I prefer to have one focal point or statement in the room," she says. Rosanna installed her client's colorful (and treasured) travel photographs above the sofa to complete the effect. Next, she wove the blue color palette throughout the condo—from the living room and dining room to the bedroom and entryway—to tie everything together. Stepping into the condo, the impression of unity is introduced with an eye-catching splash of teal grasscloth wallpaper. "There's not a lot of wall space in the entry, so it's a way to add a lot of texture and richness and make it stand out," Rosanna says. "Suddenly, you have a big feature in a small space."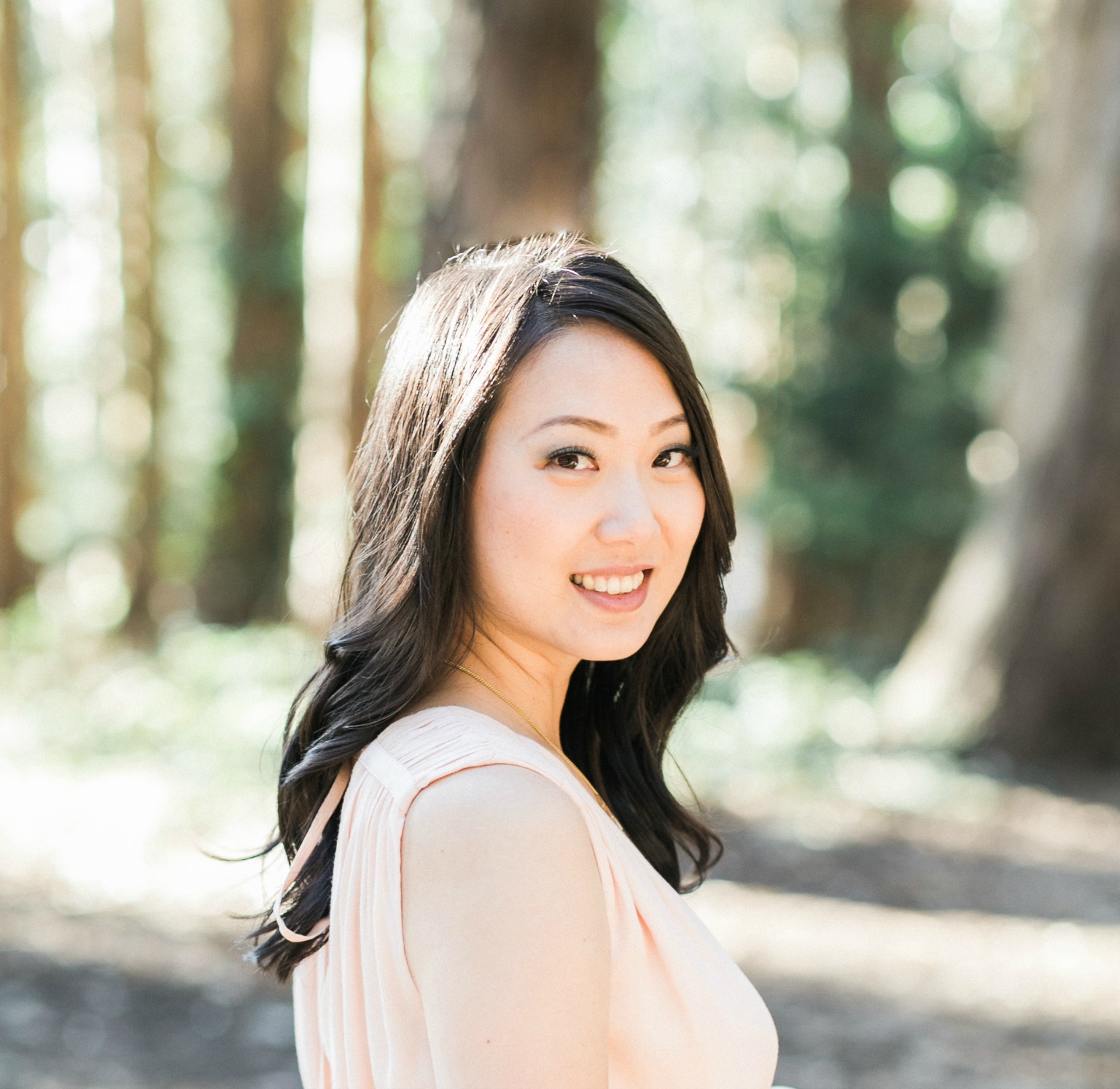 Rosanna emphasizes one tip the most: With small rooms, make everything in them count. "Whether it's your furniture, textiles, decorative objects or artwork,
make sure they're all things that you love as opposed
to things that are just there to fill space."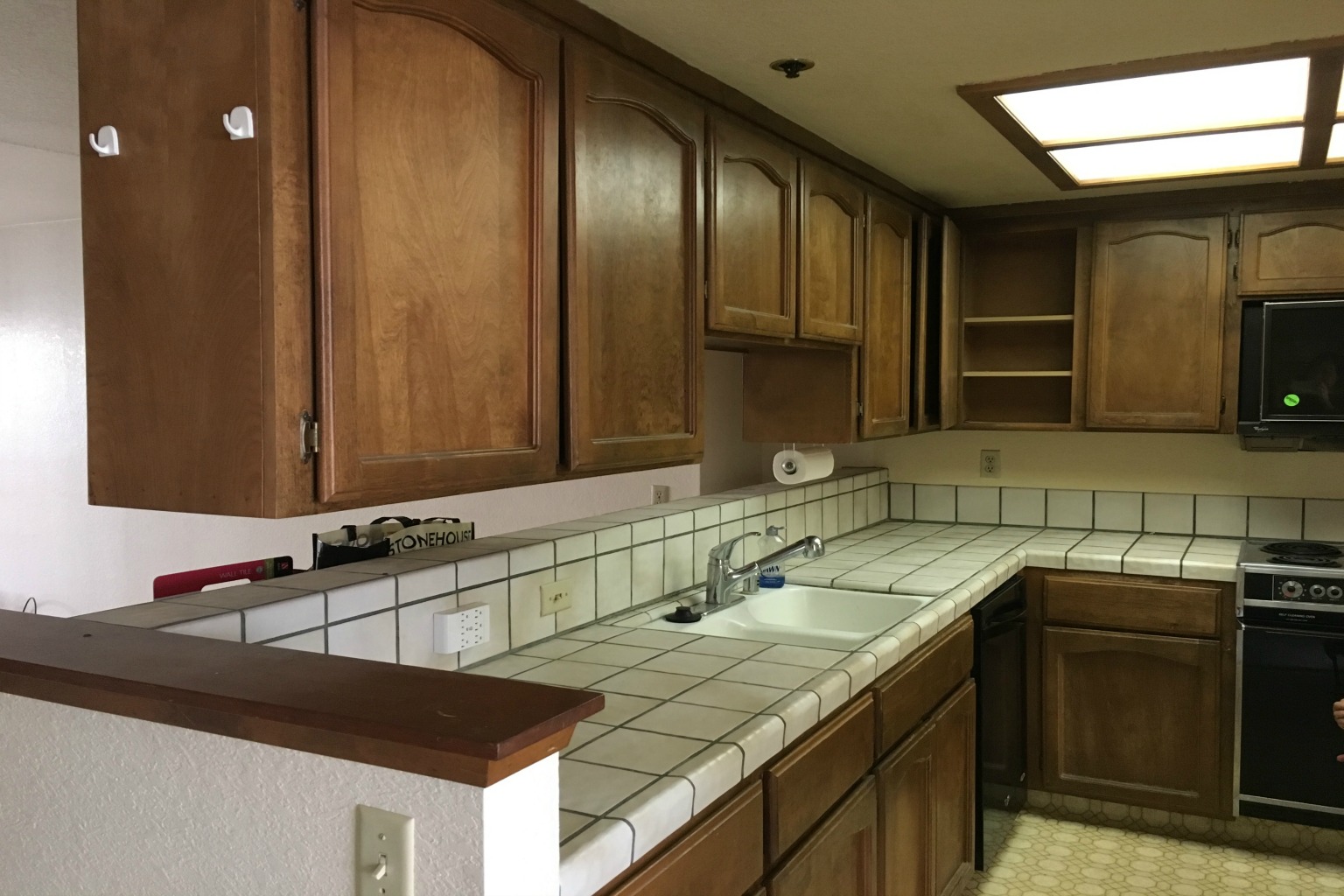 compact kitchen remodel
When Rosanna first saw this compact Peninsula kitchen, it screamed outdated everything: tile countertops, linoleum floors, fluorescent lighting. The client's guidance included keeping the floor plan in place and that electric and plumbing couldn't be moved. "We had a lot of limitations, but we needed to make the space feel lighter, bigger and more open," Rosanna says. Here are a few ways she tackled the challenge:
• Get rid of the heavy hanging upper cabinets above the sink. "That was probably the most dramatic change," Rosanna says. "The cabinets were so dark they were just eating up all the light."
• Originally, the countertop had a short ledge at the end. Rosanna leveled it to make it a flat peninsula. "We took it down and that gave us so much more counter space. Now you can actually do something on the counter."
• Instead of reinserting a microwave above the range, Rosanna installed a chimney hood, which draws eyes up to the ceiling and elongates the space. "In small, short spaces, you want to do things to emphasize vertical height," she advises.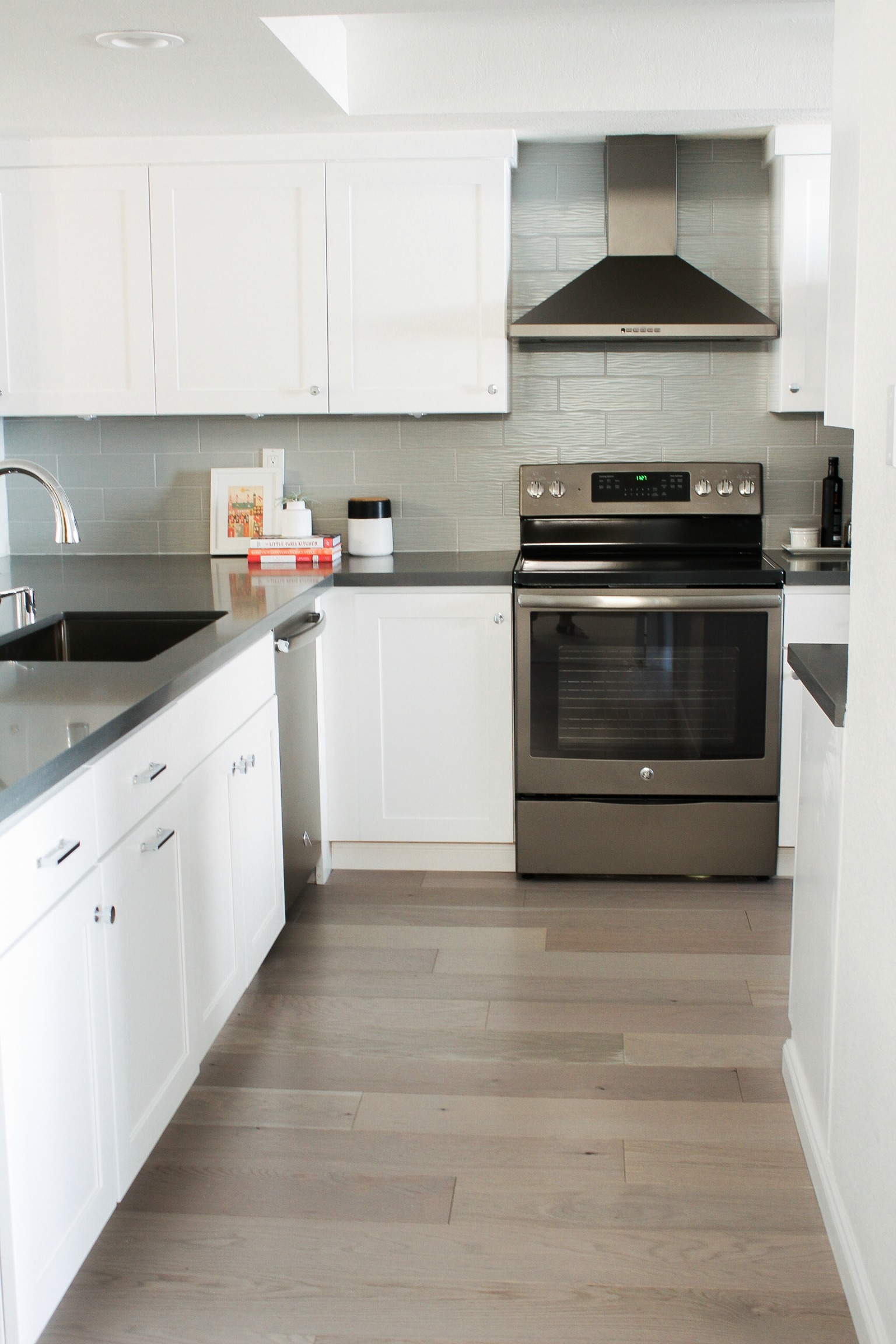 • To lighten everything up, Rosanna selected a white color palette and a soft gray textured tile backsplash. As for the flooring? "Obviously, the linoleum had to go!" Rosanna selected light oak hardwood floors to complete the compact kitchen makeover.