Cold as stone. Joe Concilla would argue it's anything but.
"Stone has emotion to it. Some stones are calming. Others are sexy and exciting," Joe observes. "Different stones have different emotions to them."
Stone can apparently beckon too. While working on their San Carlos home remodel in 2002, Joe and Leslie Concilla found themselves driving back and forth to check out samples. "We knew that the Peninsula didn't have anybody with a presence," Joe recalls. "Everyone was in the East Bay or San Jose." And while Michelangelo looked at a single block of Carrara marble and saw his David, Joe and Leslie took in the sleek, shiny slabs and recognized a business opportunity. "The level of service in the stone and tile industry was pretty mediocre," says Joe, reflecting back on their experiences at the time.
Customer service was something the pair knew quite a bit about. After growing up in the East Bay and studying mechanical engineering at UC Berkeley, Joe accepted a sales job with Hewlett Packard and moved to the Peninsula. "Customer service was just ingrained in me. It was the HP way that you take care of customers, that you do the right thing," Joe says.
Although Leslie initially started out in banking, she also ventured into sales and spent time at HP. The two married in 1991. As a sales VP, Joe found himself on the road three weeks a month. When the couple eventually added three young children into the mix, "It just got to be too much," he summarizes. "It was a great journey while I was there, but after 20 years in tech, it was time to do something different. We wanted to open a business."
In 2005, Joe and Leslie opened Da Vinci Marble in San Carlos, envisioning a boutique high-end store emphasizing customer service. "It kind of exploded much more than we ever thought it would," Joe says, in a nod to the company's current eight warehouses packed full of inventory. Fifteen years into it, Da Vinci imports and sells all types of stone and decorative materials and runs a cut-to-size custom business with a team that includes Joe and Leslie's son Mark and over 50 employees.
Joe recounts a critical turning point in Da Vinci's success—the arrival of the company's in-house "Stone Master" Nasser Al-Robaidi. "My buyer is crazy fanatical about stone. If he sees a stone, he'll know where it comes from," notes Joe. "He has really helped me on the import side to get the quality material. There's a limited amount of it, and just show up and take all the best stuff. It's a process to get to know people."
Italy is known for controlling the best quarries around the world, and Al-Robaidi spends about half the year traveling there, always on the hunt for a hard-to-find granite or dramatically-veined Calacatta. As for Joe, the previously beaten-down road warrior? He says making treks to places like northern Tuscany's Apuan Alps never gets tiring. "The mountain range is gigantic and it's solid marble. Everyone I've taken is always just awe-inspired," he says. "How can we be walking on solid marble? The beauty is just unbelievable."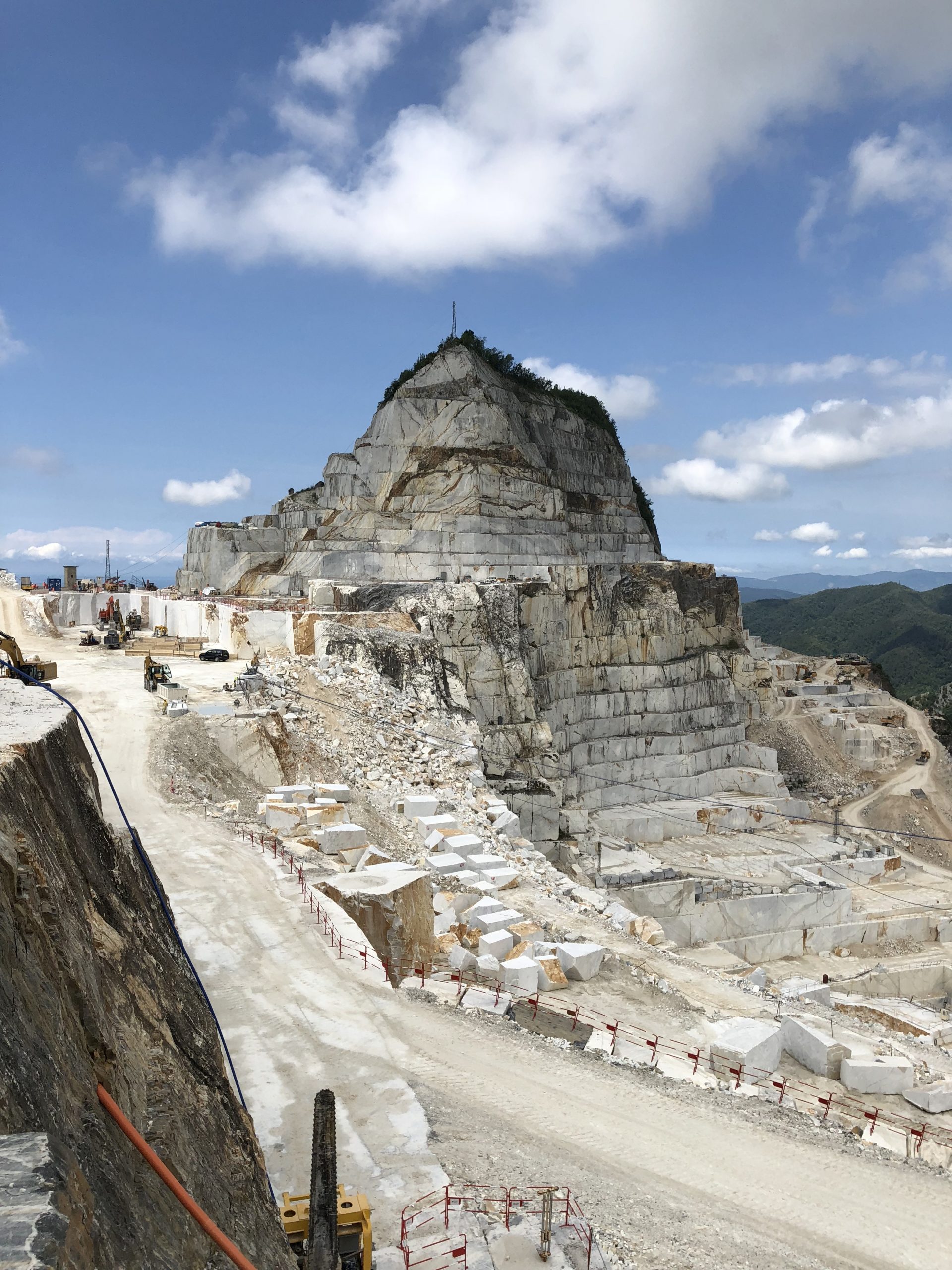 From marble, granite and quartzite to onyx, limestone and travertine, even after 15 years in the stone industry, Joe acknowledges that the myriad of choices can be overwhelming. Asked to quantify it, he says that any given vendor might have 2,000 options—and almost every day, a new container arrives with approximately 80 slabs, each 10 foot by 5 foot and weighing about 800 pounds. "We try to curate the best products from the best lines and that's what we hang on our walls," Joe explains. "There's so much inventory in so many different colors and so many new things coming out all the time. For the big homes, you have to have a designer to help you—it's just too much."
With that challenging prospect in mind, we asked Joe for some additional tips and insights.
How should stone be viewed within the context of design?
We called our business Da Vinci Marble because of all the connotations with Da Vinci and art. Stone, wine and art all go together. When you go to Italy, all the stone people are into wine and they're into good food. The top restaurants will spend a lot of effort and passion going out and finding the best spices, the best meats, the best vegetables—all the best ingredients. If you're a designer and you're designing a house, it's kind of the same thing. The stone is your palette and then how you put it together in the room is what makes it amazing. It really does make a difference in the overall look of the house.
After 15 years in the business, what are the trends you're currently seeing? 
The trend is for linear—anything linear, anything gray, white, calm. White marble is still number one, popularity-wise. We probably have 80 different types of white marble. Quartzite is number two. We also sell a lot of limestone for bathrooms, flooring and exteriors. Absolute black is probably the most popular granite with different textures and finishes—that adds another dimension to the stone. In the past, we saw a lot of smaller-format mosaics; now we're seeing big slabs everywhere. We're seeing slabs on the walls, slabs on the floors, slabs that wrap around the fireplace. In the kitchen, waterfall is a great look and also countertop to ceiling instead of just to the cabinets. We're doing a lot of carved vanities and carved bathtubs out of thick chunks of stone. And then outdoors—just everywhere outdoors.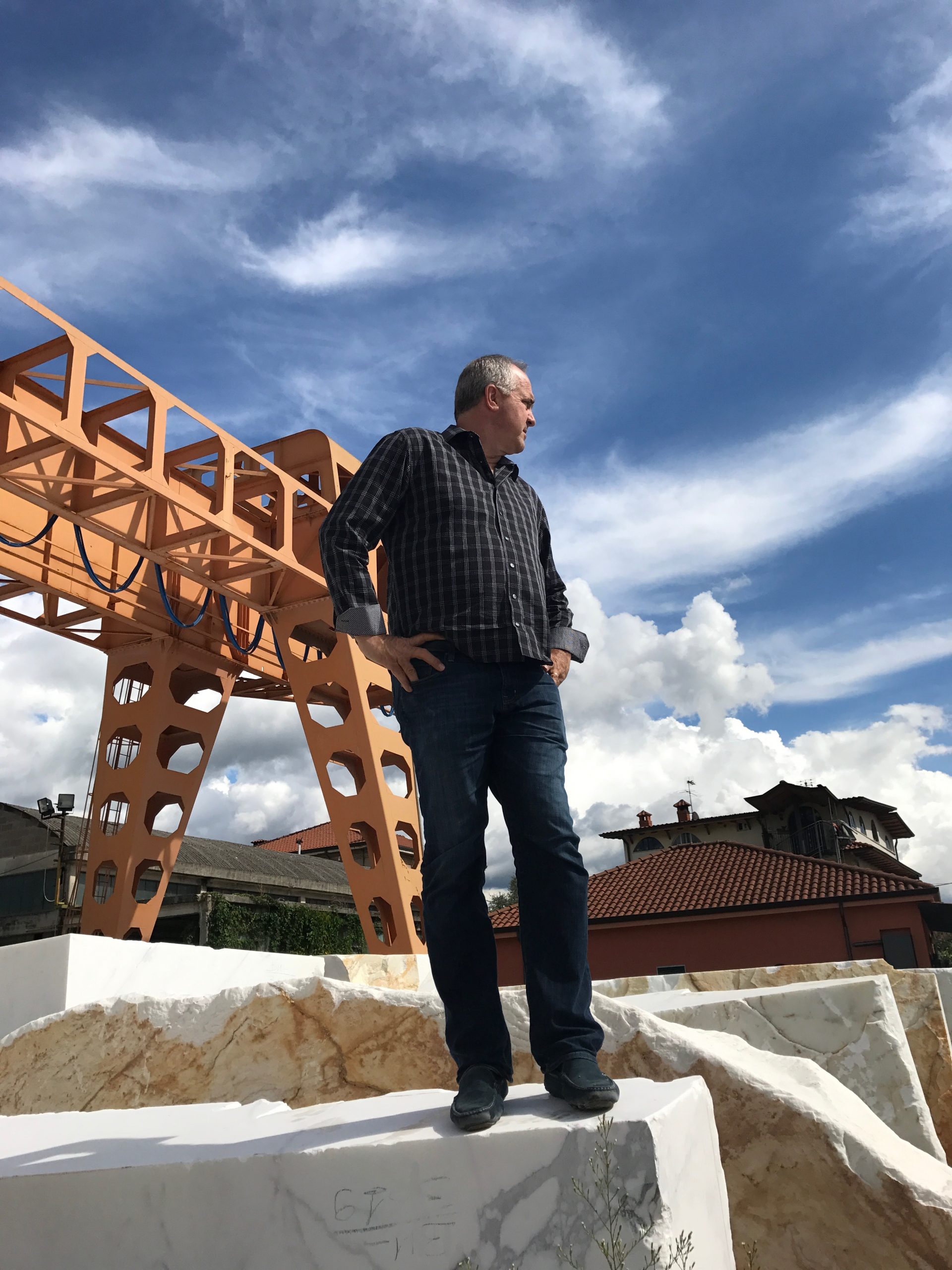 What's critical to know before making a selection?
You have to weigh the beauty versus the practicality of where you might use it in a house. You want to know the technical characteristics. The hardness will tell you whether it's going to scratch easily. The porosity and absorption will tell you if it's going to stain. And does it have calcium? Meaning, will it etch? If lemon juice or something acidic gets on calcium, it eats the shine away. You need to know that before you put it in your kitchen. All stones will etch, except for granite and most quartzites.
How is technology impacting the options that are available?
One of the hottest things in the market is quartzite. It's a natural stone and behaves like a granite. Quartzites are beautiful and look like marbles but they're very durable and won't stain or etch in your kitchen. They didn't used to be able to manufacture quartzites. They would crumble when they tried to cut them into slabs. But now they use new techniques and technologies with diamond blades and diamond wire, so there are all these new stones. Every time we go back to Italy, there are five to ten new quartzites available that have been quarried and discovered.