It would be easy to miss Tripp Distillery, tucked off Palmetto Avenue in an area of Pacifica dominated by garages and warehouses. But once past the nondescript exterior, you enter an emporium of bottles of alcohol in bright jewel tones. A curvy copper still the size of a small car dominates the space.
Jason Tripp, who owns and runs the distillery, taps the surface with gentle affection. "This is Big Butt Sally," he says, smiling. "She was custom-made in Arkansas and it took the craftsman a year to make her. I had to pay 50 percent up front and the rest when she was delivered. It was an act of faith."
Jason creates award-winning alcohol filled with magic tricks. Take, for example, his Pacifica Gin, which glistens like an emerald in the glass. Add a bit of acidity in the form of tonic water and watch it turn Easter egg lavender.
"It's a chemical reaction caused by the botanicals used; in this case, butterfly chickpea flower and orange peel," he says, before gesturing to rows of jarred herbs stacked on a shelf hung over his barrel-bellied stainless-steel fermenter.
Another favorite is his dark-pink vodka that's aged in French oak casks formerly used for Zinfandel. "It has a viscous quality, causing it to stick to the glass," Jason says. "In that way, it's more like wine than a traditional vodka." The unique consistency comes from the fact that Jason ages it uncovered, allowing five percent of the volume to evaporate.
It's his dedication to the details that sets his hand-crafted alcohol apart from the crowd.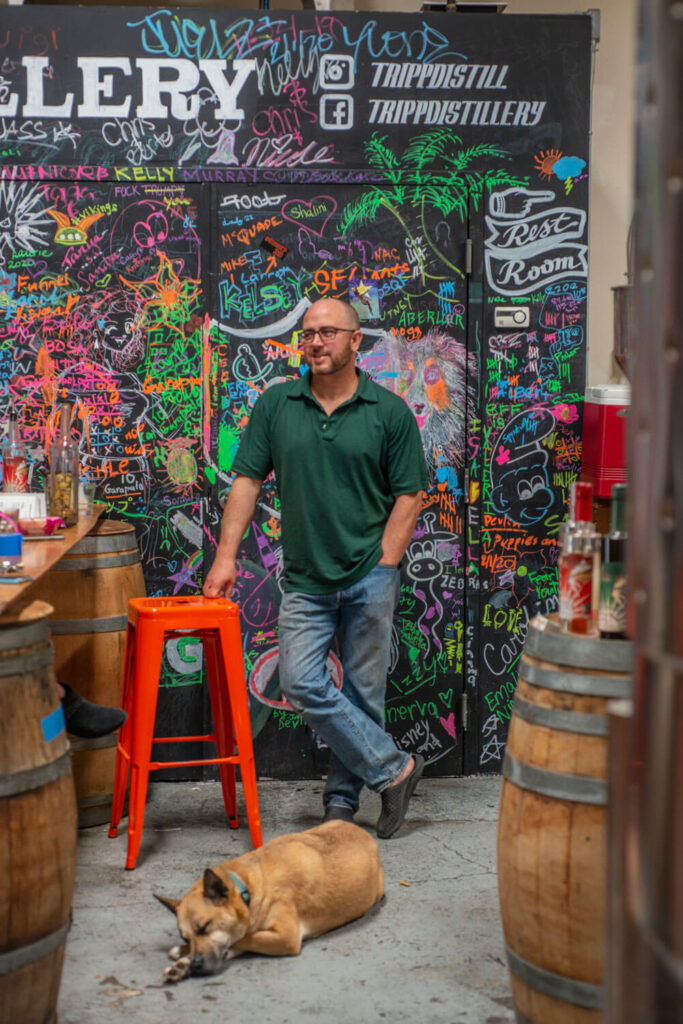 Jason refers to the way he produces alcohol as "retro-tech." In a fast-paced world addicted to the latest gadgetry, he proudly uses technology from 17th-century Europe. All of his alcohol begins as a combination of organic sugar cane juice and molasses, which ferments in a stainless-steel barrel before being fed into the copper still. The rough-at-the-edges alcohol is casked to create aged rum. However, vodka and gin require another round of distilling to reach the necessary 60 proof to qualify. The alcohol is then distilled again through slender copper pipes containing coconut shells and mixed with botanicals.
Presenting the stages in his production line, Jason opens a side door to reveal the beautiful rows of copper pipes. "A factory vodka takes about 14 days to make—ours takes three months while our aged rum takes a year," he explains. Patience and expense are required to use old-school fermentation techniques, multiple rounds of distilling and high-quality organic ingredients. But it's all worth it at first taste. A sip of his emerald Pacifica Gin turns to purple in your glass and hits your tongue with a bright note before mellowing to a light, floral sweetness that's unusual for a strong spirit.
Jason didn't know he'd grow up to make craft liquors, but he always knew he was an entrepreneur at heart. "As a kid growing up in the Ozarks, I'd go out with a gunny sack and collect walnuts," he recalls of an early enterprise. "There was a guy in town who would totally rip us off, giving us eight dollars for a 15-pound bag of them. But I didn't care. I was happy to get the money."
At the University of Arizona where he studied engineering, Jason's savvy business tendencies led him to start his own car wash and waxing operations but he also developed an interest in alcohol. "I remember when SKYY vodka came out in the bright-blue bottle," he says. "I liked how different it was from anything else available." A trip to a tequila distillery in Mexico furthered his fascination with how alcohol was made. He loved the machines, their knobs and gadgets and the control you could command to make a product that was entirely unique.
With a busy family, an engineering degree and a solid career in statistics working in the tech industry, Jason began by illegally distilling alcohol in his backyard. He continued his libation education with internships, a course of study in Colorado and years of reading up on his impassioned hobby. Soon, Jason started to feel like he was ready to launch his own distillery and he placed an order for his Big Butt Sally.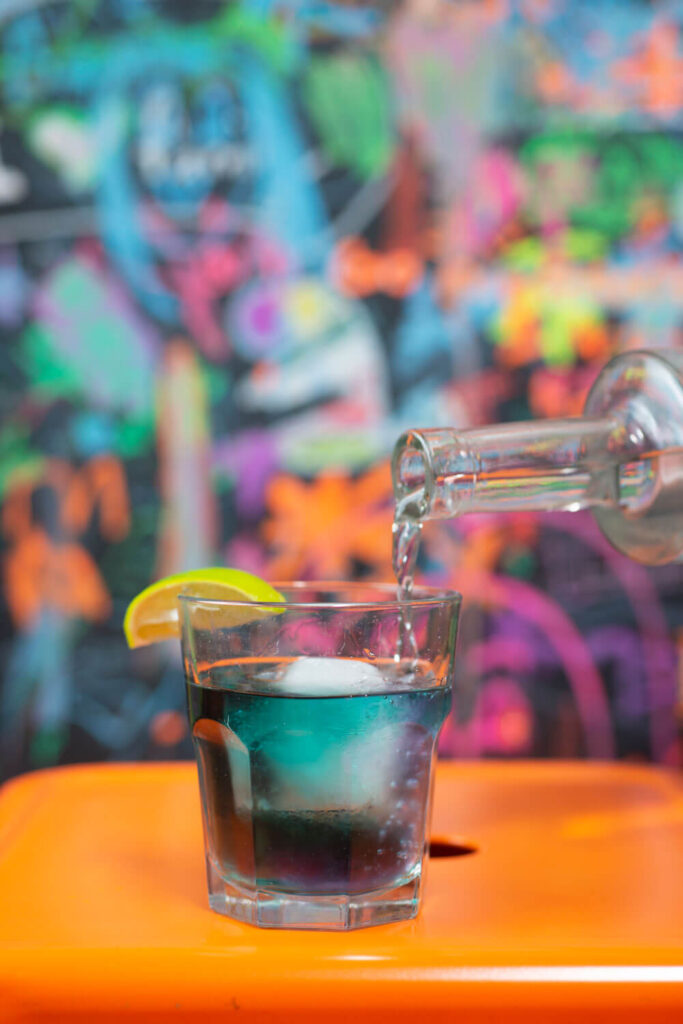 Even after she arrived, it would take four long years before Jason was actually labeling and selling his own brand of gin, vodka and rum. First, there was the difficulty of getting a landlord willing to let him run his still. Then there was the challenge of negotiating fire codes and installing fireproof wood and steel doors to ensure that his space was safe for containing large quantities of flammable material. For the first few years, Jason continued to work at his job in statistics while running the still on the weekends.
This past year, he was able to make Tripp Distillery his full-time job.
Jason is a level-headed entrepreneur who is dedicated to growing his business, but he has a touch of the mad scientist to fuel the creative aspect of his endeavor. Early on, he learned to distill the oils that cause hangovers from his rum but was left with high-proof alcohol unfit for human consumption. Rather than discard this hard-edged waste alcohol, Jason found a way to repurpose it.
"All alcohol has oil in it. Fusel oils are mostly what's responsible for giving you hangovers but with a still, you can take them out. We remove it and mix it with other waste alcohols and create our own lighter fluid," he says, explaining how it adds an extra sweetness when cooking meat. "Regular lighter fluid smells like petroleum—ours smells like cookies."
With some assistance from a skeleton crew of interns and bartenders, Jason now works about 60 hours a week crafting alcohol and running a lively local bar—all in the same room.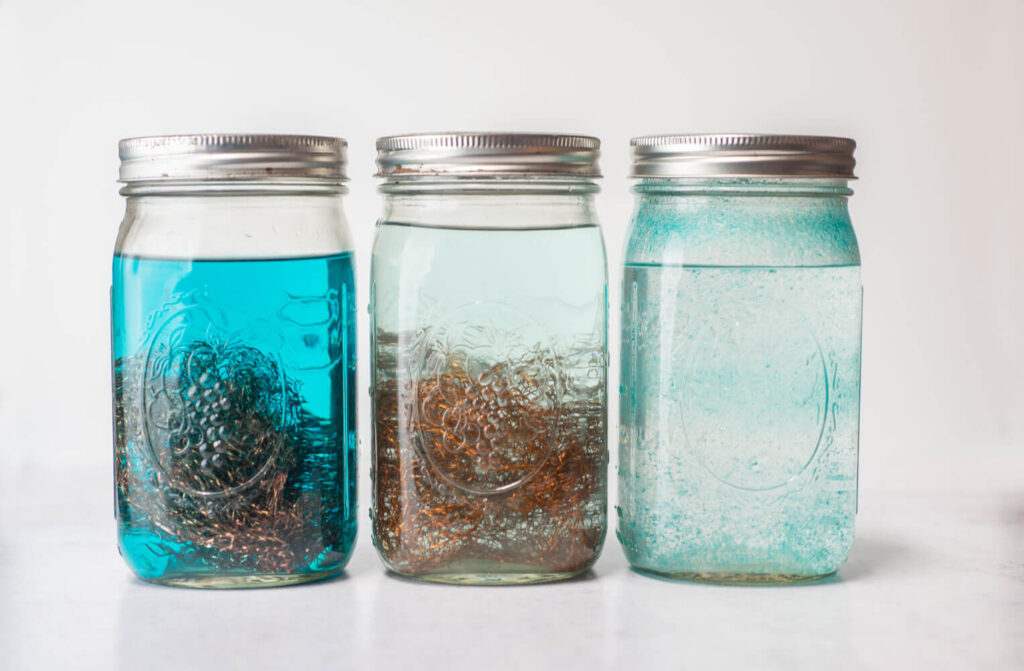 Assisted by his loyal rescue dog, Ali, Jason entices customers with free food, such as chili dogs, Dungeness crab and the occasional donut spread. He also hosts events like sports nights and live music. His award-winning Pacifica Gin, Vodka and Rum are now sold at Total Wine stores throughout the Bay Area and can be ordered anywhere in the country with next-day delivery online. All of Tripp Distillery's products are available during San Jose Sharks games and at select bars and restaurants around the Bay Area.
Jason is working overtime, all of the time, to help his business grow and plans to have alcohol from Pacifica available in bars and stores throughout the country.
Nevertheless, Jason is still heavily involved in all of the grunt work involved in running every aspect of his business, from labeling bottles with an image of winged figures taken from a 1920s lighter fluid to melting down wax in crock pots to seal his bottles. He looks forward to a time when his business is more lucrative and he has more space in his schedule, so he'll be freed up to invent new products.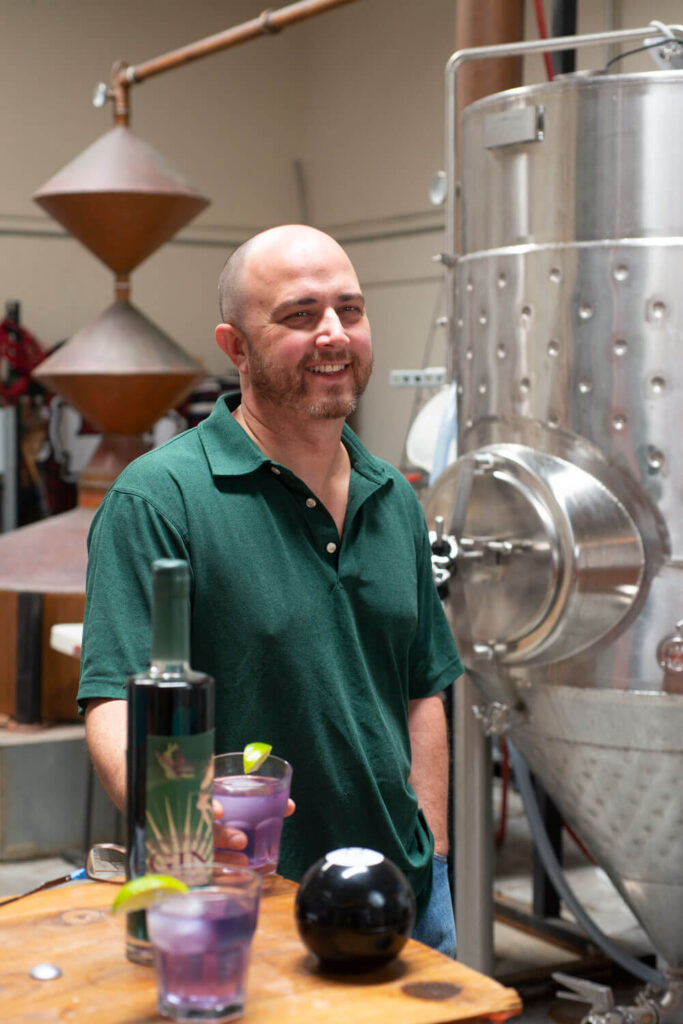 "I like to tinker," he says with a grin. "You can distill anything. I'd like to try Frosted Flakes or Jolly Ranchers." The same curiosity that led Jason to start Tripp Distillery in the first place is the same spirit that will continue to drive its creativity.
How did he get the nerve, you might wonder, to dive into the liquor business with such a fresh take? "I'm an optimist," he says plainly. "I just always believe things will work out."



When COVID-19 struck, Jason Tripp came out fighting—against the pandemic and to save his business. As local bars closed and the NHL put a pause on hockey (and the San Jose Sharks), he knew he had to do something. "We were taking a huge hit," he says. The idea came to him in the middle of the night: "I decided to take my equipment apart and retool it to make hand sanitizer."

After consulting the Centers for Disease Control website, Jason configured a germ-killing recipe of alcohol and distilled water and started running his still 24/7 to max out production. He turned down offers from large entities wanting to buy out his supply and settled on an eight-ounce per customer per day approach—to ensure the broadest access and availability. With a direct line to wholesale supplies, Jason further upped Tripp Distillery's local hero status by offering free toilet paper rolls to anyone in need.
Take a Tripp
trippdistillery.com