Words by Sharon McDonnell
Perched on a headland far above coastal bluffs, Mendocino's mostly white Victorian houses evoke the enchanted village in Brigadoon—especially when the fog creeps in. The look is so New England that the coastal haven acted as the fictional Cabot Cove, Maine, in the TV whodunit Murder, She Wrote. Once a booming lumber port, the town of 850 people just off Highway 1 began attracting artists in the 1950s and boasts a large cluster of upscale lodgings, galleries and independently-owned shops—along with an idyllic Main Street overlook with fields on one side and crashing waves below. Approximately a four-hour drive north of the Peninsula, Mendocino is also a jumping-off point to explore the Anderson Valley wine region and redwood forests.
WHAT TO DO
Mendocino Headlands State Park, with trails leading down to the ocean, surrounds Mendocino town on three sides. Its visitor center, Ford House Museum, located in an 1854 house, displays an 1890 scale model of the town, which looks remarkably similar today (except that back then, shops lined Main Street on both sides).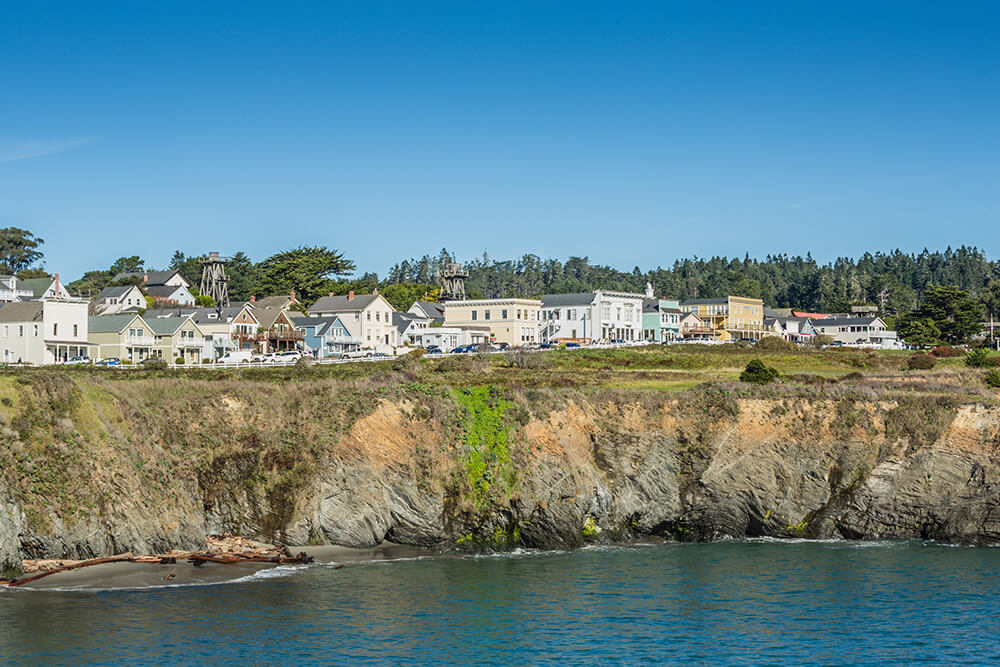 For a soak in a private outdoor redwood hot tub or a steam in a cedar sauna, visit Sweetwater Eco Spa. If you prefer thrilling to chilling, rent a bike, kayak or canoe at Catch a Canoe and Bicycles Too, or take a guided sea cave kayaking tour from Kayak Mendocino, which leaves from a cove in Van Damme State Park.
Kelley House Museum resides in the 1861 home of Canadian-born William Kelley, who spent his early years as a ship's carpenter, but would later come to own almost all the land that comprises today's Mendocino. The museum hosts exhibits on the rich history of the Mendocino Coast, including one on the life of Angela Lansbury, who played the role of mystery author sleuth Jessica B. Fletcher in Murder, She Wrote for 12 years. Her home in the series was Blair House, an 1888 residence that now serves as a B&B. Kelley House Museum also marks the starting point of a delightful two-hour guided walking tour past many more 19th-century white houses (and outliers painted in cream, yellow and pale green) as well as tall redwood-framed water towers. Since there was no city water supply, water was pumped up from wells using windmills, which is why Mendocino became known as the city of water towers. About 30 water towers remain, some now artist studios or lodgings.
Highlight Gallery displays artworks by over 150 Northern Californian artists with many one-of-a-kind pieces like inlaid-wood wall art, "tree" sculptures made of welded bronze and copper and sand paintings composed of over 200 colors of sand. Offerings at Artists' Co-op of Mendocino include coastal landscapes, ceramics, photography, Japanese-style prints and earrings made by fusing different-colored metals into layered patterns, a Japanese craft called mokume gane.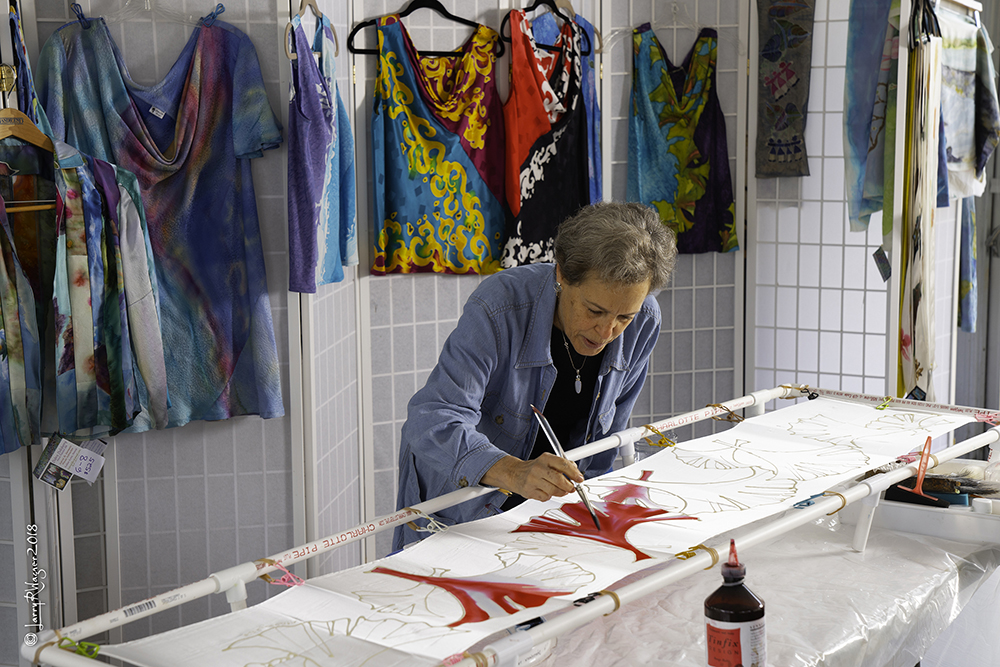 Mendocino Art Center, the game-changer that transformed the town into an art colony after opening in 1959, holds art classes, shows rotating exhibits and offers lodgings to both artists and the public. "I've been looking for this town all my life," wrote Bill Zacha, a San Francisco art teacher who founded the center after spotting Mendocino on a roadtrip and moving here. Its Gallery Store sells Zacha's passion project, 55 serigraphs of Japan's Tokaido Road, with his companion book as a boxed set. Zacha studied woodblocking in Japan with an artist who later taught at the Mendocino Art Center and then opened an art center in Miasa, Japan. The small towns are sister cities and host art exchanges.
During the monthly Art Walk on second Saturdays, galleries extend their hours. Next to the Mendocino Art Center in a shingled building, Mendocino Theatre Company stages plays and musicals in its 60-seat theater.
If you have a yen to browse an eclectic array of locally-made items and specialty foods, Mendocino Country Store sells mustards, jams and pumpkin butter from Carol Hall's Kitchen in Mendocino, soaps and body lotions from Three Sisters Apothecary in Sonoma and candles with irreverent captions from Malicious Women Co. Surprise: A bottle shop for mostly Mendocino wines is in the back. Its bar is a huge redwood slab, its stools are tractor seats. For redwood slabs and custom-made wood furniture, head to Anderson's Alternatives.
Zintara offers globally-sourced women's clothing and accessories, mostly from women-owned businesses and aptly called "wearable art." The Study Club, a large two-story boutique, sells a highly-curated selection of home décor, textiles and women's and children's clothing.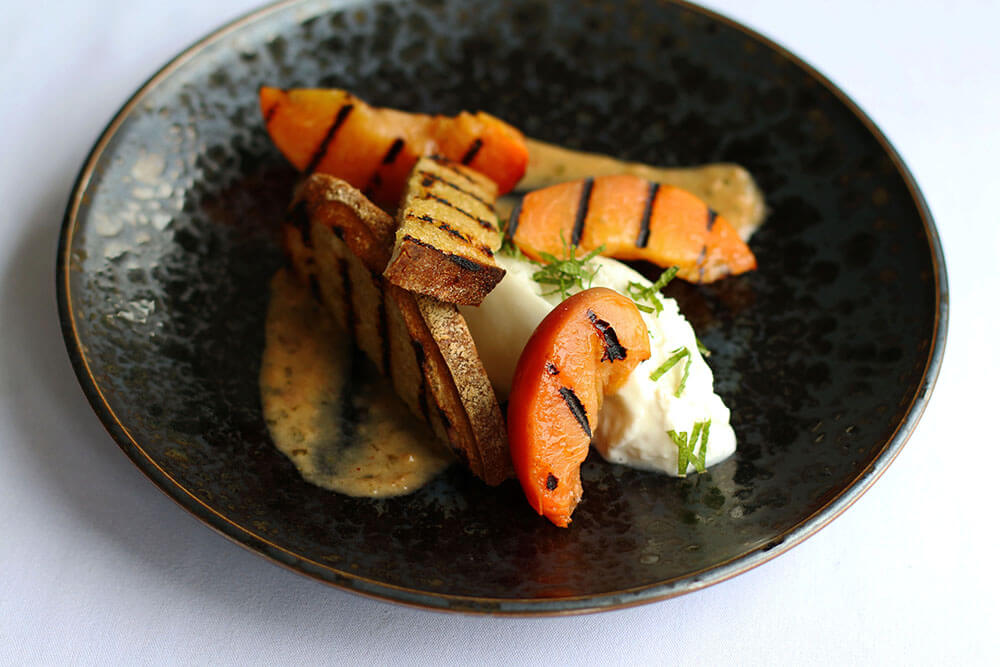 WHERE TO EAT
Founded in 1968, Café Beaujolais, the best table in town for decades, serves elegant seasonal California-French food with a southeast Asian touch in an 1893 pale yellow farmhouse. Their duck breast in a kumquat glaze with Chinese five-spice, meaty Vietnamese-accented Dungeness crab cakes heaped with mint leaves (with a kick from Thai chiles) and coconut-three-ways custard pie are all exquisite. The Europe-dominated wine list is extensive at Beaujolais, whose current owners also own The Brickery, a wood-fired pizza spot in the garden behind Beaujolais, and The Waiting Room, an all-day café that segues seamlessly from locally-roasted coffee and baked goods at 7AM to wine, beer and Port until 9PM, in a living room-like setting with armchairs and cushioned banquettes.
At Mendocino Café, you'll find a tented patio adorned with hot pink and purple Chinese paper lanterns and a deck with expansive ocean views. The Thai burrito is a favorite here: a fat tortilla crammed with beef, chicken, shrimp or tofu in a house-made peanut sauce with brown rice and sweet Thai chiles. Down the street at Fog Eaters Café, a Southern-style vegetarian restaurant with vegan and gluten-free options, there's fried oyster mushrooms in a green gravy of pureed fava beans, cashews and parsley reminiscent of soft shell crab.
Good Life Café & Bakery's large breakfast and lunch menu ranges from pastries baked fresh each morning and bowls of Indian-style pumpkin coconut curry to Mexican standbys and salads.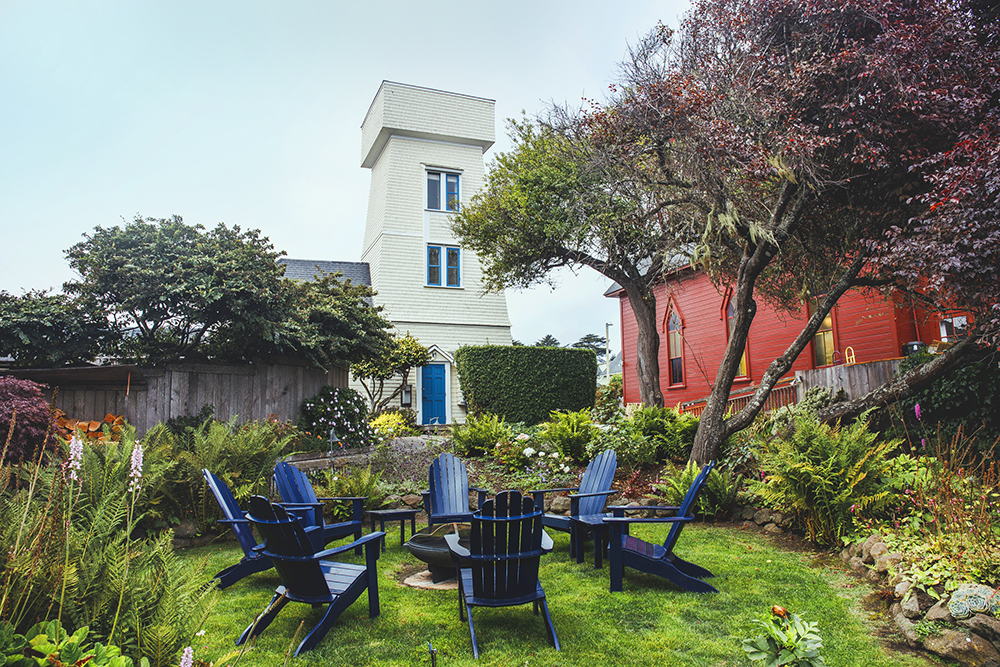 WHERE TO STAY
MacCallum House, a luxury boutique hotel in an 1882 Victorian mansion, offers a variety of lodgings including seven standalone cottages with hot tubs, spacious rooms with carved wood beds in the mansion itself, rooms with decks in a shingled restored barn and all-suites accommodations in a second mansion off-site. The most extraordinary: a triplex in a water tower with a sauna and ocean view. Nicholson House, which opened in 2022 in a handsome 1891 house, has four rooms and three suites furnished in antiques with heated bathroom floors, and plans to add two pet-friendly rooms in late 2023. (The Premiere King Suite offers sweeping ocean views from its bed and private deck.) Breakfast and coffee at The Waiting Room (same owner) are included.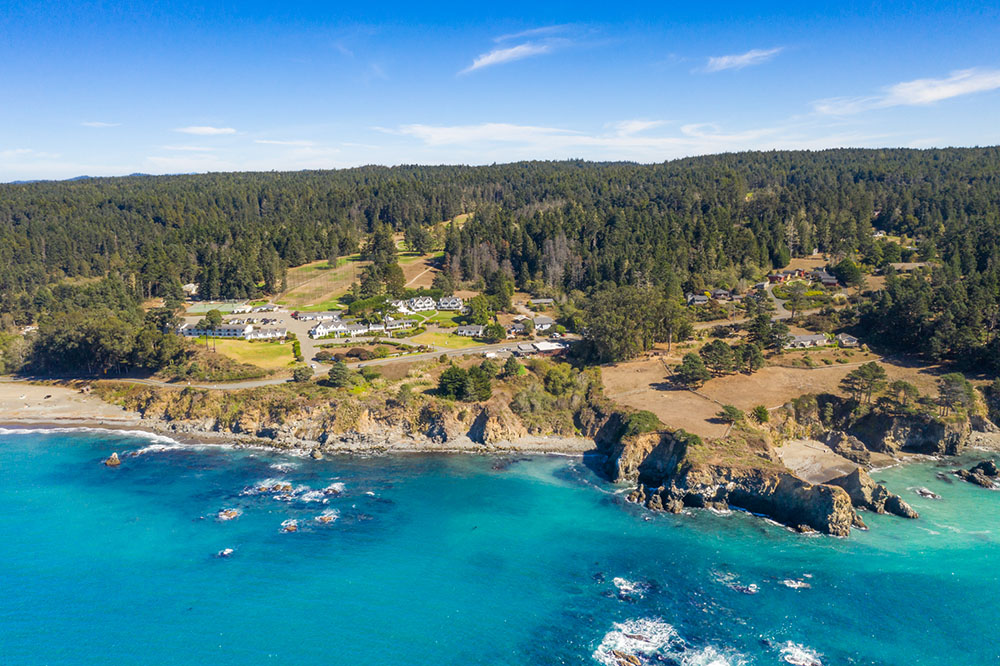 Little River Inn, a resort on a bluff high above the ocean two miles south of Mendocino, has panoramic Pacific views from Adirondack rocking chairs on the decks of its 60-plus rooms. Some rooms are in the historic home of Silas Coombs, a lumber mill owner from Maine, while others are in cottages built after the inn opened in 1939. There are also suites at Mallory House, a few minutes farther south. Fireplaces abound, and some decks boast hot tubs. The resort also has a golf course, tennis courts, spa and the popular Ole's Whale Watch Bar, where you can enjoy ocean views and even whale-spotting from your bar stool.