Mitchell Johnson personally wraps, packages and ships most of the paintings he sells to their fortunate new owners. For a painter whose work appears in the permanent collections of 28 museums and over 700 private collections, you'd think he would have people to do that sort of thing for him. And he certainly could.
But this dedicated colorist likes to personally take care of most things that pertain to his work, including tending to his warehouse workspace not far from Facebook's behemoth campus in Menlo Park. Johnson has an enviable work ethic, but he is also protective of the energy in his studio space. It's rare that he even gives out the address for his studio. It's clear that this is not out of any kind of paranoia, but out of a deep respect for his craft and what it's taken him to reach this point.                                                   
Johnson's official biography would tell you that his paintings are color and-shape driven; that he tended toward brushstroke-heavy, expressionistic landscapes and figures in the '90s and then evolved more toward shapes and brighter color in his paintings of the 2000s. His artistic inspirations range from the likes of Josef Albers, Giorgio Morandi and Fairfield Porter (who was never far from the more well-known Richard Diebenkorn). What his bio wouldn't tell you is that this is a man who reaches out to his interviewer before their scheduled discussion to get to know her and her own interests, as well as her feelings about art and even life.
It also wouldn't tell you that Johnson is an artist who has been known to destroy many of his old paintings. (Willem de Kooning is perhaps the most well-known artist who had this same habit.) Of this, Johnson says that although it is true that artists evolve and that every painting he has done contributes to the next, he also feels that some of his earlier work no longer accurately represents his goals and intentions as an artist. He believes that the ability to change is crucial and he accepts that he will see his paintings differently over time. Johnson feels free to change his mind about what works and what doesn't.
When Johnson gets home from his vigilant nine-to-five working day at the studio, he is a family man, but it is not as if his right brain gets a rest. Johnson's wife, Donia Bijan, is an accomplished novelist, and Johnson actually credits her with his beginning. It was in her Palo Alto restaurant, L'Amie Donia, where he exhibited his paintings while simultaneously showing on 57th Street in Manhattan and with a major gallery in Santa Monica.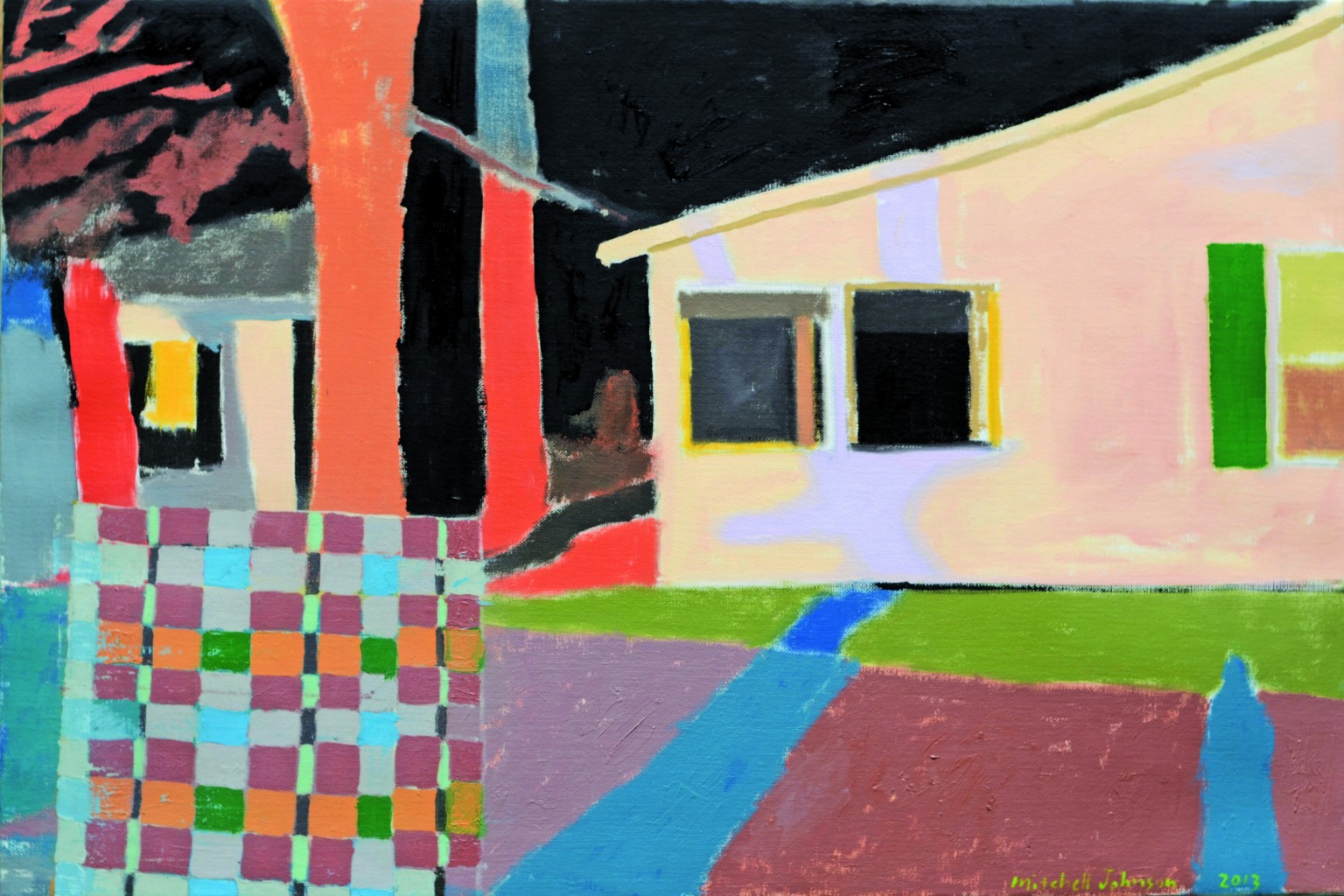 Johnson and Bijan seem to have struck a perfect balance as spouses who are each in the top of their artistic fields. Together with their son, they perfectly orchestrate their holidays and artistic pilgrimages to maintain a healthy home/work balance. They pick spots and times where Mitchell will be able to paint, Donia can write, and their son—who is showing interest in art history and languages—will have some enriching endeavor to take up his time. Johnson and Bijan are one another's biggest supporters in the purest way, which is unmistakable when you hear him speak.    
Some of Johnson's most fascinating insights come when speaking about the internet's impact on the art world. Social media transformed gallery-artist relationships in a myriad of ways, he says. Showing at galleries, which Johnson has done many, many times, has actually hindered him. "When a gallery does well with your work," he says, "they obviously are going to want more of that same work." This kept him from growing and evolving as an artist and has made many other artists feel that they couldn't paint what they were meant to at a given time when in contract with a gallery. "Artists are involved in a long-term gambit, they are navigating a lifetime; galleries are trying to have a good month. The internet supports artists in one way and galleries in a completely different way."
Of his need to grow and change, Johnson says that he reminds himself, "You see the world as you are, not as it is. The most immediate evidence of this reality is how we all experience and make sense of color in a unique way." He believes that paintings are a reminder that every person assigns different meaning to everything in life, not just a given painting, and that is especially true when Johnson thinks of those early landscapes shown at  L'Amie Donia.
There will be no open studios to speak of for this fascinating albeit private man, though he knows the times in his warehouse are limited as the Facebook campus continues to grow. Until then, Johnson will continue to "go to the studio to do what you don't know, not what you do know."
If you're lucky, though, you'll one day get a glimpse of the elaborately painted fence in front of Johnson's home that's become a staple of his neighborhood. (You can also catch his work in The New York Times Magazine, on Instagram and in person at Flea Street in Menlo Park.)