Words by Elaine Wu
Those who believe you should never mix work with your personal life have never met Chad and Monica Kaneshiro. It's precisely that blended partnership that has led to the success of their popular breakfast & brunch spot. This husband and wife team are rarely apart, teaming up as chefs and owners of the recently relocated Morning Wood restaurant in San Mateo. When they're not working together in the kitchen, they'll often be trying new restaurants or grabbing a drink while brainstorming fresh ideas for their menu. "Most of our research is from our own experiences eating out," says Monica.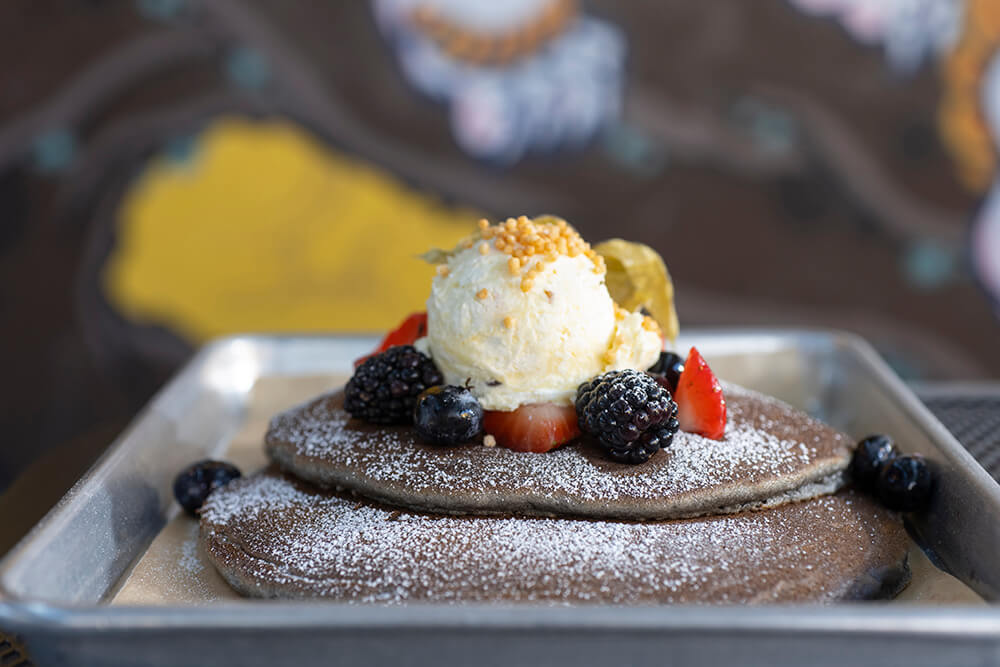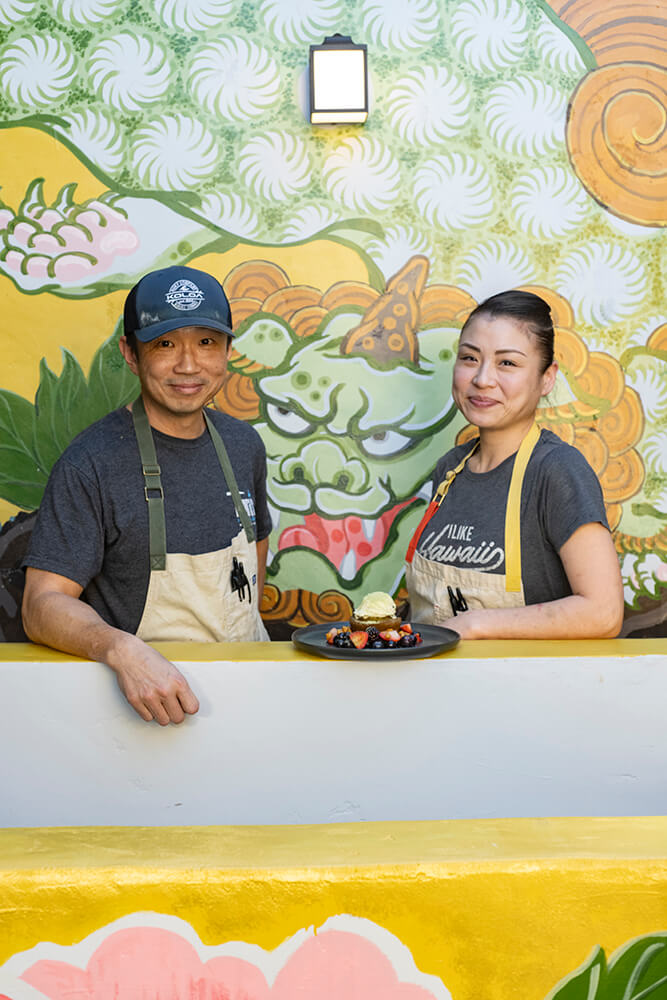 After shuttering Morning Wood's original San Bruno location in 2020 after three successful years in business (it has since turned into Diamond Head General Store, a Hawaiian brunch spot run by Monica's mom), the restaurant moved to its new, roomier San Mateo space in late 2022. Gone are the massive two-hour-long waitlists for walk-ins that plagued their original restaurant. Morning Wood is now reservation-only (9AM to 2PM), though limited walk-ins are sometimes accommodated on weekdays. "We wanted to get rid of the long lines because we started to feel bad about the wait times," notes Monica. "We also wanted a space with a patio." What remains unchanged, however, are the bold and eclectic Asian-fusion dishes that people have come to know and love.
Both chefs have lived and worked in professional kitchens most of their lives. Monica's family owned and operated various restaurants in the Bay Area, so it felt like a natural step for her to go to culinary school before working in kitchens like The Village Pub in Woodside and True Food Kitchen in Palo Alto, where she met her future husband.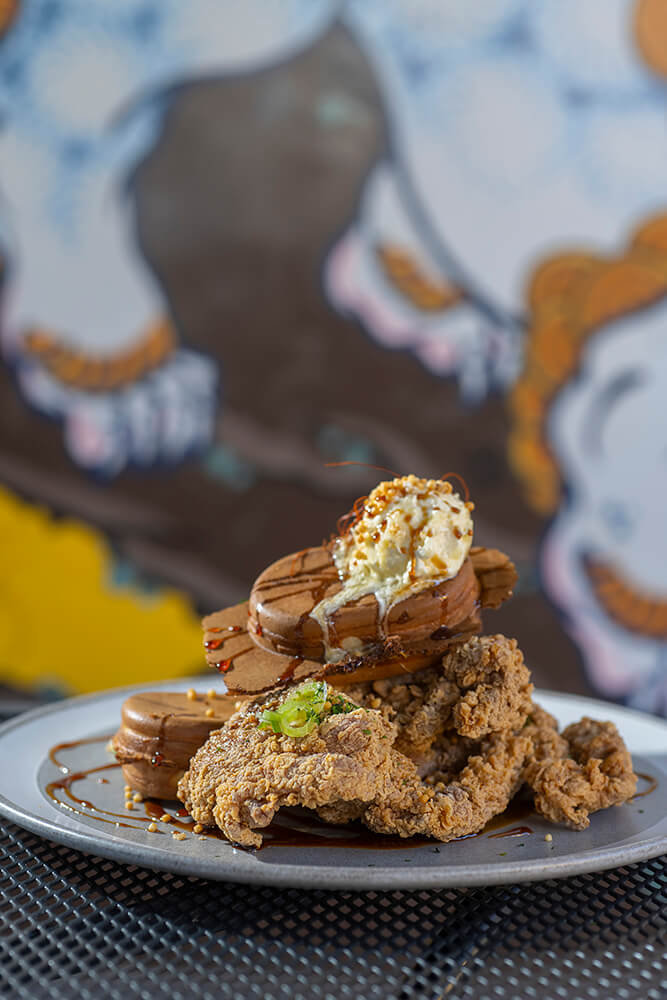 In 2000, Chad moved to the Bay Area from his native Hawaii hoping to find more culinary opportunities after working in restaurant kitchens since he was a teen. He rotated through all aspects of running a restaurant while working for the Straits Restaurant Group in management and as an executive chef. After years in the industry, the couple realized they'd had enough of working for other people. "We just wanted a place where we could make a decent living, cook what we wanted and not work until 1AM every night," explains Chad.
Morning Wood's brunch menu combines "French technique, Hawaii roots, Korean boldness and Japanese sensibility" with culinary creativity. "I'm not expecting any food awards or to get rich doing this. We're realistic," remarks Chad matter-of-factly. "But we still have high standards." That appetite for excellence means they still do things the hard way, preferring to tackle the kitchen prep and cooking themselves, day in and day out. But spending so much time together also feeds their mutual sense of competition. "We get along great, but we are total opposites," confides Monica. "We will start bouncing ideas off of each other and then try to one-up the other. That usually ends up making a recipe even better."
The result is a menu that reflects the dishes they themselves would want to eat. Items change daily according to supply and, frankly, how the chefs are feeling that morning. Their playful experimentation means French toast might be deep-fried in corn flakes and panko breadcrumbs then slathered in bacon jam one day—followed by popping boba and fresh strawberries the next. "Our portions are generous because that's how we like to eat," Monica relays. "And we like bold flavors. There's nothing subtle or muted about our food."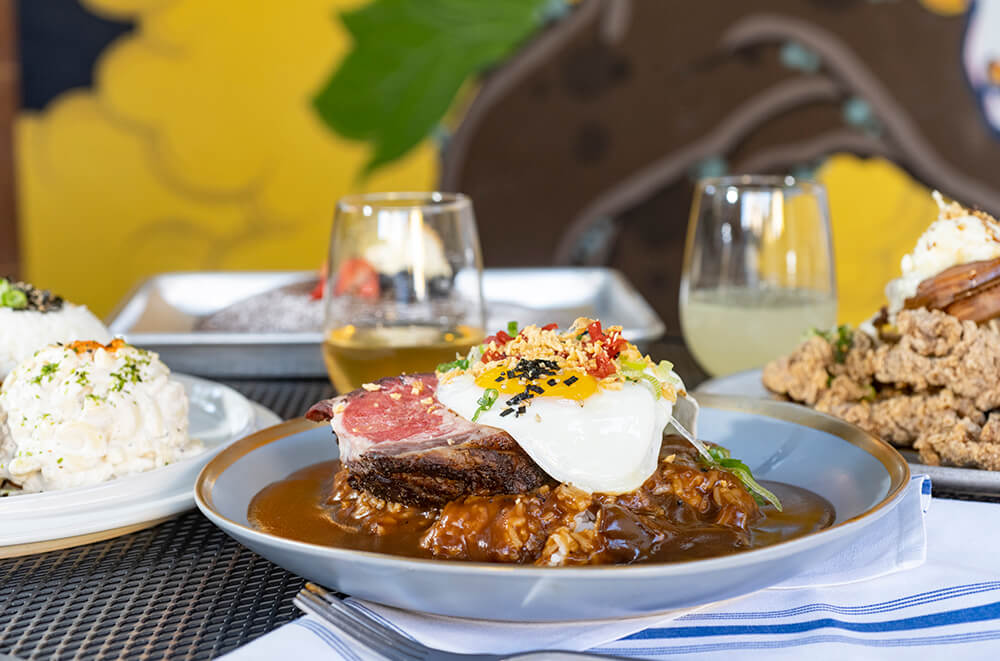 Customer faves like the mochiko chicken and waffles (served lately with adzuki bean and black honey syrup), loco moco (their version of the Hawaiian rice, meat and gravy breakfast staple, currently made with prime rib) and mochi pancakes (ranging in flavors from matcha to pineapple) will usually remain on the menu in one form or another.
To maintain the integrity of each dish, they opt to limit customer modifications and food allergy accommodations. "Everything we put on the plate has a purpose," Chad asserts. "Those are the flavor combinations we envisioned. It's very personal."
Unquestionably, a meal from the Kaneshiros comes straight from the heart. "We want people to come to our restaurant thinking they're a guest in our home," affirms Chad. "We want them to be full and happy."