Mountain bike enthusiasts will tell you the sport got its start in the switchbacks and grinders of Marin County's Mount Tamalpais, but the Peninsula's trails also see plenty of knobby tire action. And while the stereotypical image of a rider might be a thrill-seeking 20-something adrenaline junkie, mountain biking actually attracts a much wider audience and broader demographic. "There's really no type of person who is a mountain biker. It's across the board," says Chris Atkinson, sales manager at Palo Alto Bicycles.
"Given the variety of trails we have, it's a low enough impact sport that people of all ages can participate at whatever level they're into."
As a passionate cyclist, Chris personally owns seven bikes—from sleek road bikes to a beach cruiser—but he says mountain biking delivers an entirely immersive experience: "It's a direct connection with nature. You're more secluded from other people. It's more technically challenging because of the terrain and it uses more than your leg muscles. You have to use your body weight, your arms, side-to-side balance muscles and hand-eye coordination, so it's much more engaging."
Even for veteran road cyclists, the idea of going off-road can be daunting. Ben Jones, general manager of Cognition Cyclery in San Mateo and Mountain View, acknowledges that mountain biking carries a fear and intimidation factor—but says it's undeserved. "I think it's stigmatized a little but it's just riding a bike. It's about fun and having a good time. Above and beyond road biking, mountain biking is 100% about just having fun."
If the idea is more tempting than terrorizing, there are plenty of local resources to help get you started. And thankfully, when it comes to gear, you don't have to go "all in" to find out if you like it. Cognition Cyclery is just one of several Peninsula bike shops that offers a mountain bike demo program. For $85, you can get fitted and try out a full-suspension bike for 24 hours, with rental fees applied toward a purchase. Add in a helmet, bicycle gloves, sunglasses and optional padding, and you're ready to go. The next tip: Be smart and don't go it alone.
"Go into your local bike shop and ask them to connect you into the mountain biking community," Ben suggests. "When you're getting started, it's so much easier to go with a friend or a group or some kind of coach—so you can get on the right level of trail and know what to do." Chris concurs: "Getting some advice from an expert is going to help you avoid some of the frustration and possible pitfalls. There are plenty of local bike groups and online meetups where you can ride with other people of your skill level."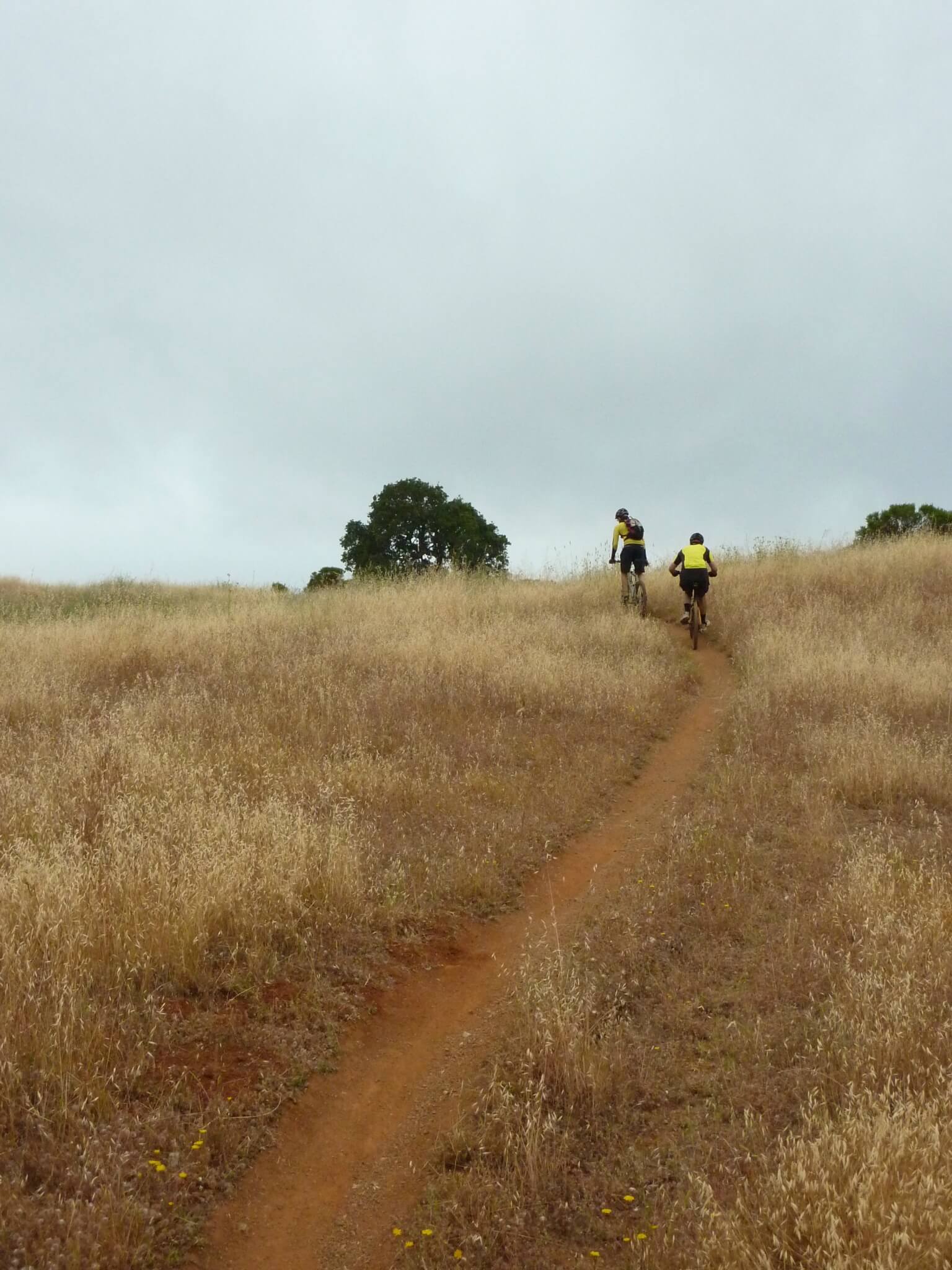 Being smart and planning ahead are clearly encouraged here. No adventure sport is risk-free and mountain biking can deliver its share of knocks. "Even if you slide out and get a bruise, that's no different from skiing. It's a little more contact-involved," Ben says. "I wouldn't say it's easy but it's as hard as you want to make it."
That's where trail selection comes in—from more casual beginner rides to the most technically challenging—the Peninsula has options for every kind of rider. "For some people, it's 100% adrenaline; it's the rush you get. For others, it's just about getting closer to nature, an escape from being around people all the time," explains Ben. "If you're willing to drive 15 to 30 minutes, you can have a great time on almost any kind of mountain bike trail. We're extremely lucky to have that at our fingertips."
Mountain bike enthusiasts also credit online resources for making the sport even more accessible. For example, REI Co-op's MTBProject.com offers a crowd-sourced guide that includes Bay Area trails and extends across the U.S. and around the globe. But that wasn't always the case. When software engineer Ergin Guney caught the mountain biking bug back in 2005, he couldn't find any local sites offering a sufficient level of quality detail and insights.
As a result of his "geeky disposition," Ergin found himself carefully documenting his explorations—including GPS data and corresponding photos—with the idea of creating "the kind of website that I originally would have liked to use myself." Initially listing 75 local trails, Ergin launched Bayarearides.com in 2010 and today the site captures over 180 Bay Area options (including suggested parking) with nearly 30 just on the Peninsula. Bayarearides.com is now considered one of the top regional cycling websites in the country, and Ergin still rides every weekend to keep the content fresh.
Whether you're just a novice or a mountain biking wheelie pro, here's a sampling of excerpts from Ergin Guney's favorite Peninsula rides:
Arastradero
7 miles 1,350' climb 3.5 hours
A small city park with a reasonable selection of singletrack and fire roads that would be a good place for a beginner due to having no big climbs as well as a "quickie" option for an experienced rider.
Pearson-Arastradero Preserve is one of those city-run, small open space preserves that are much more generous in their proportion of bike-legal singletrack (a narrow trail ridden single file) in the trail network than many preserves that are much larger in size. All trails in this park are open to mountain bikes. That earns my respect! There are no long climbs at Arastradero. So, it could qualify as a good place to bring a beginner mountain bike rider, especially if you want to include some singletrack in the mix. That doesn't mean that you won't have to pay attention to your route choice, though. While the total amount of climbing is not significant, some short sections (mostly on fire roads) are pretty seriously steep and may present some unnecessary challenge to an out-of-shape new rider. Still, those can always be walked by beginners. Even for experienced riders, there's quite a bit of fun to be had here.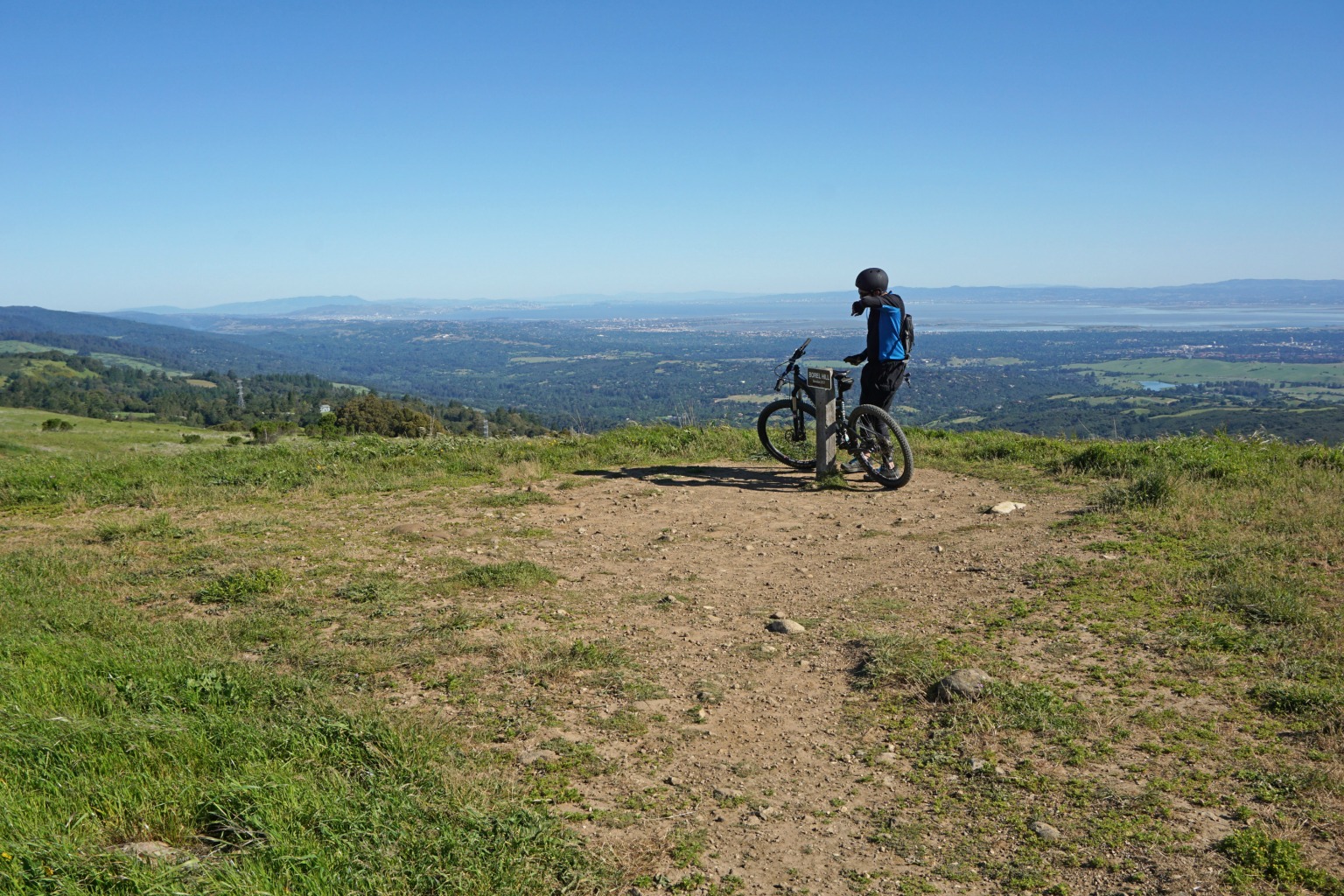 Russian Ridge
8.5 miles 1,700' climb 2 hours
A short and relatively easy ride that rewards with some fun singletrack and a big dose of scenery.
This is not a big park, but it's got a lot to offer for its size. Some of the singletrack in this park offers beautiful views both to the east and to the west, owing to the position of the park on the spine of the Santa Cruz Mountains. In addition, there are three other neighboring open space preserves around Russian Ridge with mountain biking opportunities in each (Monte Bello, Coal Creek and Skyline Ridge). So, it's entirely possible to string together your own "mini epic" ride, threading through two or more of these. The trail you take from the parking lot leads to a fire road that quickly brings you to some of the highest elevations in the park. Before diving back into singletrack, pay a visit to the top of Borel Hill. This unassuming knoll has the distinction of being the highest spot in San Mateo County.
Water Dog
7 miles 1,450' climb 2.5 hours
A small city park with an out-of-proportion amount of fun, technical switchback.
Water Dog Lake Park in Belmont is a rarity: An urban park that provides a high amount of surprisingly fun singletrack trails for mountain bikers. On top of that, many trails at Water Dog are actually challenging enough to satisfy intermediate and advanced riders as well. (Another surprise!) And, while the total trail lengths don't exactly add up to an epic amount, if you don't mind a few repeated loops and traversing the same trails in opposite directions here and there, you can string together rides of very satisfying scale in this little "neighborhood park." Canyon Creek Trail, which is a technical singletrack climb, is one of my favorite trails in the park—its steepness and technical difficulty is enough to be a juicy challenge for me without being beyond my ability. It's a very picturesque one, too; you weave around rock gardens and edge along the water's path while, most of the time, you're under a low canopy of small trees and chaparral.
Skeggs Point
9.5 miles  2,100' climb 3 hours
I'm pretty sure there's no better mountain biking in the Bay Area.
Skeggs Point (El Corte de Madera Creek Open Space Preserve) is one of the top candidates for the "best mountain biking location" award in the Bay Area and might just be my personal number one. The park covers a decent-sized area and features lots of trails, many of them first-class singletrack. These trails also range over a decent spectrum of skill levels. The terrain of the entire park is rugged, hilly and under forest cover (with the exception of a couple of small patches of chaparral). The park used to be utilized as a motocross playground for some time before the 1990s. Even before (and during) that, it was a logging area. You'll notice this in the names of numerous trails here. Many fire roads in the park are old logging roads. For the same reason, all of the redwood trees you see in the park are second-growth trees (with at least one notable old-growth exception, marked on the park map). Almost all rides at Skeggs are of the "have your fun first while descending, then pay the price while climbing" kind. Not my favorite… But the quality of the trails in the park more than makes up for it, believe me.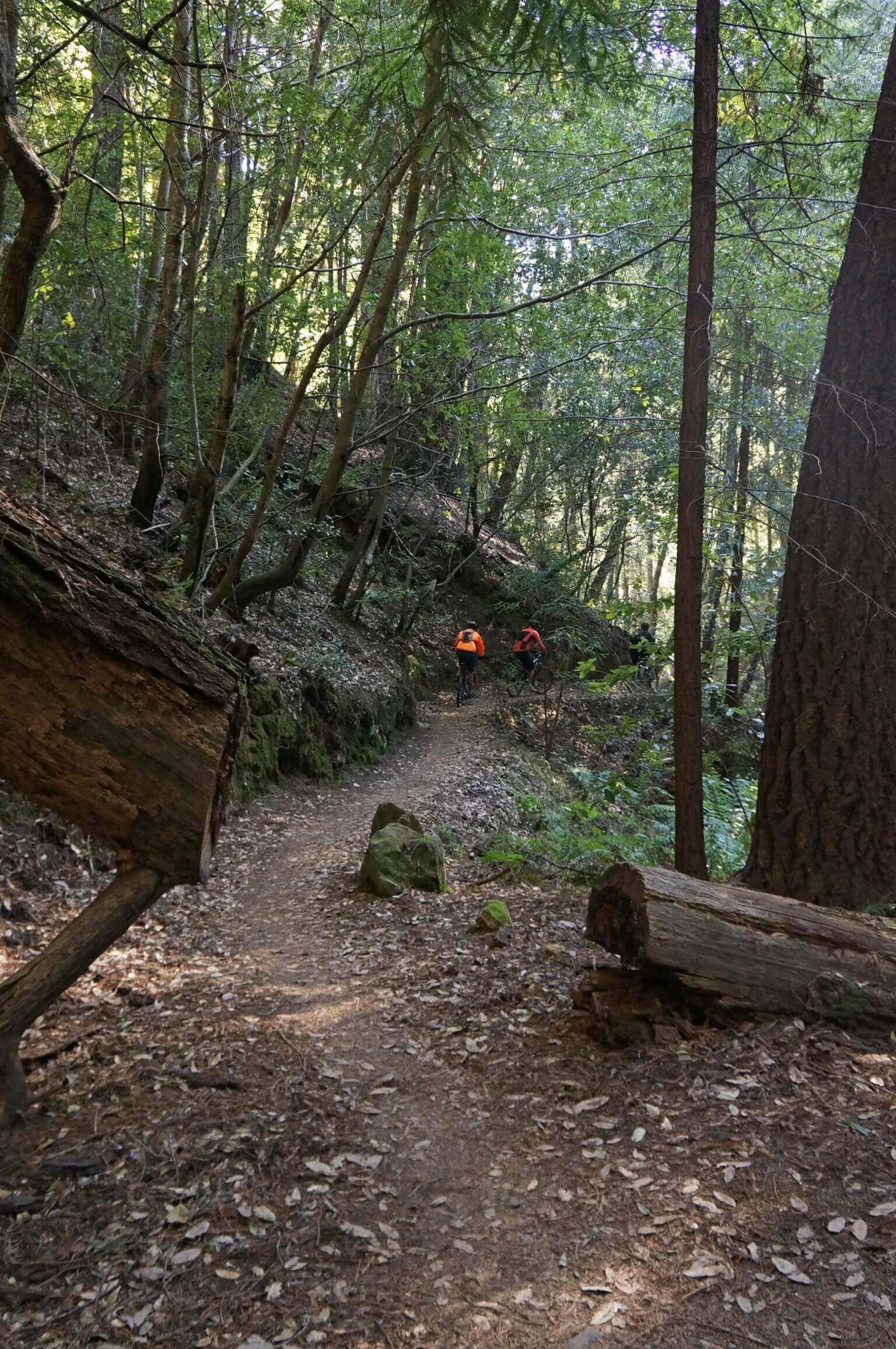 WHAT TO BRING
• Water
• Food
• Spare tubes
• Tools
• Helmet
• Sunscreen
• Sunglasses
WHAT TO AVOID
• Riding alone
• Not bringing enough food/water
• Tackling new trails unprepared
• Going off-trail
• Not knowing trail right-of-ways