They can be antique or modern. Traditional, transitional or tribal. They can make the room. Or just provide a soft backdrop. They are works of art, crafted with almost incomprehensible precision and detail. And we walk all over them.
Bruce Good learned about rugs from the bottom up. As a teen living on his own in Berkeley, he worked at a friend's family business, sweeping floors, rolling up rugs, making deliveries, flipping and moving stacks—the likes of 20,000 pounds in a day. If there's a rug bug, Bruce caught it. He opened his own East Bay store in 1992, continuing on a trajectory that eventually led him to the Peninsula. In 2008, he became owner of The Oriental Carpet in Menlo Park.
Stephen Miller traces his passion for rugs to a trek through Europe and North Africa—where he became fascinated by early tribal cultures and hand-woven designs. He opened his first store in Santa Fe, New Mexico, in the '70s, eventually moving to Menlo Park, where he opened the Stephen Miller Gallery in 1991.
With nearly 80 years between them in the rug business, Bruce and Stephen have tracked every trend and design wave washing over the Peninsula—making it interesting to look back (or actually down) at what's under our feet.
bruce good
What have been some of the major changes since you started your career?
When I first started in the early '80s, it was only Iranian. That's all people were buying because that's what was readily available. The look was traditional—reds and blues, formal, floral. Iran had the mentality, 'We make the best rugs, we have the best quality, if you don't like it, don't buy it.' So they made their sizes, their colors, their designs. The problem is that the dark, heavy colors weren't working so well in the U.S. anymore. When the embargo went into effect against Iran in 1987, importers like myself had to find other places to go. That's the main reason people started going to India, China and Pakistan, and they were more willing to work with us on sizes, colors and designs. Nepal also came on board, and they were willing to go Western too.
What exactly goes into making a hand-knotted rug?
Everything we import is done by hand from start to finish, so everything is made on a loom. Depending on the country, it could be an aluminum loom or a wooden loom. There's a warp, the vertical part, and then there's the weft, the horizontal part. At the intersection of the warp and weft is where they actually tie the knot. The rugs are made vertically, and there's a person who sits every two feet, so if a rug is 8' x 10' for example, there would be four people making the rug. They do it all from memory or from a cartoon. They tie the knots. They pull the threads down to make them tight. They tie the knots. And they clip as they're going along. When the rug is done, they shear it, wash it, rinse it and then package it up. They are all hand-tied knots, and that's why they last forever.
How would you describe the current trends in rug design?
People are getting rid of rugs that are super traditional reds and blues, what I call the grandma rugs. Modern is popular—contemporary, light colors. People are going with blues, grays, silver; everybody wants their house to be fresh and light and bright. I like contemporary because there are only one, two or three colors in the rug. They're easy to drop in or swap from room to room. The same way a fresh coat of paint can make a room look really nice so can contemporary rugs.
How would you characterize Peninsula rug shoppers?
They want to be educated. People here want to know, 'What's it like in India? Tell me where this rug was made.' And I can tell them because I've been there, 'This is a good facility. I know this family, they're one of the oldest in India.' They want to know about Nepal. They want to know, is it a family industry? Do the women work? They want to know the ins and outs. What did it take to make this rug?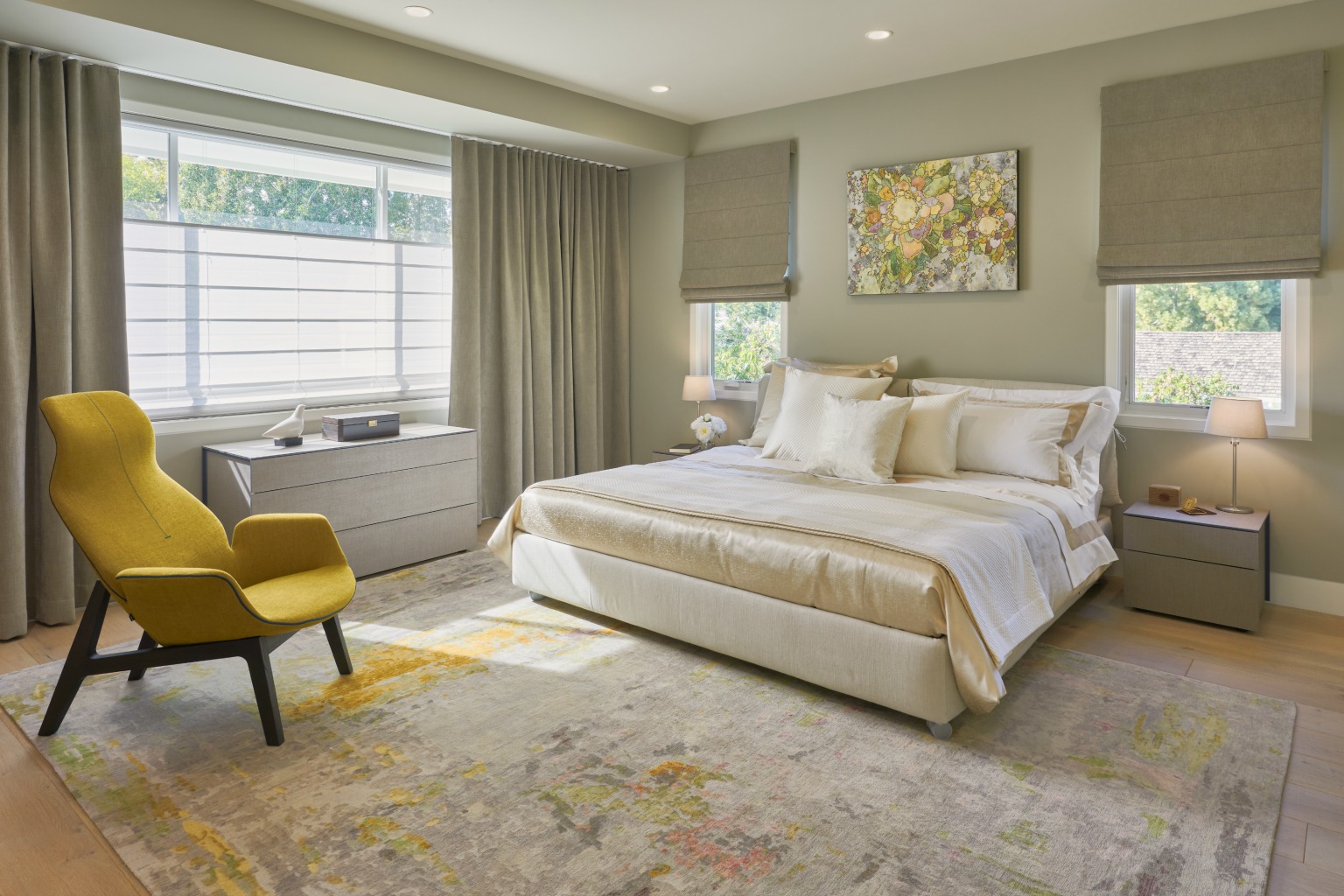 stephen miller
How would you describe the overarching trends in rug design?
A lot of my early career was at a time when there weren't very many interesting new rugs being made, so what drew me more aesthetically were antique carpets. But then our interests culturally have gone away from what was antique, and modernism has taken over, and so now there's much more thought and interesting things being done in contemporary rugs, and they're actually coming up with new concepts. And what's interesting to see is how the old influences the new—how designs get deconstructed and colors get reinterpreted. The number of options that are available to a rug buyer today is staggering.
What have been the major design shifts on the Peninsula?
When I first came here, there was a very different look. It was much more Laura Ashley, folksy, homey. And then for a long time, a Tuscan sort of aesthetic was very strong with softer, mellow colors. Now I've noticed a distinct shift towards modernism and minimalism. There was a phase of nothing but beige and then there was a phase of nothing but gray and now we're getting beige with some gray. And then we've got some color too, some lavender, some rose pinks and even some starker, sharper colors. On certain levels, tribal rugs with saturated colors are timeless, and a soft palate with delicate shades is also timeless.
How do you view rugs in the design process?
There's a visual hierarchy that starts with the rug because we walk into the room looking at the floor about six feet in front of us-—otherwise, we'd trip. And so the first thing we see when we walk into any room is the floor. We see the colors on the floor. So that is going to build the room's color palette. I think the ideal thing is to take time to go into rug stores or to look at rugs, to look through publications, just to open your eyes up before you say, 'Okay, honey, we're going to go buy a rug today.' Look at what appeals to you in terms of the palette.
What do we need to understand about the artistry of a hand-knotted rug?
The amount of work that goes into it is just phenomenal. Typically a 9' x 12' carpet, a hand-knotted rug, will take between three and four months to eight months or a year to make, and that's just the weaving time. There's the development of the design, and then the rug has to be woven according to a graph which is scaled, knot per knot, and in reality that may mean anywhere from 60 to 80 knots per square inch up to 150 to 250 knots per square inch. We have rugs that are 150 knots per square inch in a 9' x 12', so that's millions and millions of knots. There isn't anything that you can buy that has a higher degree of human effort and labor in it than a hand-knotted carpet.