Words by Johanna Harlow
The sun is beating a hasty retreat when my train arrives at the station. As I stride along dark red rail cars, two seedy mafia types in pinstripe suits scurry by, fedoras pulled low over slicked-back hair. The skies are clear, the weather is warm and it's a splendid day for a mob hit.
All aboard the Napa Valley Wine Train for some murder mystery dinner theater! For the past few years, the train has conspired with The Murder Mystery Company to bring murder most malicious and dinner most delicious to their summer and fall ride offerings. It's a two-hour, role-playing experience, casting guests as both sleuth and suspect. For someone like me—a wannabe detective since my first riveting Nancy Drew book—living a mystery is the dream. And submerging myself in one reminiscent of Agatha Christie's sinister Murder on the Orient Express? Could a girl ask for more?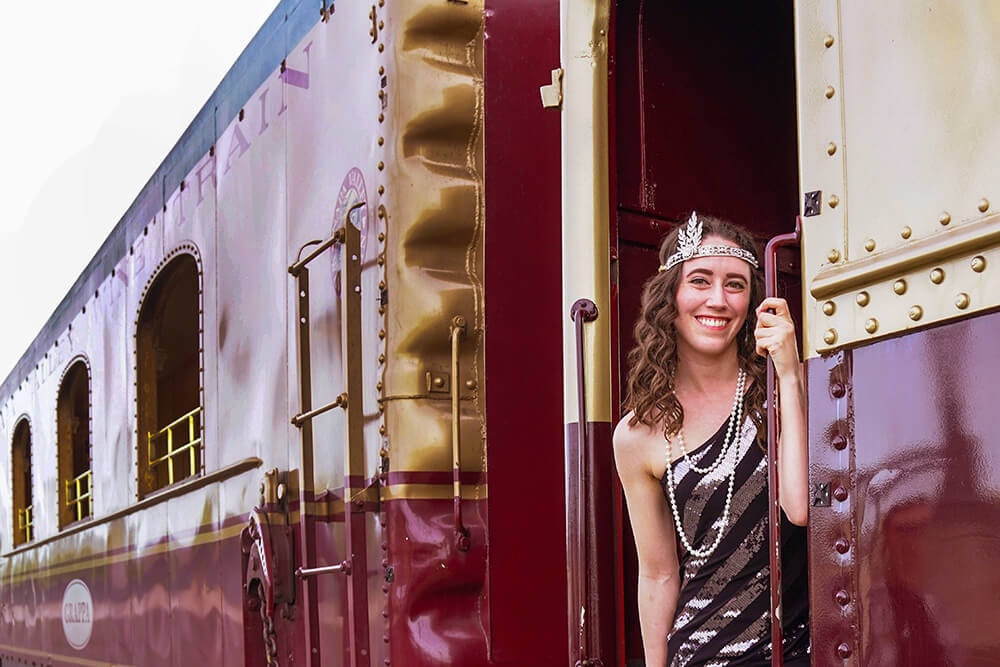 Fearless journalist Johanna Harlow hot on the trail of a cold-blooded criminal.
In anticipation of tonight's Roaring '20s theme, I've undergone a flapper transformation—flashy sequined dress, crystal studded headband, dangling pearls and all. The train's mahogany-paneled compartment sets the stage with era-appropriate torch sconces and etched glass partitions.
As my fellow travelers and I settle into window-side tables and we pull away from the station, we receive props for the characters we now represent and binders with their backstories. The actors catch us up to speed: Two rival crime families are planning a marriage merger in hopes of forming a shaky alliance… But where's the lucky groom? Someone's bumped him off!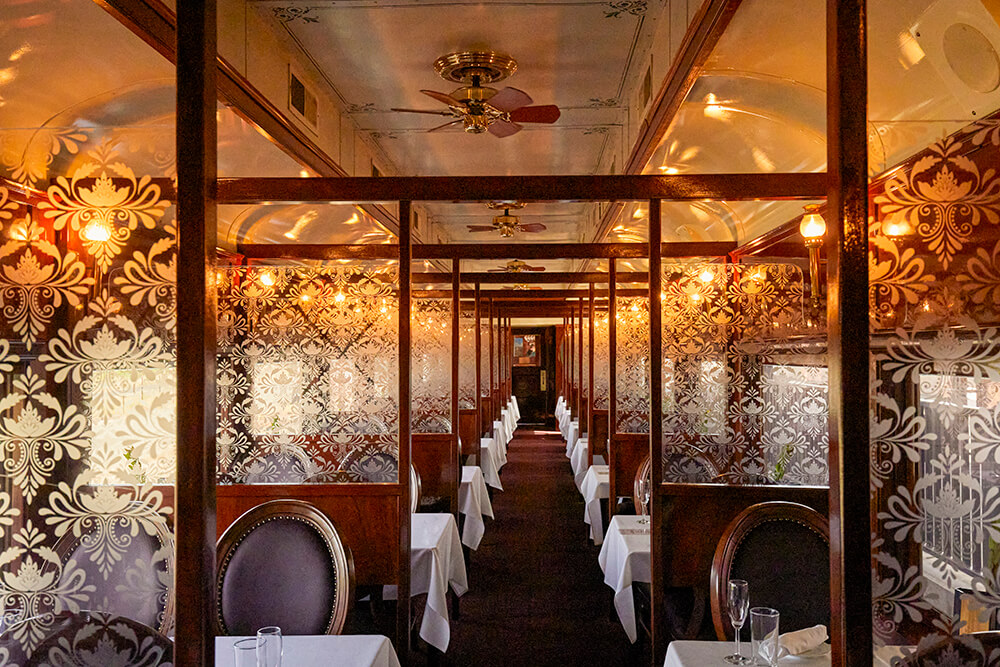 So whodunit? Could it be the bride's mom (and boss wife) Getta Dunn? Is it rival don Ivan Stone ("Fuh-gedda-bout'it!")? Or perhaps her overprotective stepbrother Don Don Dunn ("If you look at my sista, my enforcer Joey hea' is gonna knife ya and then he's gonna fork ya! Capeesh?") Then again, I'm also leery of Izzy Sleazy (publisher of the dirtiest rag in town: The Naked Ankle).
As we're introduced to each suspect, the waitstaff serve roasted beet and arugula salads drizzled in a honey-citrus vinaigrette and topped with goat cheese and pistachio. I jot down theories and pore over crime scene photos as vineyards zip by in the fading light. During investigation time, I mingle with the other guests, bribing them with fake murder mystery bucks in exchange for answers to my probing questions.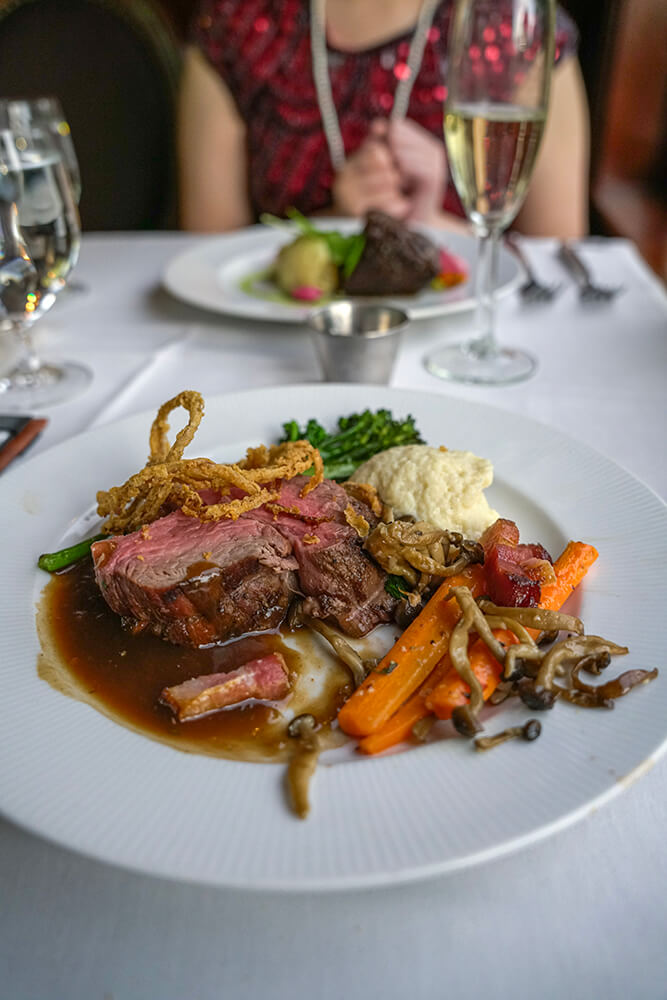 Back in my seat, I'm temporarily distracted by my main course—grilled tenderloin in a red-wine bordelaise sauce with forest mushrooms—until a passing mobster sets his drink down on the edge of my table, clutches his throat and collapses on the floor at my feet. Clearly his final curtain call.
During a night of suspicious side eyes and pointing fingers, that poisoned drink on my table isn't a good look. I know I'm going to have to work hard to clear my name. But I'm determined to crack this case before the crème brulee. I hunker down as the plot twists thicken and the skies darken. Step aside, Nancy Drew!
all aboard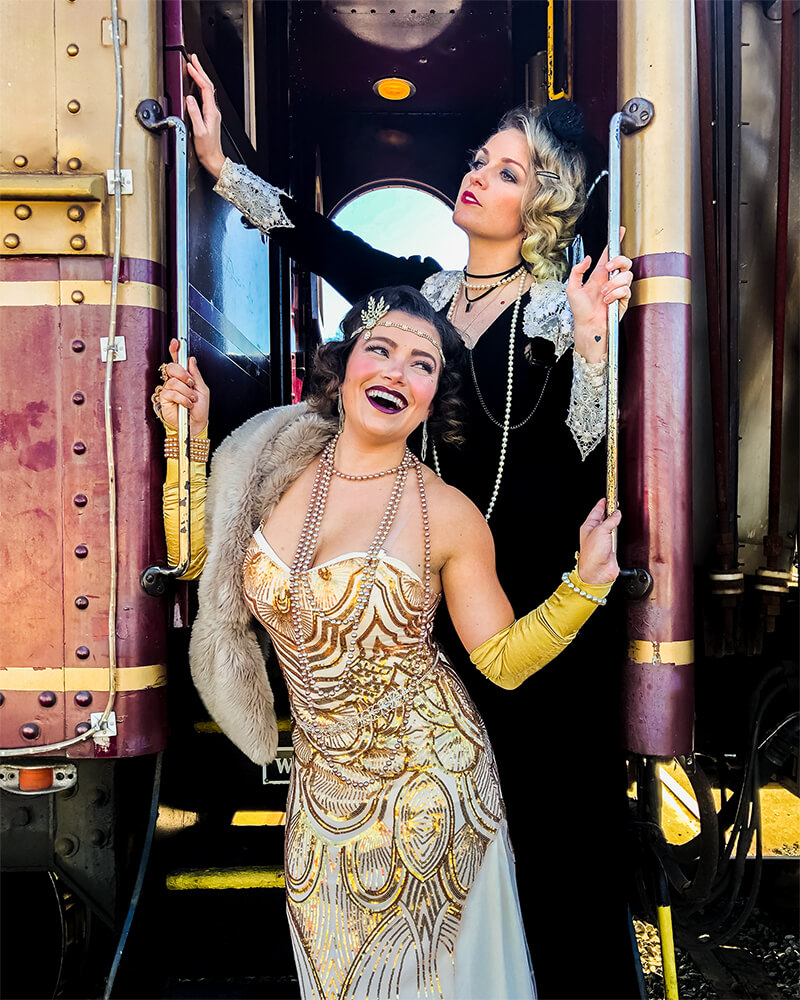 Murder-Free Alternatives 

For those who'd prefer to bask in the ambiance of the train rather than wade into the chaos of a crime scene, the Napa Valley Wine Train offers plenty of possibilities. Take lunch or dinner under the arching glass windows of the Vista Dome or afternoon tea with tiers of finger sandwiches and scones. To truly indulge, settle in for the full-day Legacy Experience, which includes a four-course, wine-country-inspired meal with tasting stops at the Charles Krug and V. Sattui wineries.
Extend Your Stay: Meritage Resort and Spa

The resort and its sprawling vineyard views make for a great way to savor wine country's alluring scenery. Splurge on a private patio/balcony upgrade to truly drink it all in. All rooms come with warm Tuscan-inspired interiors, spacious desks and natural stone bathrooms. The complimentary glass of Champagne at check-in and welcome bottle from Trinitas Cellars are also appreciated touches.