Along Orange Avenue in West Menlo Park is a brown bungalow where music hasn't stopped playing since the Clarke family arrived in 1974.
Neighbors have surely grown accustomed to the variety of sounds coming from the detached, two-door garage refashioned as a music studio. Flamenco guitar has always been a favorite and in recent years, an ensemble of worldly instrumentation like a Lebanese violin has become typical. In the mid-1980s, you would have heard whimsical New Wave rock (where the keyboard hooks were as big as the hair).
During a recent afternoon, however, the house was a little subdued, save for the sound of wind rustling through the large pine tree rooted in the front yard. Musician, composer and songwriter Freddy Clarke was in the backyard, looking over a fertile bed flourishing with Double Delight roses that he's dubbed "The Garden of Pearl" in honor of his mother, who passed away in March.
The last few months have been understandably hard on the virtuoso. He and his mother shared a tight bond that endured throughout his entire life. She was the first person to foster his musical passion when he was just a child fooling around on a ukulele and the two would often perform together, co-producing a CD of Spanish covers and playing for friends during parties in the back corner of the yard. For the first time in his life, Freddy is making music without his first fan.
"She worked hard but didn't care as long as I was happy—how many people have that?" he asks, remembering the celebrations they'd host in this now-empty backyard. "She had an open-door policy that made everyone who came here feel wanted. So many people at her service spoke about how she was a second mother to them. She had so much love to give; it's amazing that I now have all these brothers and sisters."
Freddy honored his mother with a musical tribute on April 9 at the Black Cat jazz club in San Francisco with his band Wobbly World, a group he founded nearly 20 years ago that has become the biggest act of his career. The band is 12 members strong with only four originally from the United States. The bulk of the group is international, hailing from Cuba, Bolivia, Morocco, the Middle East, Vietnam and the Netherlands.
Freddy leads them with his flamenco guitar while instruments including Cuban congas, a Moroccan oud and a beatboxer round out a sound of global proportions. It's a band that emphasizes the "world" in world music. "Right now, I feel like I have the perfect antidote to the fascist, white nation movement," Freddy says. "I have every color of the universe in Wobbly World." Freddy is currently recording a new album with the band in San Rafael and they have a monthly gig at the Black Cat, but it took years for the guitarist to reach this point in his career.
He was born in 1954 in Fresno and his father, Freddy Sr. or "Big Fred," sounded just like Willie Nelson. They relocated to the Excelsior District in San Francisco where Freddy spent his formative years. One day, he picked up a ukulele and was able to tune the instrument by ear alone. His mother recognized an inherent talent and plopped him into piano lessons. By the time Freddy was 15 he was taking jazz guitar lessons and looking up to psychedelic guitar gods like Jimi Hendrix and Eric Clapton.
One night, while walking in North Beach, Freddy overheard a flamenco guitarist at the Old Spaghetti Factory. He became immediately transfixed. Freddy asked the guitarist for lessons and has yet to put down the nylon-stringed guitar. He keeps the nails of his right hand a little long to help strum and control the instrument and, as he describes it, he's a bit of a renegade amongst other flamenco players.
"I learned enough to get into trouble and piss off purists," he says. "I'm a rock guitar player playing flamenco—you do the math."
Freddy started high school in 1968 just as the counter culture movement captured San Francisco. He received his bachelor of arts in guitar and music composition from San Francisco State University and joined his parents in 1974 when they moved into the house on Orange Avenue in Menlo Park.
During the 1980s, Freddy played in a string of New Wave rock bands that used clicking percussion and a computer-programmed bass. The first band was called Mannequin, which dissolved into Full Moon Tan before he ended the decade with the band Boys Cry Wolf, who were contenders in the Star Search program in 1987.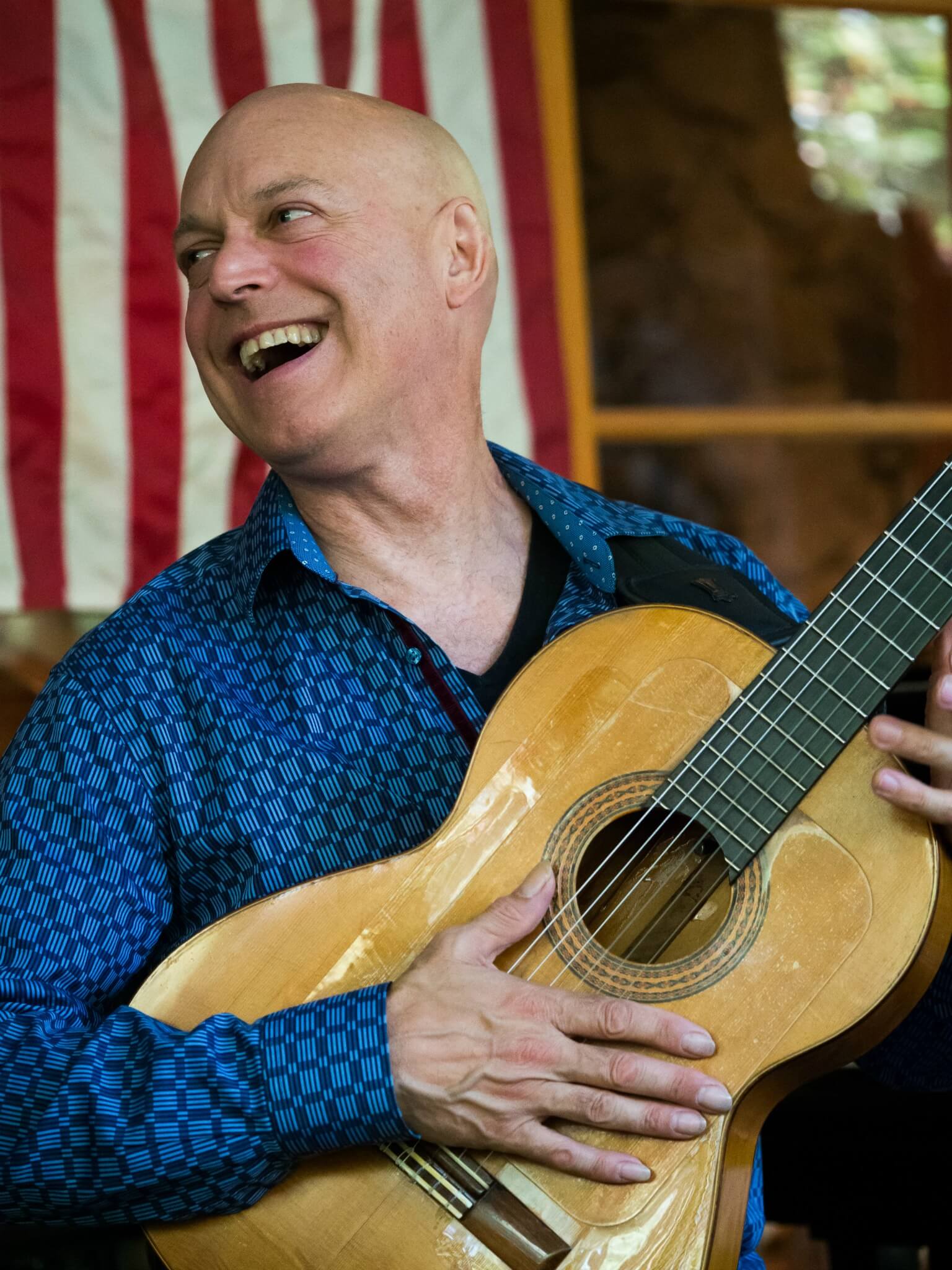 "My life is interesting in that I've had two movements growing up in the Bay Area," Freddy says. "First was the psychedelic hippies of the 1960s in San Francisco. I spent many weekend summers in the Haight. Once, my mom drove my friends and me to Winterland where we spent $3.50 to see Chicago, Santana and Janis Joplin. And then we moved to Menlo Park and I experienced the Silicon Valley movement. In the band Mannequin, we had songs called 'Silicon Man' and 'Robo Revolution.'"
Following the disbandment of those groups, Freddy worked as a hired hand for other acts (Ray Manzarek of The Doors asked if he'd play with him for a show in 1995). It wasn't until about 20 years ago that Freddy formed Wobbly World, his most consistent and active band.
He frequently adds in new players to the group, is always broadening the sound and they're a loose ensemble, following the groove rather than a sheet of music. The band plays jazz clubs across the region, sometimes drawing fans from unexpected places.
"I once had a three-minute conversation with Bill Gates about nylon strings," Freddy says before laughing. "Here I am, with the smartest guy in the world, and I'm the one who's talking!"