Words by Sophia Markoulakis
Let's face it. We live in a pretty spectacular part of the country. The weather, the views, the temperate climate—it's easy to get caught up in the landscape that surrounds us and forget that our dwelling should be a place that represents who we are, where we're going and how we want to be remembered. Prolific interior designer Kendra Nash of Nash Design Group understands the importance of expressing who we are through our interior surroundings while still emphasizing this special place we call the Peninsula.
With dozens of local projects underway, Kendra continues to build her San Carlos-based studio of all-female employees. The design firm recently completed two projects that convey their own unique aesthetic, vibe and feel. "These projects have yin-yang interconnectivity," Kendra observes. "The San Carlos project was a contrast in soft goods and materials and the Los Altos project was a contrast in architectural elements like the black-clad windows and hardware." Contrasts are what create emotional and visual drama and tension, she says, and the roots of each home within their respective neighborhoods provide the foundation from which each home can shine.
Elaborating further, Kendra shares that her San Carlos clients conveyed, "We want this place to feel designed and sexy." Whereas the Los Altos clients desired California casual, a family-friendly home with ease throughout.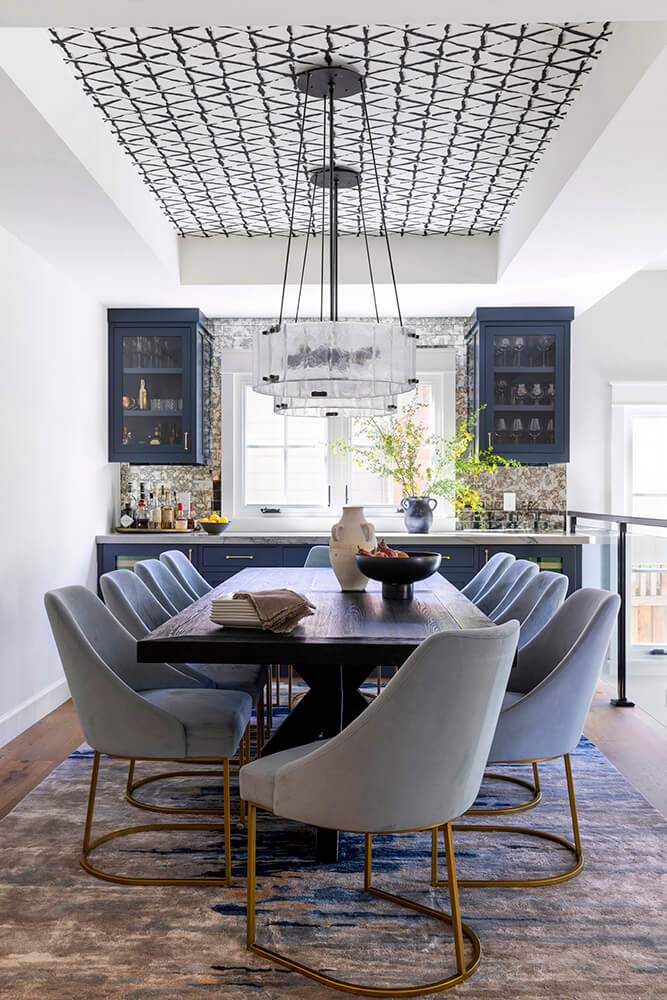 San Carlos Project: A major focal point and unexpected dining room feature is the ceiling detail of Fabricut's graphic black and white wallpaper. To create reflection, Kendra and lead designer Lisa Vuong selected a patina mirrored backsplash from Peninsula showroom DaVinci Marble.
Two different perspectives. Two different approaches.
The San Carlos project, a 3,600-square-foot farmhouse glam new build, is full of moody colors and textures. The first piece that the client requested was a custom black velvet couch that resides in the living room. "This is my space with my husband and my friends," Kendra was told, which helped inform an elevated ambiance that's off-limits to the kids. There's a mix of feminine and masculine, with enough textural contrast to keep it interesting through the use of fabric and pattern.
"They were so willing to go bold," says Lisa Vuong, the lead designer of the San Carlos project, about working with the clients. "Though some of their selections seemed like they could be overwhelming, they actually made the design stand out."
As drama takes charge in the dining room and sunken living room, its presence diminishes in gathering spaces like the kitchen and family room, though there's no denying the statement made by the Opus White quartzite slab waterfall-edge kitchen island. Colors in the family room express more muted soft pinks and grays, with the rug, stools and throws adding natural textures.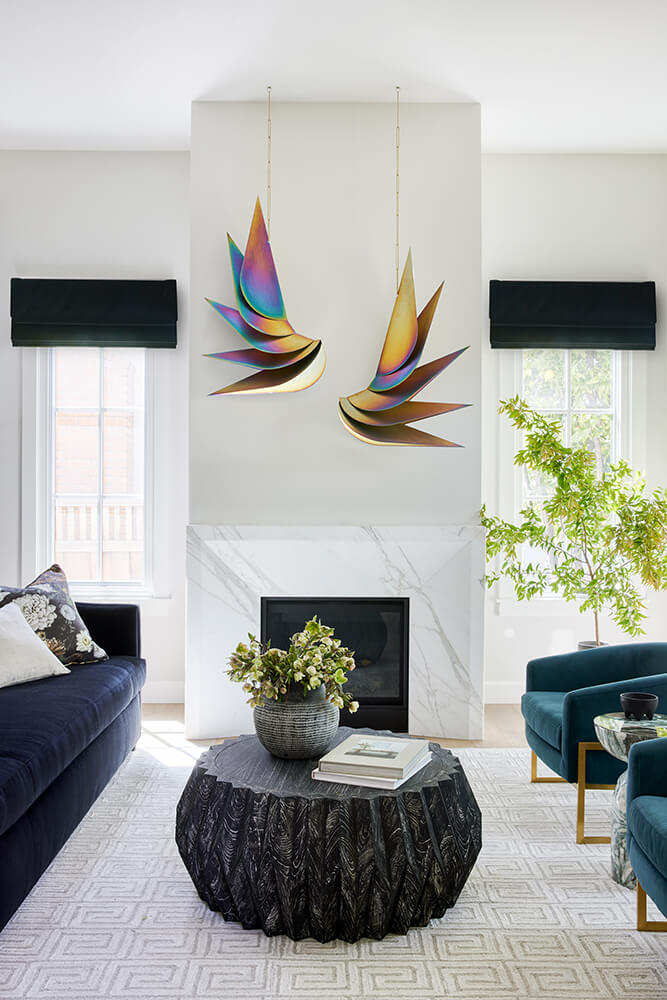 San Carlos Project: Wow factors like the Birds of Paradise artwork from The Future Perfect in the living room, a rich matte black tub in the master bath and a textural waterfall island of quartz and black modern sink in the kitchen make this home full of design and major contrast.
For her recent Los Altos project, Kendra transformed a dated sprawling ranch home into a modern California-cool space that embraces outdoor views and accentuates the homeowners' commitment to sustainability and biophilic design. "We wanted the remodel to stand the test of time but still show their personality. They were open to new color tones and playful wallpaper and fabrics," Kendra says of the design journey. "The homeowner was really interested in local and female-owned vendors like Half Moon Bay's Elworthy Studios and Lindsey Cowles for wallpaper and fabric."
Lots of effort went into the home's "effortless" look. "It was a pleasure designing this California-cool home for the coolest couple around," comments lead designer Amalia Kallas. With an emphasis on ease, touches like automated shades in the living and dining room deliver smooth efficiency, along with a clean look.
Another client priority was durability. Kendra admits that she's not a fan of engineered materials like quartz, but the homeowners stressed that they wanted it for their kitchen counters. "We found a pattern and product that pleased us both in the end—a slab that didn't look manufactured and a final look that utilized a sustainable, eco-friendly material," she says.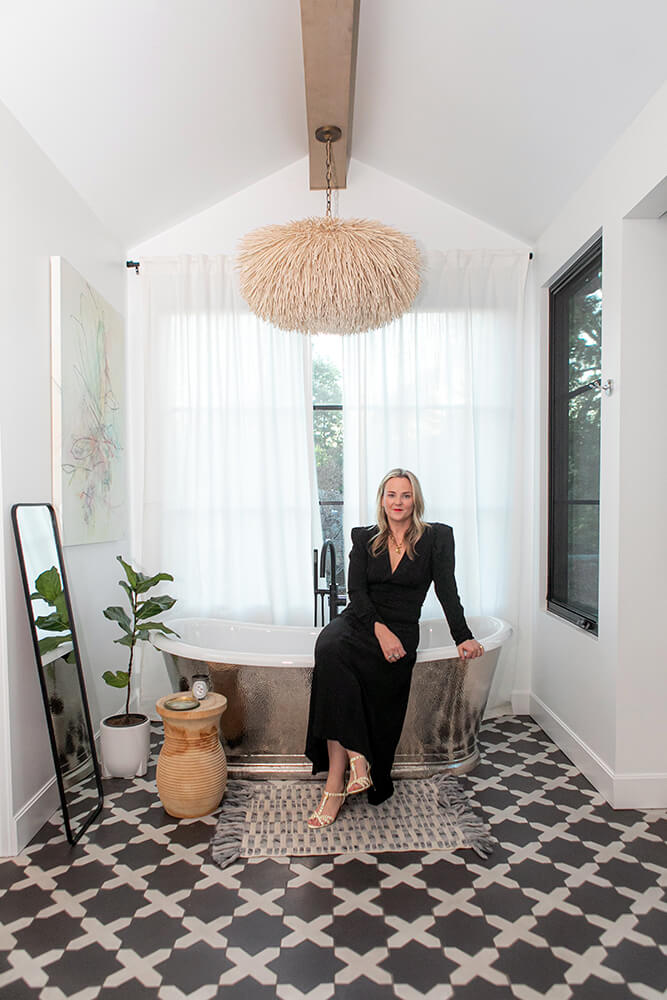 Long-lasting wide-plank white oak floors, along with other oak elements like beams, shelving and a built-in cabinet that houses the homeowner's heirloom dishes, create warmth that will only patina over time. Kendra explains that "the crispness of the white walls and the warmth from the wood contrast so nicely against the gold fixtures in the kitchen. They were very intentional with their choices to create a comfortable, effortless feel."
Similar to the San Carlos project, the Los Altos homeowners wanted to invest in a special (leather!) couch as an anchoring element. "At first, they were looking at leather couches online," Nash recounts, "but we changed direction and said, 'What if we could select the exact hide and build the couch to your specifications?'" And that's exactly what transpired. The clients now view the piece fabricated at Nash Design Group's custom workroom as a forever furnishing, which will undoubtedly age over time and transform with the stages of their home.
Creating Your Space