words by Eva Barrows
The lobster roll overflows with four ounces of sweet pink meat stuffed inside a thick slice of split, toasted bread. It's what you'd call naked. The roll has nothing on it, just primo knuckle lobster meat—the hardest to extract. Dress the roll up a little by pouring liquid butter over the lobster meat or add some avocado.
And then there's the signature dish, lobster corn chowder, a creamy yellow soup with a spicy kick. The broth hugs lush lumps of lobster and juicy corn kernels that go down smooth, waking the senses and warming the belly. One of the soup's secrets, as Marc Worrall, owner of New England Lobster Market & Eatery in Burlingame, discloses, is the fresh, concentrated lobster juice made from pressing lobster meat through a colander and stirring it into the chowder pot each morning.
The New England Lobster Market & Eatery flies in four to five thousand pounds of live lobster a day to the Peninsula from the East Coast. Customers come to the market and eatery to pick up live lobster to cook at home or pull up a seat to enjoy freshly prepared seaside fare with family and friends.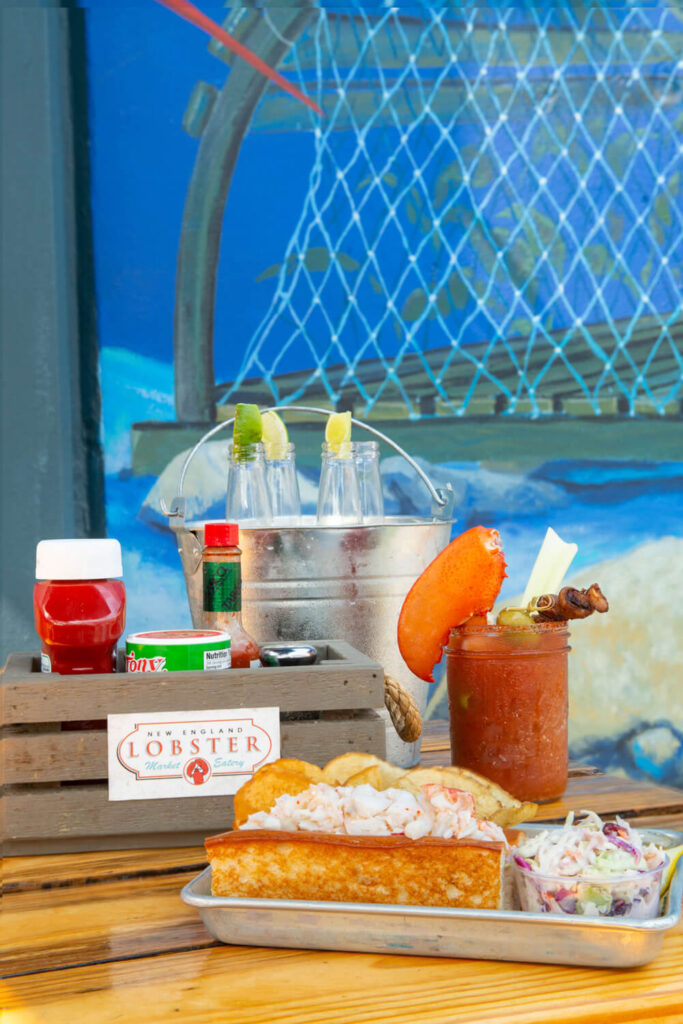 "The concept here is an East Coast restaurant where lobsters aren't perceived as a $50 to $60 item. It's more of a little shack at the end of a fishing pier in Maine or Canada," says Marc. He notes that everything on the menu, except for the bread, is homemade, including the tortillas, coleslaw and chowder. 
San Francisco Bay's salty seawater scent carries on the shoreline breeze to red umbrella-shaded picnic tables fenced by swinging sailing ropes. The seaside décor extends inside with wall-hanging fishermen-carved buoys, an overhead dinghy from Gloucester, Massachusetts, and a mural of Nova Scotia's Boar's Head Lighthouse. Another mural of a lobster shack walk-up window enlivens the special event space where raucous lobster feeds happen.
"The biggest compliment we can get is when people from Maine, Boston, Cape Cod or Canada come try our stuff, and say, 'Wow, this is good,'" says Marc. "Then we know we're doing a good job because they know their seafood and lobster rolls."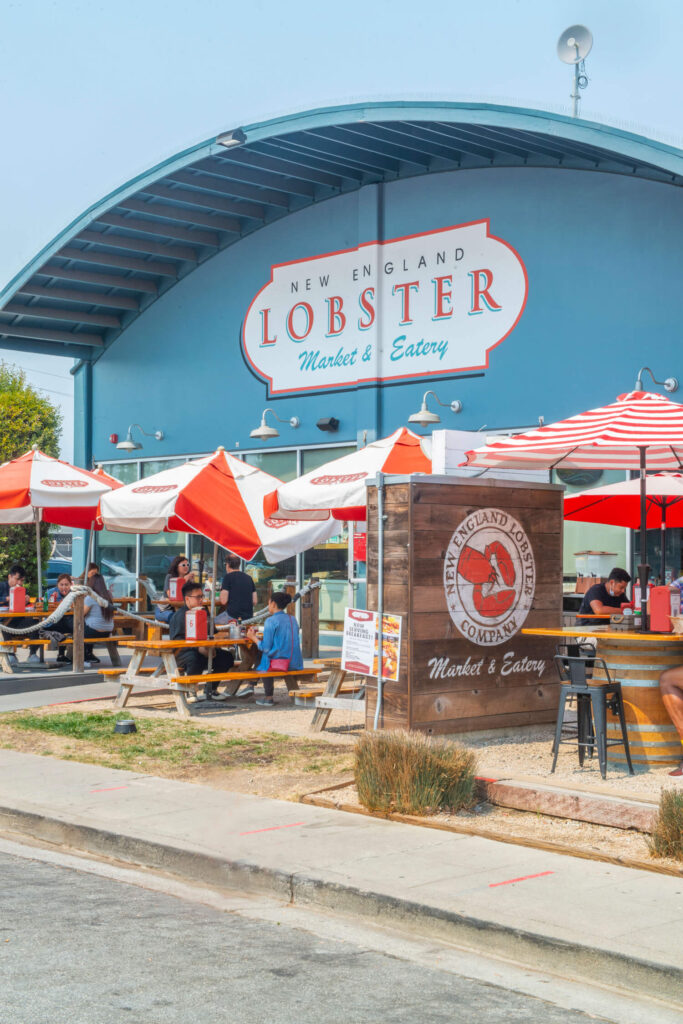 Marc got his start in the lobster business in 1987 when he partnered with a San Diego State college buddy, Dave Collins, to wholesale live lobster to local restaurants. "We started out of my mom and dad's Burlingame garage," Marc recalls. "We'd bring the lobsters in the morning and deliver them to the restaurants at night." By 1992, they bought a warehouse in South San Francisco and moved three to four thousand pounds of lobster a week.
Eventually, Marc and Dave began selling directly to consumers. They discovered that customers were willing to travel for fresh lobster and developed a dedicated following, from Marin County to San Jose.
Similarly, they experimented with a catering truck outside the South San Francisco warehouse within walking distance of nearby biotech companies. "We made lunch for three or four hours a day. Pretty soon, we were buying more picnic tables and built a counter outside. We were getting a line down the block just to eat these sandwiches," recounts Marc. "That gave me the courage to say, 'Let's try a restaurant.'"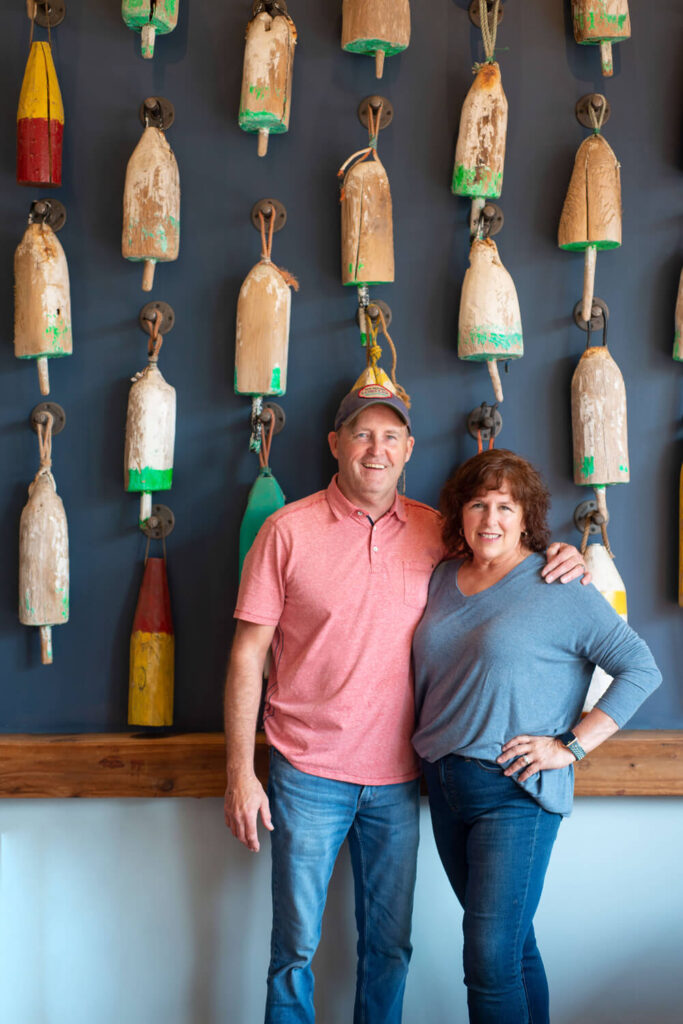 The food truck and resulting eatery were also a solution to a wholesale lobster business problem. "We have to buy whatever the fishermen catch—that's how we get our best price," Marc explains. "When we do that, we might get between 10 to 20% cull, like a lobster with only one claw." There's no place for a lobster with a missing limb in fine dining, but turning cosmetically-challenged lobster into a meal made a probable loss into a win-win gain.
Marc became full owner of New England Lobster in 2002 and moved it to the current Burlingame location in 2012. Marc and his family also live in Burlingame, making it easy for his wife Sue to partner on the business side and for his three kids to help out at the eatery on the weekends. Today, New England Lobster employs about 75 people, some of whom have worked there for over 25 years.
The lobsters served at the eatery go on a crate-to-plate journey. Lobsters are fished out of the waters from regions around Cape Cod, Massachusetts, Stonington, Maine, and South Shore, Nova Scotia. Marc acquired South Shore Lobster, a wholesale lobster distributor company in Nova Scotia, in 2005. A live webcam feed from South Shore Lobster plays on a flat-screen TV in the restaurant. "If people are sitting here, they can watch lobsters being packed into boxes that will be here in two days," observes Marc. "There's no way you can get fresher lobsters from the ocean."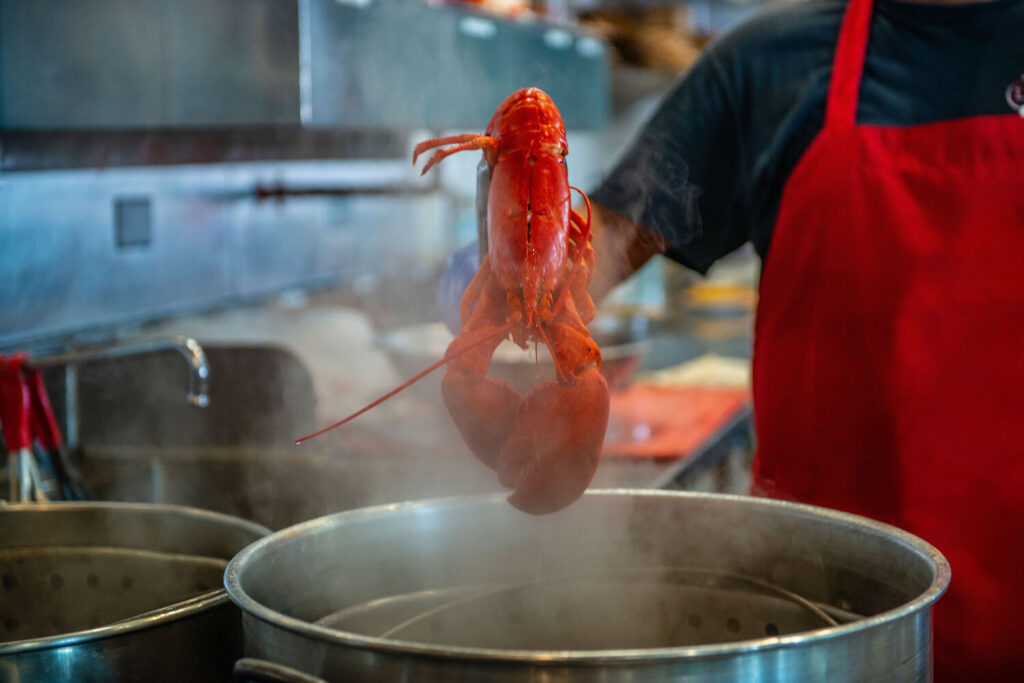 Customers can also watch the live feed from the camera in New England Lobster's saltwater tank room, where daily shipments of live lobster are processed. The main tank is 75 feet long by 25 feet wide, almost half the length of an Olympic-sized swimming pool. The lobsters are sorted into crates by weight, with each crate holding 100 pounds of meat. The tank has the capacity to hold up to 70,000 pounds of lobster. A pump system circulates water with the right salinity and microorganism levels throughout the site to support healthy live lobster.
The onsite market gives locals the chance to purchase fresh shellfish and live lobsters ranging from one to ten pounds. The market also carries live Dungeness crab from Half Moon Bay, fresh oysters, littleneck clams, Mediterranean mussels and wild white shrimp from the Gulf of Mexico. Frozen lobster meat and pints of frozen lobster corn chowder are also for sale.
A big part of New England Lobster's business remains delivering live lobsters to wholesale customers. Deliveries go to restaurants and supermarkets spanning the South Bay, East Bay and North Bay to further points in Northern California and even Hawaii.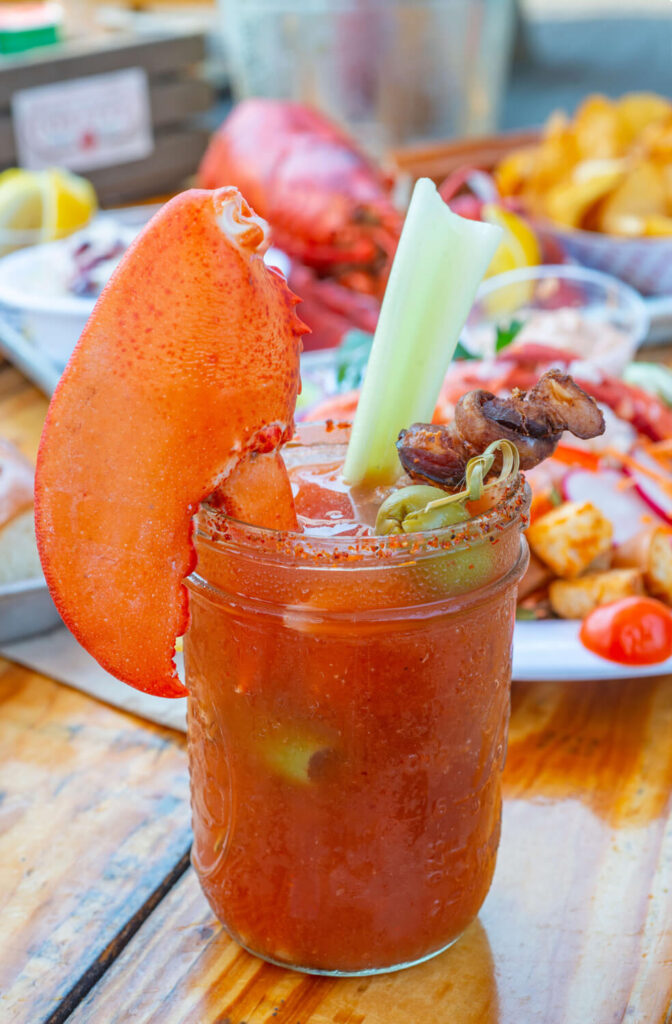 Employees at New England Lobster process lobster meat to either freeze and sell later or to use in the eatery's fresh lobster rolls, tacos, salads or chowder. Five hundred to six hundred pounds of lobster is broken down at a time by boiling and shelling.
If you're up for ordering a whole cooked lobster at the eatery, cracking into one for the first time can be intimidating. "When you order the lobster, you get crackers and a bib. Then you just break the tail apart like that," demonstrates Marc, as he cracks the tail lengthwise from the underside. "Then you snap the claws off, and you can take the cracker to get to the claw. To get to the knuckle meat, you just use your fork and pick it through there. That's the tricky part. Or you can use the back of the fork and kind of use it like a little scalpel." 
If you're not quite confident on technique, don't be afraid to ask the New England Lobster staff for tips on how to get cracking.