North Lake Tahoe is actually a bit of a misnomer. Geographically speaking, North Lake Tahoe stretches from about Tahoma on the west side all the way to about Glenbrook on the east, so North is technically more like north, east and west of the lake. That being said, in winter, all that really matters is the number 12—as in 12 different downhill and cross-country ski resorts, all within the North Lake Tahoe region. In the summer, the number 12 translates into a different experience. Twelve different communities, with 12 different personalities, blending together to deliver a unique outdoor health, wellness and mindfulness scene. Tahoe's summer season is fully underway, so if you're hearing Highway 80's beckoning call, get ready to hit the road to enjoy all your favorite North Lake Tahoe classics—along with plenty of new offerings.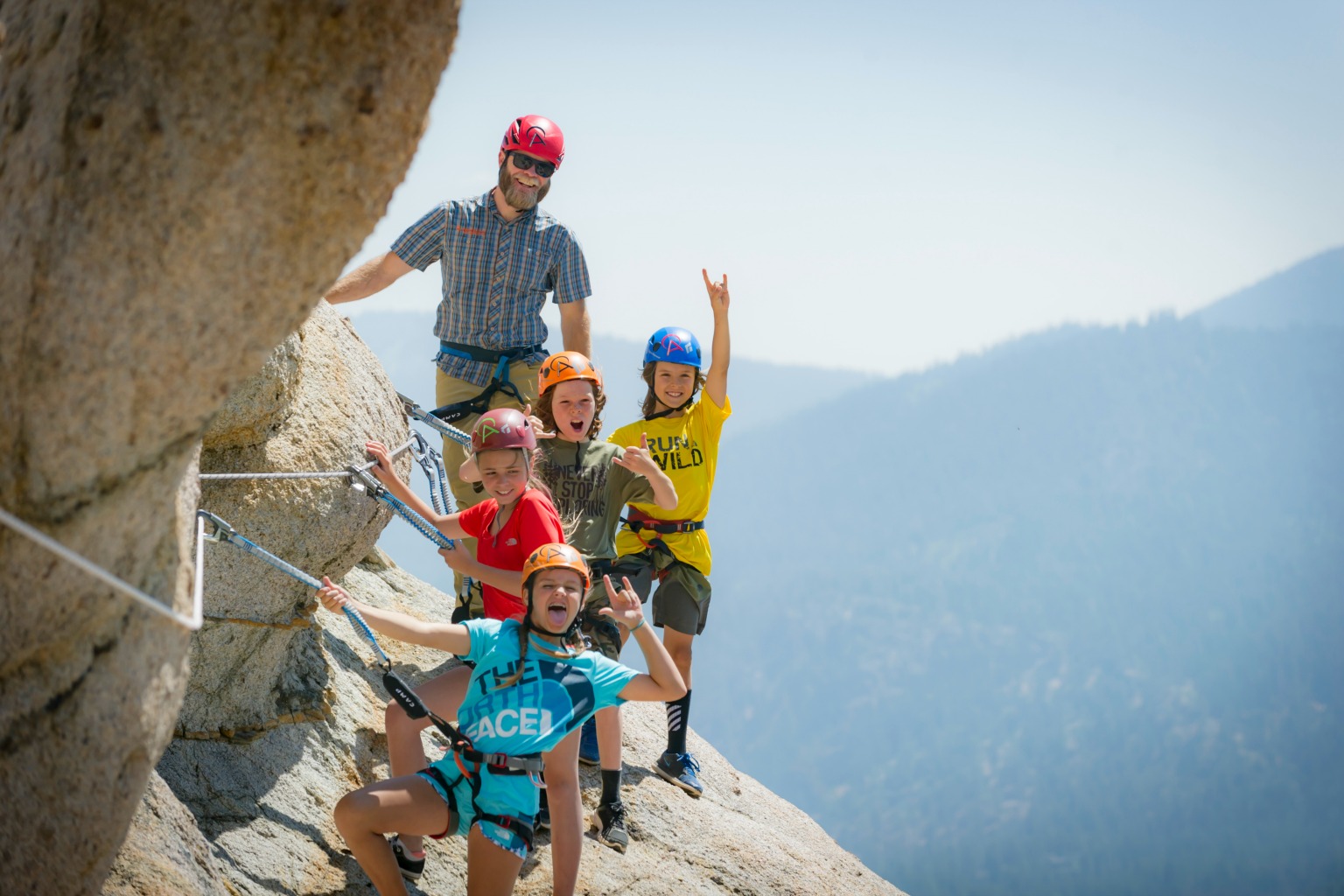 Fun Without the Snow
First thing's first. Yes, it's summer, but this year's record snowfall means there's one final, fleeting opportunity to catch a few runs. Squaw Valley | Alpine Meadows extended its Squaw Valley ski season through July 7, so along with the usual Fourth of July holiday weekend water skiing, you can also consider hitting the slopes. Squaw Valley touts itself as the Spring Skiing Capital with "soft bumps, coveted groomed terrain and smooth landings." Here's a rare chance to find out what summer skiing and boarding is all about—while joining a t-shirt and shorts- and even bikini-clad crowd. squawalpine.com
If you subtract snow from the equation, you might be wondering what's left? In the case of Squaw Valley | Alpine Meadows, this summer marks the debut of the new Tahoe Via Ferrata, featuring three routes where a guide takes guests up the face of the mountain using harnesses. Meaning "Iron Road," in Italian, there are fewer than 10 Via Ferrata routes like this in the country, and it's open to climbers of all skill levels. tahoevia.com
July also brings Wanderlust, the world's largest yoga and wellness festival. Wanderlust started in Squaw Valley 11 years ago and has now been replicated with over 100 events around the globe. If immersing yourself in mid-mountain meditation, a High Camp pool party at 8,200 feet and a silent disco with dueling DJs under the stars sounds like an epic getaway, put July 18-21 on your calendar. wanderlust.com/festivals/squaw-valley
And on the subject of stars, with its low light pollution and unobstructed horizons, North Lake Tahoe is a premier location for night photography and stargazing, For a closer look, Tahoe Star Tours will connect you with the cosmos Thursday and Saturday nights through August 31. In the Castle Peak Parking Area of the Northstar California Ski Resort, you'll find Celestron Telescopes, along with fire pits, blankets and even s'mores fixings. tahoestartours.com
Northstar is also home to one of the biggest seasonal identity shifts, as the summer transforms the resort into Northstar Bike Park, the largest lift-served mountain bike park on the West Coast. Whether you're a beginner or an advanced rider, you'll find a range of cross-country, downhill and e-bike mountain biking trails, plus rentals and lessons for all ages and abilities. northstarcalifornia.com
Also for bike enthusiasts, the much-anticipated SR 28 shared-used bike path is opening in July, a new 11-mile stretch extending from Incline Village to Sand Harbor. The route starts out on the mountain and then passes through a tunnel before delivering you to dramatic lake views and all your favorite beaches.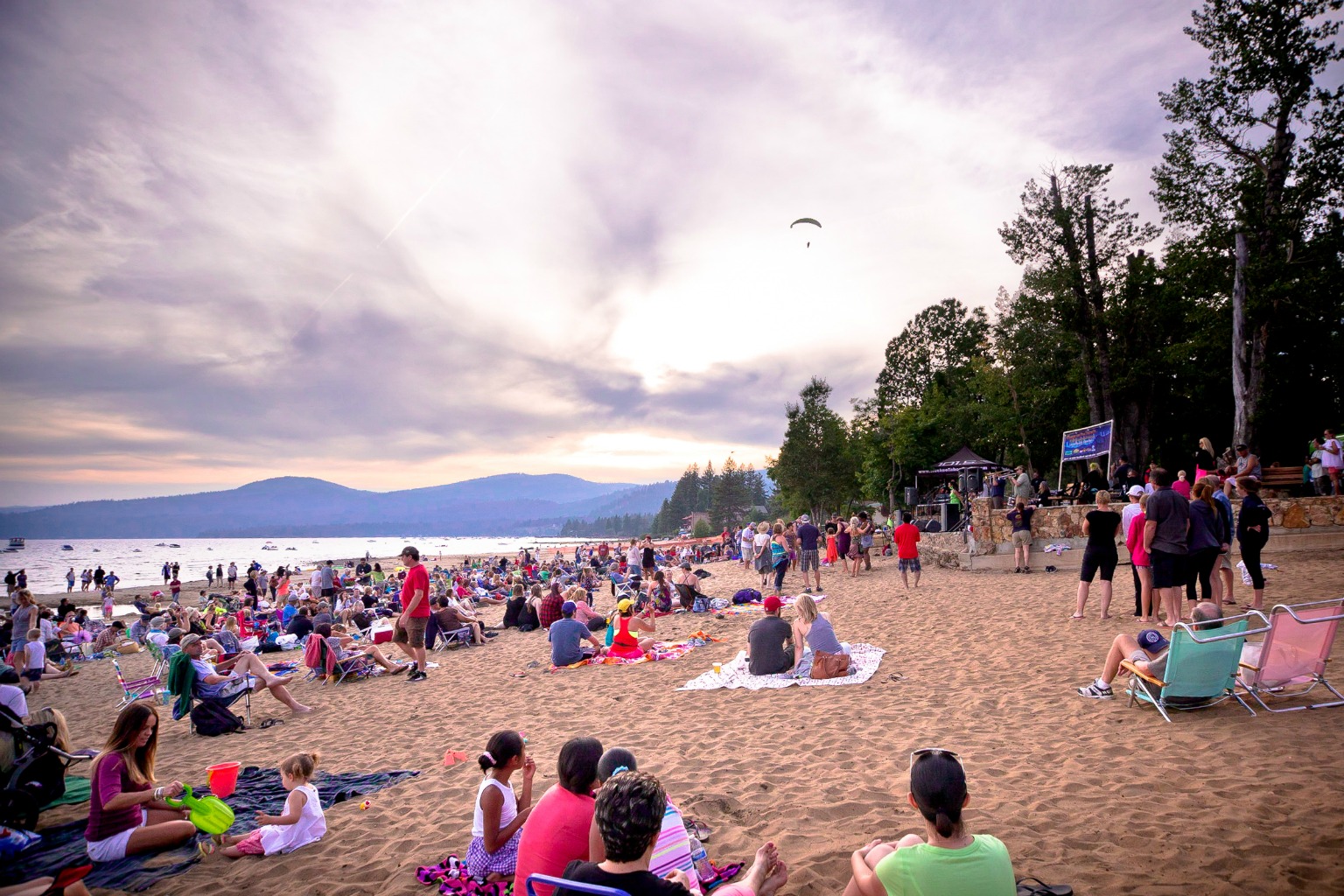 Hit the Beaches
The thing to remember about North Lake Tahoe beaches is that they're white, sandy and beautiful—and there are two dozen of them, dotted along nearly 50 miles of shoreline. The locals will tell you there's a beach for everyone, and it certainly seems that way. Top picks for family fun include Kings Beach, Commons Beach and Sand Harbor. Bringing a dog? Chimney Beach is the spot for you. It's a bit of a hidden gem, reached by a 15- to 20-minute hike from the trailhead. (Helpful Tip: Wear sneakers for the walk in but carry along flip-flops.) If you'd like to pack a little lighter, about 10 minutes south of Sand Harbor, Secret Cove is quite a discovery, offering a private stretch with crystal-clear, calm water and the added (or subtracted) feature of being clothing-optional.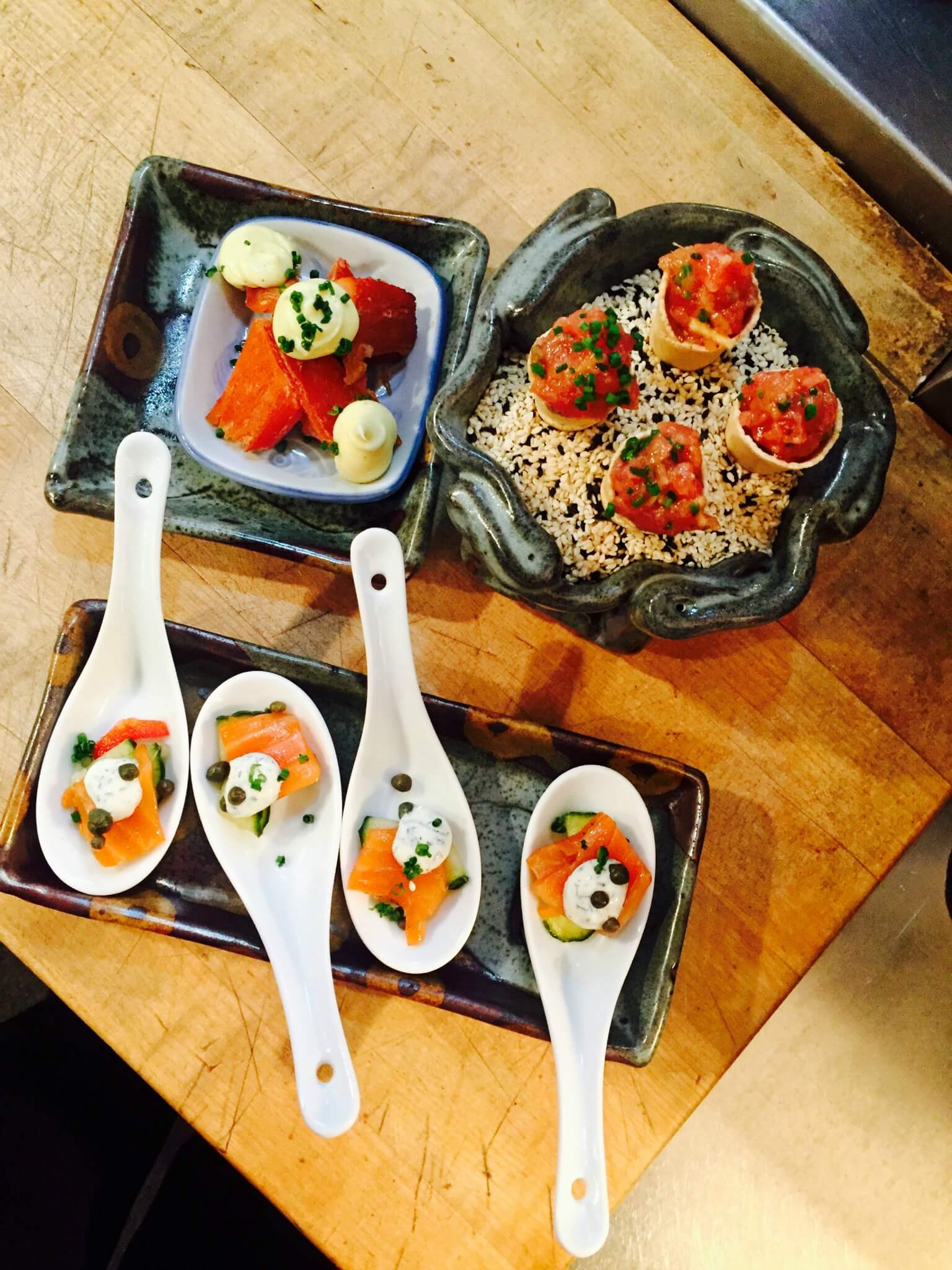 Foodie Fun
Founded in 2012, the Tahoe Food Hub started with a mission to connect small farms with local restaurants, grocers, schools and hospitals—and became the conduit to sustainably grown food in North Lake Tahoe. Through its newly opened Farm Shop at the Truckee-Tahoe Airport, the Tahoe Food Hub also welcomes the public Tuesday through Saturday. Whether you're looking for seasonal produce or specialty items ranging from baked goods to nut butters, this local food marketplace is a reliable source for fresh ingredients. tahoefoodhub.org
Every Thursday throughout the summer, Tahoe City's Farmers Market is a popular destination for locals and visitors. Running from 8AM to 1PM at Commons Beach, the market includes vendors like McClaughry Farms selling hand-harvested honey and Paine Orchards, offering all your favorite stone fruit summer choices like cherries, nectarines, plums and pluots. tahoecityfarmersmarket.com
Thursday is also the day of the week for experiencing a truly unique farm to table opportunity with Douglas Dale, the legendary chef of Wolfdale's Cuisine Unique. Dale is a North Lake Tahoe culinary icon who founded Wolfdale's in 1978 with a menu that's a blend of East and West flavors. In the summer, Dale leads Farmers Market Workshops, starting with a 9AM walk to nearby Commons Beach to select the freshest ingredients. Then it's back to Wolfdale's to create a multi-course meal together—and learn some of Chef Dale's secrets for transforming food into creative cuisine. The workshops fill up fast, so call 530.583.5700 to secure a spot. For a special evening out, Wolfdale's is open every day but Tuesday with lakeside dining in downtown Tahoe City. wolfdales.com
When snowy North Lake Tahoe melts into its summer season, a whole new playground emerges. Whether you're horseback riding, hiking, golfing or exploring by kayak or paddleboard, there's never a shortage of things to do, against a breathtaking backdrop of mountain and shoreline vistas. For more North Lake Tahoe ideas and planning tips, visit gotahoenorth.com
Music in the Air
Nightly:
Crystal Club Bay Casino crystalbaycasino.com
Tuesdays:
Squaw Valley High Camp (Noon to 3PM)
Thursdays:
Truckee Thursdays (5PM to 8:30PM)
Fridays:
Squaw Valley High Camp (Noon to 3PM),
Kings Beach (6PM to 8:30PM)
Saturday and Sunday:
The Village at Northstar (Afternoons)
Sundays: Commons Beach (4PM to 7PM)
Check out gotahoenorth.com/highnotes for the full summer live music schedule.
New and Novel Eats & Drinks
Alibi Ale Works: This craft brewery in Incline Village has a second location in Truckee—with the distinguishing feature of making every beer with 100% Lake Tahoe water. Look for live bands in Alibi's backyard throughout the summer. alibialeworks.com
Tahoe Tap Haus: Located just across from Commons Beach in Tahoe City, Tahoe Tap Haus is open for its first North Lake Tahoe summer season with a family-friendly menu and 16 rotating beers and ciders on tap. tahoetaphaus.com
Pioneer Cocktail Club: This gastropub is also making its first full summer debut in Tahoe City, offering creative craft cocktails in a rustic bar setting. On weekdays, drop by for happy hour from 3PM to 5PM. The 10PM to Midnight late-night happy hour offers discounted drinks and half off pizzas every night of the week. pcctahoe.com
Glasses Wine Bar: If you're looking for a welcoming place to hang out with friends, Glasses Wine Bar in Incline Village offers just that, along with 26 wines by the glass and live music every Saturday night. You'll find only light snacks for sale, but you're welcome to bring in your own food or even order delivery. glasseswinebar.com
Whitecaps Pizza & Tap House: Now marking its second summer in Kings Beach, the two-story pizzeria with an upper deck offers the rare mix of shoreline dining with an affordable bistro-style menu. whitecapspizza.com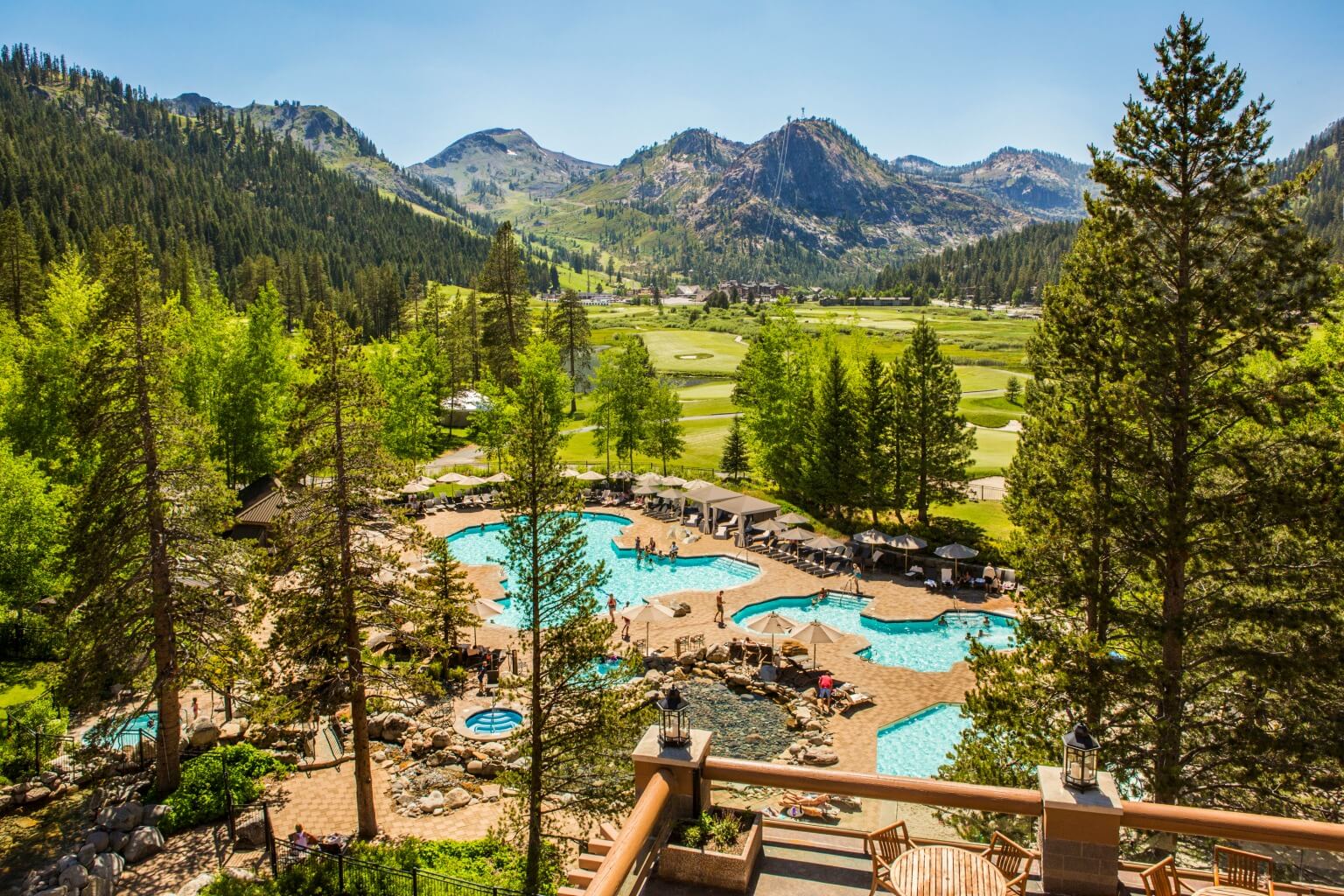 Where to Stay
For luxury resorts, the Ritz-Carlton Lake Tahoe and Resort at Squaw Creek offer full amenities, with the Hyatt Regency Lake Tahoe also touting 500 feet of private lakefront beach—plus 26 lakeside cottages in its guest room offerings. For small, cozy cabins, options include Cedar Glen Lodge and Cedar Crest Cottages. If you're looking for a nature-inspired stay, Granlibakken, which is one of Lake Tahoe's most historic resorts, offers a treetop adventure park, including scenic bridges and zip lines.