Words by Anni Golding
When Guili Glassman, founder of Belmont-based Alma Superfoods, won a Good Food Award for her Aji Yellow Pepper & Cashew Butter spread earlier this year, it was a milestone for the Peruvian-born entrepreneur. "I felt so proud—I cried!" she recalls. She also felt honored to represent her culture and to be able, through her business, to tell the story of the diversity of Latin American ingredients. For Guili, that story began in her mother's kitchen.
Guili's mother, a self-taught cook who had an affinity for baking, ran a successful catering business in Cusco, and young Guili was her apprentice. "She was very determined with her business and very passionate," Guili says of her mother. "She always strived to give her best."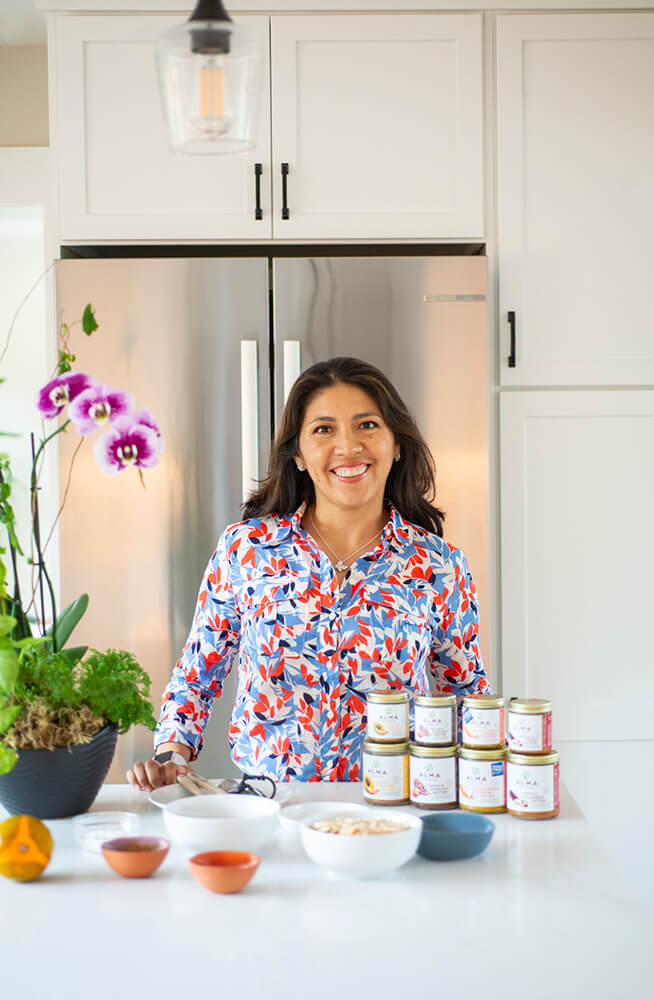 Although Guili inherited her mother's passion for food and business, a love of science led her to pursue a university education in biochemistry and pharmacy. But as she completed her degree, Guili recalls, "it ended up that my love for food was stronger." She enrolled in a hotel administration program to learn about food and beverage management and started building a career in hospitality.
A job opportunity with Hilton Hotels and a long-distance relationship brought Guili to San Francisco in 2006. She had met Jon Glassman in Cusco five years earlier, while both were university students and Jon was in Peru for an internship. They stayed in touch after he returned to the U.S., and a romance developed. In 2008, as the couple was preparing for their wedding, Guili received some heart-rending news: her mother had stomach cancer, and the prognosis was dire. Guili and Jon reorganized their wedding plans and were married in Cusco.
Losing her mother inspired Guili to learn more about nutrition and to augment her culinary education by earning a degree through Le Cordon Bleu. "I wanted to understand better the fundamentals of cooking," she explains. "I knew I had the base from my mom, but for me, it also was kind of an homage to her to have this degree."
By 2015, Guili was ready to start her own food business, which she initially named Chef Salud. (Salud is Spanish for "health.") She had in mind a line of marinades, but as she was working on the business plan, research sparked other ideas. Deciding to focus not only on creating healthy products, but also incorporating the culinary heritage of Latin America, led to the idea of making spreads.
The company name, which had a lost-in-pronunciation problem (non-Spanish speakers heard it as "Chef Salad") also got a do-over. The new name—Alma Superfoods—was inspired by Peninsula thoroughfare, Alma Street. Translated from Spanish, "alma" can mean soul, spirit, heart or nourishing. "I was thinking about feeling the soul of my mom," Guili recalls. "And everything you do with heart and soul." Superfoods signaled Guili's commitment to healthful ingredients.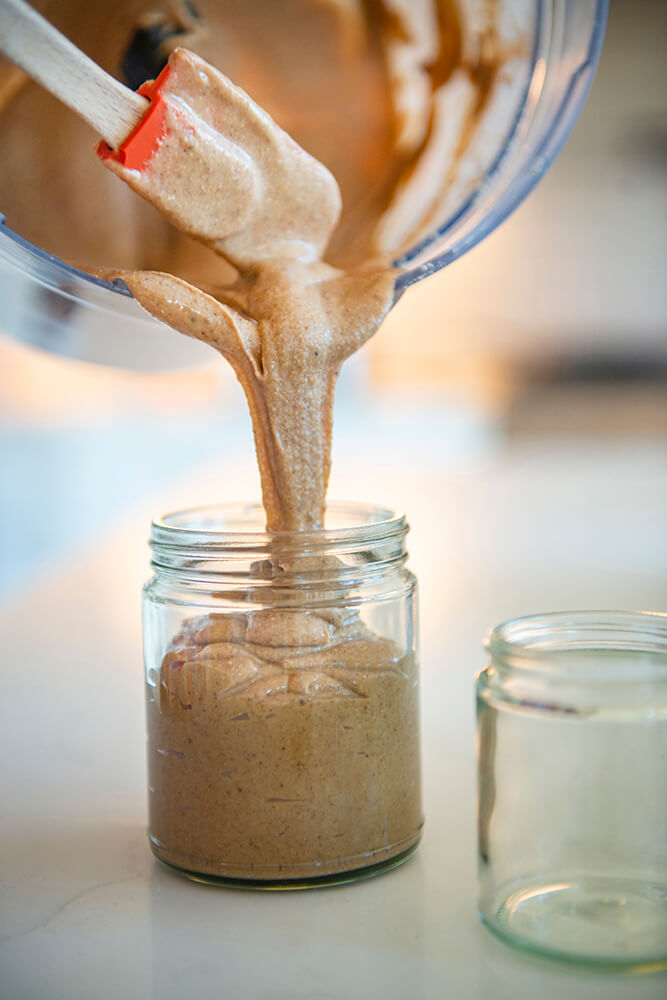 The idea to create nut butters from tree nuts, rather than peanuts, came down to a matter of taste. Peanut butter isn't a common food in Peru, and Guili didn't grow up eating it. It turns out she's not a fan of the sticky spread. The taste of almond butter, on the other hand, "was a 180-degree difference for me," she says. Guili began making her own nut butters at home, pairing them with different flavors.
Finding ways to add sweetness without added sugar was a priority. She turned to lucuma, a favorite fruit native to Peru with a low glycemic index, as a natural sweetener and found it to be a perfect pairing with almond butter. The combination became the prototype for a nut butter line that highlights Latin ingredients.
In addition to Lucuma & Almond Butter, the collection includes the award-winning Aji Yellow Pepper & Cashew Butter, Chipotle Pepper & Cashew Butter and Cacao & Hazelnut Butter. For Guili, aji amarillo was a natural choice for a savory spread, as the spicy yellow pepper is a fundamental ingredient in Peruvian cooking. Smoky, sweet chipotle pepper is featured in Alma Superfoods' other savory nut butter. "I really enjoy the flavor, and it is kind of the representation of Mexican identity," she notes. Rounding out the product line is the indulgent Cacao & Hazelnut Butter, a low-sugar take on Nutella®. Guili wants customers to think beyond toast when enjoying her products. "Nut butters are very versatile and easy to use," she notes. "That's why I really like spreads and dips; you can just play with them in so many ways."
Currently, Guili is focused on getting her products into more stores. Production is still a hands-on affair, with Guili and an assistant making everything at Kitchen 519 in Belmont. Having honed the mission of her business during the pandemic, Guili is also working on a rebrand to identify Alma Superfoods as a Latina business "and emphasizing more about the culture and how these ingredients can be infused in food that people love," she says.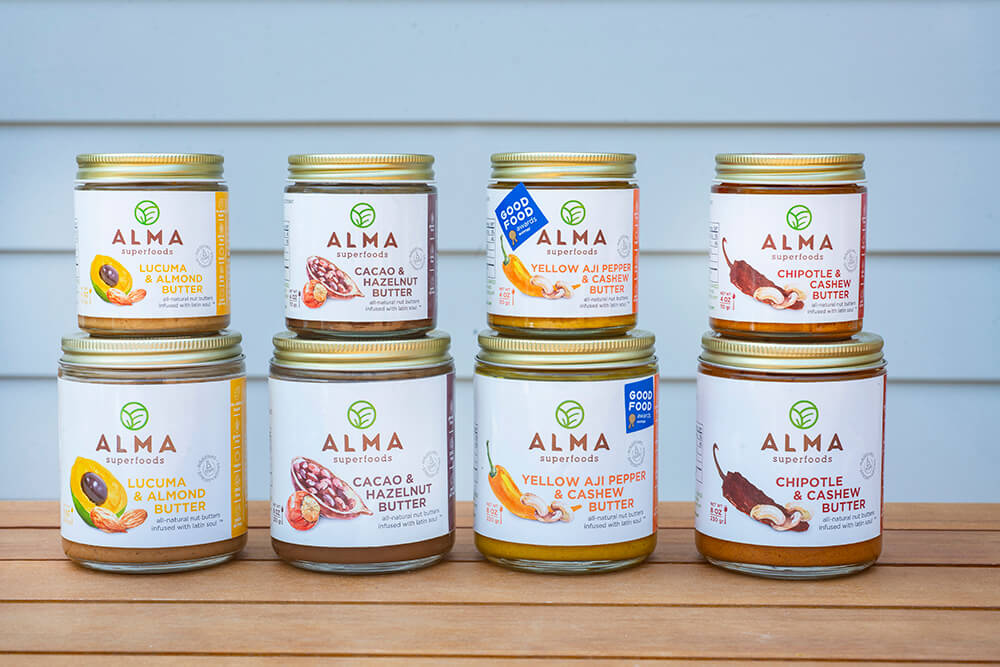 Looking ahead, Guili envisions including jams and cherry coffee tea—a low-caffeine, eco-conscious beverage made from the skin of coffee beans—among Alma Superfoods' offerings. "I have this idea to become the Whole Foods of Latin American ingredients and foods," she shares. "I want to elevate the perception of the gastronomy and the ingredients."
As to what she thinks her mother would say of Alma Superfoods' success, Guili says, "I think, hopefully, she would be proud of what I've accomplished so far."