Words by Johanna Harlow
Real estate agents Alex and Lily Wang see their fair share of homes. But the atrium at one particular Los Altos Eichler-style house grabbed their attention, inspiring them to buy the property and build their dream house around it.
Today, the remodel's windows overlook a tranquil Japanese garden from all directions, making it the unmistakable epicenter of the property. Featuring a small stream (an enduring symbol for the flow of life and the passage of time) along with a striking cypress tree, the space appropriately resides at the very heart of this thoughtfully designed family home.
To actualize their vision, the couple turned to Ogawa Fisher Architects, a Palo Alto firm with a knack for California-centric design. "California is meant for indoor-outdoor living, lots of natural light, good flow and circulation within spaces," notes Hiromi Ogawa, who heads the firm alongside Lynn Fisher.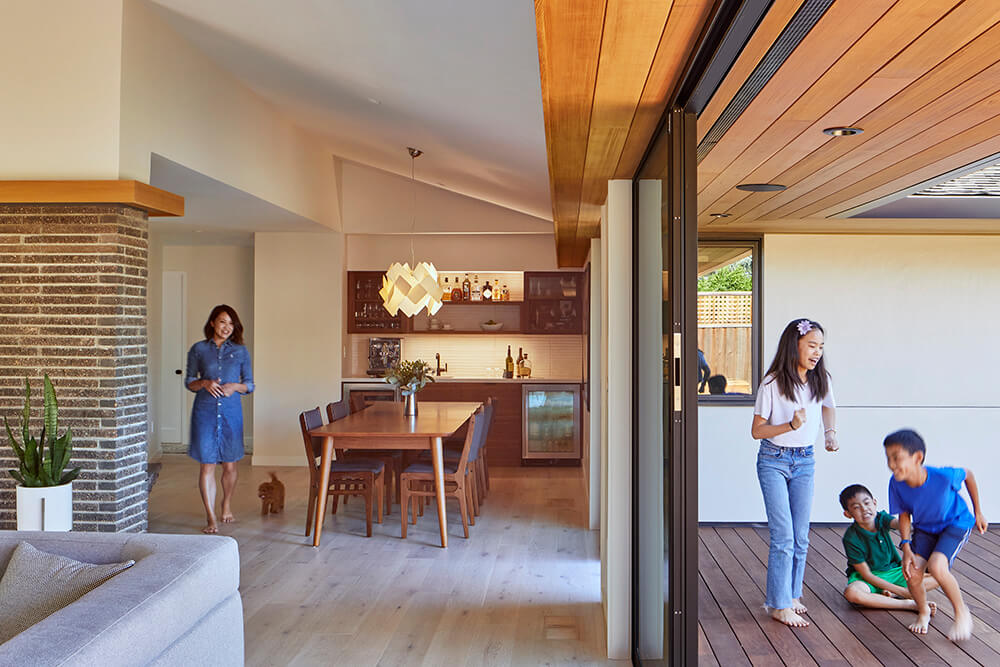 When Hiromi and Lynn first met with Alex and Lily to discuss the project, a few expectations became clear. Beyond seamless indoor-outdoor integration, the couple desired an eco-friendly, functional design that maximized their space. They also wanted an open layout, which would lend itself to comfortable flow for gatherings. "We really believe in hospitality," Lily emphasizes, adding that they also requested that the property's garage be converted into an ADU with the intention of housing extended family. "In our culture and our upbringing, we believe in honoring and taking care of our parents when they're older," she shares.
Then there was the Japanese meets mid-century modern aesthetic to consider. "Mid-century modern actually has a history of crossover with Japanese design and an appreciation starting way back from Frank Lloyd Wright," states Hiromi, who spent time living both in Japan and the U.S. as a child. She explains that many mid-century designers have taken trips to Japan for inspiration or referenced Japanese architecture and design as one of their influences. "So to us, the blend of those two are actually fairly straightforward."
Two crossover features include big sliding doors as well as an intentional use of natural materials. "We really tried to bring some of these warmer wood elements throughout the house," Hiromi says. "The wood ceiling actually doubles as a light shelf and even extends beyond where the roofs are so that it can provide this warm glow of light in other spaces as well."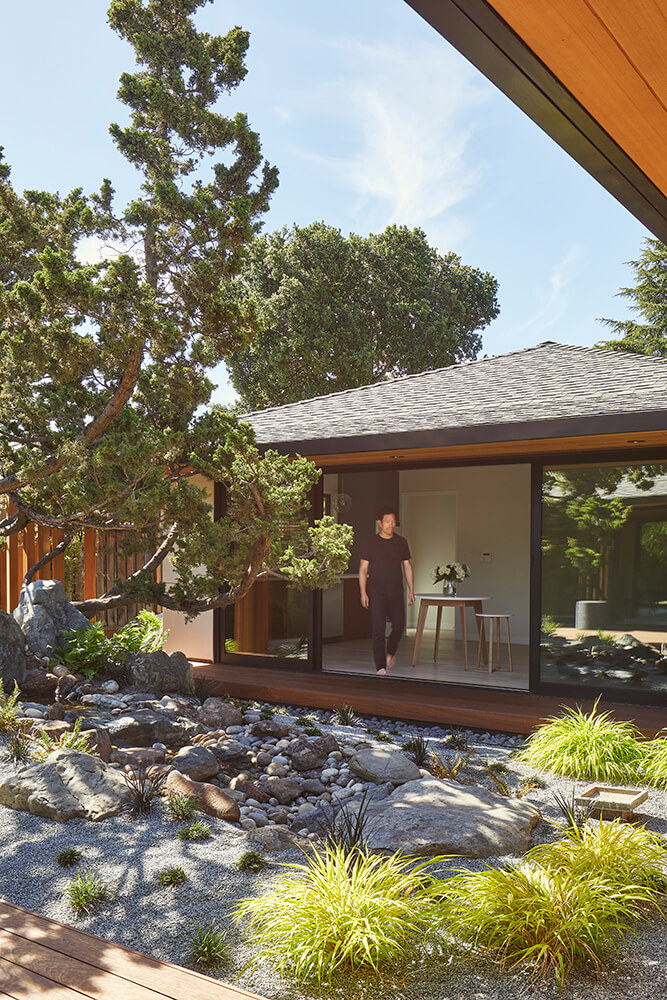 The indoor-outdoor flow is complemented by the overhang of the eaves themselves. Not only does it frame the views to the outdoors, notes Lynn, but "it also shades the glass from glare and heat and extends the room out into that outer zone." Hiromi adds, "We strive to carefully compose the rooms, roof overhangs and space layouts to optimize the sun's best attributes." Yet one more facet in that house-to-garden transition ties in with the building's nickname: Engawa House. Engawa refers to open-air walkways or porches found in traditional Japanese houses.
To optimize the view, the atrium can be appreciated not only from the living room, but also from the kitchen and the ADU. Each vantage point allows for a unique experience, Alex explains, mentioning how he and his wife hired a Hakone Gardens docent as their garden consultant. "He talked about looking at gardens from different views," Alex recalls. "What kind of view do you want from each perspective? So you have three different perspectives—almost like three different gardens in a way."
In retrospect, Alex and Lily express gratitude at the attentive guidance of the team at Ogawa Fisher Architects. With a barrage of decisions to be made and a budget to consider, remodeling can understandably be a source for tension among couples, Alex points out. But Haromi and Lynn escorted them gracefully through the process. "I don't want to say marriage counselors, but they're sherpas," he describes, systemically guiding them section by section. "It was very well organized, very methodical—and yet at the same time, giving us the space to have our control, our input … our brushstroke on the project. So it was a really good match."
The Ogawa Fisher team wholeheartedly agrees. "They really put their trust in us to do the right thing, to find the successful solution," recognizes Hiromi. Lynn chimes in: "The magic happens in a project when those two pieces of expertise—them (the experts in the family) and us (the experts in architecture)—come together with a shared vision."
Lily brings up another benefit of close collaboration: the chance to learn. "I really think it's worth the experience and worth the investment," she shares. "I feel like we're paying for tuition almost." As real estate agents, the couple are no strangers to fixing up homes for market, collaborating with handymen and contractors along the way. "But I would say this experience gave Alex and me more tools to serve our clients even better," she affirms. As the couple dialogued with the team about the "why" behind each decision, they gained insights into design, art and problem-solving. "These people have been through schools, have been through real life experiences building homes, and they're giving you the gold nuggets," enthuses Lily, adding that it's impacted how she regards other structures. "Now I can tell if it's a custom-built home—whether it's the texture of the wall or the height of a door."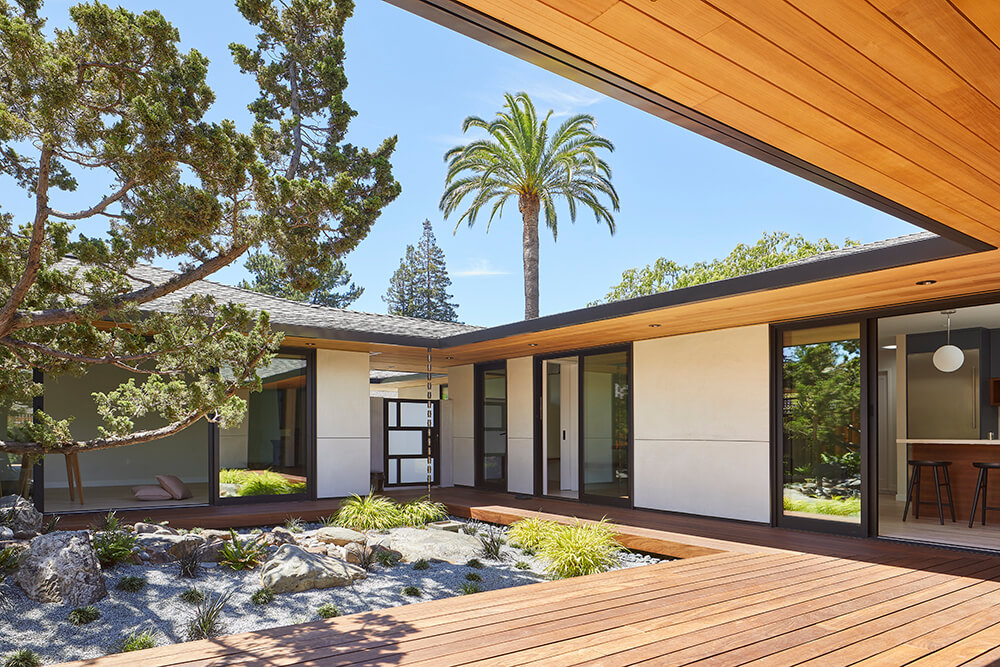 Alex and Lily have lived in their home for two years now. Their ADU has already been put to good use with both Alex and Lily's parents coming for stays. They've also accommodated friends who had to evacuate during a fire in the Los Gatos hills. When they aren't playing host, Alex rolls out a 12 x 12 mat to, as he puts it, "toss people around." "I'm a big Brazilian jujitsu fanatic," he grins. The ADU has also served as a home office and a hangout for their three kids. "So it's a very, very versatile space," Alex says.
As expected, the couple's favorite moments involve their magical central garden. "I like the sounds of water flowing in the creek in the atrium," muses Lily. Ogawa Fisher Architects also included a special spot in the kitchen so she can savor both her morning cup of coffee and the view.
Alex shares Lily's sentiments and considers gardening a therapeutic ritual after a tiring day. "One of the things I noticed waking up the very first few days that we moved into the house was that I heard birds chirping that I hadn't heard before," he recollects. "I actually thought it was a Spotify playlist or something playing in the background. It's the kind of thing that you don't really notice until you have it."