The Collecting Legacy of a Father and Son

 
Jim Rutter focuses intently from the stands at a Stanford football game, where he's occupied a seat for nearly every football season of his life. Over the loudspeaker, he hears the call to action: "Let's verify whether that play is a record with our sports archivist Jim Rutter.
Over decades, Jim has rigorously documented Stanford football, basketball and baseball statistics, along with archiving Stanford sports souvenirs including Big Game programs from the late 1800s. As a fourth-generation Stanford graduate, collecting Stanford memorabilia is practically in his genes but his passion for preserving is a family affair that extends far beyond Stanford.
Jim's father Dr. Richard Rutter is an avid collector with one of the largest collections of Wizard of Oz literature and memorabilia worldwide. Together, the father and son duo also combine their enthusiasm to compile a substantial array of Sherlock Holmes literature and memorabilia.
"Marie Kondo would want items to spark joy," acknowledges Jim. "The problem is that everything sparks joy for us. If you bring us some John Grisham novels from 1988 or a book on military history, we are interested. It is a blessing and a curse." 
Longtime Peninsula residents, the father and son collecting team live near one another in Redwood City, affording them the opportunity to frequently check in and discuss their finds. "Our collecting isn't as much for value," clarifies Jim. "It is more the unbridled interest in all things."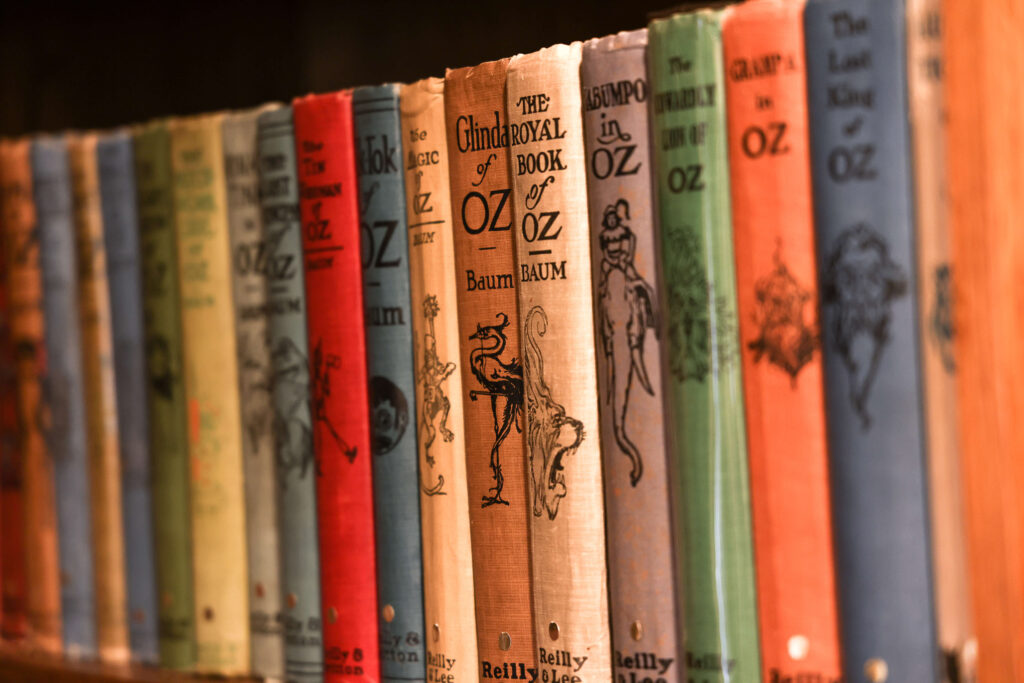 The Wonders of Oz

 
Richard's fondness for the Wizard of Oz began as a child enjoying Frank L. Baum's 14 stories and later reading them to his own children. "My mother had a first edition and my cousin had another. Together, they were a bit of a collection," he shares, before offering some additional context. "The Wonderful Wizard of Oz is only the tip of the iceberg. It is only one book in Baum's original canon of 14. Then Ruth Plumly Thompson added 19 more Oz novels to the original canon." Richard is such a committed Oz fan that he occasionally directs mail to be addressed to him at Emerald City, rather than the Emerald Hills neighborhood where he lives. Luckily, the postal carrier plays along with his whimsy.
One summer, nearly 50 years ago, Richard decided to indulge his interest in the Wizard of Oz by attending the Winkies Western Region Wizard of Oz meeting with his young son, Jim, and daughter, Karen. "Despite their cries, I dragged the kids up to Yosemite," recounts Richard. "It opened a whole new world for me. Here were a bunch of people at the beautiful Wawona Lodge who were madly involved with Oz."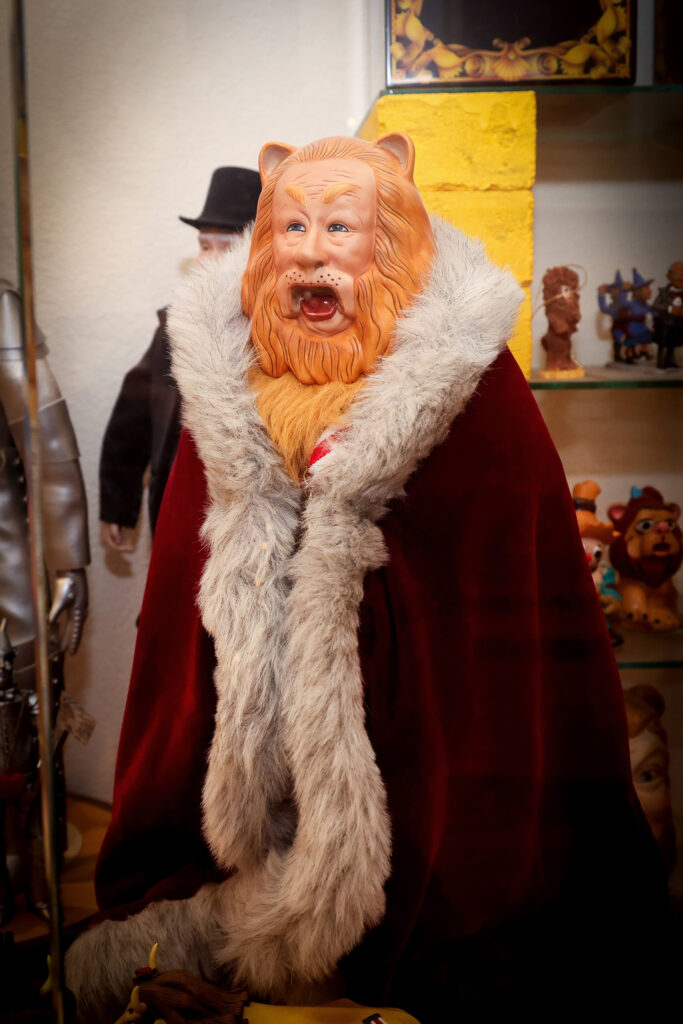 A retired orthodontist and former professor at University of Pacific Dental School in San Francisco, Richard adopts alter egos to channel his enthusiasm for all things Oz. For over 10 years in a row, he won the costume contest at the annual Oz Convention. "It was the costume contest equivalent of the arms race," observes Jim wryly. 
Richard's costumes ranged from the Tin Man made from a silver-painted pool cover to Baum's fictional elk-like creature the Gump, in which he cocooned himself inside of two sofas tied together with a deer head on wheels. "My father was careening down a pathway at considerable personal peril and crashed at high speed," recalls Jim with a groan. As Richard is quick to point out, "I crashed, but there were no major injuries." 
Richard's zeal for costuming culminated in his impersonation of the "Great and Terrible Oz" himself while soaring over Indiana University in a hot air balloon for the 100th anniversary of the original The Wonderful Wizard of Oz publication. "I felt a little bit closer to Oz," he fondly remembers. Sporting his great-grandfather's top hat and elaborate tails, Richard was subsequently featured in a New York Times front page story. "He is a bit of a reserved person," notes Jim. "But when he would go into his costumes, his inner extrovert would emerge in the presence of glory." 
Richard scours the globe to feed his insatiable Oz enthusiasm, securing copies of the book in 62 languages and nearly 1,700 Oz-related titles. The state library of North Macedonia even donated one of only two books in the country to his collection. At his home, Richard leads guests down a yellow brick road he built himself in his dedicated Oz room, where Oz literature, memorabilia and mint-condition collectibles are housed. Crystal Emerald Cities, rare cut-out Oz Waddle collectibles dating back to 1934 and colorful advertising materials are carefully exhibited amongst the wall-to-wall bookshelves and display cases. In 2019, Richard's journey with Oz came full circle when he attended a showing of The Wizard of Oz at the Stanford theater 80 years after he first watched the movie in a theater as a child in 1939.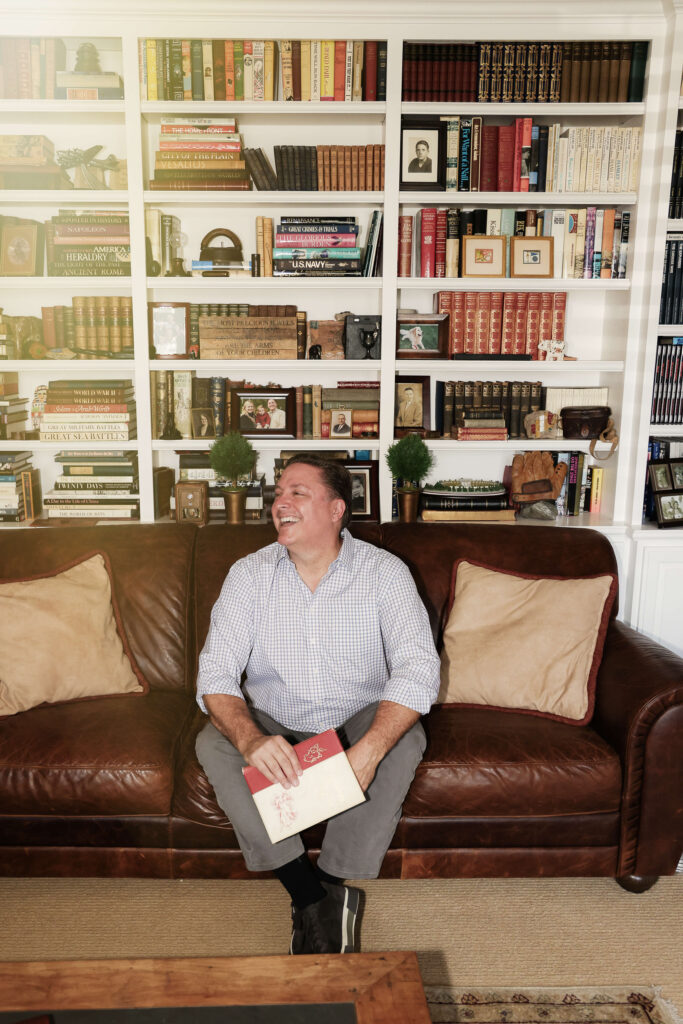 Stanford Superfan
On the fourth floor of the Stanford press box, Jim diligently preserves Stanford sports history by procuring everything from tickets, programs and newspaper clippings to fan buttons and game-winning footballs. He manages much of the collection on behalf of Stanford and works to acquire direct donations. This particular collectible calling is a deep-rooted passion: Jim can trace his great-grandfather back to Stanford's very first "pioneer" class of 1895. "I have been going to Stanford games since I was four years old and traveling to Bowl games," he relays. "Watching Jim Plunkett quarterback the team to win the Rose Bowl 50 years ago makes a strong impression on a six-year-old sports fanatic." 
When he's not at his day job running his social platform company Vitae (formerly YourSports), Jim has his Stanford archivist hat on, searching for hidden gems. "We have a copy of Stanford's opening day ceremony program from 1891," he says with pride. Jim also maintains a personal collection, although he laments that it could take a lifetime to track down certain elusive items. He even has a copy of the first yearbook, The Stanford Quad, from 1894. "I took my father's collection to a completely different level of obsession," he admits. "I have so much, you can barely get into the door of my home office."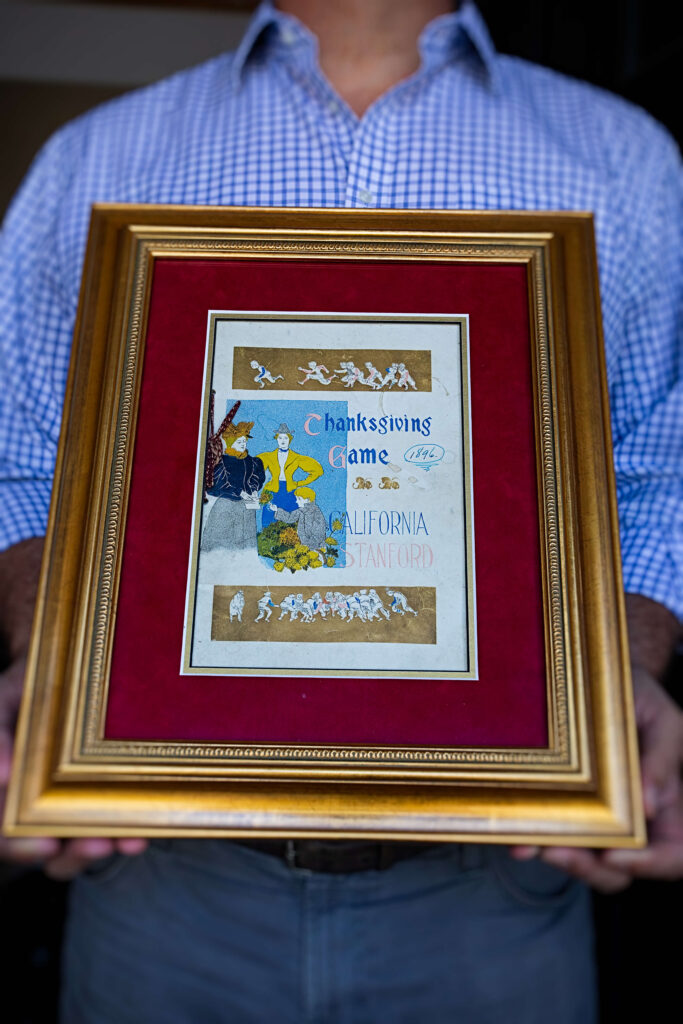 And this begs the question— what is his spouse's take on his uber-collecting tendencies? "My wife Cindy is clutter-averse," he confides, "but she has a saint-like tolerance." 
As for Jim's favorite Stanford sports memorabilia item, it always comes back to family. Unquestionably, he says, "My great-grandfather's 1894 fencing medal from a competition against U.C. Berkeley." 
In Search of Sherlock Holmes

 
When it comes to Arthur Conan Doyle's famous fictional detective, the father and son investigators hunt down treasures for their joint collection. Richard and Jim focus on acquiring the body of Sherlock Holmes literature, which consists of 56 stories in the original canon and four novels. Along with the detective's printed adventures and literary criticisms, their sizable collection includes many of Sherlock's deerstalker caps, signature pipes and every imaginable kind of Sherlockiana. "It has been one of the great shared experiences we have as father and son," reveals Jim. 
Richard remembers how the Sherlock obsession first started. "I was given Sherlock Holmes stories by my grandparents," he says, "and I enjoyed seeing Holmes movies as a child during the war." Nodding, Jim adds, "There is an international interest in Sherlock Holmes that would surprise most people—he has been named as one of the most recognizable literary figures."
Richard is a charter member of the Sherlock Holmes Scion Knights of the Gnomon, started in Palo Alto in 1976. As one of 250 Sherlock Holmes groups in the U.S., the Scions adhere to an annual schedule that begins with the first meeting on Sherlock Holmes' birthday in January. "There are certain groups that forbid suggesting Sherlock Holmes is anything but human," says Jim. "We always refer to him in the present tense."
All in the Family

   
It won't be surprising to learn that Richard and Jim are masters at preserving their own family history, referring to themselves as "collectors of life." As Jim describes the process, "It is more of a bigger story of documenting the journey from the alpha to
the omega."
As father and son carefully archive the present and what has been passed down to them, their intent is to share and illustrate generational stories through photos, old movies and mementos of family milestones. "Our family has kept virtually every document and diploma with some dating back to the 1800s," notes Jim. "How many people can show you pictures of their great-great-grandparents?"
By meticulously capturing their family history, they hope to provide a legacy that will live way beyond them. "Your time on earth is a series of brushstrokes," muses Jim. "We want to capture the life experience that can be shared and passed on—there is no end to the story."