Words by Sheryl Nonnenberg
Melissa Mahoney's motto is, "Think big, paint big," and that is exemplified by her large-scale, abstract acrylic-on-canvas paintings. So you might imagine she would have to live in a roomy house or work in a large studio. A visit to her cozy (under 800 square feet) cottage in the Crescent Park neighborhood of Palo Alto proves otherwise. One of 12 small homes on a charming lane, the house has been carefully organized to provide everything Melissa needs: a small workspace inside (for rainy days), a storage/display area for paintings and a large patio where she mainly works. "I look at myself and say, 'I am living in California! I love my life and I love where I live.'"
Melissa's idyllic California lifestyle took root when she came here to attend a wedding in 1993. Her first impression was, "This is incredible—I am an outdoor person so there is so much to explore here." After several cross-country trips, she decided to permanently establish herself on the West Coast, primarily and currently living in Palo Alto.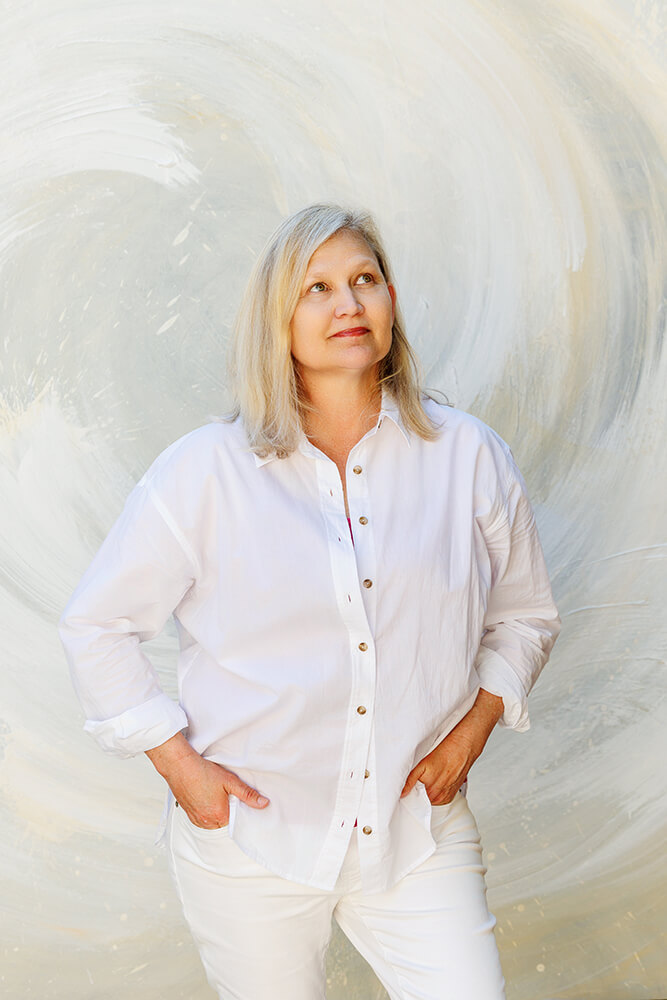 Born and raised in Georgia, Melissa attended the University of Georgia where she earned her Bachelor of Fine Arts degree. She feels like she was destined to become an artist, partly because her mother and two grandparents were artists. Her mother encouraged her interest but her father expressed the usual concerns about how difficult it would be to earn a living. This might have had some bearing on her decision to major in graphic design and minor in fine art. That preparation allowed her to create her own successful graphic design and branding company. She credits the design work with giving her the financial flexibility to pursue her more creative instincts.
Melissa's early paintings were done in a representational style but then she found herself referring back to a course of study she did during college in Cortona, Italy. It focused on the very precise art of calligraphy, which she found interesting but "too restrictive." About 15 years ago, she had an epiphany and decided to really focus on being an artist and on painting only in an abstract manner. She began a series called Vortices (which she continues today) that consist of swirling circles of paint on canvas, raw linen and wood panels. She became hooked on abstraction, explaining, "It's more emotive, expressive and gratifying to do."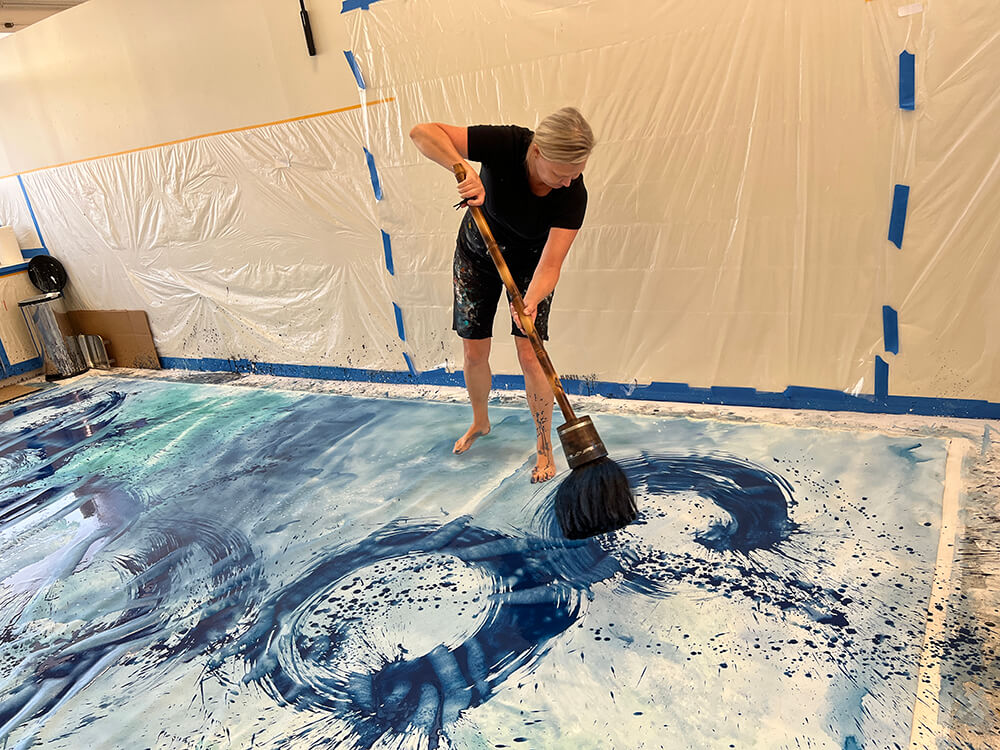 The inspiration for the series, and most of her work, comes from Asian aesthetics, specifically ensō ("circle") and wabi sabi ("flawed beauty"). Although she is not a Buddhist, Melissa loves the idea of the circle as a symbol of enlightenment, strength, the universe and the void. The endless circle has become her signature style and she creates it in black and white, bold colors and foil leaf.
Using paint she mixes herself (because "I can achieve the colors I want"), Melissa uses custom-made brushes (one is 48 inches tall and made from an old maple syrup bucket with a thick brush attached). She initially applies the paint in one bold stroke. "Ens¯o is done with one stroke usually," she explains, "but I use multiple strokes because it feels more spatial." The swirling, endless lines create a sense of movement and energy, all the while drawing the eye into the center space—much like a vortex found in nature. Melissa finds working with the form and being an abstract artist challenging and engaging. "I haven't tired of it," she says. "I keep reinventing materials or ways to do it."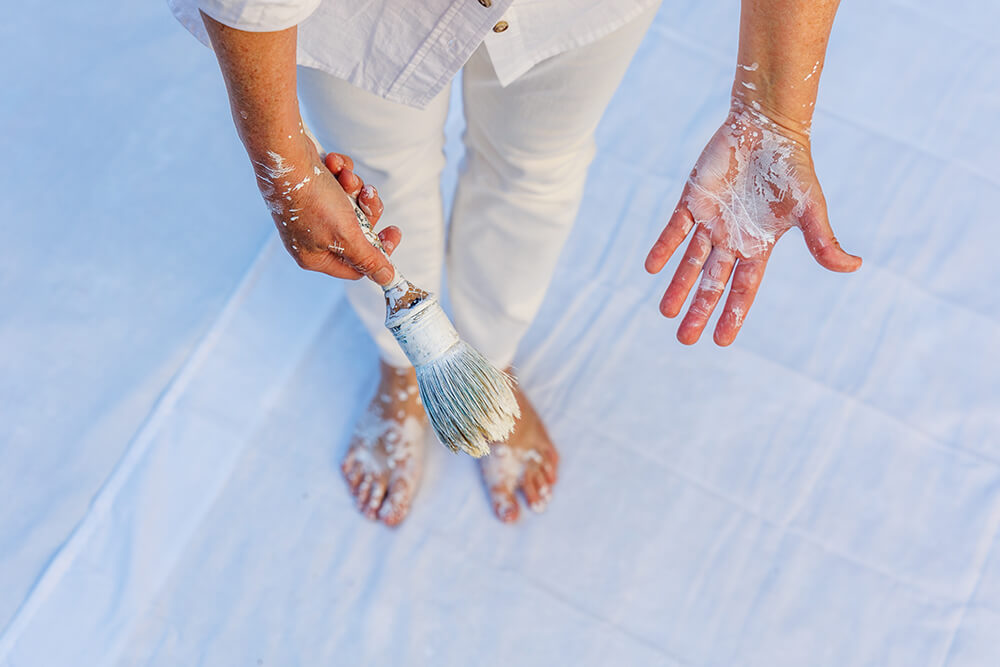 She draws inspiration from a variety of sources. The ocean and long summer days influenced her Summer Surf series that features vortices against backgrounds of blue, yellow and red. The orange color of the Golden Gate Bridge is reflected in Titan, in which Melissa used acrylic and foil leaf to capture the majestic landmark. In contrast, the Hope series is created in the palest of pastel colors for the background, with the circle painted in a heavily textured white. Although she says that she is influenced by the happenings around her, she avoids trying to make statements. "I paint to transport where I'm at—how I want to feel versus how I am feeling."
When she needs other sources for ideas, Melissa turns to her "inspiration books." These are a series of bound notebooks that contain postcards, photographs, fabric swatches, invitations and other ephemera that have captured her interest. She usually makes one a year and finds that even when she is "stuck," they seem to help. "I pull out a book and I get excited to paint," she shares.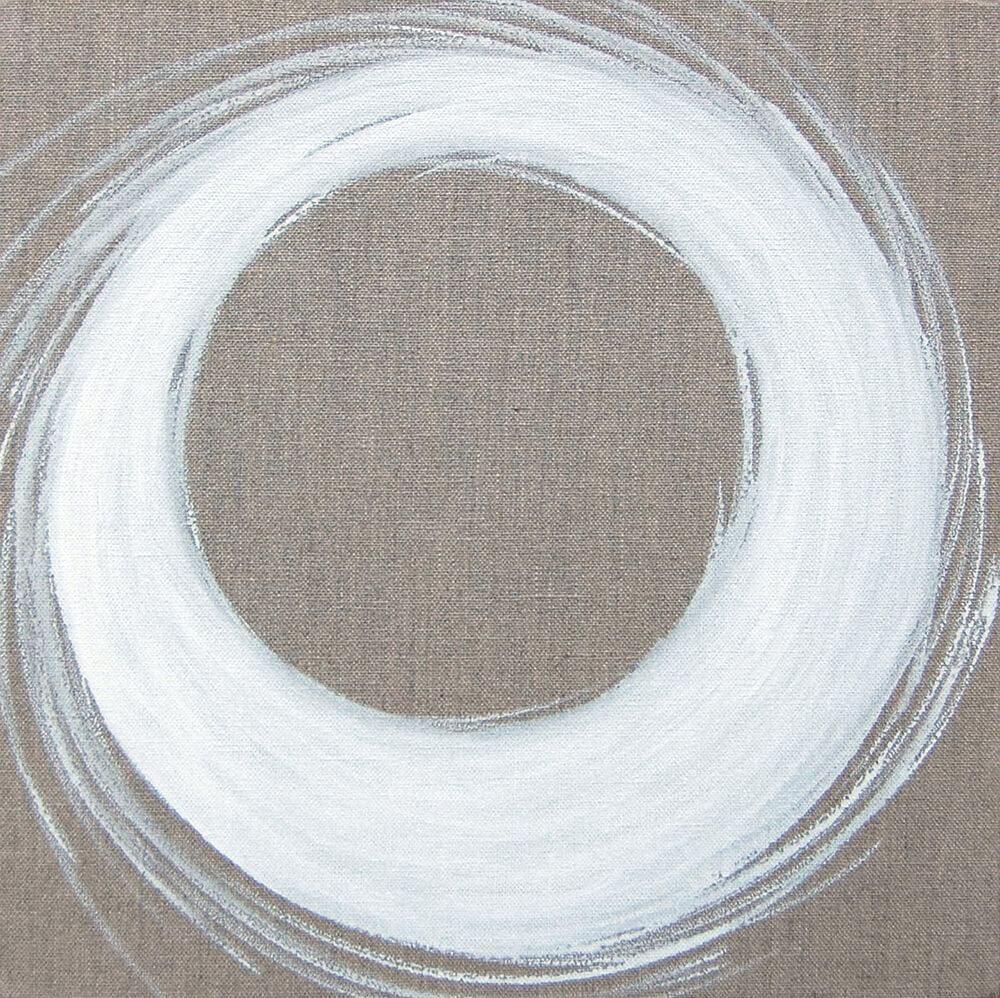 Melissa devotes the majority of her time to painting and has found that the most efficient way to promote and sell her work is through curators and art advisors. She cites Kevin Barry Art Advisory, Simon Breitbard Fine Arts and Laurie Ghielmetti Design and Art as being wonderful resources since they sell to designers and their clients. In addition to being an artist in residence at the Cubberley Arts Center, Melissa has had her work chosen for the Art in Embassies program. She is also a regular at TED conferences, where she has led abstract painting workshops.
When asked which artists she admires, she calls out Robert Motherwell ("His work looks Asian.") and Mark Rothko, because of his colors and scale. She notes that she really enjoys examples of work by these two artists, and other abstract artists, at the Anderson Collection at Stanford. She also admires the contemporary artists who are featured in the PBS series Art 21.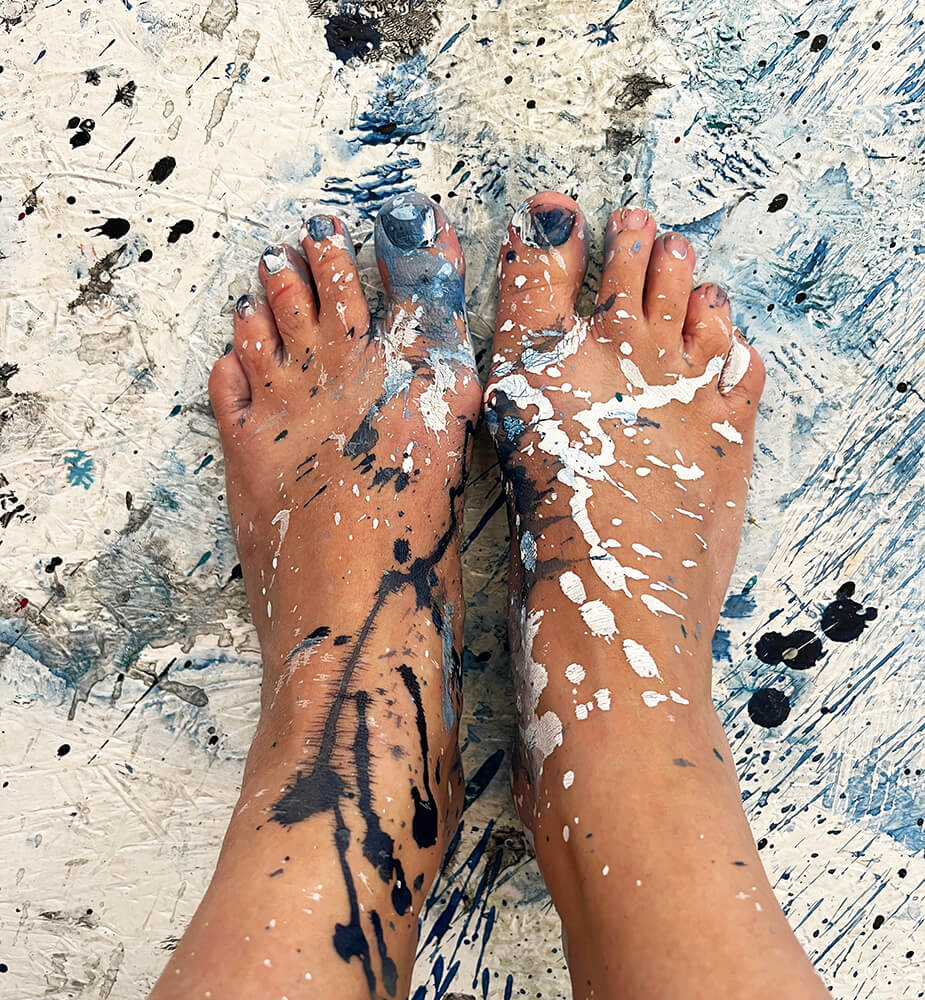 "I love hearing artists talking about their art, in their studios," she says.
Melissa's journey to becoming a fine artist seems to have come full circle, but it was not without challenges. She smiles as she recalls how her father urged her to take a typing class. ("Just in case you have to become a secretary.") She laughs, "My big rebellion was that I never learned to type."
Melissa has found a way to do what she loves and in a place that she clearly enjoys. "I accomplished more than I thought, coming from a small town in Georgia," she muses, adding, "I can't see myself not being an artist, it is so much a part of me—the personal expression and the sharing."