As the owner of Palo Alto's Topiary Design, Betty Lee says her best day is when she's able to solve a design challenge—especially something unusual like how to showcase a pair of bright red chairs. Her own garden is whimsical, including animals made from stone and plants, placed visibly, and also hidden, like treasures to find. At first glance, a garden might be perceived as pleasing, inviting or simply beautiful. But the design behind it is what delivers the experience—it's the paths, walls, water features, decks and furniture, all carefully interwoven.
And while Betty has personally chosen a whimsical English garden, she is equally capable of creating a traditional garden, with garden "rooms," perfectly-manicured lawns and neatly trimmed hedges, or a contemporary garden that uses clean lines in both the plants and the stone and wood that might create the hard landscaping. Specializing in both interiors and exteriors, she works hand-in-hand with clients who want to be involved and is equally comfortable with a hands-off client who trusts her to execute their vision.
Born in Taiwan, Betty moved to the Bay Area when she was 12 and stayed here until she went east for college. While at Princeton, she did not yet delve into design, although she did take one garden design class that she loved. She also met her husband there, and when they graduated they moved to New York City, where Betty worked as a management consultant for Booz Allen. The garden design class became a faint memory. Ten years later, a work opportunity for her husband, Peter Fortenbaugh, lured them back to the Bay Area. Once here, Betty tapped into her creative side and started her design business.
Her projects cover a wide range—from an expansive home on a multi-acre property to a small apartment balcony. She says designing isn't really that different from her job as a management consultant—her work is project-based, with new people and a new location every time. Like management consulting, there is research, planning and implementation. What's different is the creativity. In the words of one client, "Betty paints with plants."
What does she love about gardens? They can be beautiful and practical. Betty will make sure that the must-have hot tub requested by teenagers will also be aesthetically pleasing—a raised pond with a fountain serving as the focal point. Beauty is not the only criteria, but it is never sacrificed.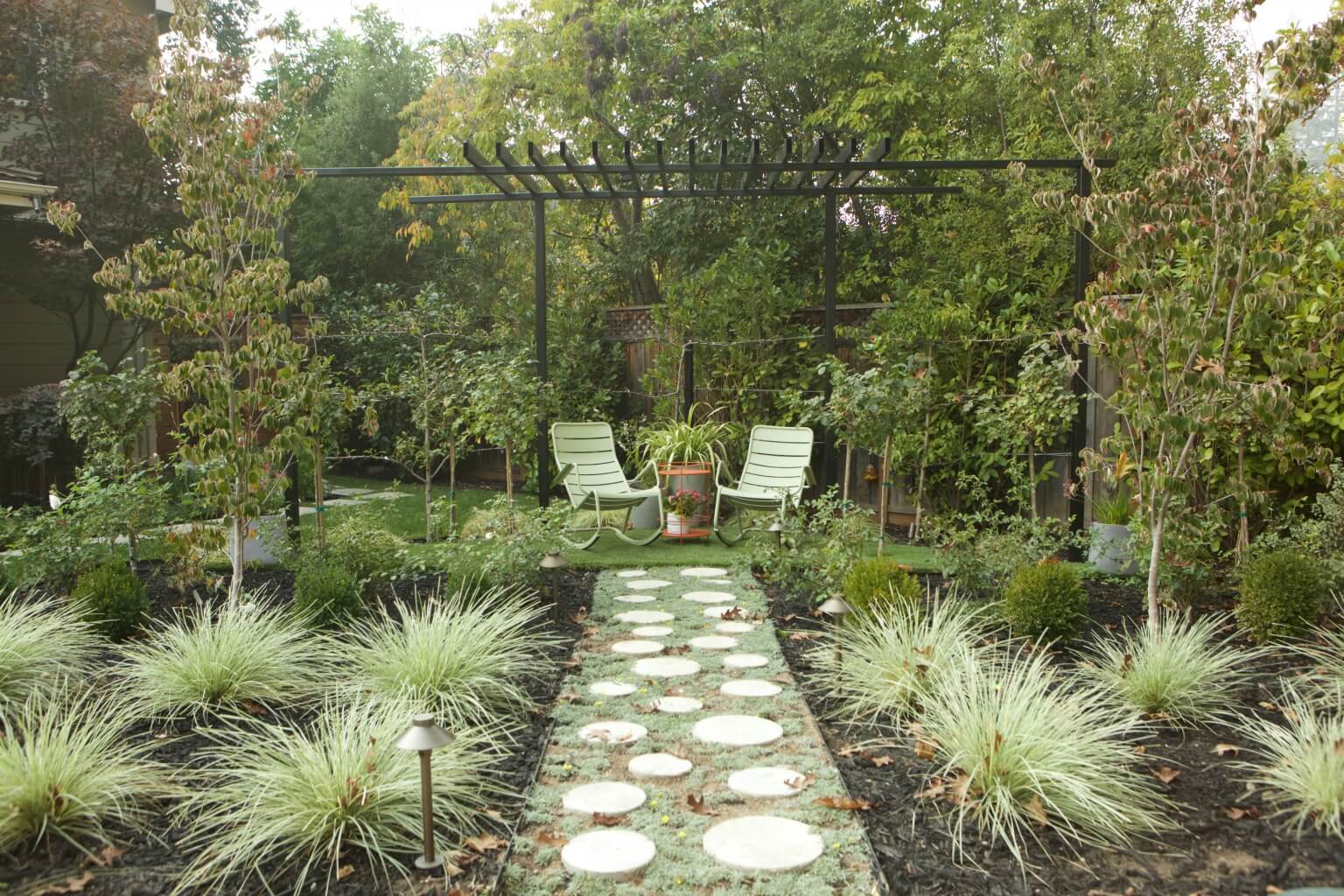 Garden furniture offers another opportunity to create something beautiful and practical—whether it's a white stone lounge or green metal rocking chairs. And it's not just the furniture that draws the eye, but the path that leads the way, such as the round stones seemingly in a haphazard polka-dot pattern, drawing you to the rocking chair respite. And the material of the furniture fits right into the design—from the stark white stone to the grey weathered wood.
Having raised her own family, Betty knows how important it is to understand how a client plans to use their garden, whether it's to entertain, as a play space for children or both. What life stage is a family in—toddlers, teens or no children at all? She carefully considers the budget, including the upfront and annual costs such as maintenance and the water bill. Betty factors in location-specific requirements such as "water-wise" plantings and deer-tolerant plants. She has a bias to build in flexibility; aware that a family's needs might change over time, she accommodates a sunken trampoline knowing that one day it might be a pond.
Betty's own traditional English garden has been featured in Gamble Garden's Spring Tour—an annual event showcasing a small selection of noteworthy local gardens. A sign of her success? Most of her clients come from word-of-mouth, as a growing number of Peninsula properties get touched by Betty's paintbrush.
Her January advice? With many plants in dormant stage, it's the perfect time to look at the skeleton of the garden and make plans for the other seasons. And one little-known fact is that our climate allows for the late planting of bulbs. So, if you were too busy over the holidays and think you missed your chance to plant a few daffodils or tulips, think again. Betty knows first-hand that you can still plant them now and enjoy them in the spring.