Words by Anni Golding
Nee Lau, owner of The Mandarin, is passionate about good food. He can describe favorite dishes in exquisite detail—from a tender, herb-stuffed rotisserie chicken from a market in Avignon, France, to "the best venison" at Wild Hare, a long-since-closed Menlo Park eatery that once resided in the same spot that now houses Nee's own restaurant. Although The Mandarin is his first solo venture as a restaurateur, he's more than ready for the role.
Nee's introduction to the food and beverage industry came at age 14, just shortly after he emigrated to Redwood City from China's Guangdong province with his mother and three siblings. "I could barely speak English," he says. "I didn't even know A-B-C." Nee enrolled at Sequoia High School and took on a part-time dishwashing job at nearby Give Pizza Chance.
By age 16, he was managing the pizza spot and learning about the food business from owners Rusty Epps and Bill Abney, whom he still affectionately refers to as "my bosses." The two men became mentors and role models to the teenage Nee. They taught him to drive, helped him with his citizenship test and introduced him to a variety of dining experiences. More importantly, he says, "They also taught me about right and wrong, to enjoy life and to have fun while you're doing what you do."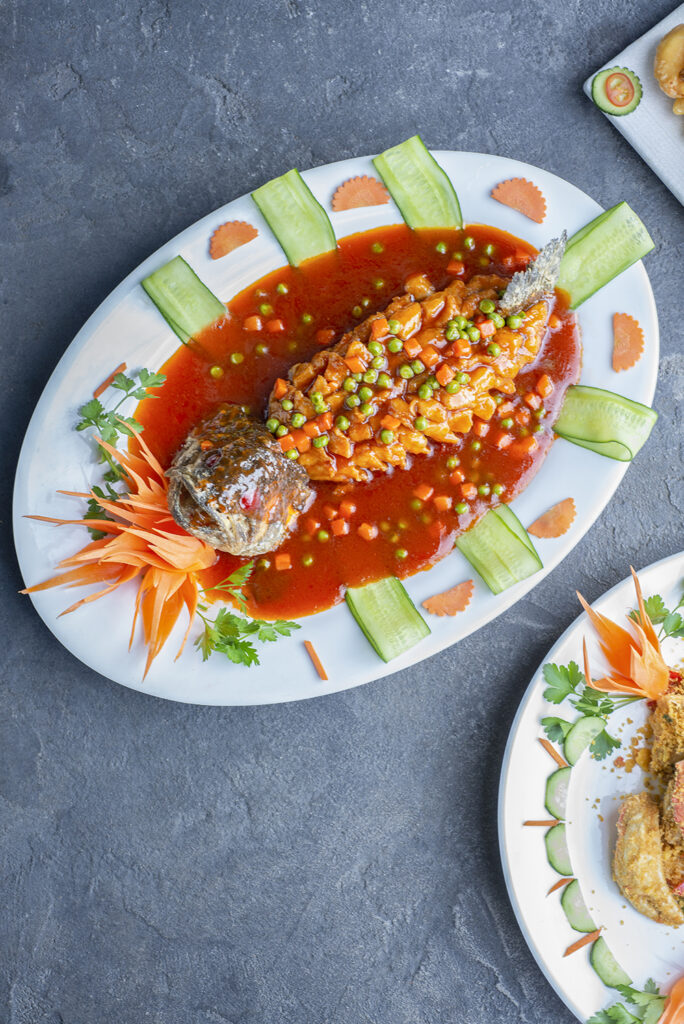 Respecting his mother's wishes that he pursue a financially lucrative career path, Nee earned a computer science degree from San Jose State University. "I hated it," he says plainly of his field of study. Even so, he built a tech career at Excite@Home and then moved on to Lucent Technologies, where he rose to the role of senior network engineer, eventually leaving the tech industry when a reorganization at Lucent relocated his job to the East Coast. Nee took a severance package and traveled for six months.
He returned home with a desire for work that incorporated his love of restaurants and good food and suggested to his mother that the family go in together on an eatery. They opened their first restaurant in Vallejo in 2003 and followed with five more over a six-year period, all in the North Bay and Sacramento. (The family has since closed all but two of the properties.) During that time, Nee also earned his MBA from San Francisco State.
A long-held love of wine led Nee to create Amourvino Winery in Napa in 2013. Since its inception, the winery has been his primary business. As 90% of Amourvino's wines are sold in China through direct partnerships, Nee spent much of his time before the pandemic traveling to his homeland on behalf of the business.
When pandemic restrictions halted travel to China, Nee was stuck at home. "I was bored out of my mind, and my wife wanted me to get out of the house," he recounts. Although he wasn't looking for another restaurant project, the opportunity arose when he learned from a friend that Menlo Park eatery Black Pepper had closed, and the building's owners were looking for someone to take over the lease.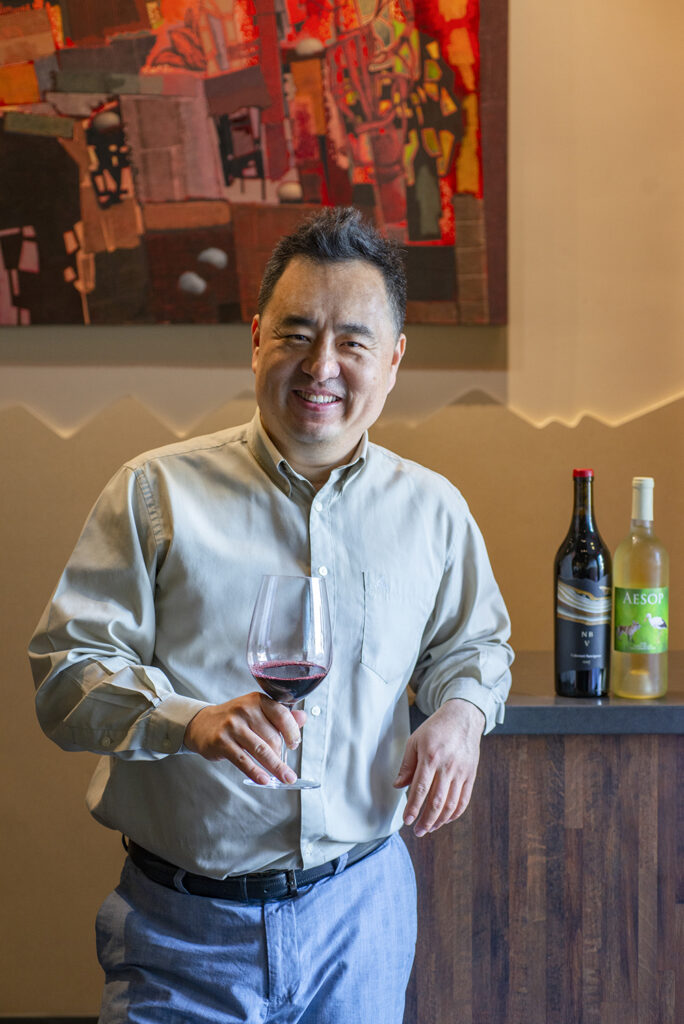 Nee considered the possibility of another family restaurant and consulted with his brother, "a professional restaurateur," who cautioned him that the space was too big. Nee, familiar with Peninsula demographics and having faith in local diners, decided to pursue the project on his own. He didn't have a concept in mind, but he knew that whatever he did, the food would have to be top-notch. "I had a vision to run good quality food that I'd be proud of," he states.
Keeping the space's interior modifications to a minimum, Nee instead focused on staffing and menu development. With a small team in place, and Nee jumping in where needed—"I was not afraid to get my hands dirty," he says—The Mandarin opened in July 2021. The name, suggested by one of Nee's sisters, is an homage to the restaurant opened by Cecilia Chiang in San Francisco in 1961. "Cecilia Chiang always promoted Chinese cuisine, and I've always had a sense of pride about that," Nee says. "She's a woman I admire, who did something amazing."
Chinese flavors and cooking techniques are the foundation of the restaurant's pan-Asian menu, which comprises equal amounts of American-Chinese and traditional Chinese dishes, along with a few fusion creations, like the Singaporean-style Golden Crab dish. "I'm very straightforward: I think food is food. There is no prejudice against American-Chinese or Chinese-American," he emphasizes. "Traditionalism and fusion can cross over—as long as the food is good, and the ingredients are fresh and local."
In developing the menu with his chef, Nee opted for quality over quantity. "A typical Chinese menu is usually about 300 items," he notes. "I didn't want that many. I wanted the chef to pick out the best." Topping his list of traditional must-have "chef's specials" is the tea-smoked duck. Also on the list: eight treasure duck, a labor-intensive dish that must be ordered two days in advance. A deboned, skin-on duck is stuffed with sticky rice, dried shrimp, dried scallops, cured daikon, heritage pork belly, Chinese sausage, salty egg and peanuts and then (in a nod to Give Pizza Chance), wrapped in dough before being steamed and baked. The crispy, thin outer layer of bread isn't part of the traditional recipe. Nee taught himself to make this dish at home several years ago from watching a YouTube video and added the dough layer on a whim.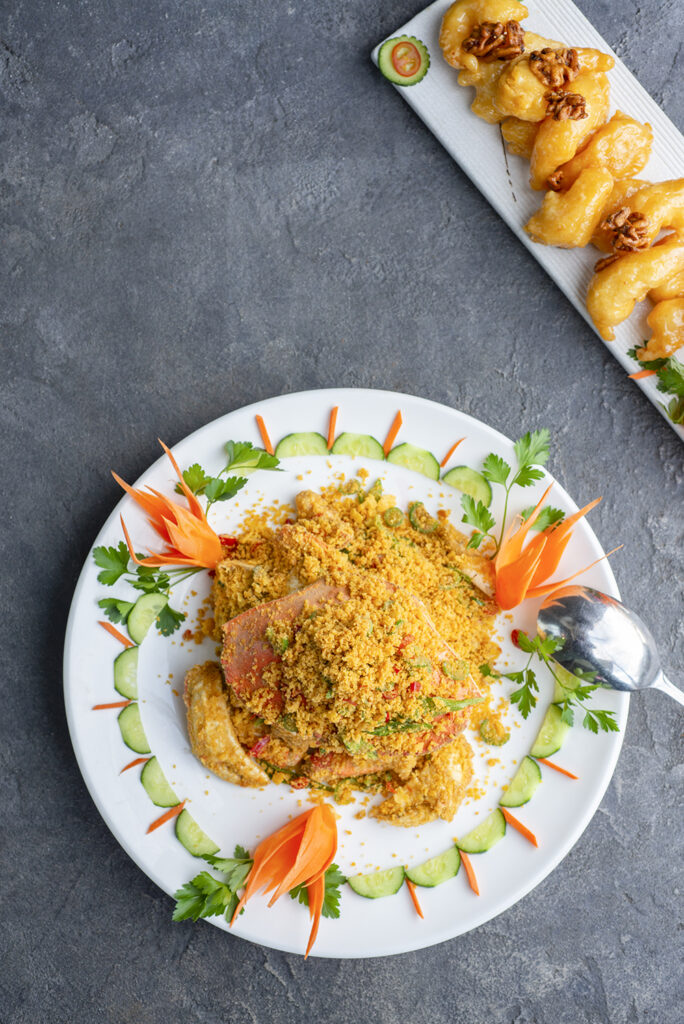 Familiar American-Chinese dishes populate the appetizers section of the menu, including pot stickers, moo shu variations, and the ubiquitous Chinese chicken salad. Diners will find familiar dishes like honey walnut prawns and General Tso's chicken among the family-style entrées. Kung pao chicken is available in two varieties: an American-Chinese version, which includes vegetables, and the traditional Chinese version, which Nee says is vegetable-free. Offering two takes on the dish is a way to bridge the gap between traditional and American-style Chinese dishes. Customers in the know can request either, and the staff has been trained to offer the traditional option to Chinese customers who might prefer it.
Despite pandemic-related dining restrictions, business has been good. "When we opened, we were very lucky, very busy," Nee says. With a solid menu in place and a growing clientele, he wants to add to The Mandarin's offerings. An avowed lover of sushi, Nee is planning to include some traditional Japanese dishes later this year. And, of course, there will be a comprehensive wine list, which will include "about 100 wines."
Through his Menlo Park dining venture, Nee is sharing his passion for good food, welcoming the opportunity to educate customers about the restaurant's menu and traditional dishes. It seems that he's taken the sage advice of his mentors to heart, enjoying life and having fun while doing what he loves.