Words by Anni Golding
Had things turned out differently, Mademoiselle Colette patisserie would be wowing customers with their flaky, buttery croissants and elegant entremets in central Texas, instead of here on the Peninsula.
"I almost opened Mademoiselle Colette in Austin," recalls founder and proprietor, Débora Ferrand. "Everything was ready to go: I had the space, the permits, my business plan." But at the eleventh hour—after two years of intense research and business planning—her husband was offered a worth-moving-for career opportunity in the Bay Area.
While some people might have given up or stowed their dreams for a later date, Débora was determined to open her business sooner than later. After she and her husband and their four boys settled into their new home on the Peninsula in 2014, she started the arduous process of finding a home for Mademoiselle Colette as well.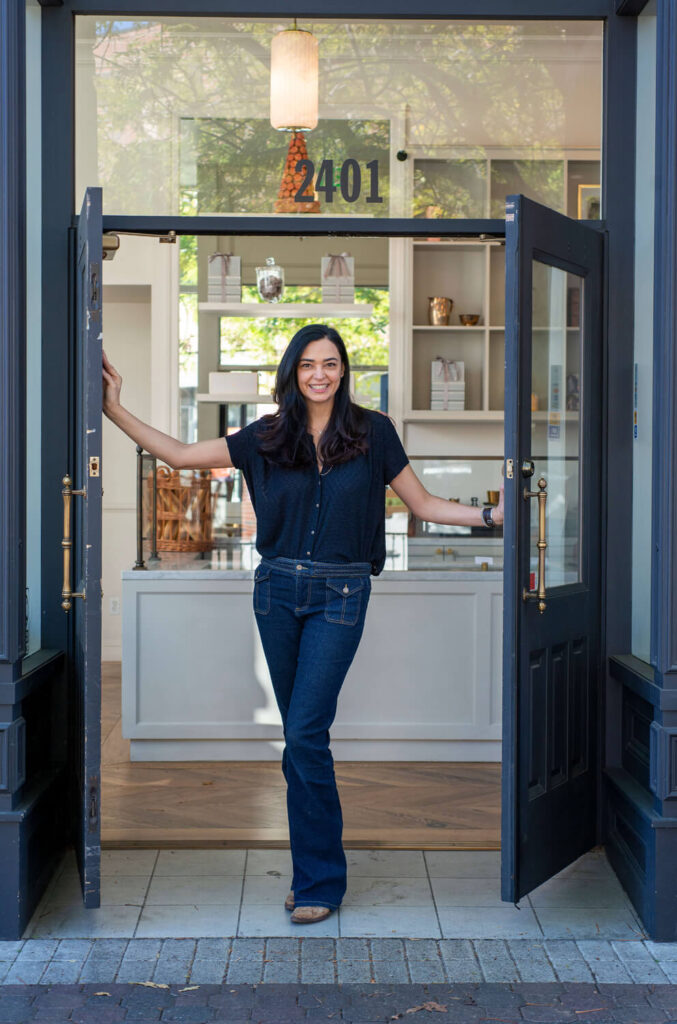 The time-consuming search took her from San Mateo to Mountain View with no luck. And then: a ray of light. Literally. "When I entered the space in Menlo Park," she recalls, "it was early in the morning—and the sun, you know, just invaded. Everything was sparkling inside." Friends and colleagues suggested she consider looking elsewhere, but "I really felt it was a good choice," says Débora.
Determination seems to be in the Brazilian native's DNA. From childhood, she dreamed of moving to France, and at age 18 put her university studies on pause and relocated to Paris. She began working in the fashion industry as a model and completed her university education in psychology. Despite the perks of modeling, she found the work itself boring; a career in food had piqued her interest.
A decade into her fashion career, "I started to work in parallel in the food business," she says, gaining front-of-the-house experience in restaurants. She also pursued a culinary education, taking classes at the famed École Lenôtre and completing Le Cordon Bleu's professional patisserie diploma program. The transition from fashion to pastry made sense. "For me, it's the beauty," she notes. "And after that, you have an amazing experience."
Visual details are part of the Mademoiselle Colette experience, including the shop's décor, which Débora designed herself. The result combines the elegance of an old-school Parisian patisserie with the comfortable feel of a neighborhood bistro. Dominating the space is a glass-fronted marble counter, displaying the exquisite selection of pastries. Small tables with café chairs invite customers to sit and enjoy a croissant or croque madame for breakfast or linger over a salad or slice of quiche and a glass of wine for lunch. Decorative accessories that Débora acquired from antique fairs over the years add a personal touch.
While some customers assume the shop is named eponymously—"everyone calls me Colette now, it's so funny," she remarks—Débora named the shop for two Colettes: her late mother-in-law and the author Sidonie-Gabrielle Colette. Of the latter, Débora says, "She represents a lot of things that speak to me. She was a very free woman and very modern for her time."
When Mademoiselle Colette opened in Menlo Park in 2015, customers were lined up outside the door, and everything sold out before noon. "It was magic," Débora shares. "At the same time, I was very worried to see how we would handle this from now on. We were not expecting this at all."
Realizing that her small kitchen would not be able to meet the demands of the growing clientele, Débora sought a larger commercial kitchen that could accommodate production. In 2016 she found a 6,000-square-foot space in Newark—much bigger than she had envisioned. But a space that size invited possibilities. "I said, 'Okay, I have a kitchen like this; we need to open other locations,'" she recalls.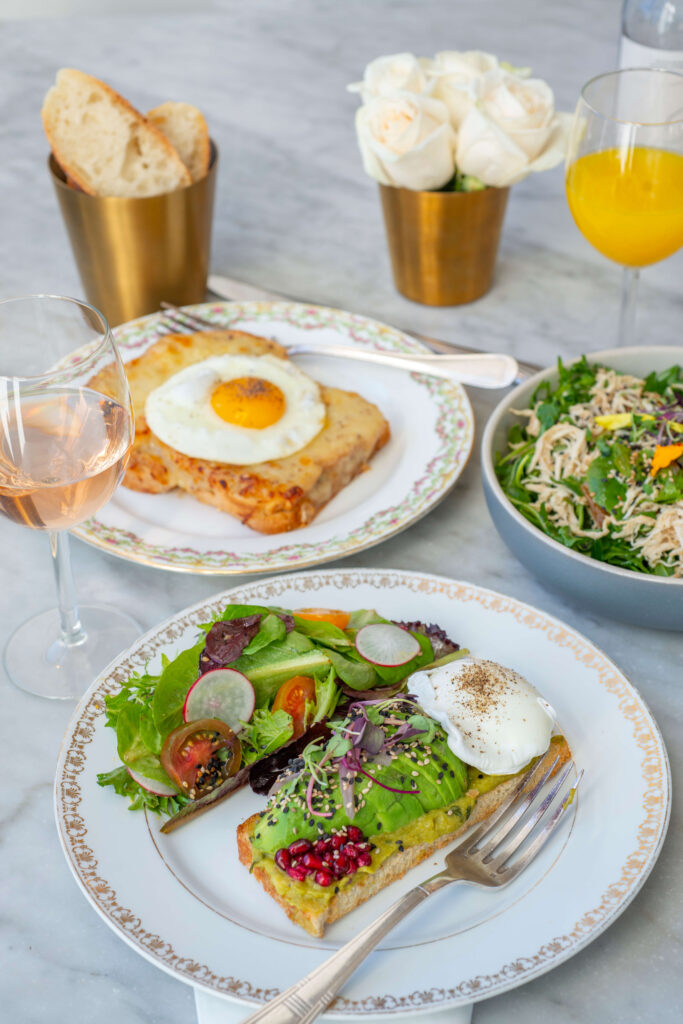 In 2017, she opened Mademoiselle Colette Palo Alto and in 2019, Mademoiselle Colette Redwood City. The look and feel is the same across all three locations, but each has its own personality. "I kept the same color, same kind of counter," she says. "But all the rest is unique, because at each shop everything was picked by hand."
Regardless of the location, pastry is front and center. Almond croissants are among the bestsellers, as is Débora's favorite, chausson aux pommes, a buttery, flaky puff pastry turnover that encases a not-too-sweet apple filling. For a teatime indulgence or special occasion, choose one of the pretty, petite entremets—like the light, tropical Le Voyage, an assemblage of lemon sponge, mango cream and passion fruit coulis. A must-have for chocoholics is the aptly-named Entremet Chocolat, a compact study in chocolate with a surprising caramel center.
The attention to detail that is evident in the products starts with their ingredients. Local, organic and seasonal choices are the priority as much as possible, with farms like San Martin's Spade & Plow providing produce. One of the few imported ingredients is French butter (beurre d'Isigny), essential for croissants and puff pastry and chosen specifically for its flavor and butterfat.
Coming into 2020, Débora was on track to open more Mademoiselle Colettes, but pandemic closures forced a revision of that plan. Within two weeks of the shutdown, Débora and her team had pivoted to takeout and delivery options and have maintained both, even after reopening to dine-in customers.
She is now working on the next evolution of Mademoiselle Colette, which includes hiring, training and team-building. In October 2021 Débora hired Simon Pacary, award-winning former pastry chef of Michelin-starred Le Parc Franck Putelat in France, to fill the executive chef role at the Newark location, where he will manage the kitchen team and oversee pastry production.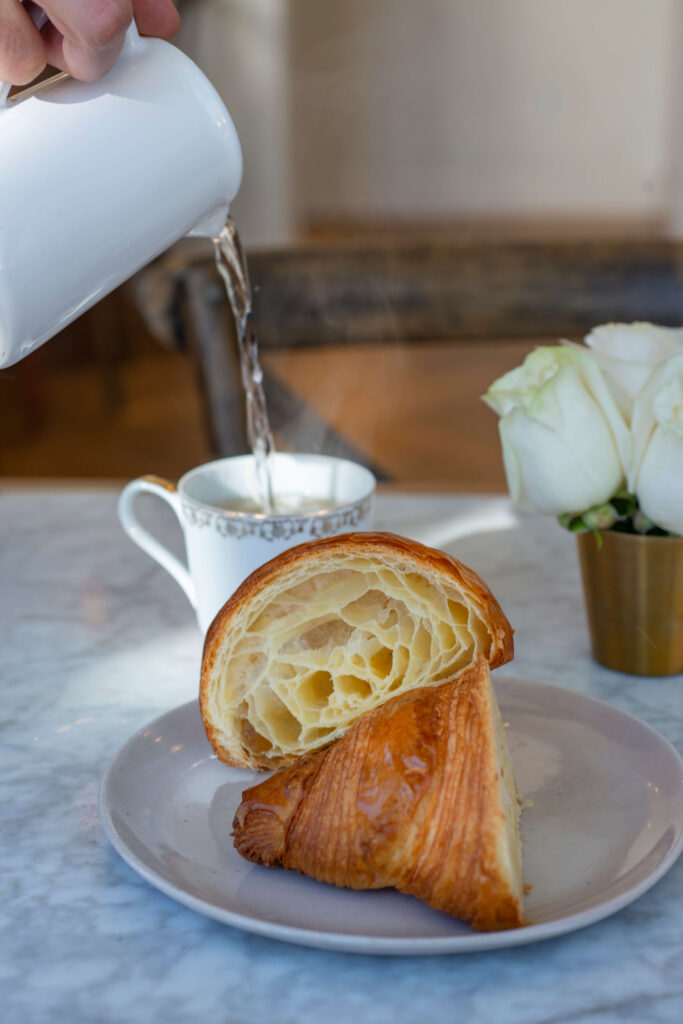 "I would like to bring Colette to another level of pastry," says Débora. "And I was looking for a special chef that has the same vision as me. When I met Simon it was crazy—it was a good connection." Recipe testing is in the works, with the goal of introducing more classic French pastries and featuring a monthly special creation from Simon.
The past seven years have been a whirlwind of successes, challenges and adaptations. "I've learned a lot of things, and it's been a very enriching experience. I'm proud of what we did; I have an amazing management team, and I'm very lucky," says Débora. For the foreseeable future, she'll focus on catering, online retail and high-end wholesale to restaurants and hotels. And another Mademoiselle Colette location isn't out of the question. "Maybe one more," she says with a laugh, "because I love the projects."