When it comes to hiking with dogs on the Peninsula, a bit of honesty is required up front. Compared to the dog-friendly trails of the East Bay Regional Parks and most areas of Marin County, the pickings are more slim here. The reason: While the Peninsula is crisscrossed with trails managed by the County of San Mateo and the Midpeninsula Regional Open Space District (MROSD), most do not allow dogs.
There are exceptions, of course, the most notable being Windy Hill and its miles and miles of dog-friendly trails (covered in the November 2018 issue of PUNCH). And better news, the parks that do allow dogs are at their glittering-green best in February, a couple offer off-leash opportunities and one is considered a locals' secret.
QUARRY PARK
While trails along the blufftop near Half Moon Bay stretch for miles, there are some hidden gems on the east side of the coast highway. One is 517-acre Quarry Park, which some consider a locals' secret with its defining feature of Mesozoic-age granite. The Vista Point Trail ascends uphill two miles through a dense eucalyptus forest on a broad trail that was undoubtedly once a ranch road. Indeed, the park increased in size when a local family donated their land through the Peninsula Open Space Trust.
It's a good climb, one that gets your attention without wearing you down too much. A short, .1-mile side trail leads to the actual Vista Point. Continuing up, you reach the South Ridge Trail by staying left at the fork. Nearer the top, you swing around enough for great views out over the Pacific and Pillar Point Harbor. After a short stint on the Dolphin Fire Road, you descend on the Middle Ridge Trail, logging a distance of about four miles.
good to know
+ Parking is at the intersection of Columbus Street and
Santa Maria Avenue in El Granada
+ Terrain is dirt on old roads
+ Open to hikers, cyclists, equestrians and leashed dogs
+ Restrooms next to playground and parking
+ Find more information and trail map at
parks.smcgov.org/quarry-park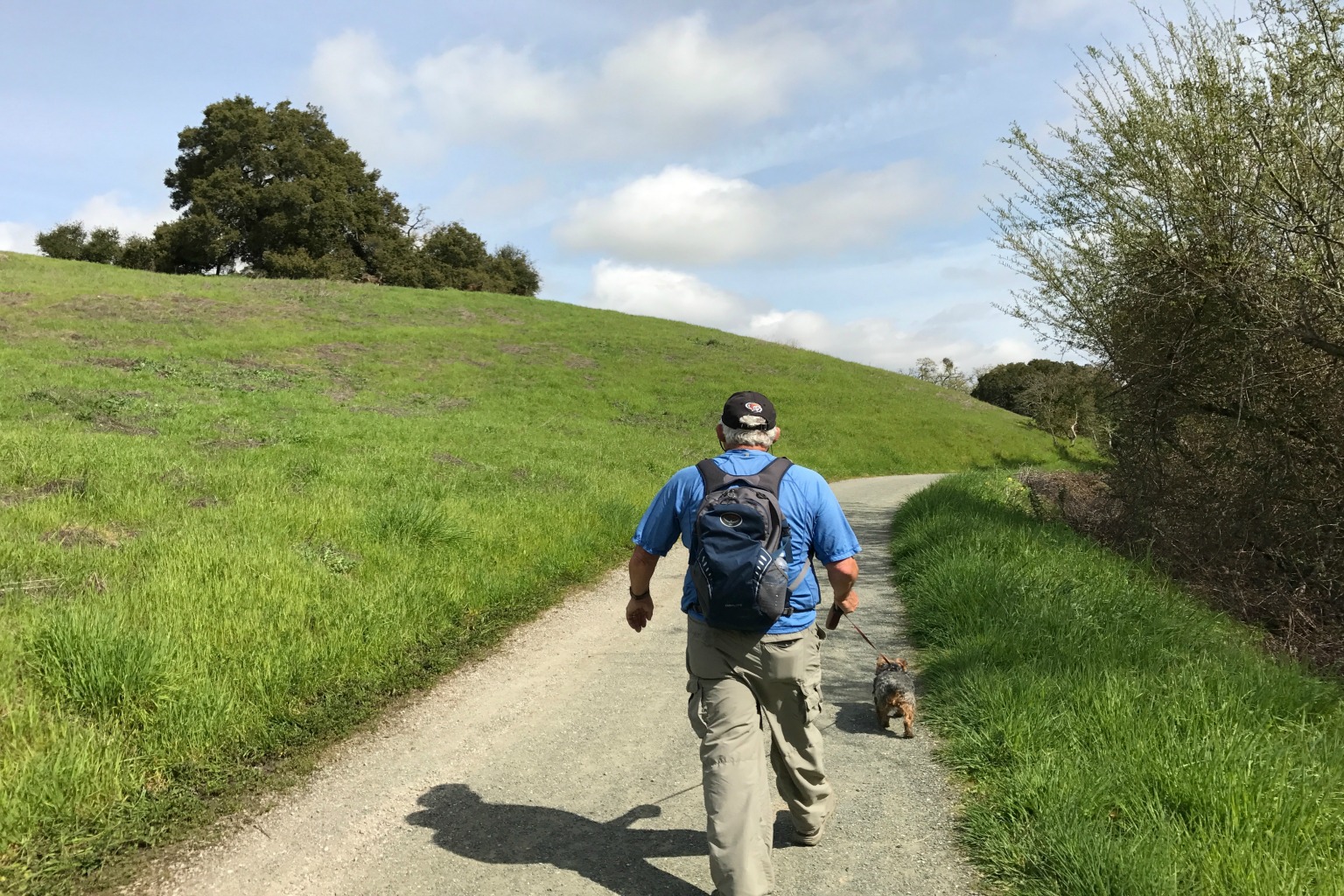 PEARSON-ARASTRADERO PRESERVE
Owned and operated by the city of Palo Alto, the Pearson-Arastradero Preserve is pretty close to dog paradise, especially for those with an affinity for water. A small lake, open to fishing, is fed by Arastradero Creek, and from the top to the bottom of the preserve is a narrow channel, which is usually filled with water in February, perfect for splashing canines. Ten and a half miles of trails loop up and around forest and grasslands. Deer, coyote and wild turkeys are common, and it's the only park on the Peninsula where this writer has spotted a bobcat.
The "gotcha" about hiking here in February is that a number of trails are closed seasonally. On the flip side, the combined out and back Juan Bautista de Anza/Arastradero Creek trails are on packed gravel, so no mud. You get all the climbing done in the beginning and enjoy panoramic vistas on the way back, covering close to 4.5 miles.
good to know
+ The main parking lot has an interpretive center and is located
at 1530 Arastradero Road
+ Terrain is packed gravel with a few rocky sections
+ Open to hikers, cyclists, equestrians and leashed dogs
+ Restrooms located at the parking lot
+ Find more information and trail map at cityofpaloalto.org/gov/depts/csd/parks/preserves/arastradero/
PULGAS RIDGE OPEN SPACE PRESERVE
This 366-acre preserve in the hills above Redwood City and San Carlos is one of the few MORSD parks that allow dogs. Even better, there's a 17.5-acre off-leash area. Pulgas was once home to a tuberculosis sanitarium owned by the city of San Francisco, although few remnants of it remain today. You're now treated to woodland trails that open up to provide great views of the western hills.
A loop with a distance of about four miles leaves the parking area and ascends up the Blue Oak Trail, taking a left at the Dick Bishop Trail. Those interested in the off-leash area should continue to the Hassler Loop Trail, which connects with the Dick Bishop Trail about 0.2 miles from the off-leash area. The Polly Geraci Trail splits off to the right from the Dick Bishop. It's more open and provides the best vistas. It winds up and down a bit before joining the Cordilleras Trail, which takes you back to the parking area.
good to know
+ Parking is on Edmonds Road, where there is a small lot
+ Terrain is dirt, mainly smooth; there's some asphalt in
the off-leash area
+ Open to hikers and leashed dogs with an off-leash area; no cyclists or equestrians
+ Chemical toilet located adjacent to the parking lot
+ Find more information and trail map at openspace.org/preserves/pulgas-ridge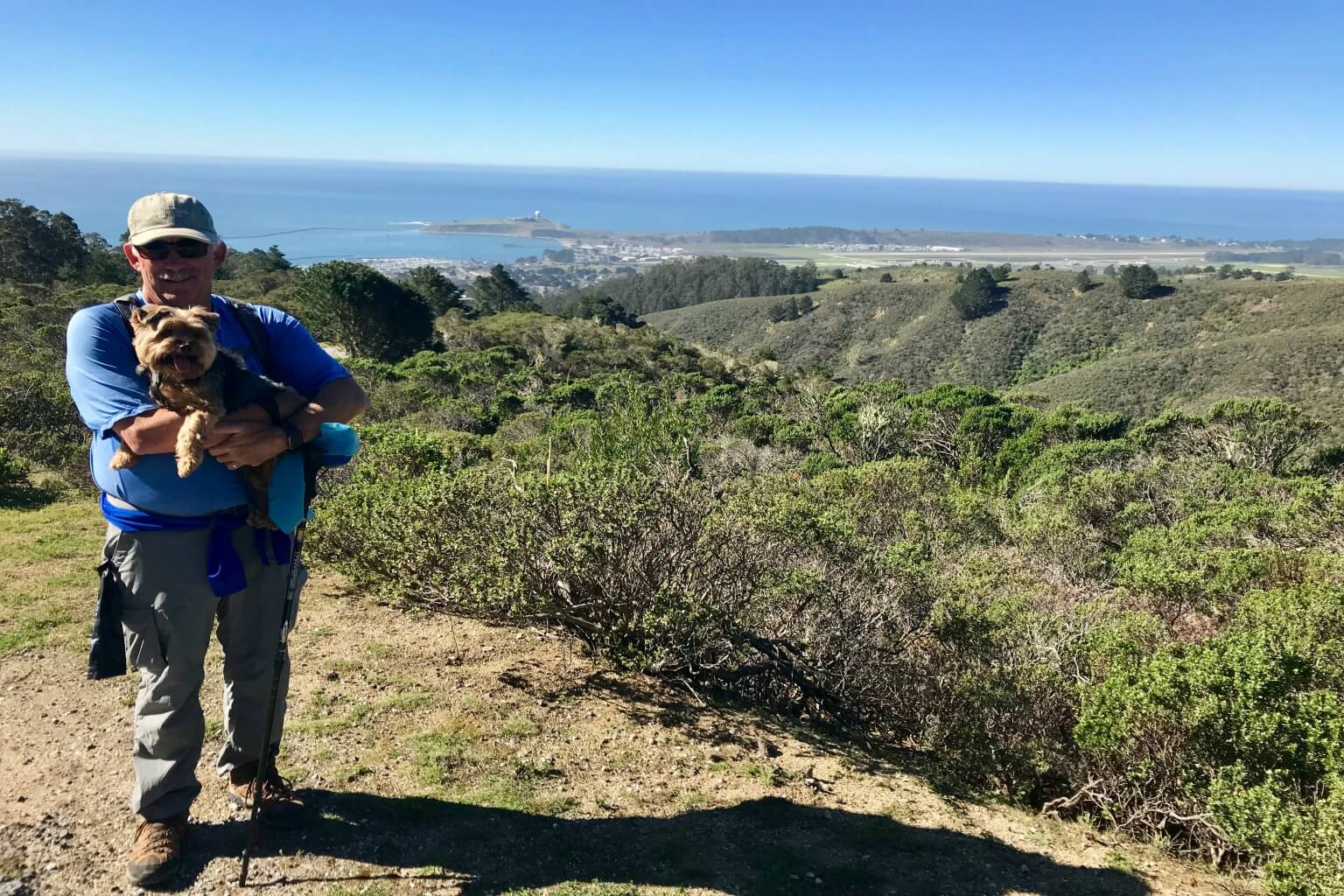 STULSAFT PARK
This 42-acre Redwood City park is easy to miss. From its Farm Hill Boulevard entrance, it looks like a children's playground. But dip behind the playground and you'll discover hiking trails, including well-marked off-leash trails that are south of the stream that runs through it. The off-leash area is more easily accessed from Recreation Way just past Goodwin Avenue. The park was a gift to Redwood City from real estate developer Morris Stulsaft, who knew about the mercury deposits in the area but was happy to donate them to the city. Redwood City eventually made about $19,000 from cinnabar mining operations that ceased in the early '50s.
For a short two-mile leg stretcher, with a couple of decent pulls, leave the playground area following the trail until you come upon a day camp area. A bridge takes you across the creek. Continue straight for access to the off-leash area that parallels the park's boundary. Going right provides the longest off-leash trail, which comes to a picnic area where leashes are required before looping back to the bridge. 
good to know
+ Main parking is at 3737 Farm Hill Boulevard in Redwood City; the lot at Recreation Way and Goodwin Avenue provides direct access to the off-leash area
+ Terrain is dirt with a few uphill pulls
+ Open to hikers and leashed dogs with an off-leash area;
no cyclists or equestrians
+ Restroom at Farm Hill Boulevard entrance
+ Find more information and trail map at: redwoodcity.org/Home/Components/FacilityDirectory/FacilityDirectory/47/1912
Given that there aren't a lot of dog-friendly trails on the Peninsula, please obey rules requiring that dogs be leashed. Pick up after your dog, and in off-leash areas, stay close to your dog and keep him/her under voice command.POST has a new free guide to Peninsula and South Bay dog-friendly hikes that can be requested here: openspacetrust.org/dog-hikes/