Up and down the Peninsula, tucked into every town, lie artsy nooks and destinations awaiting discovery. Some of them are in more traditional venues like galleries or centers—ranging to century-old Victorians and Spanish-style art guilds. View. Paint. Imagine. Draw. Soak it all in. Here's just a sampling of ways you can encounter art on the Peninsula.
Burlingame
Although Burlingame is known as the City of Trees, the gateway to the north Peninsula is also home to a bevy of galleries and opportunities to create. The Peninsula Museum of Art (1777 California Drive) offers the chance to visit working artists' studios, along with rotating exhibits. Now through May 3, through concurrent solo shows, explore the works of sculptor Tor Archer and painter Lynette Cook, along with Kamal al-Mansour's mixed-media social commentary assemblages and Diane Komater's witty wire portraitures. Andra Norris Gallery (1107 Burlingame Avenue) focuses on contemporary art while Kerwin Galleries (1107 California Drive) specializes in California artists active between 1880 and 1950. To discover your own inner artist, head to Art Attack (1810 Magnolia Avenue), where you'll find weekly classes like Bottle and Brush. Taught by local artist Ellen Howard, it's the chance to enjoy fine wine with a paintbrush in hand.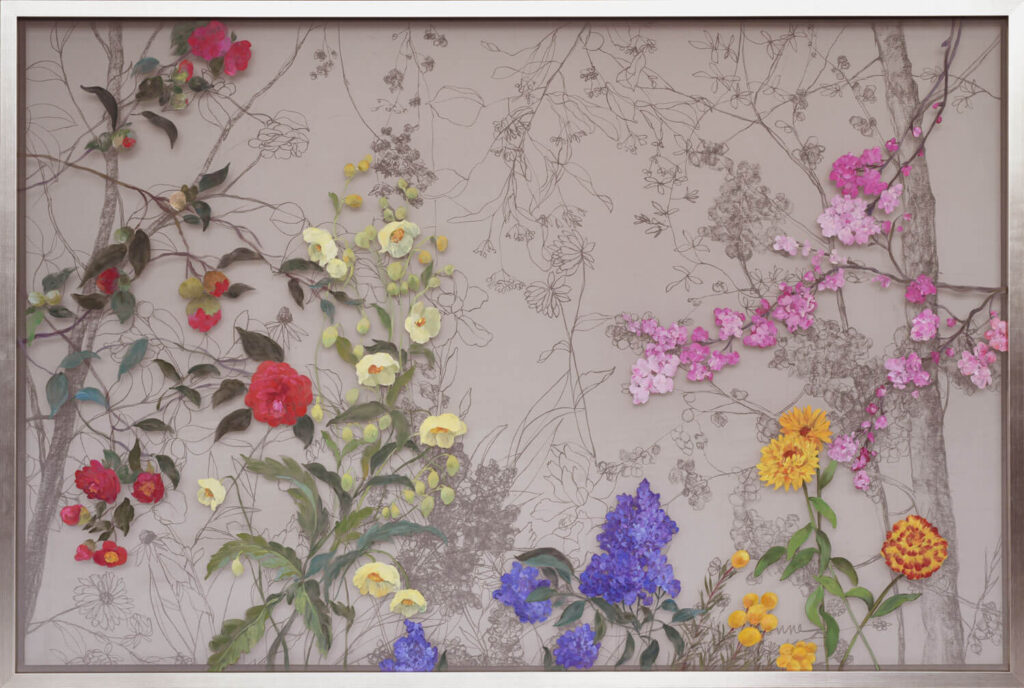 Janet Martin couldn't have foreseen the legacy she'd one day inherit from her parents after they purchased Studio Shop Gallery in 1955. Originally founded in 1915, Studio Shop is now recognized as the oldest gallery in the state. Specializing in fine paintings and sculptures by Northern California artists, Janet and her husband Carl offer customers the opportunity to "test drive" acquisitions for a week to ensure it's the right fit in their homes. Twenty artists are represented on the gallery's walls, including the South Korean-born and Paris-trained multimedia artist Mirang Wonne. Opening on March 6 with a 6PM reception is Unbound, a retrospective celebrating Mirang Wonne's artwork, which hangs untethered to convention. "She uses a blowtorch as a paintbrush," Janet says of the artist, whom she has worked with for the past decade. "Mirang's medium is stainless steel mesh as opposed to painting on a canvas." Color and textures create vibrant floral imagery; however, Mirang opts for mediums of the stainless variety to exhibit an industrial-yet-sophisticated beauty.
San Mateo
Peering over the interactive map that plots the public art pieces scattered around San Mateo on the city's website reveals the fruits of the Art in Public Places Program, an ordinance passed by the San Mateo City Council in 2005. Eighteen pieces are currently installed—ranging from Jeppe Hein's Mirror Labyrinth NY – for California at Bay Meadows' Town Square to the illustrious El Camino Real Mural by Mona Caron, which stretches over 120 feet near the Hillsdale Mall. Visit cityofsanmateo.org/artinpublicplaces to plan your route, and keep watch for a new installation expected soon, destined for 3rd Avenue and visible from Highway 101.
Belmont
The Manor House that contains the Twin Pines Art Center (10 Twin Pines Lane), just a short stroll from the Belmont train station around the Ralston Avenue bend, is as much a piece of art as the artwork it showcases inside. The tan, two-story Spanish marvel was built in 1908 in the wake of the Great Quake and the large, open windows draw sunlight into the historic venue. The Art Center features 11 resident artist studios with monthly rotating shows, such as the Burlingame art collective Art Attack showcase throughout February.
San Carlos
The artists behind Art Bias (1700 Industrial Road) appreciate the little wordplay in the San Carlos collective's name. Not only are they partial to each other's paintings, book arts, films, mosaics and various other mediums, they encourage public support. A buy us, if you will. Since originally forming as the Art Center of Redwood City and San Carlos in 1993, Art Bias has grown into a non-profit community center that offers affordable studio space, art classes, events and workshops. The center is in the process of expanding, upping the total to 49 studio spaces for active artists.   
Redwood City
On a shoulder off Main Street, under the canopy of pepper and elderberry trees, the Main Gallery (1018 Main Street) embraces the indefinite reaches of modern American art. The 16-member cooperative may showcase abstract paintings of sea stars in one exhibit before shifting to clay work of a glistening spinosaurus. Every six weeks, the Main Gallery refashions the interior of its century-old Victorian house into a fresh commemoration of style and form.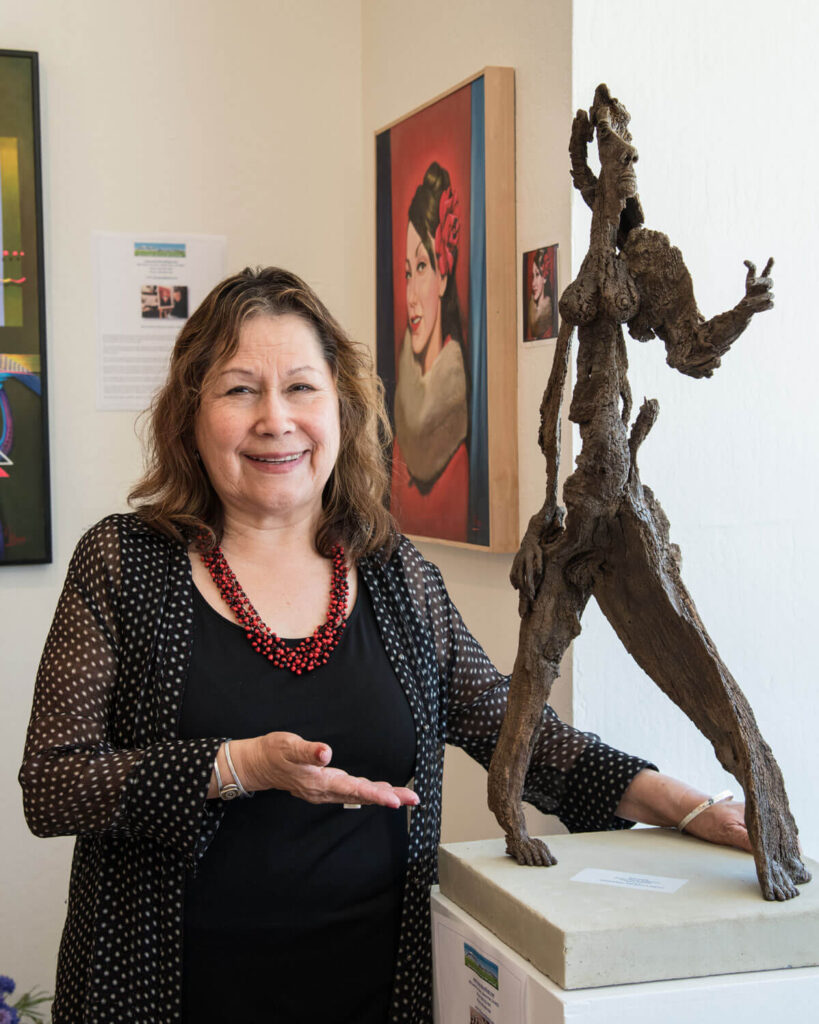 Menlo Park
With convenient three-hour parking near Santa Cruz Avenue, you have ample time to explore the bevy of galleries dotting the tree-lined street. In February, look for images of striking black silhouettes evoking moments in time at Art Ventures Gallery (888 Santa Cruz Avenue), courtesy of Yuri Boyko's Transience exhibit. Across the street is Marcela's Village Gallery (883 Santa Cruz Avenue), where Marcela de Alcazar herself may likely greet you to trade ideas about the local and Latin American paintings and crafts in view—before giving you a personal tour of the pieces stored in back. And to see a surprising side of Dr. Seuss, drop by Peabody Fine Art Gallery (603 Santa Cruz Ave), a family-owned business showcasing works by contemporary American artists including paintings, sculptures and drawings by the beloved children's books author. A short mile away, you'll find Menlo Park's storied Allied Arts Guild (75 Arbor Road), an historic garden oasis offering artist studios, boutiques and dining.
Palo Alto
Swing by any of the numerous coffee shops along University Avenue and load up on caffeine to help navigate the diverse array of art galleries either centrally located downtown or worth the trek outwards. The Pamela Walsh Gallery (650 Ramona Street) is the latest fine art gallery to open in Palo Alto and in February, the exhibition Modern Portraiture explores the redefinition of portraits in the modern era from traditional renderings to sound. To catch Seeing Picasso: Maker of the Modern, get to the Pace Gallery (229 Hamilton Avenue) by February 16. Nearby Bryant Street Gallery (532 Bryant Street) has been displaying abstract and Expressionist paintings for over 20 years. Near Palo Alto's southern border, discover the wonders of The Foster (940 Commercial Street), which shares artist-explorer Tony Foster's powerful watercolor exhibitions of wilderness journeys. Mark your calendar for the volcano-focused Family Fun Day on February 8, inspired by Foster's Fire and Ice journey.
Los Altos
The early '70s ushered in an awakening of art in downtown Los Altos. After launching in Menlo Park in 1970, Gallery 9 (143 Main Street) opened its doors in Los Altos in 1973 to feature artwork from a cooperative of nine artists (hence its name). Celebrating its 50th anniversary this year, Gallery 9 now has about 30 artists working in various media including ceramics, sculpture and weaving. To mark the milestone, the Los Altos History Museum is hosting a retrospective Gallery 9 exhibit through March 8. The nearby Viewpoints Art Gallery (315 State Street) is owned and operated by 15 local artists who work in watercolors, oils and pastels. Viewpoints opened in 1972, suggesting that a minor renaissance sprouted in Los Altos 50 years ago.