words by Silas Valentino
Barbecuing is an exercise in patience.
We wait for the summer when the backyard becomes a kitchen and then we wait by the grill with smoldering anticipation. Any barbecue pitmaster, a term of respect for someone who is skilled at the trade, will tell you how a little morning preparedness ends in chews of approval later in the day and that time is the secret recipe for achieving a tender and smoky finish.
A key distinction between grilling and barbecuing is time. We grill hamburgers and hot dogs, smaller meats that are cooked over direct heat and ready in minutes, not hours. But for the large cuts like ribs, brisket, pork butt and whole pigs, to ensure the meat is cooked all the way through, it demands a process of low temperature with a slow cooking time inside a smoker.
This suggests a laid-back lifestyle within barbecuing, which is perhaps why pitmasters and barbecue restaurateurs are often so warm and easy to learn from. Joshua Regal from Belmont's Saucebelly and Jon Andino, co-owner of QBB in Mountain View, represent a new generation of barbecuing on the Peninsula, having both launched their businesses in the last few years.
Their menus pay tribute to the past with ties to Armadillo Willy's, a pillar for local barbecue since the 1980s; Joshua is a former pitmaster who learned under the founder John Berwald whereas Jon's first pitmaster for QBB was a former manager at the local chain's Cupertino location.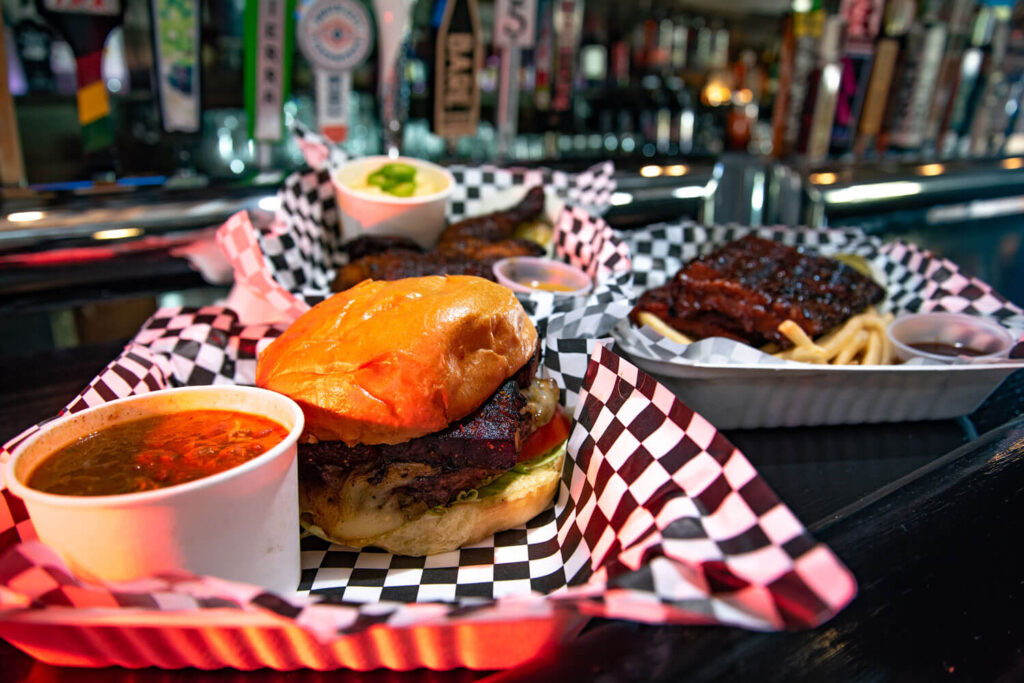 Saucebelly and QBB may differ in how they run their operations and in the taste of their brisket, but both barbecue joints share a common appreciation for taking the time to smoke the meat to a level and standard you can put your pride in.
"The magic for me is in time and wood," Joshua says. "Barbecue is done when it's done; you can't force it to be ready."
"My opinion with cooking, in general, is that so much is about the preparedness," Jon adds. "It's about getting all your components ready—having the seasoning already mixed and the meat set out so that once you put it in the smoker, it's time to crack open a beer."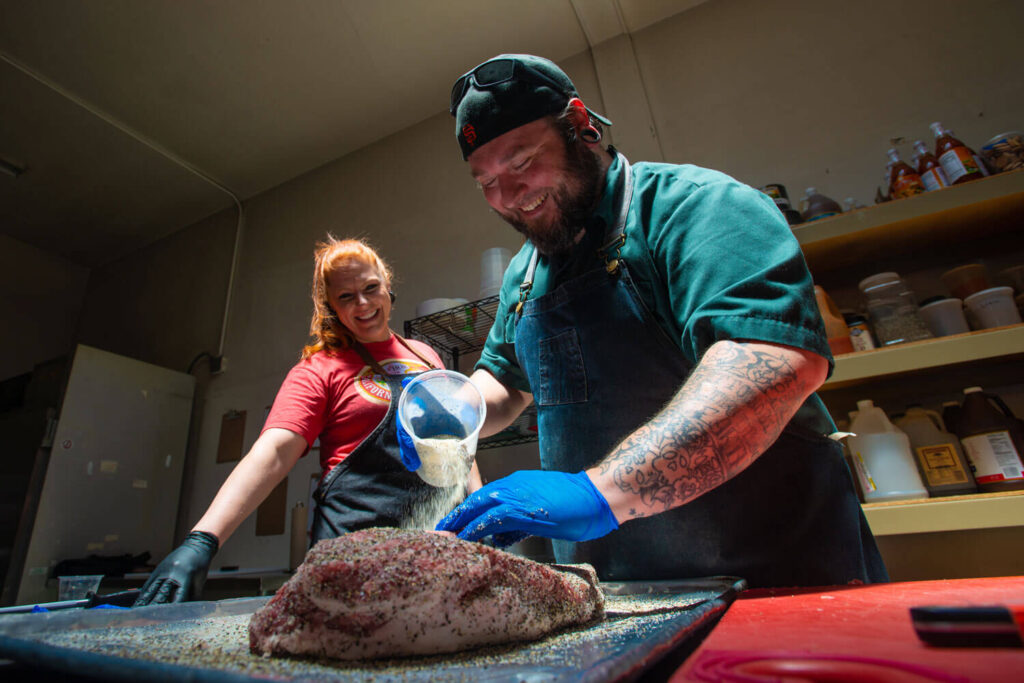 Saucebelly Finds A Home
Joshua and Laura "Red" Wilson launched Saucebelly in 2018, first as a pop-up operation that would appear at establishments such as Timber & Salt in Redwood City or St. James Gate in Belmont. Following several pop-up events at the ECR Pub in Belmont, Saucebelly recently took over its food program. It's now open for takeout Tuesday through Sunday starting at 5PM and closing when sold out, a common timetable in the barbecue world.
Joshua is ecstatic to now have a permanent space to experiment and further offer his barbecue, which pulls certain inspiration from his roots in Charleston, South Carolina.
South Carolina barbecue is a serious practice—the state's constitution even spells out specific guidelines for how a restaurant can publicize its barbecue menu. (You can't have the word "barbecue" on the marquee unless using a wood fire pit. Or you'll face a fine.) Joshua prepares a Carolina pulled pork complemented by a side of acidic vinegar to create an umami flavor and he's very specific about the precise wood type he's burning.
He'll start with oak to get the fire hot and once it's burning, he'll switch to a hickory wood to smoke his pulled pork. When working with ribs or million-dollar bacon, he'll use an applewood instead. "The wood seasons the meat more than anything," he says, and cites Lazzari Fuel Company in Brisbane as his source for these various firewoods.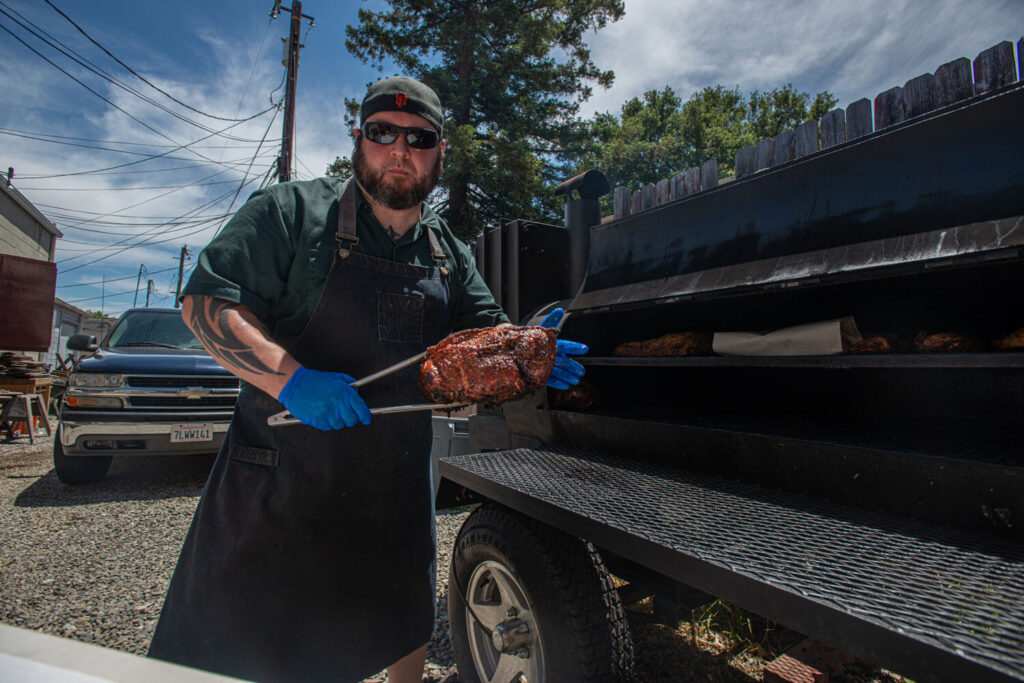 Joshua uses an 84" Lang BBQ Smoker with a deluxe warmer to smoke Saucebelly's menu of smoked brisket, pulled pork and Danish baby back ribs. It's a 17-foot-long smoker that maxes out at 400 pounds of meat and is all hardwood, no gas assistance. Controlling the temperature of the firebox is crucial while barbecuing (holding a steady 200 to 300 degrees Fahrenheit) and you want to put the meat on when the fire is burning down from its peak heat. It requires a lot of focus but it's what separates a casual barbecue from the serious stuff.
"You have to work it—it's all about fire maintenance. Anyone can flip on a Traeger," Joshua says, of the popular home grill. "Those are great products if you have three kids and have to constantly walk away from the thing."
The number of hours required to properly smoke the meats—tenderness occurs as the collagen melts into gelatin—varies with the size of the cut and quantity but Joshua recommends up to 10 to 12 hours for brisket and pork. (Sometimes he'll ignite a fire as early as 3AM if he has a monster, 17-pound brisket to prepare.) The dedication and hours are always worth it when he sees a customer react with pleasure.
"Everybody has a preconceived notion of what barbecue is," Joshua says, "and it's my job to exceed that expectation."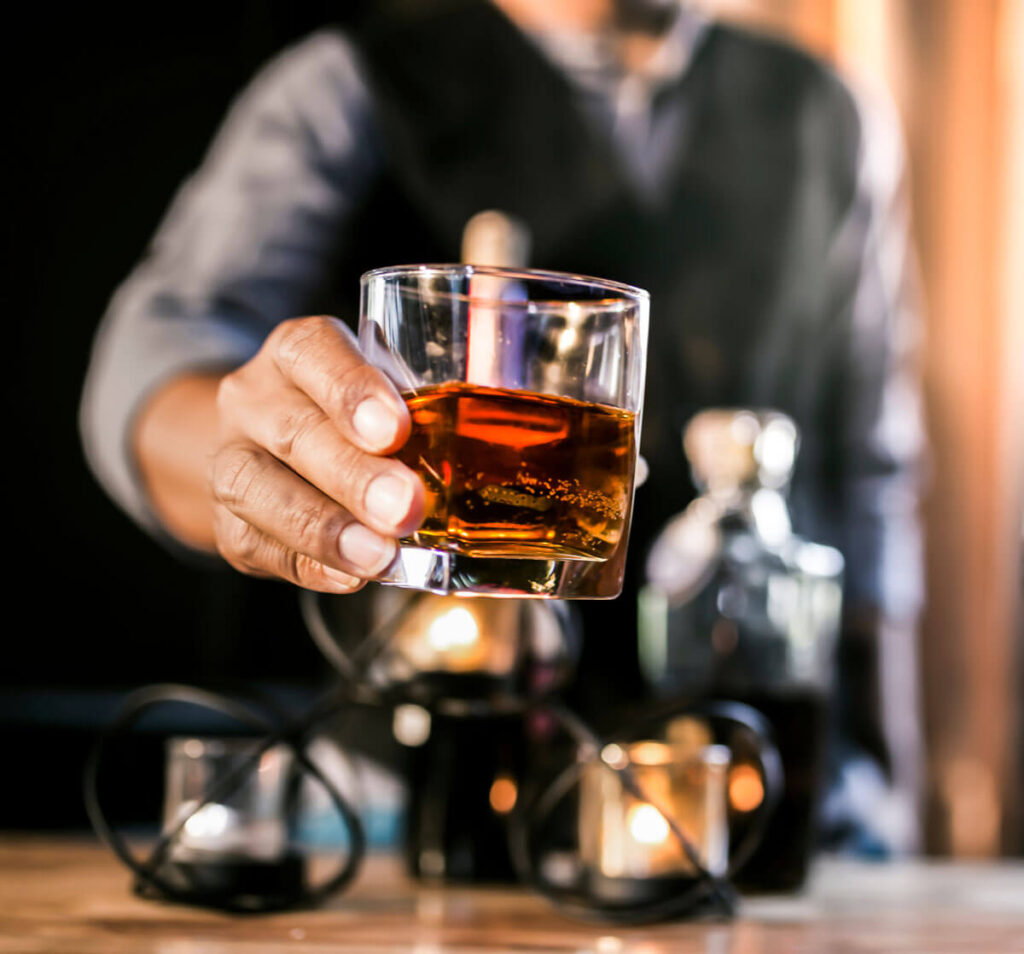 QBB Reinterprets BBQ
When Jon Andino and his business partner Kasim Syed, who owns Palo Alto Brewing Company, envisioned QBB (Quality Bourbon & Barbecue) in 2016, they were looking to fill a barbecue-sized pit in Mountain View dining.
"Castro Street was mainly Asian cuisine and the place we took over was Pakistani food," he says, chuckling. "We took over and did the furthest thing from that with a place focused on pork."
QBB's menu has the usual barbecue favorites along with salads, mac & cheese and their crowd-pleasing cornbread muffins served with brown sugar maple butter. Their barbecue rub is a simple but effective mix of salt, pepper, brown sugar, paprika and chili powder.
The restaurant uses two smokers in its indoor kitchen: a Cookshack SM160 electric smoker they purchased from Armadillo Willy's and a Southern Pride SRG-400 gas smoker. That means they can cook up to 560 pounds of meat at a time, which is rare but not unheard of when a large catering order comes in.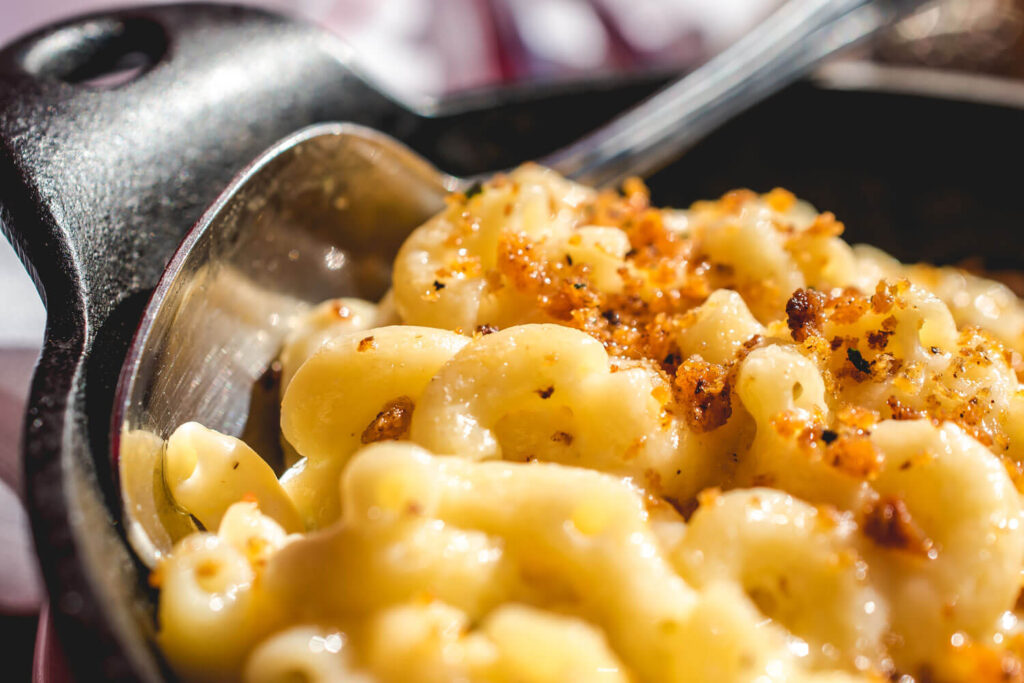 QBB has over 160 bourbons on its shelf ready to sip and it's become a hub for local whiskey lovers to explore the craft, even during the shelter-in-place order when they've offered shots of bourbon to go alongside a 66% discount on drinks. During the pandemic, QBB launched a community fund with a no-questions-asked policy for feeding frontline workers that has fed over 600 people.
And while the mouthwatering menu features chicken and sausage links, Jon says that two items reign supreme: "Brisket and ribs are like chocolate and vanilla to an ice cream place," he says.