Words by Christina Chahal
If you're getting out and about this summer, you may have spotted an eye-catching twist on an old favorite: the picnic! Today, the reimagined picnic is an elevated, elaborate experience, complete with beautiful dishware and decor, perfect for socializing outdoors. Thanks to the creativity of party planners like Jocelyn Chin and Coco Chan of San Mateo-based Picnic 'n Chill, the picnic is being transformed into an elegant way to mark life's special moments. "A lot of people really enjoy what we do because we make it so lavish and luxurious that you want to dress up for it," says Jocelyn. "It's special."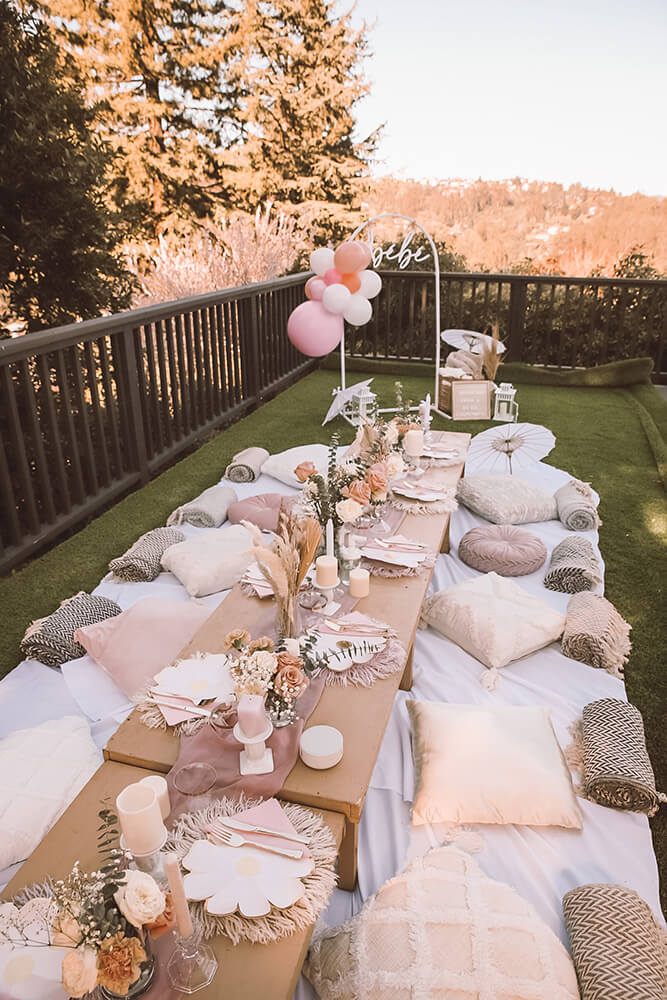 Launched during the pandemic to help out a friend whose wedding needed a venue, Picnic 'n Chill picked up traction after going viral on TikTok and then being featured on Good Morning America and CNBC. Now, they are planning dozens of events per month and earning a nice income. "Our clients are mostly young professionals looking for a fun, safe and photo-ready way to celebrate," adds Coco. "We take our picnics and events to another level." In order to do that, the two learned how to make balloon arches and flower centerpieces, even enlisting their families to custom build low, portable picnic tables designed specifically for ground-level seating.
"We made our own picnic baskets and created our own conversation-starter card game. We pushed our limits and had to think outside of the box," shares Coco. "We weren't scared to try something different, and we also weren't scared to learn how to do something we've never done before."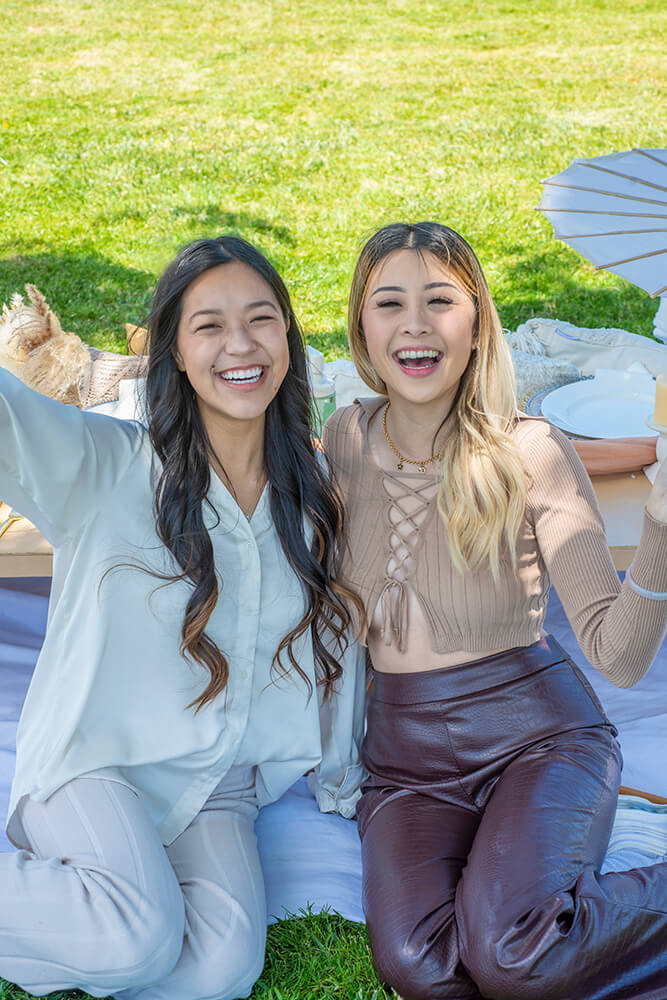 Born and raised on the Peninsula, Coco and Jocelyn have been close friends for about five years, meeting through mutual friends and then hanging out every weekend. Before Picnic 'n Chill, Coco worked at Facebook as an event coordinator and Jocelyn was a marketing associate at a startup. Jocelyn also owns her own Happy Lemon boba tea shop in San Jose. On their own time, the two close friends enjoy discovering new trends and share a passion for shopping and decorating. They love scrolling through Pinterest, making mood boards and cite Wifeoftheparty, Mindy Weiss and the Kardashian parties as inspiration.
The energetic duo also draws inspiration from their clients. "It's really amazing being a part of someone's special day—from weddings and birthdays to baby showers and baby's first birthday," Coco observes. Adds Jocelyn, "I love taking the stress away from the client and taking care of all the little details that they wouldn't think of. It's nice to see them arrive and actually enjoy the party."
Their go-to location for picnics is Leo J. Ryan Park in Foster City, which has expansive grass lawns and views of the lagoon. And yes, they always get permits. A typical Picnic 'n Chill table will have a table runner, either fresh floral bouquets or a pampas grass bouquet, flatware, chargers, plates, cutlery, hand-woven placemats, assorted candles and themed soft throw pillows. They have three different packages for a party of two and do special set-ups for large groups.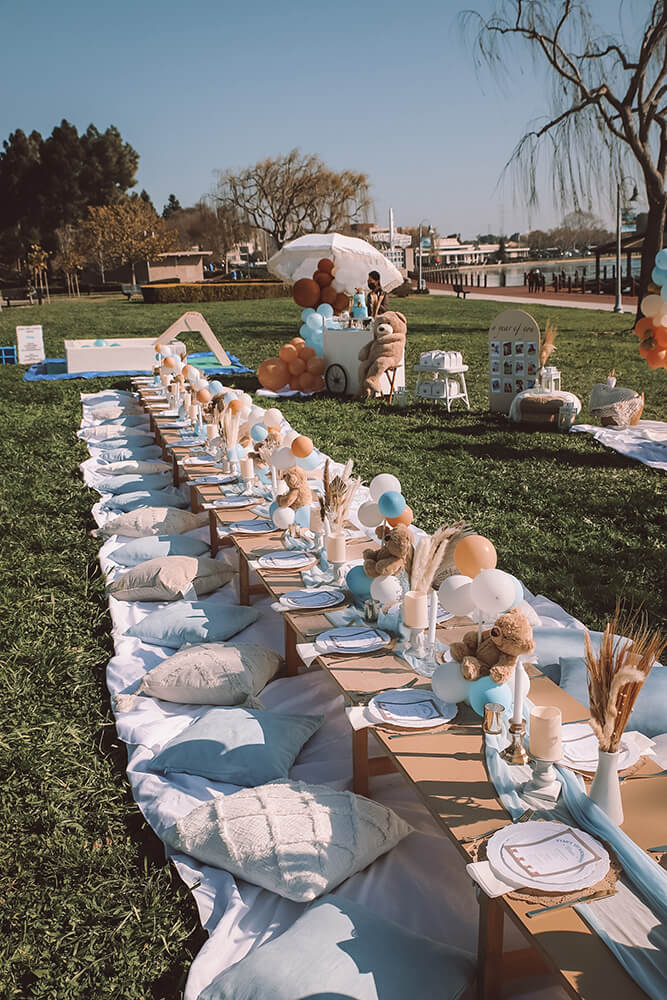 To make the events memorable, they provide the essential luxury items plus a long list of options such as a bubble machine, donut wall, sip 'n paint kit, jumbo games and lots of customization. One client booked a 40-person picnic for her son's birthday party with a teddy bear theme, so they started with a color scheme of neutrals, baby blues and white, then made teddy bear balloon centerpieces and mixed them with handcrafted pampas flower bouquets. They added personalized menus for every person and included an eternity balloon ring, a dessert cart (handmade by grandpa) for the cake stand and a charcuterie board that spelled out the boy's name. Also part of the fun: a photo gallery panel and a custom ball pit for all the kids.
As their business has grown, Jocelyn and Coco have added more options to keep up with the latest trends in event planning. For example, they came out with Picnic 'n Cruise, a service where they decorate a Duffy boat on the Foster City inlets so clients can luxuriate out on the water.
Coco and Jocelyn partner with a chef and local restaurants to provide food selections and continue to build out their community. They even developed a 'charpoocherie' board with pet-friendly treats. The pair credit nostalgia with helping drive their success. Picnics, they say, are the perfect way to bring back your childhood. "As a kid, you grow up going to the park, celebrating the small things in life," notes Coco. "What's better than sitting on the grass with friends and family?"