Words by Sharon McDonnell
Known for rocky dramatic headlands, vast stretches of beaches and teeming tidepools, Point Reyes is a long-recognized California treasure. As of 1972 (and officially marking 60 years), it's also the only national seashore on the Pacific coast, a rare designation that puts the West Marin coastal area under the oversight of the National Park Service. Whether you're seeking thunderous wave-crashing vistas or solitary havens for contemplation, you'll find 80 miles of protected shoreline here—along with a charming rustic-chic town ready to serve as homebase.
Down by the Seashore
Abundant with birds and wildlife, scenic attractions include Point Reyes Beach North (aka North Beach), Point Reyes Beach South (aka South Beach), Tomales Bay and Alamere Falls, one of just two tidefalls (a waterfall that drops directly into the ocean) in California. For a calm, sheltered cove, check out Heart's Desire Beach, a family-friendly spot tucked into Tomales State Park.
As you're heading to the historic Point Reyes Lighthouse, at the western-most point of the headlands, keep an eye out for "North District Operations Center" signs. This is where you'll find a Point Reyes signature stop (and photo op): the famed Tree Tunnel, created by Monterey cypress trees planted in the 1930s. Make sure to venture to the end—the tunnel leads to a white Art Deco-style building, the RCA Coast Station (call sign KPH), which helped relay news of the attack on Pearl Harbor to ships across the north Pacific.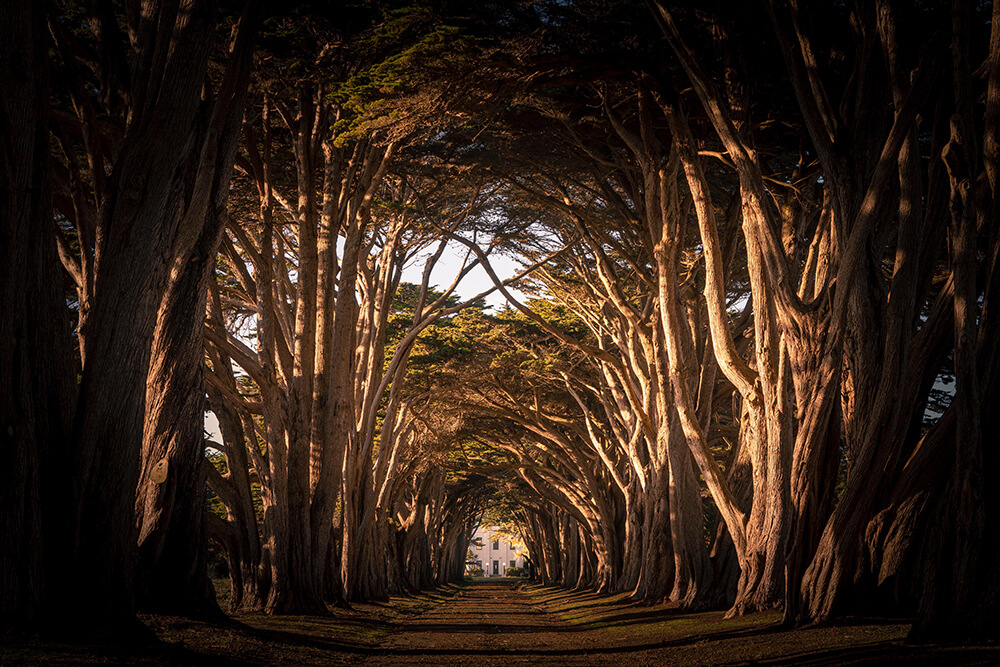 Gateway to Natural Bliss
In a town of under 1,000 people in deeply rural West Marin, just off Highway 1, it's remarkable to find a restaurant beloved for almost 60 years, a bookstore revered for over 50 years, a barn/multi-purpose venue open for nearly a half-century—and a mix of enticing shops, bakeries and eateries clustered within about five blocks on one main street. This is Point Reyes Station, considered the gateway to Point Reyes National Seashore.
Less than a two-hour drive from the Peninsula, the town is seeking an additional distinction: official International Dark Sky Reserve. If its application is successful, Point Reyes Station will join the ranks of only two dozen elite stargazing destinations worldwide. Beyond stellar skies, there are plenty of other reasons why this tiny town has been adored by so many for so long.
Sights & Shops
(and Sounds)
The heart of Point Reyes Station is, without a doubt, Toby's Feed Barn. It's the only animal feed barn you'll ever find that also houses an art gallery, yoga studio, gift shop, coffee bar, grocery store and all-organic farmers market, which was famously visited by Prince (now King) Charles in 2004. Weddings, concerts and plays (A Christmas Carol in December) also take place here. "I love the idea of a commons—people coming together. I always wanted to run a community center," says owner Chris Giacomini of Toby's, which began in 1942 as his family's animal feed business.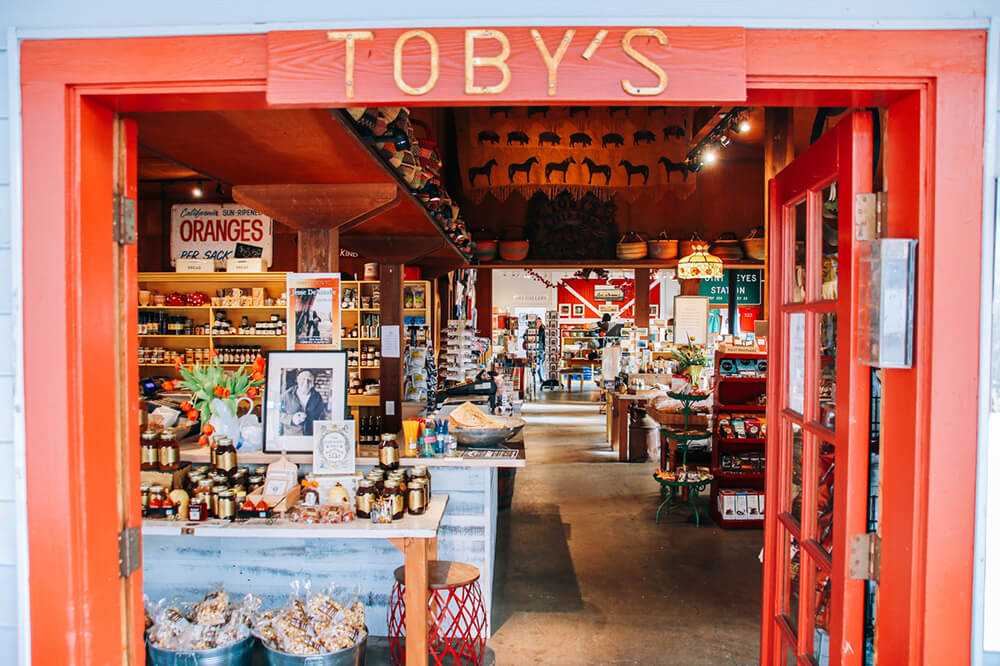 Across the street from Toby's, wander into Vita Collage, an upscale shop for highly-curated home décor, jewelry, art and fashion. Many artists make the Point Reyes area home, and during Point Reyes Open Studios, a twice-yearly event, they open their studios to the public. (Artists also book appointments year-round.) Tom Killion, known for his colorful Japanese-inspired woodcut prints, mostly of Northern California, and books like California's Wild Coast: Poetry, Prints and History, is among them.
"I've been all over the world. I don't think anything is as beautiful as Northern California—especially the Sierra and the coast," says Killion, who has (of course) exhibited at Toby's, holds a doctorate from Stanford in African history and lives a mile from downtown in Inverness Park.
For gorgeous black-and-white photographs of coastal Marin, such as awe-inspiring shots like Starry Night at Drakes Beach on the national seashore or Mount Vision Moonrise on the Inverness Ridge, head to Marty Knapp Photography Gallery. A coastal Marin resident for 40 years who also sells books and notecards of his work, Knapp says he has "a love affair with the beauty of the place and wanted to express it in photography."
You can admire that star-spangled night sky during stargazing walks, held the week before the new moon, and full-moon hikes, both led by Don Jolley, a retired science teacher, who identifies the constellations and spins stories about Greek myths and medieval times.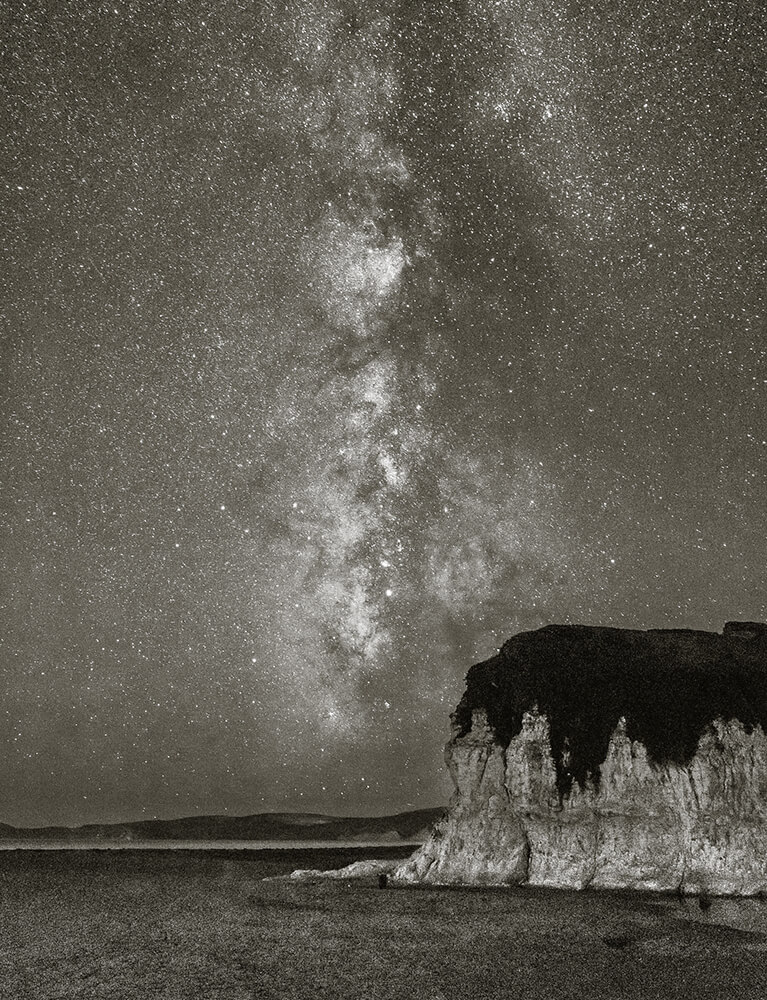 Founded in 1969, Point Reyes Books has held hundreds of author talks and readings, making the tiny town a frequent stop on Northern California book tours. A young couple who worked at San Francisco's Green Apple Books now own it.
Nothing illustrates Point Reyes' identity as a rural town more than the sound you hear every day at noon: a loud rooster crow, followed by an equally boisterous cow moo. "It's George Lucas' gift to the town," says Giacomini, who explains that the Star Wars director's huge Skywalker Ranch is a 20-minute drive away. Lucasfilm provided the recording, and a loudspeaker, synchronized with a clock atop the Old Western Saloon, delivered its moo debut in 1984, drawing national headlines.
Where to Stay
Two miles from downtown Point Reyes Station, with panoramic views of the Olema Valley and Mount Wittenberg, Inn at Roundstone Farm offers five guest rooms on 10 acres. The owner, a retired scientist, cooks breakfast daily—like an egg, spinach and cheese frittata or French toast with a marmalade/cream cheese filling—and joins guests at the table to chat. Just down the road, Olema House offers luxury lodging with 24 rooms, including two cottages, that are furnished with sophisticated flair. A vast outdoor garden space can fit up to 150 people, while the Garden Table, surrounded by grape clusters and gnarled branches, can seat 12, making the resort a popular spot for weddings and meetings. At the Black Heron Inn, three rooms in a wood house, all with separate entrances, offer sweeping views of the Inverness Ridge through huge picture windows and from the deck with its Adirondack chairs.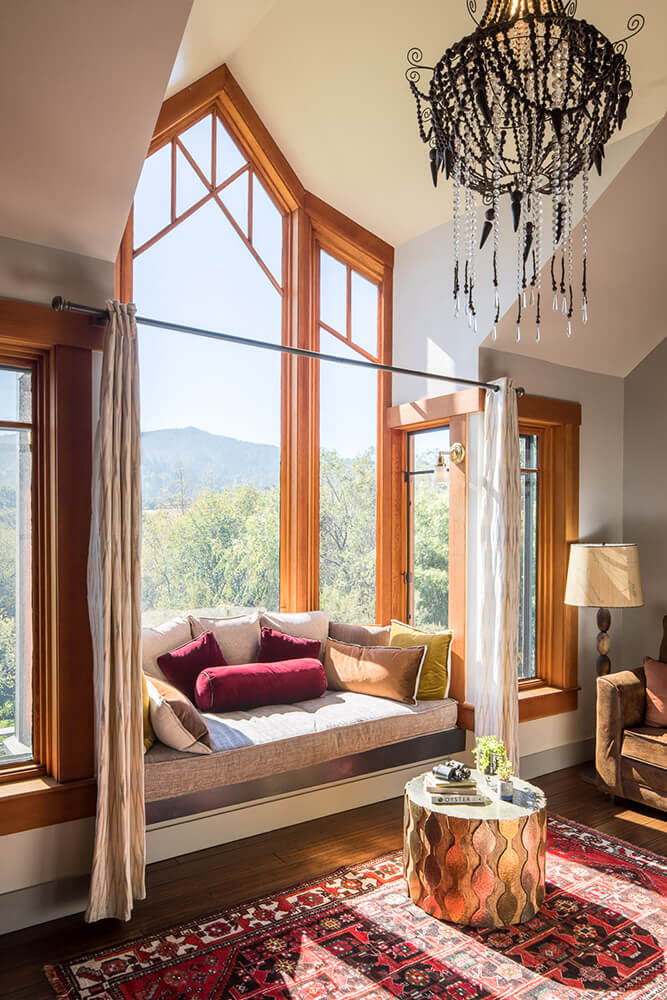 Where to Eat
At Point Reyes Farmstead Cheese, located up a steep hill with a panoramic view of Tomales Bay, enjoy a delectable tasting of award-winning cheeses including Original Blue (bold-flavored, super-creamy, peppery finish), Toma (buttery, creamy, grassy finish), Toma Truffle (with black truffles imported from Italy) and Bay Blue (a milder blue, salted caramel finish), accompanied by figs, apple slices and dark chocolate. The dairy is owned and run by four Giacomini women, whose father, Bob, is Chris' cousin.
Heidrun Meadery, located on a 16-acre wildflower farm a mile from downtown Point Reyes, serves sparkling honey-based wines made from flowers pollinated in various regions from California to Hawaii. Flights of both mead (dry, crisp, not sweet) and honey are offered.
Beloved since its 1964 opening, Station House Cafe offers farm- and sea-to-table locally-sourced food, ranging from Thai-style steamed mussels in coconut milk and shellfish stew in roasted pepper-tomato broth to Marin Sun Farms beef burgers. Standouts at its casual sibling around the corner, Side Street Kitchen, include Asian-inflected local rock cod and roasted chicken with a choice of chimichurri sauce, curried yogurt or salsa verde.
Adjacent to Olema House, Due West Tavern serves yummy corn chowder with plump fried oysters, a bacon & oyster po'boy sandwich and chicken panzanella salad, among other dishes. At Brickmaiden Breads, take your pick of an apricot-pecan scone, olive oil cake or ficelle bread and settle in for a lovely interlude next to a lavender bush in the back garden.
Seaside Escape