"I'm just crazy about pizza," says Omid Zahedi, who owns Rise Pizzeria in Burlingame and Rise Woodfire in San Mateo with his wife Susan Payrovi. But that wasn't always the case. 
Iranian-born Omid's entrée to the pizza business came after his family immigrated to Orange County in 1979. His father had been a decorated colonel in the police force, but coming to America meant starting over.
"We ended up getting into the pizza business because my sister married a guy who had some pizza shops," Omid explains, which led to his father opening his own. "I was this immigrant kid who was forced into these restaurants," he says. Back then, he resented it.
While attending community college, Omid pursued his own pizza concept with a partner: "We were doing this uninspired fast-food pizza, and there was nothing special about it. It was just a way to make money." Soured on the restaurant business, Omid pursued a career in finance instead.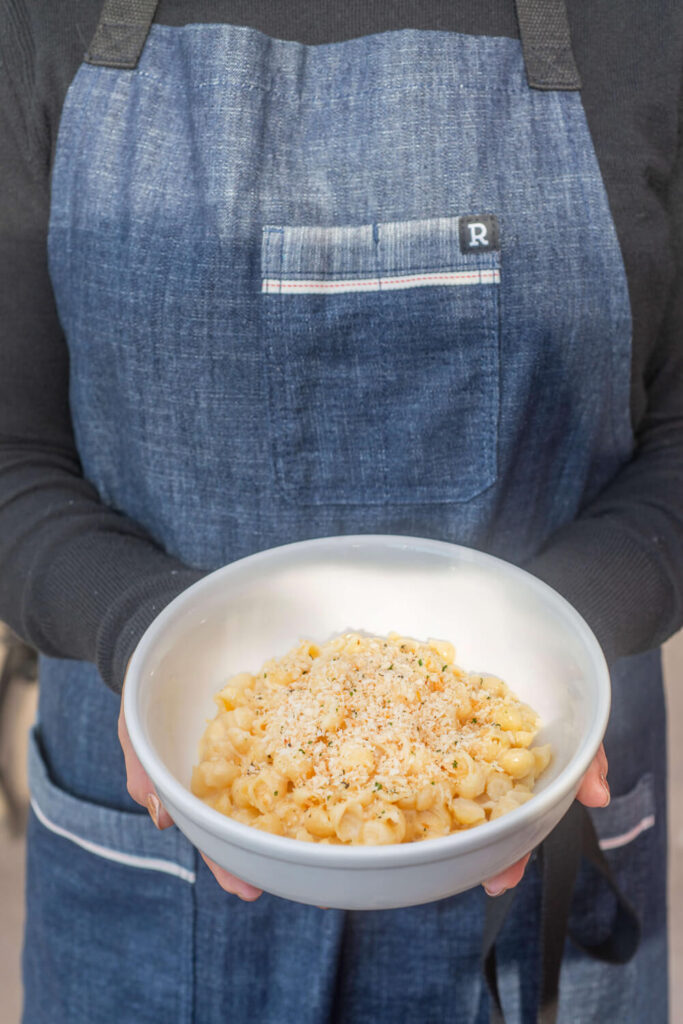 It wasn't until years later that he rediscovered his love for pizza at L.A.'s Pitfire Pizzeria. "They were doing these thin-crust pizzas that were so much better than what we were putting out when I was a kid," he shares. Inspired, he started making pizzas at home. Experimenting with dough recipes and incorporating topping ideas from restaurants he visited while travelling led to ordering a 6,000-pound brick oven. 
"We built it on my driveway and then couldn't get it into the backyard," he says. The solution? Put the oven on a trailer that he could haul in and out of the garage. "I used to roll it out on my driveway, invite friends over and make 30 or 40 pizzas. It was a passion, so it didn't feel like work," he recalls fondly.
When Omid and Susan moved to Foster City to raise their family—they now have three boys—driveway pizza parties became a way to connect with their community while raising money for causes close to their hearts: their kids' school and the Multiple Sclerosis Society.
Determined to turn his passion into a brick-and-mortar business, Omid spent his weekends looking for the right location. In 2015, he and Susan finally found a home for their "fine casual" pizza concept on Burlingame Avenue. 
Working with architect Jim Maxwell, they gutted the space and created a family-friendly counter-service restaurant that features a covered patio with a fire pit. Rise opened in June 2016. From day one, "It was very busy—more than we could handle at first," Omid recalls. 
The menu represents Omid's love of pizza, inspired by favorite pies enjoyed at his favorite pizzerias. Double Pepperoni and Margherita are the biggest sellers, but Smoked Pancetta with Yukon Potato and Calabrese with Raw Honey also rank highly among customer favorites. 
A custom flour blend of organic whole wheat, organic rye, wheat germ, and two kinds of bread flour, in addition to the inclusion of a sponge pre-ferment, differentiate Rise's thin-crust pizzas from traditional Neapolitan-style pies. The sponge—a mixture of water, flour and yeast that ferments for 12 hours—imparts flavor to the dough by souring it a bit. The dough-making process takes about 48 hours and includes multiple rises. "That's where the name 'Rise' comes from," notes Omid. 
Susan, a physician at Stanford Health Care, brings a health-focused influence to Rise. "Everything on the menu, she has input on," Omid says. One thing she was adamant about: no high-fructose corn syrup. "That's why there's no Coke machine," he points out. They also eschew GMO products and choose organic ingredients whenever possible.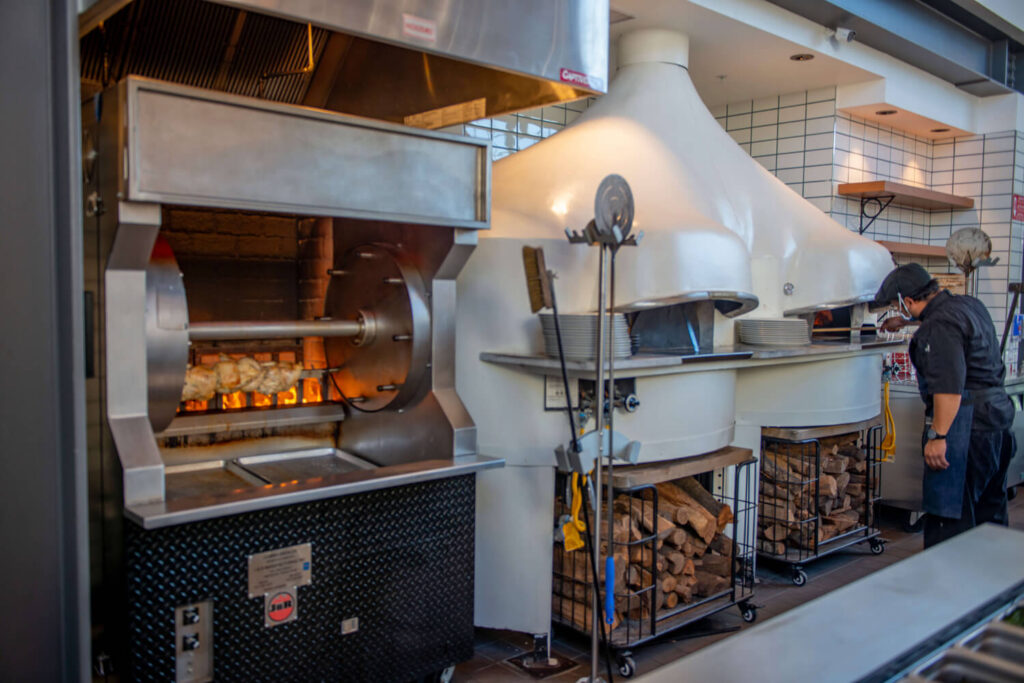 By 2018, Omid had left his wealth-management job to run Rise full-time. He was also considering replicating Rise pizzerias across the Peninsula. Scouting locations led him to a 6,500-square-foot vacant space at the San Mateo Caltrain station on B Street. Despite the building's size, Omid was not impressed. "It was dark and dingy—an old, sad, closed-down restaurant," he recalls, with one interesting feature: the second floor's cathedral ceiling. A fan of design and architecture, he was intrigued by the detail, but it wasn't enough to sell him on the space. 
"The only way I would take it—and I didn't think the city would say 'yes'—would be to eliminate the second floor," he says. But the city agreed, and the project was a go. Envisioning a complete renovation, Omid again collaborated with Jim Maxwell; they looked to Denver's Union Station for design inspiration. Considering the interior's square footage, "We knew that pizza alone was not going to do it," Omid says. He drew on another passion—grilling and woodfire cooking—to round out the concept. 
Two years in the making, Rise Woodfire opened in October 2020.The design is train station-inspired industrial chic with a touch of mid-century modern. With the 40-foot ceiling exposed, the main dining room is spacious and bright. The seating area's tables and booths are ensconced between the open kitchen and a marble-topped bar that runs the length of the interior. Two hand-built Acunto woodfired ovens from Naples, Italy, are at the heart of the kitchen, along with a stainless-steel rotisserie.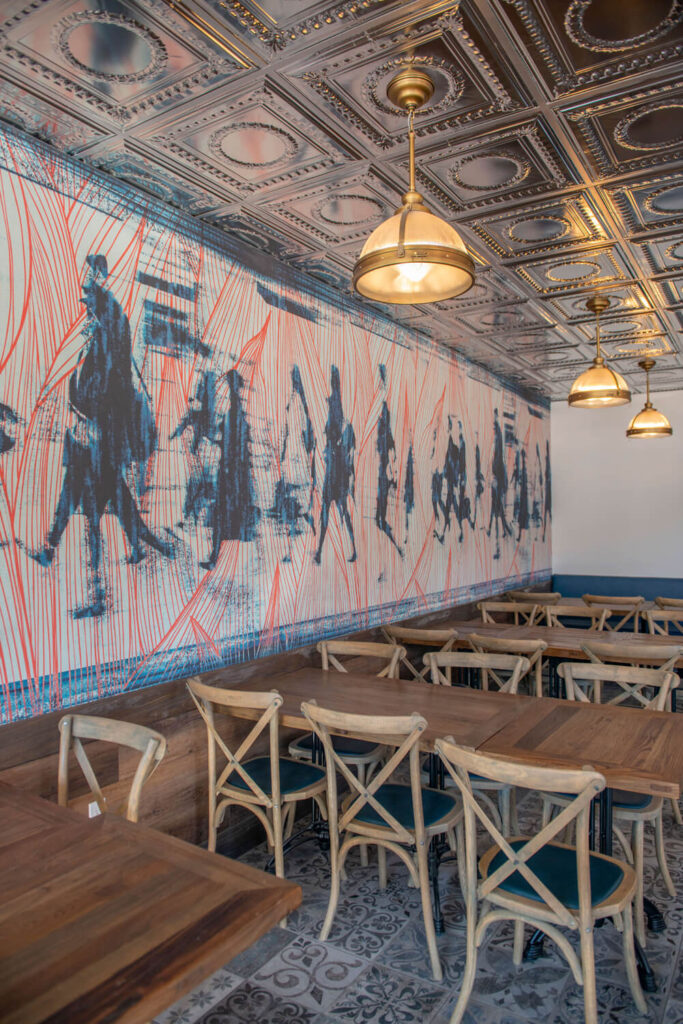 The "Train Car Room," intended for events, has a tin ceiling and unique Italian wall art. A newly-constructed patio, designed with physical distancing in mind, has moveable wall panels and can function as an enclosed or open-air dining room. All-season al fresco dining is set up on the sidewalk in front of the restaurant with umbrellas and heat lamps. 
The menu showcases Rise's pizzas while also including an assortment of wood-fired sides that can be ordered á la carte or as part of a large-plate meal of rotisserie-cooked meat, wood fired salmon or roasted cauliflower. Diners can also choose from a selection of salads, sandwiches, small plates and housemade desserts. 
The bar program includes six California craft beers on tap and a curated wine list of mostly California varietals. The evolving specialty cocktail menu showcases Rise Woodfire's take on well-known tipples, such as the pretty-in-pink Mezcalopolitan that subs mezcal for vodka and pomegranate juice for cranberry. 
If Rise Pizzeria was a homecoming of sorts for Omid and his family, Rise Woodfire represents an evolution. "It's an extension of who we are," he says. "We want this to become a staple of the community, a place where locals and families can hang out. For now, we're going to be focused on making this everything it can be—we're just getting started.