Situated at the intersection of Neapolitan pizza slices, a glass of Zinfandel and an Aston Martin DB9, is a multifaceted company that champions the Peninsula's spirit of indulging in diverse interests.
Auto Vino is a storage company unlike any other. Operating out of a nondescript 20,000-square-foot facility, the company is in the industrial sector of Menlo Park across from Bedwell Bayfront Park.
The inside of the warehouse currently houses about 60 luxury, classic and exotic vehicles that are perfectly lined up and preserved, awaiting ganders from engine enthusiasts, design admirers and regular folk who've never seen the glint of a pristine McLaren.
In the building's corners, areas not covered in steel and wheels, barrels of wine are neatly stacked and stored. Although they're predominately reserved for local winery Woodside Vineyards, Auto Vino also offers its climate-controlled wine storage facility to those hoping to age a bottle or two of Cabernet Sauvignon without hogging space in the home collection.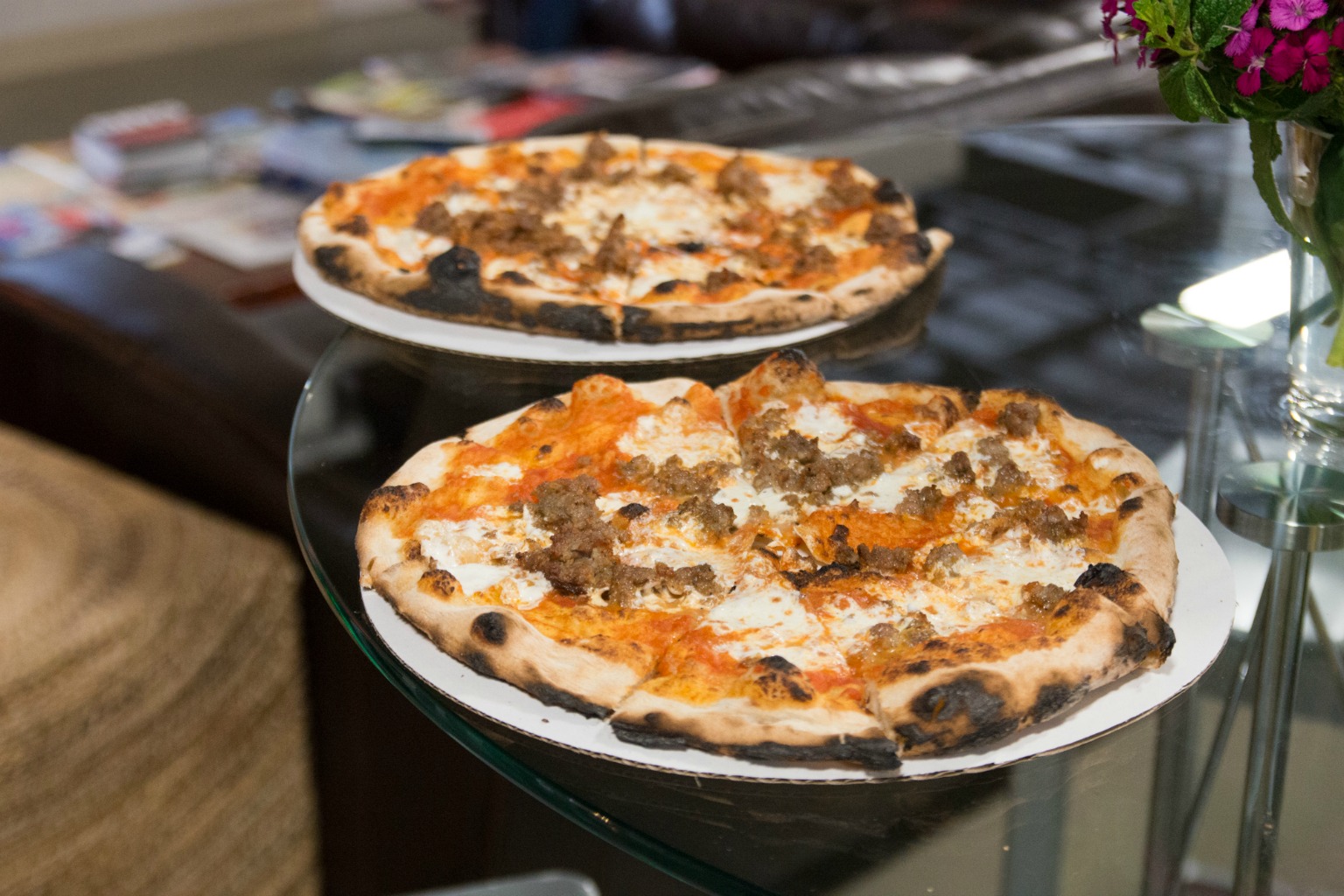 And depending on the day of the week, out back in the parking lot is a woodfired oven preparing one of the Peninsula's more hidden and undisclosed lunchtime gems, serving a meat lover's or chicken pesto pizzas that could rival any thin-slice classic from Manhattan.
Since 2010, Auto Vino has stored the Maseratis, Lamborghinis, Ferraris and Rolls-Royces for the Peninsula's auto elite while doubling as both a commercial wine storage and tasting room for its sister company, Woodside Vineyards. The lunchtime specials, available Tuesday, Friday and weekend afternoons, attract nearby tech workers but word has gotten out about this tucked-away find.
"It's a Venn diagram," Michael Fox, Auto Vino's director of internet marketing, says. "Cars, food and wine. At the center is where it all comes together. When I designed the website, I looked all over the country at other car storages and nothing was comparable. Not even a place like Dubai, where they're car nuts, has anything like this."
During a recent Friday afternoon as pizza dough was tossed, the inside of Auto Vino glistened with light reflecting off the polished hoods of vehicles fit for a James Bond film. Two young couples meandered from car to car, taking pictures and absorbing the automotive opulence. Some of the classics include a 1937 Packard originally from Texas (rumored to have once been owned by Lyndon B. Johnson) and a Willys Jeep that served in World War II.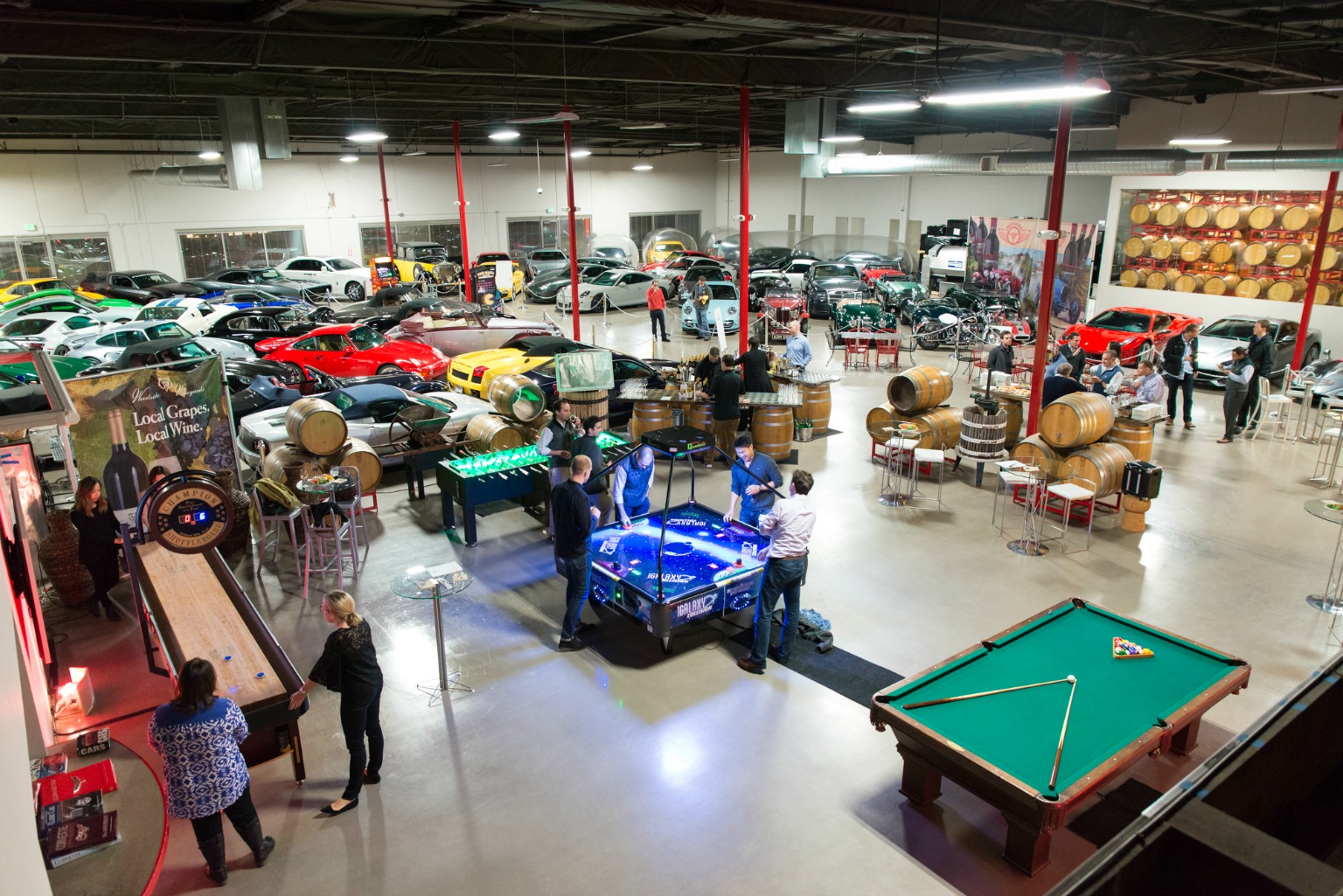 For $650 a month, Auto Vino will store and maintain vehicles in their main warehouse or at their non-public facility down the street for $500 a month. The price covers security and basic maintenance such as tendering the battery but a major selling point is a key to this club where like-minded drivers can congregate over a glass of wine or a cigar. Michael explains how certain patrons view their vehicles as financial assets or "art on wheels," which in turn transforms Auto Vino into an active car museum. As long as you remain behind the designated barriers, outsiders are welcome to admire.
Auto Vino co-founders Buff Giurlani and Richard Burns also own Woodside Vineyards, which Michael says produces approximately 2,500 cases of Chardonnay, Pinot Noir, Zinfandel and Cabernet a year from grapes grown across 40 backyard vineyards throughout Woodside and Portola Valley. The grapes are processed and crushed at Auto Vino before they're stored in French oak barrels. Their 2013 Zinfandel was recently released and the wines are available to try or purchase at a homestyle corner of the warehouse.
Outside is an adobe oven reaching 800 degrees and a couple of barbeque pits. Besides Neapolitan-style pizzas, the menu includes salmon, tri-tip and burgers all made to order. Since Auto Vino doesn't advertise its lunch offering, word has trickled through the neighborhood, bringing in a cast of regulars. Andrew Graham works down the road and has been coming over for meals for the last six years. "The chef knows his stuff," Andrew says in between bites as the Auto Vino company dog, Daisy, roams for scraps nearby. "The pizzas are unbeatable."
Given Auto Vino's versatility, it frequently opens its doors as an events venue. The lunches began as a way for event planners to taste the catering menu when touring the facility. Catering includes veggie and salad options alongside the choice of wood-roasted salmon, chicken, halibut, lamb or beef.
In any given month, Auto Vino might host anywhere between 15 to 20 private or corporate events. They once hosted a birthday party where a red Mustang was the surprise gift and have welcomed companies such as Amazon, Facebook and Apple. Not surprisingly, many events are automobile-focused; Auto Vino hosted the product introduction party for IBMs's self-driving bus and "NBC Dateline" conducted an interview about driverless cars inside the warehouse.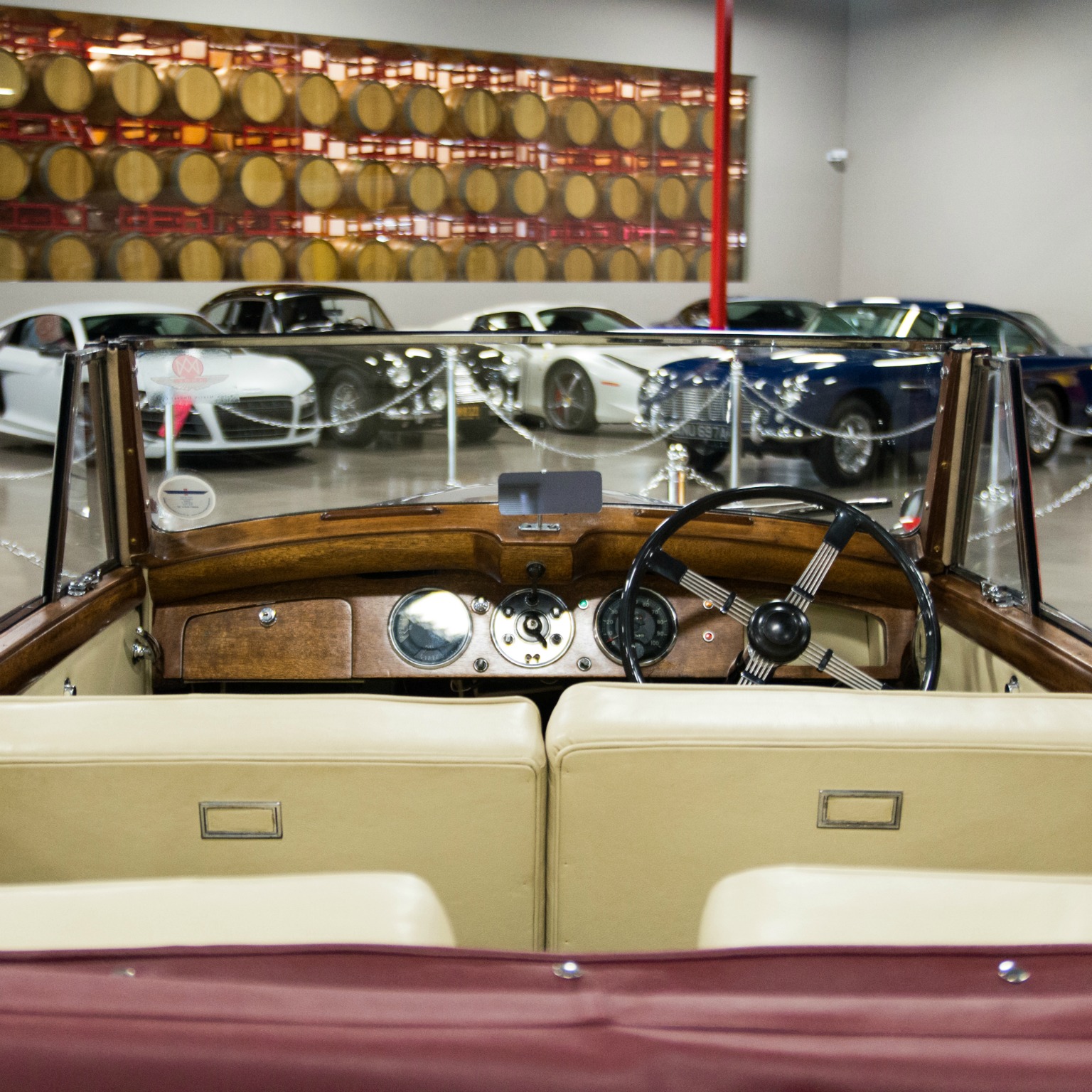 Although Auto Vino is a warehouse with tens of millions of dollars worth of assets inside, the casual gearhead is still welcome to swing by for a hot meal and glass of local wine. Michael says customers will often bring in family and friends, making Auto Vino an automotive clubhouse that eschews exclusivity.
"It has that club feel. Guys like the cigars and the women like the Chardonnay," he says. "Do you know Club 33 in Disneyland? It's the only place that sells alcohol in the park. Club 33 is known but it's still exclusive. That's the way Auto Vino has been—people who know cars know about Auto Vino, whereas the average Joe might not, but they're still welcome here." 
check it out!
205 Constitution Drive
Menlo Park
650.444.2358