Words by Johanna Harlow
From the outside, PlaceMakers might pass as your run-of-the-mill San Carlos warehouse—albeit a welcoming one with a cheery coat of barn-red paint. But step inside and the first thing you'll notice are the vintage chandeliers. Victorian brass with glass bells. Wrought iron wagon wheels with candles. Dangly tiers of teardrops. Crystal beaded domes. They collectively shimmer below the corrugated metal roof in all their stately grandeur like grand ladies at court.
When you manage to pry your eyes from the ceiling, you'll find an entire treasure trove of salvaged building materials and artifacts (many of them antique) filling the space. Clawfoot bathtubs and stained glass windows. Boxes of keys and boxes of doorknobs. A turn-of-the-20th-century wrought iron Juliet balcony. A Victorian roll-top secretary desk. Enough doors to inspire a symphony of knocking. Together, these reclaimed relics rival the collections of many a history museum.
The visionary and mastermind here is Palo Alto native James Dawes. Founding PlaceMakers in 1995, James began offering a full range of general contracting services, spanning demolition to ground-up development. Inspired by the one-of-a-kind items he found on sites, James also decided to start selling salvaged materials and artifacts. Like hulking mahogany column pillars from a bank demolition. "I never know what I'm gonna find," James chuckles. "It's an adventure."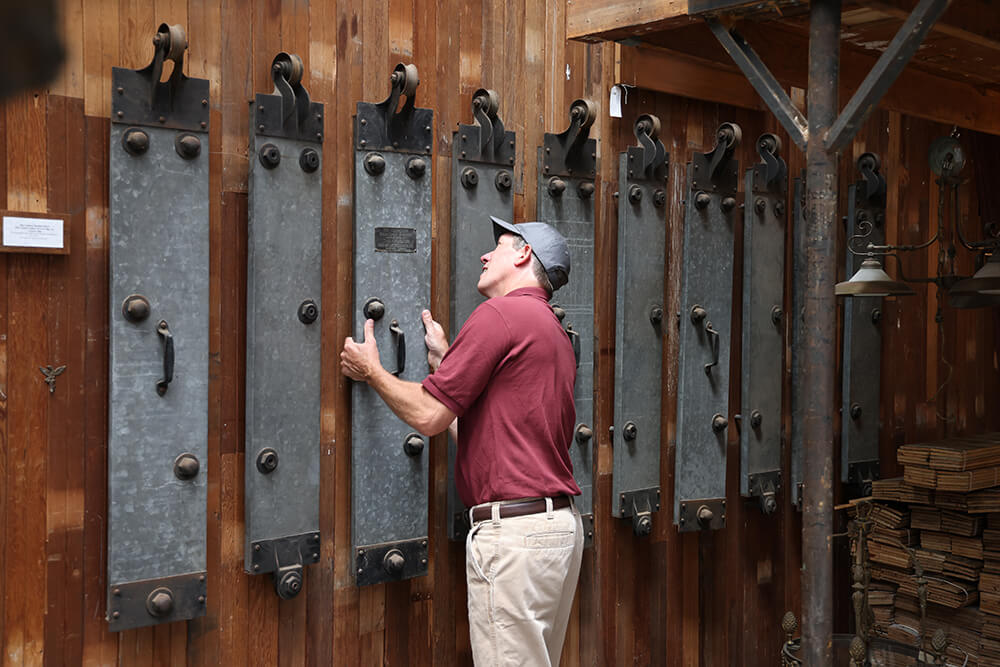 Greatly influenced by his environmental studies at UC Santa Cruz, James was impacted by assigned reading like Martin Pawley's Building for Tomorrow: Putting Waste to Work. He dedicated his thesis to building a house out of repurposed materials in Jamaica. "Everything is super expensive there because they have to import it," James explains. "Everything comes in on the boat. So for people to build anything there, it's really challenging."
The PlaceMakers name actually maps back to his college years. "There was a lot of talk even then about not just making buildings, but making places, and the idea that place kind of incorporated stories," he says. In other words, it's never just a window or a door. It's the feelings you attach to them. "Things are new for a day. And after that, the story starts," he observes.
Over the years, James' salvaging skills have elevated to an artform. When out in the field, his experienced eye seeks out specific qualities. "There's the artistry and the craft with which it's made," James muses as he walks past retro sinks and wall sconces, ship lanterns and portholes, vintage coat hooks and numerous other artifacts weighty with the significance of their past lives. "Did the maker know what they were doing?" he asks himself. "Is it well done?"
He also looks for items with "energy" to them. "Like a piece of old-growth lumber that took a hundred years to grow, rather than the stuff at Home Depot," he clarifies. "There's actual, real energy there. That took a long time!" Just outside his showroom, James stores a fort's worth of reclaimed lumber. Piled on towering racks, these include beams from an old copper mine, redwood from the historic Tunnel 13 railroad structure at the Oregon-California border and (rumor has it) timber from ballistic missile silos. "All that redwood that was once a beautiful forest is still out there but it's got paint on it," he notes. "It's in walls. It's bridges. You just have to know how to look for it. It's there."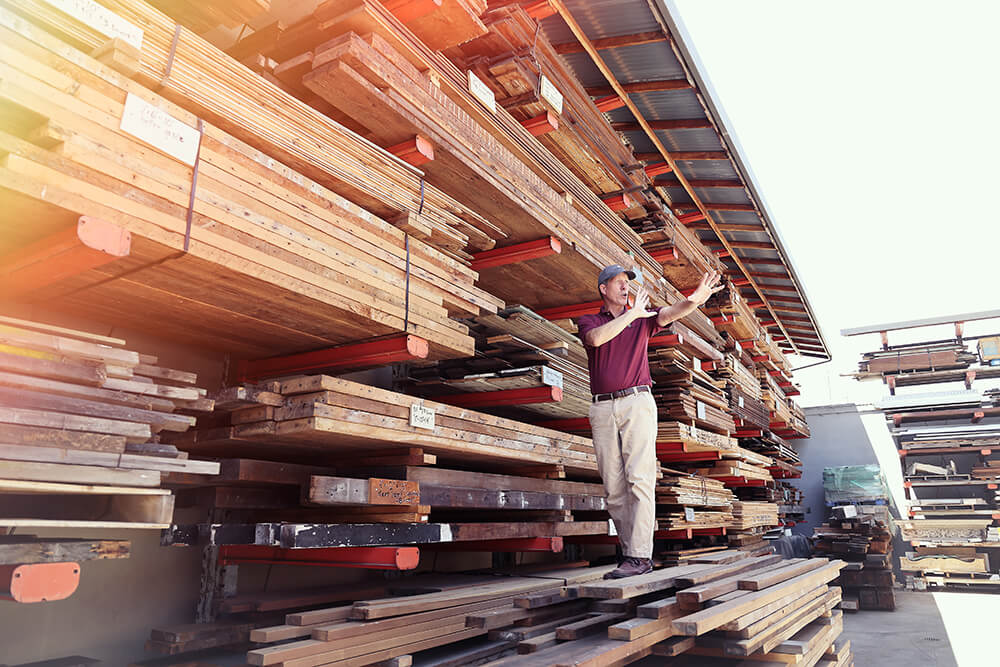 "History is part of it too," James adds of his search criteria. He motions to a door from the Hayes Mansion, the residence of the family that founded the San Jose Mercury News. He's also salvaged finds from glamorous historical landmarks like San Francisco's Le Petit Trianon and Hillsborough's Carolands Chateau—as well as spookier spots like Santa Clara's Agnews Development Center (formerly known as "The Great Asylum for the Insane"). One of his prized possessions (not for sale) is a hulking wraparound desk built from the cedar of a pipe organ's swell box.
Unrivaled is James' fondness for tile. Extracting them takes the right tools, a lot of coaxing and plenty of patience. "It's very tempting to just try and pry or chisel them off," he notes. "Anybody can take a light fixture off the wall or take a door off. But to get tile out is tricky." In fact, he credits the material as playing a hand in his career path. After trying to sell vintage tile to a salvage yard from an early demolition job—and being offered a paltry 75 cents per piece—James decided to hold on to them. "That wouldn't have even paid my gas and bridge toll to take them over," he recalls. Later, at a tile lecture, the presenter informed him that his find was actually worth $20 to $40 a tile.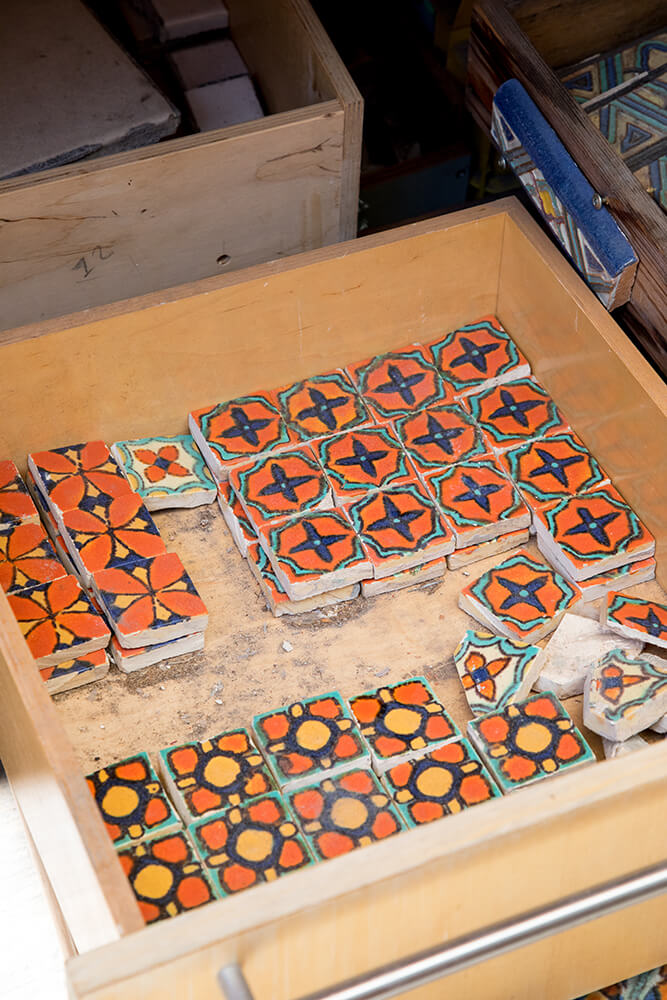 James is always on the lookout for ceramic gold by "the Greats" of the Arts and Crafts era. "Beginning in England in the late 19th century, there was a revival of hand-craftsmanship in direct contrast to what was considered 'soulless' machine-generated productions that were a product of The Industrial Revolution," he writes on the PlaceMakers blog. Later, California tile makers followed suit. "We had a couple of top-notch tile manufacturers in the Bay Area, S&S being one," remarks James as he picks up a yellow and turquoise tile and flips it over to reveal the S&S logo. "I actually bought this at a garage sale."
He's also a huge Pedro Joseph de Lemos fan. De Lemos not only handcrafted tile and designed the facades of many local buildings (including the Allied Arts Guild in Menlo Park), he also served as museum and art gallery director at Stanford University for nearly 30 years. What's more, his Palo Alto home incorporated reclaimed materials from the college campus after the earthquake. "It's an amazing story of salvaged materials," James notes.
As he wraps up his walk-through of PlaceMakers' carefully curated collection, James pauses in the shadow of a hulking 10-foot mahogany door from an 1800s mansion and brushes his hand across the wood. "The most incredible thing is, it never got painted in 140 years," he marvels of this untarnished treasure. "People painted everything. I mean, at some point in a hundred years, somebody's usually going to paint it white. But it made it."