Words by Johanna Harlow
Look—now look again. The art of unseeing the supposed-to's is imperative for artists… and something plein air painter Ellen Howard knows well. "I think as an artist, one of the biggest things to learn is how to correctly see," says the San Mateo artist, who dedicates herself to capturing ever-changing landscapes as they unfold in real time.
Unlearn those "lollipop trees," she advises, "Really quiet your mind down to actually see the exact shape of the tree, the exact outline. Nature is pretty irregular in a lot of ways. And that's the beauty of it. You don't always want something that's symmetrical and perfectly done." It's a value reflected on her website: "I favor the irregularity of nature," Ellen writes, "ragged rocks, knotty tree trunks, peeling bark and muddy waters of the marshlands."
Ellen's passion for painting "plein air" (French for "in the open air") draws her to idyllic stretches of sand along Pescadero, shady sections of aspens in the Sierra and flurries of flowers at the Half Moon Bay Nursery—though today she's ensconced in her cozy Art Bias studio in San Carlos surrounded by the painted memories of past excursions. "Usually, I go out to the field to get a composition and study the colors." Ellen twirls her brush as she eyes her latest scene on the easel. "Then I come back to the studio and, if I like what I've done, I see if I want to size it up or change something from my photos." Under her touch, a palatte awash with inky ocean blue, cerulean and sea surf white is becoming a Carmel coastline.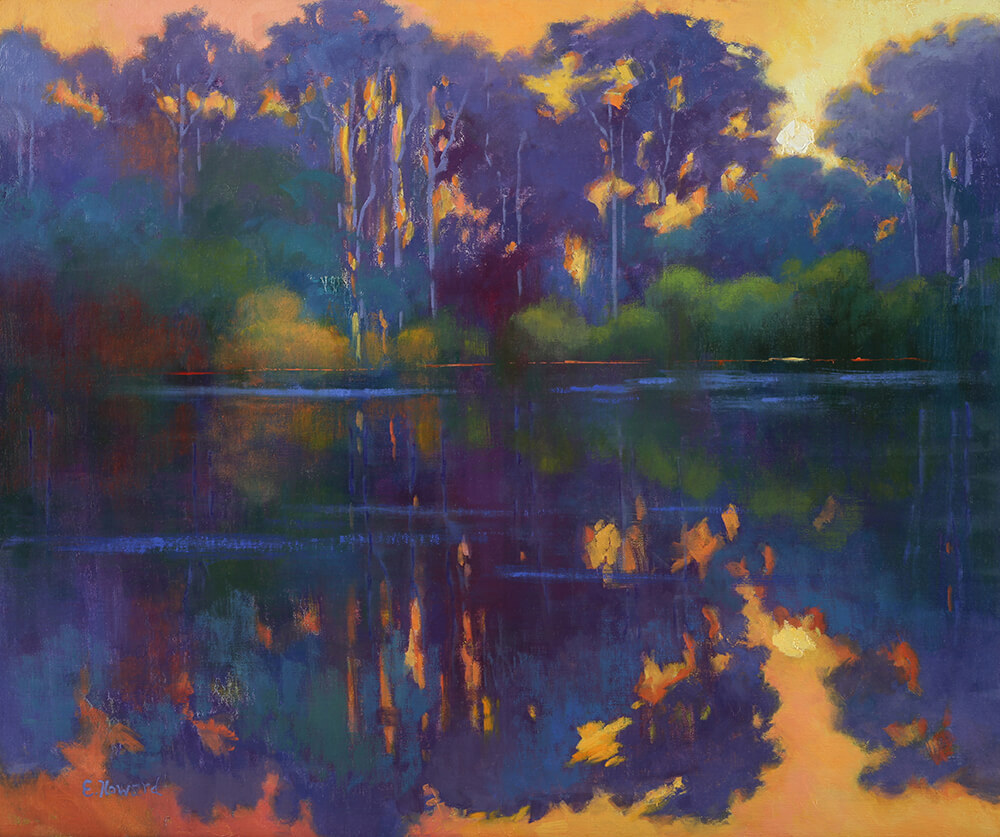 That artistic eye runs in the family. Ellen's mom dabbled in watercolors. Her grandfather was a cartoonist. "He got offered a job at Walt Disney, but he ended up working for the airlines," she says. Even so, he found ways to channel his inner creative. Ellen recalls marveling at his illustrations of people from around the world in traditional garb, sketches he made while traveling as a steward. He also did advertising. "He would draw a big jumbo airplane with a man sitting on top of it with a TWA hat," she describes.
When Ellen joined the workforce, she didn't start as a full-time artist either. Actually, her first career was in finance. But when her kids were older, she became the gallery coordinator at Notre Dame de Namur University in Belmont. After that, she moved to the role of assistant curator at the Peninsula Art Museum. "So I kind of always had my hands in art, but I wasn't exactly doing it myself, you know?" she shares, smoothing her black apron, speckled with paint.
That changed after she joined her friend for a painting class in 2007. Enchanted by the artform, she signed up for more. After a while, she began applying to shows. And receiving acceptances. And winning awards. Soon, Ellen's work was getting featured in Plein Air Magazine and Fine Art Connoisseur. Today, her landscape paintings can be bought at the Holton Studio Gallery in Berkeley and Rieser Fine Art in Carmel. For the past five years, she's also been included in the California Art Club's Annual Gold Medal Exhibition (an organization she has recently joined as Vice President of Programming as well as co-chair for the SF chapter). "I wouldn't have foreseen from my first art class that I would be in galleries and teaching and doing workshops," Ellen smiles.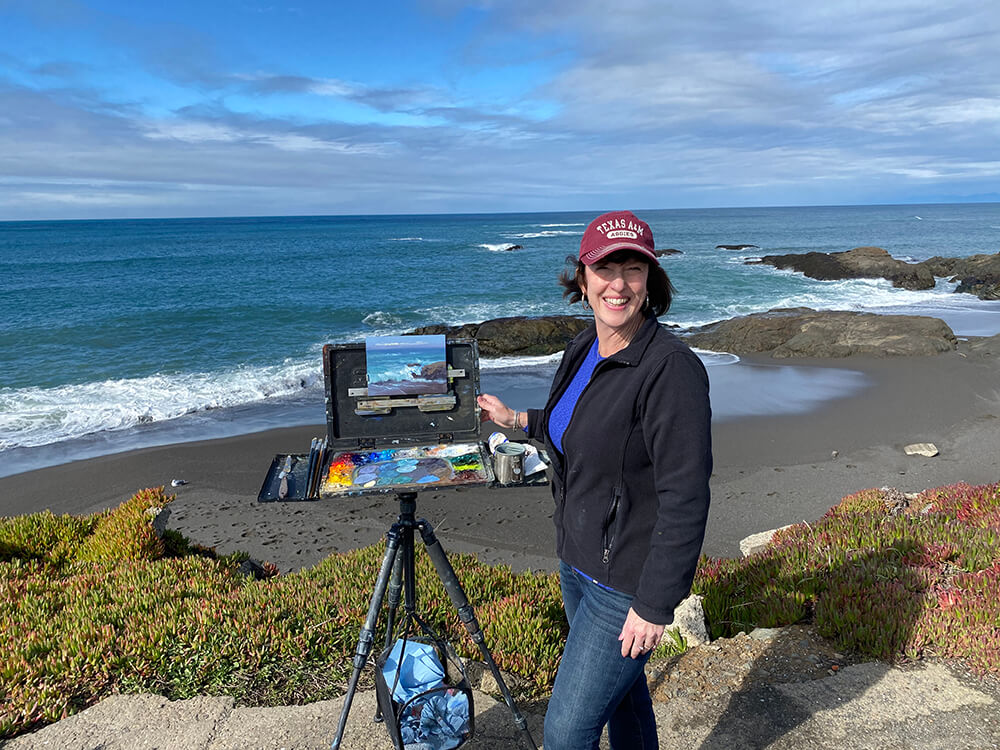 In addition to providing in-studio instruction (with offerings at Burlingame's Art Attack! and an upcoming still life class at the new Burlingame Community Center), Ellen regularly invites students to join her in the field. Locations range from Filoli to Carmel to the Mendocino Coast. "I think art is very uplifting and it gets you out of your own way. It's very meditative and I like sharing that," she notes. "It's also gratifying to see a student get a concept and progress in their skill level."
Even now, Ellen continues to curate. She finds that two essentials of a strong show are finding a good theme and including a range of styles. "I'm thinking about artists that would have a different twist," she explains. "You don't want your exhibition to be the same. So an oil painter, a pastelist, a watercolorist. Architecture, figurative, landscape. I want a blend." For a Pleasanton exhibition that's currently underway, all works revolve around differing interpretations of life's transitions—from the time of day to the shifting of the seasons to the stages of life.
Ellen's own style has shifted recently. She describes one of her latest pieces, Vibrant Hues, as more impressionistic. "It was a marshland scene, but the trees were kind of blues and purples and it was more orangey and pink with the sunset. I kind of pushed the color a little bit more. So I'm trying to think of more innovative ways to represent nature."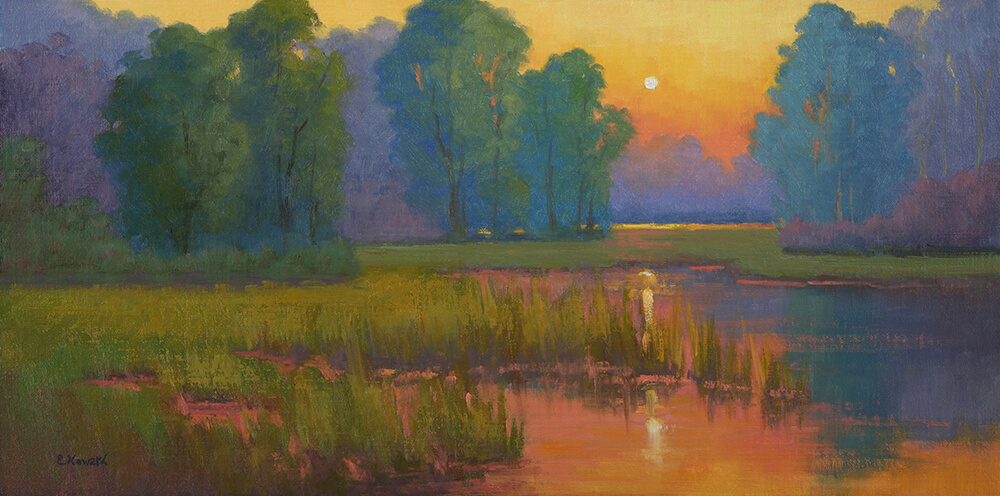 As for favorite environments? Ellen finds herself drawn time and time again to marshlands and ocean coasts. "I love painting with my shoes off and my feet in the sand," she reflects, adding that she enjoys capturing "the energy of the waves." Like her paintings Restless Waters and Winter Surge, which both capture a wave as it breaks on the rocks in a spectacular spray of sea foam.
And then, of course, there's the light. "Seeing the light move across the land," she describes on her website, "cascading off a mountain range, streaming through the leaves, dancing on the top of the waves and creating a beautiful ray of warmth in the sky and clouds is pure serenity."
Capturing a moment in time isn't easy, Ellen notes. Clouds shift. Shadows move. "You can be overwhelmed by the amount of information in the scene," she points out. "You need to pick and choose the elements that will create a cohesive painting." It's also important not to chase the light, to keep your values consistent. "I like to take a photo of the scene, especially if I am painting clouds and they are moving quickly across the sky. Sticking to your original plan when you paint is important."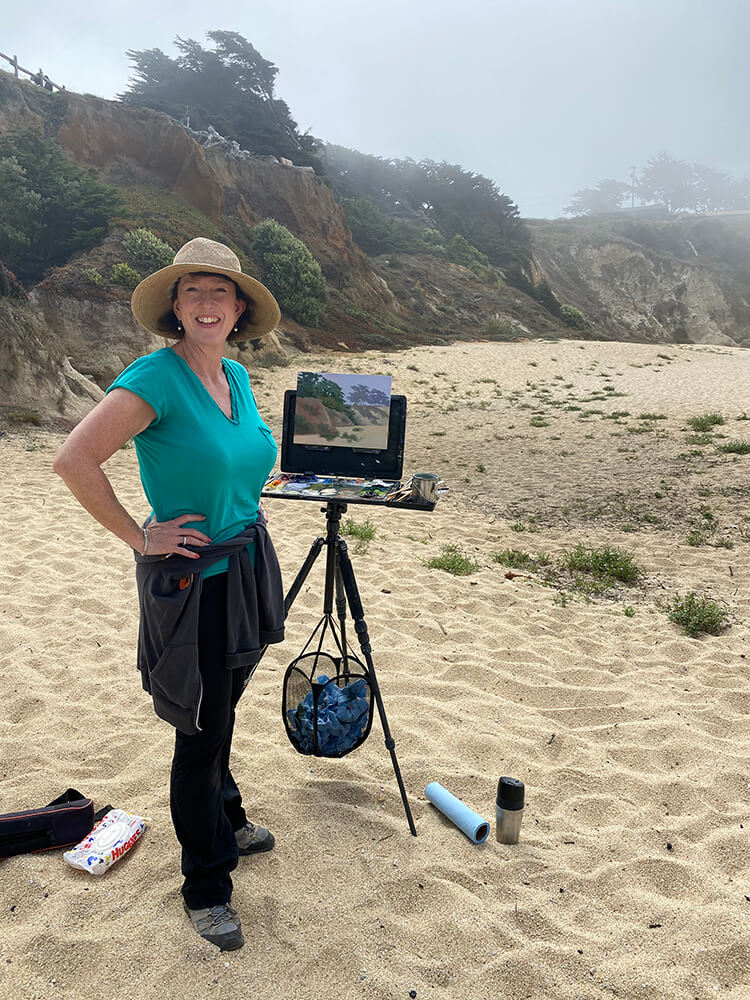 It's well worth the challenge, Ellen assures. "There's just something about being outside, being in the fresh air," she muses. "A photo is great to work with as a reference in your studio, but it makes a huge difference to actually go out and see what you're looking at. The colors are truer when you're out there in person. You can see the shadow colors better—how the light's hitting an object."
There are also fun interactions with the passersby her art attracts. "There's so many times when I'm painting and I look down and there's a seal watching me," Ellen laughs. Nothing like an audience of otters and seagulls routinely checking in on your progress to keep you accountable.