Every few weeks while Sindhu Peruri was growing up in Bangalore, India, she and her extended family would gather in the living room after dinner to watch her maternal grandfather, a textile merchant, unwrap bundles of vibrant, freshly-made saris.
"My uncles and my grandfather would pick our brains, asking, 'What do you think of these colors? Would you wear this?'" Sindhu reminisces. Three generations of women would inspect the saris' traditional embroidery, contrasting and complementary borders and silk and cotton fabrics shot through with metallic Zari thread, and then offer suggestions for mixing colors and textures. "I come from a family of very strong women with very good taste," she adds as a simple matter of fact.
The memory is one of Sindhu Peruri's favorites from her childhood, and today, its impact resonates in her work as principal of Peruri Design Company, a Los Altos-based firm renowned for incorporating color into sophisticated and serene interiors.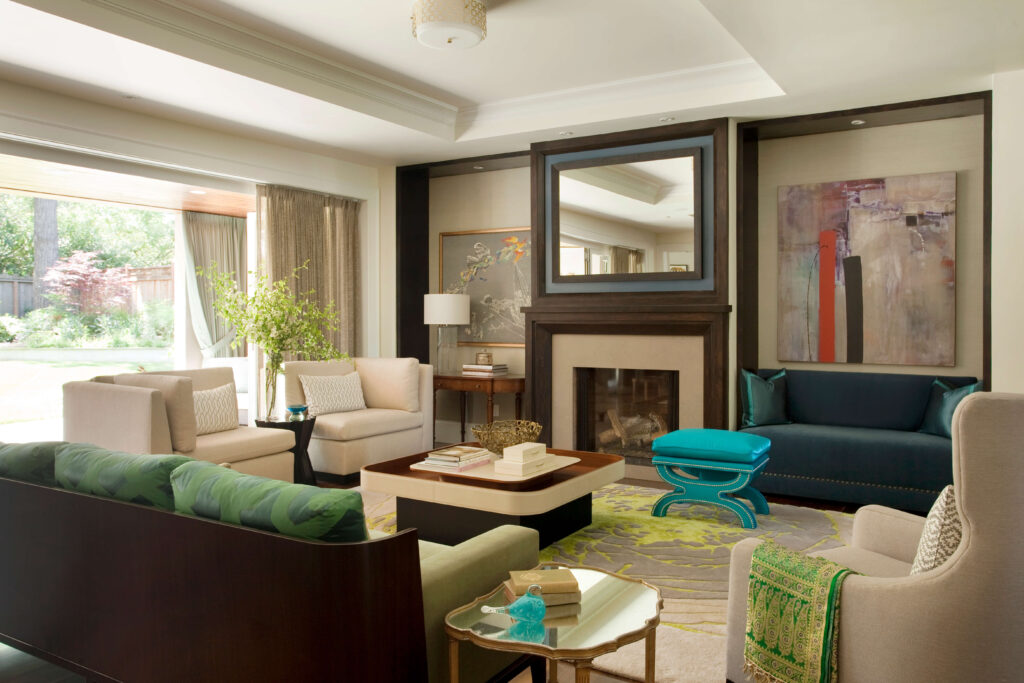 Among the firm's notable recent projects is the library in the 2021 San Francisco Decorator Showcase, an all-virtual tour featuring the work of ten hand-picked West Coast interior design firms. Using repetition of curved forms and varying shades of blue accented with a single splash of fuschia, Sindhu transformed a blank white shell into a moody and inviting nook that—like many of the firm's projects—discreetly nods to Sindhu's Indian heritage without even a whiff of cliché.
"I'm not sure I even draw on heritage consciously," she explains when asked about her process for planning a room and choosing a color scheme. "I probably have a unique way of pairing colors, textures and materials because of my heritage, and the way I use color probably has something to do with those very early 'unfurling the sari' days," she continues. "Because of my heritage, I also love using different fabrics and textures, andI love mixing print with texture or embroidery."
That said, Sindhu is quick to point out that she avoids overtly Indian fabrics and design details. "I draw my influences from my heritage in more of a modern sense," she notes. "It's more subtle—an undertone."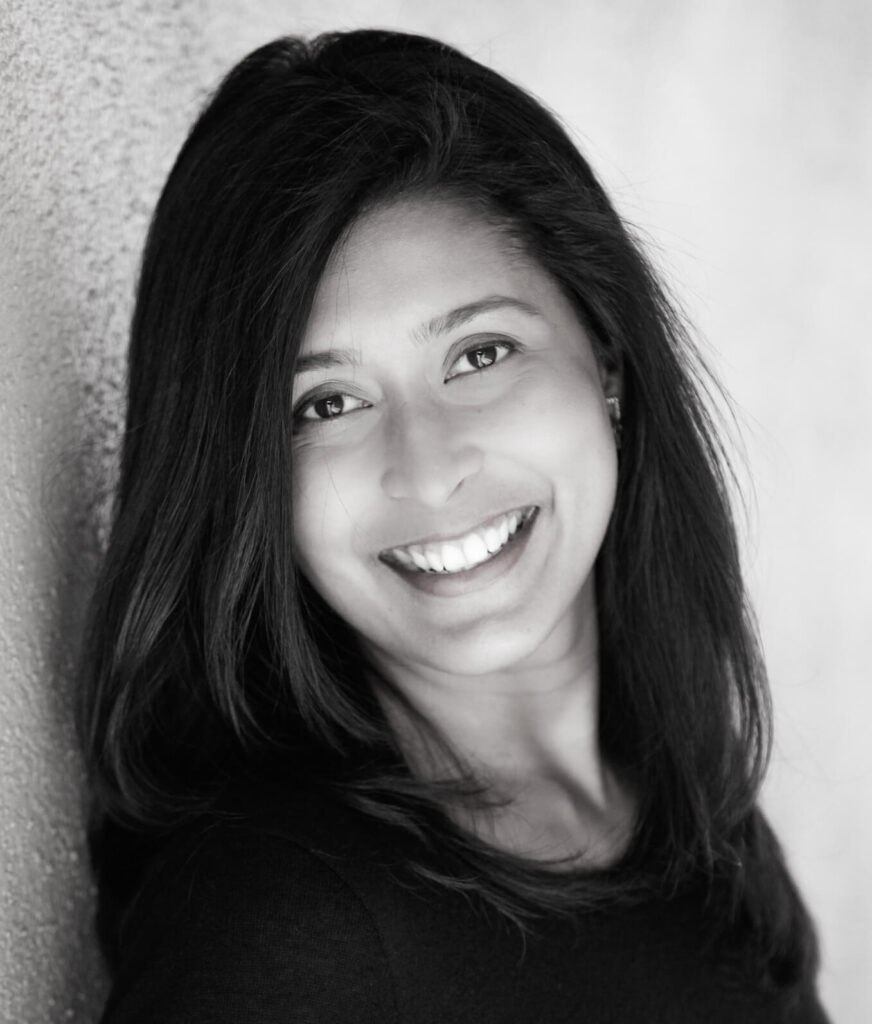 Sindhu also credits her upbringing for her appreciation for fine craftsmanship and penchant for working with local makers. Throughout her childhood, groups of furniture makers would take over the family's garage for months while they made custom furniture for her house. She now commissions custom furniture for many of her projects, including her own Los Altos home, where a chandelier from Ochre in New York illuminates a wooden dining room table of her own design. Now she's collaborating with San Francisco artist Caroline Lizarraga on a set of tables. "I sort of see my own home as a studio or a lab for me to play with," she says.
How do Sindhu's love of color and craftsmanship translate to her residential projects? Glance through her firm's portfolio and you'll see finishes in bold colors like emerald and amethyst paired with earthy neutrals, sleek metal alongside woven baskets and modern side tables paired with intricately inlaid wooden chairs. For one client, Sindhu designed a fabric headboard in burgundy and grey ombre; another project is primarily neutral but punched up with minty pastel green.
For the 2019 Decorator Showcase, she flipped a shiny tile and installed it wrong-side out. Despite—or perhaps thanks to—that kind of irreverent approach ("I wear white after Labor Day, so no rules," Sindhu says.), the interiors are consistently warm, sophisticated, richly layered and pleasingly proportioned. The aesthetic sensibilities that lead to those visually compelling spaces may be rooted in India, but Sindhu traces her career as an interior designer to another rich and vibrant locale: New York City. She arrived from Bangalore at 21 as a newlywed with no idea of what—or who—she wanted to be.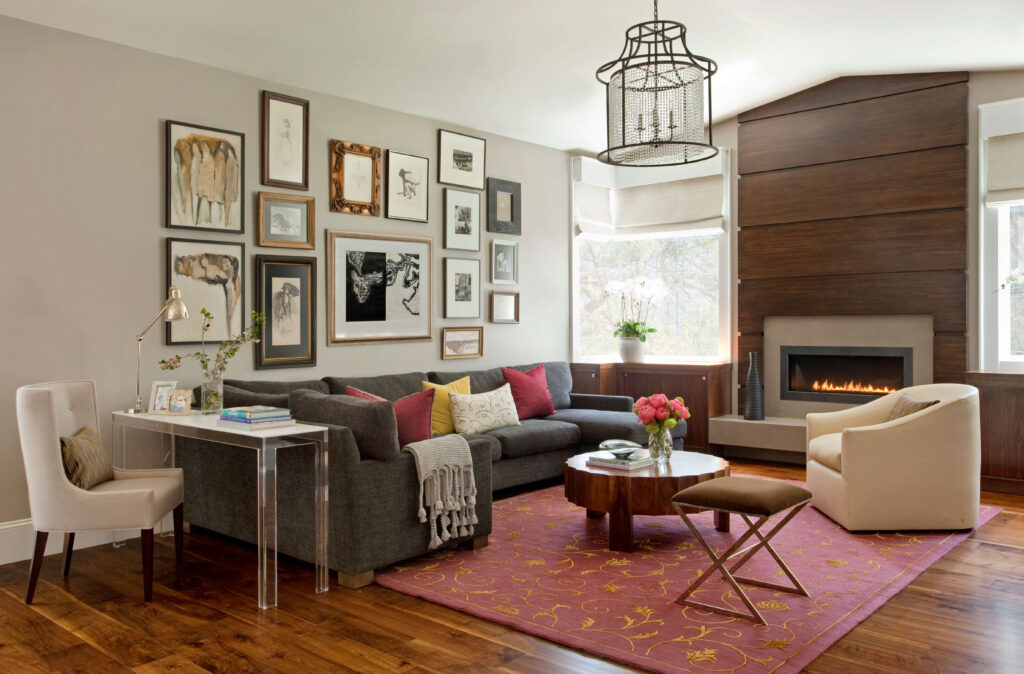 "I was still sort of discovering myself, getting used to living in America and leaving my family back home," she says. "I was walking the streets of New York every day to figure it out, just assimilating with the culture and a new place. About six months before my husband and I left New York, I happened to walk by a New York School of Design, and I thought, 'Oh my God, I should be going to design school.' So when we moved out to California, that's the first thing I did: I enrolled myself at Academy of Art in San Francisco."
After graduation, Sindhu joined a local firm, quickly climbing the ranks to senior designer, then partner. "That experience gave me this big-firm mentality, so I knew how to run my own firm if I were to start one," she says. In 2015, after a hiatus to raise her kids (now 10 and 14), Sindhu faced a pivotal choice: find a new firm or start her own. To protect her time for her family, she opted for the latter, launching Peruri Design Company. "Since then, I haven't looked back," she says.
Today, the small, all-female firm's projects range from the Peninsula to Montana and Hawaii, and include residential as well as commercial interiors. Sindhu redesigned The Post Restaurant & Bar in Los Altos, and its owners have also tapped the firm for a forthcoming project.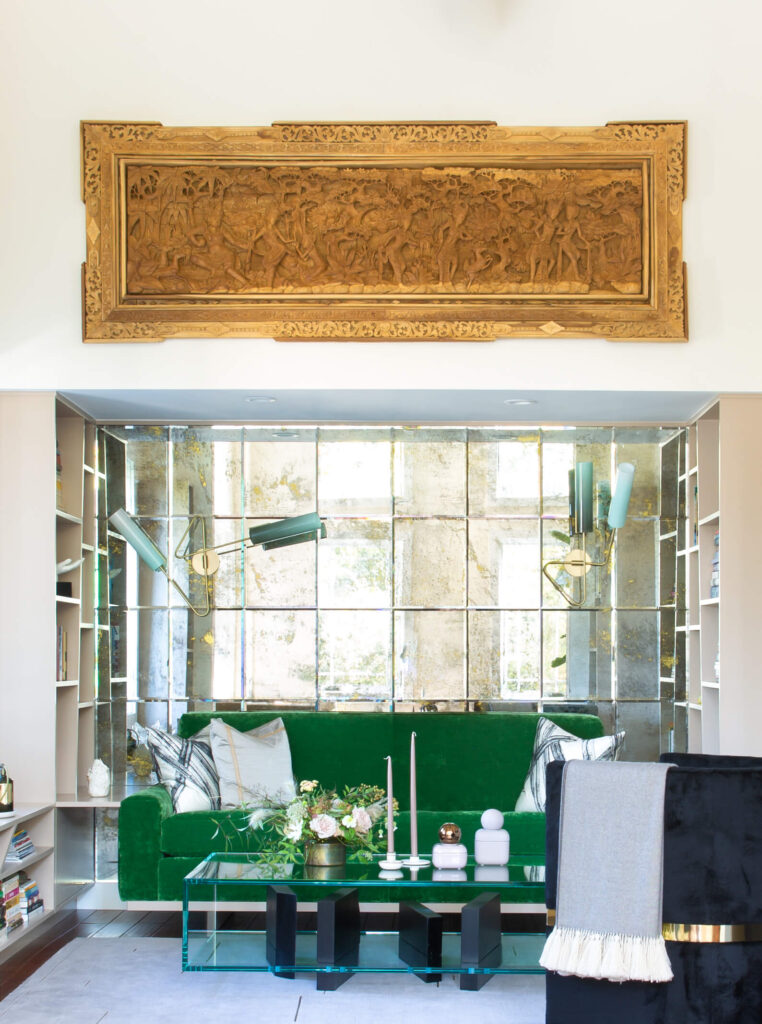 Increasingly, they're getting involved with projects from the very beginning of home construction—a process through which Sindhu feels she can really add her value and build long-lasting relationships with her clients. For example, they recently completed work on a Mediterranean-style home in Palo Alto in which they were involved from the architectural planning stages through selecting art for thewalls, and they're about to break ground on a project in Los Altos Hills that will blend European elegance and Asian minimalism.
"It's so hard to combine the two and come up with a design that is minimal yet warm, with detail and interest to the space. So that's actually a very interesting project," Sindhu says. 
Over the course of her life, from unfurling saris in Bangalore to her professional epiphany to her role today as the principal of a top design firm, Sindhu has tapped into her roots to cultivate a style that's at once evocative of place and distinctly her own. "There's so much rich history that comes out of India, and there's so much to draw from," she says. "That's something that's always in me."