Words by Johanna Harlow
Get ready to applaud! For guests dining at downtown San Mateo's Porterhouse, "dinner and a show" can refer to one destination. Presenting exceptional cuts of dry-aged meat and tableside experiences alongside original posters and vintage photos from Hollywood's golden age, this hospitable steakhouse certainly knows how to entertain.
Centerstage, you'll find owner Hamdi Ugur performing pyrotechnics. Enthralled patrons watch him pour brandy over a sizzling pan of bananas foster and—fwoom!—the flame leaps six feet into the air. Its caramelized aroma wafts through the room. "I've figured out I'm on the stage," Porterhouse's owner describes, "the way you act, the way you talk, you walk, you make flambé, everything… I love it!" With an estimated 35,000 tableside experiences under his belt, he should know.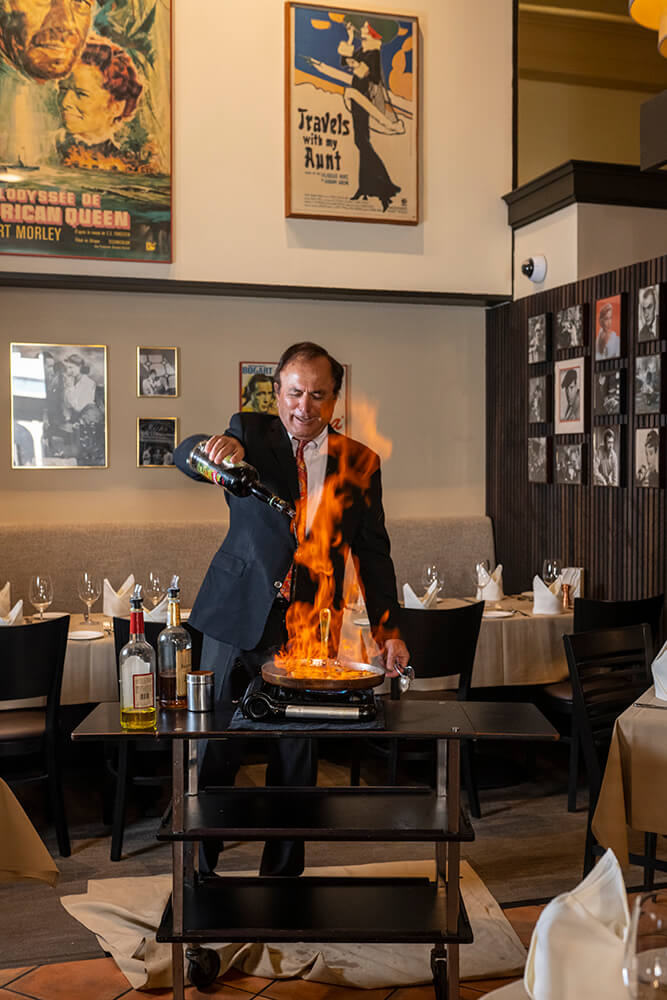 Hamdi is better known by his "restaurant name" Bruno. "When I'm Hamdi, they ask me too many questions," shrugs the Kurdish owner with a good-natured chuckle. "When I answer to Bruno? No one questions. It saves me a lot of time!"
Ask Bruno about his roots, and he'll tell you of growing up on his family's ranch in Kigi, a small Turkish town in the mountains, where he married his wife (both 16 at the time). Turkey's political turmoil spurred Bruno to immigrate to London where he began his restaurant career as a dishwasher. After moving to San Mateo in 1982, he waited tables at Bogie's, a French continental restaurant with a swanky Humphrey Bogart and '40s motif. Five years later, he owned the restaurant.
Bogie's would later become Porterhouse, a steakhouse with French influences still channeled through touches like the escargot, souffle and béarnaise sauce. "You have to renew yourself," Bruno says, adding, "There was a need. There wasn't any steakhouse in San Mateo at that time."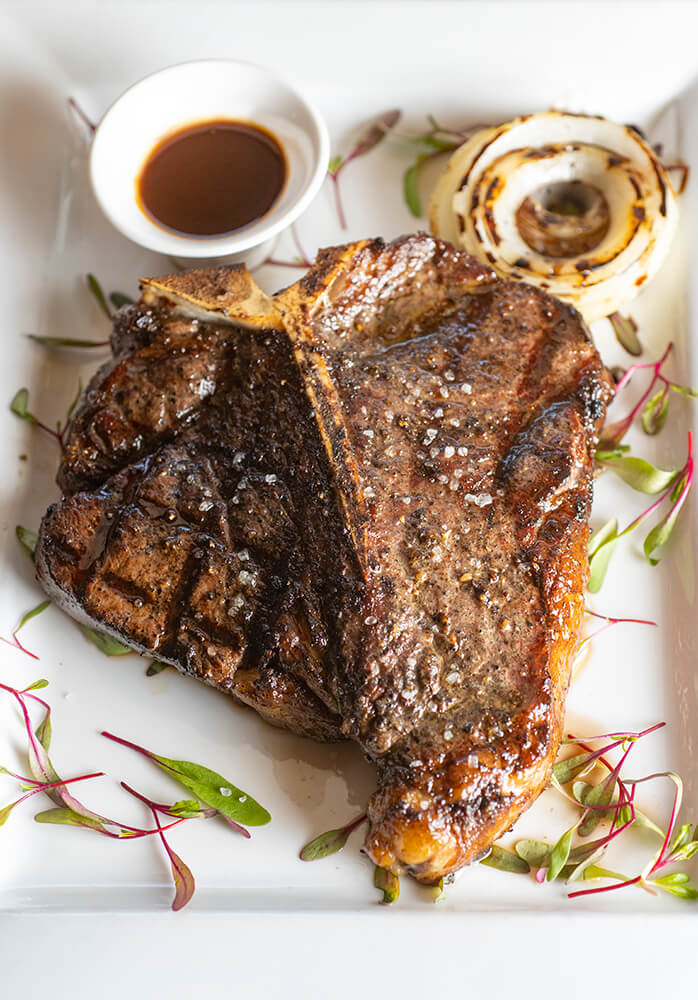 Bruno is joined by his son Steve Ugur. "My first job was actually at Bogie's as a busser on Fridays and Saturdays," recounts Steve, who now oversees the butchering side of the operation at Porterhouse. He specializes in dry-aging steak, a skill learned from a year and a half at Harris Steakhouse. "Dry-aging is for two things: tenderizing the meat and concentrating the flavor. But it's a lost art," remarks Steve. "It's a lot easier to pick up your phone and just order wet-aged steaks that are portion-cut and vacuum-sealed. But it's not as flavorful. It's not as tender."
An in-house butcher means a wider range of options, Steve points out. In fact, when you step into Porterhouse, an industrial fridge stocked with large primal cuts is proudly exhibited right there in the entry.
Whether you opt for the cowboy (bone-in ribeye with intense marbling) or the porterhouse (combining tender filet mignon with the richly marbled New York strip), every steak comes with seasonal vegetables and a twice-baked potato. "Some steakhouses charge extra for potatoes and vegetables," Steve notes. "We don't want to be that steakhouse. We want to be a good neighborhood spot." This isn't some halfhearted addition either. The carrots are perfectly caramelized and the potatoes are whipped with cheese before getting stuffed back into their delicate skins.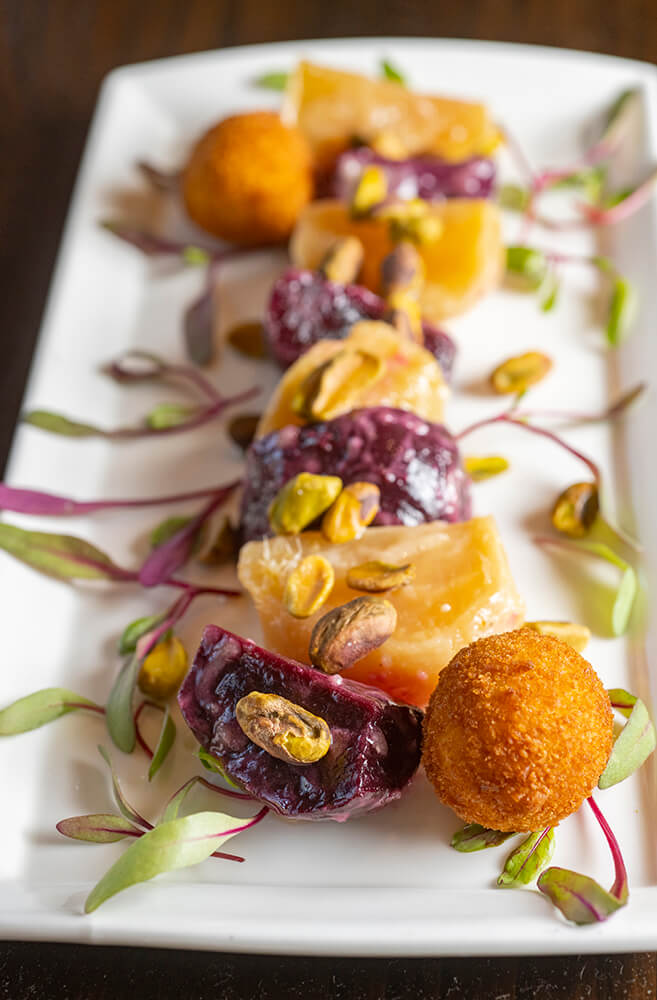 Proving that steak doesn't have to be the Main Event, other vegetarian items include the Brussels sprouts (aesthetically-plated with onions, rosemary, EVOO and almonds) as well as a standout beet salad (with earthy pistachio, sweet chunks of beet and salty cheese). On the topic of veggies, Bruno flashes a mischievous grin, "Sometimes guests say, 'My wife or my boss is vegetarian.' I tell them my cow is vegetarian too!" Steve shakes his head, "I don't know how he gets away with that."
After a move at the beginning of the year, Porterhouse has relocated to a 1924 bank building—and they've still got valuables locked in its safe. "Would you like to see?" Bruno asks. When the vault door swings open, it reveals the restaurant's fine wine collection. With an emphasis on Napa cabs from all different appellations, Porterhouse makes sure to stock plenty of older vintages. "When you go to a steakhouse, you don't want to see all 2019s and 2020s," Steve explains. "You want to see some wines with age to them. Because young cabs need time to open up and you don't want to overpower the meal." Porterhouse also stocks the widest bourbon selection in San Mateo, if not the Peninsula.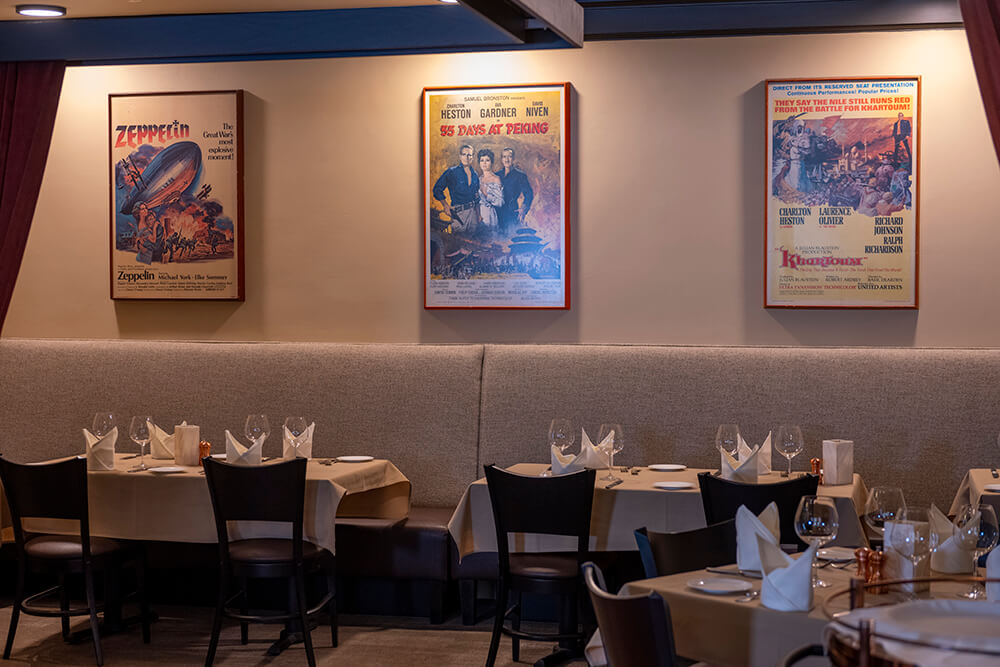 If cocktails are more your thing, raise a glass to the Old Hollywood actresses on the walls by ordering The Hepburn (a refreshingly citrus skinny margarita topped with dried lime) or The Monroe (a creamy play on the Mai Tai). "We're not purchasing anything but the spirits," Steve highlights—meaning house-made salsa for the spicy margarita and freshly squeezed citrus for The Hepburn.
Speaking of the stars… "All the movie posters are original," Bruno gestures at iconic banners ranging from Soldier of Fortune starring Clark Gable to The Big Sleep with Lauren Bacall. These he salvaged from the Old San Mateo Theater (which Bogie's replaced at its first location).
Here, Humphrey Bogart is king. With stoic swagger, the cultural icon presides over the restaurant from his many posters and photos, his fedora tilted at a rakish slant. Bogart's Maltese Falcon statuette can even be found perched near the entry. "I love Casablanca. I've watched it a thousand times!" Bruno says.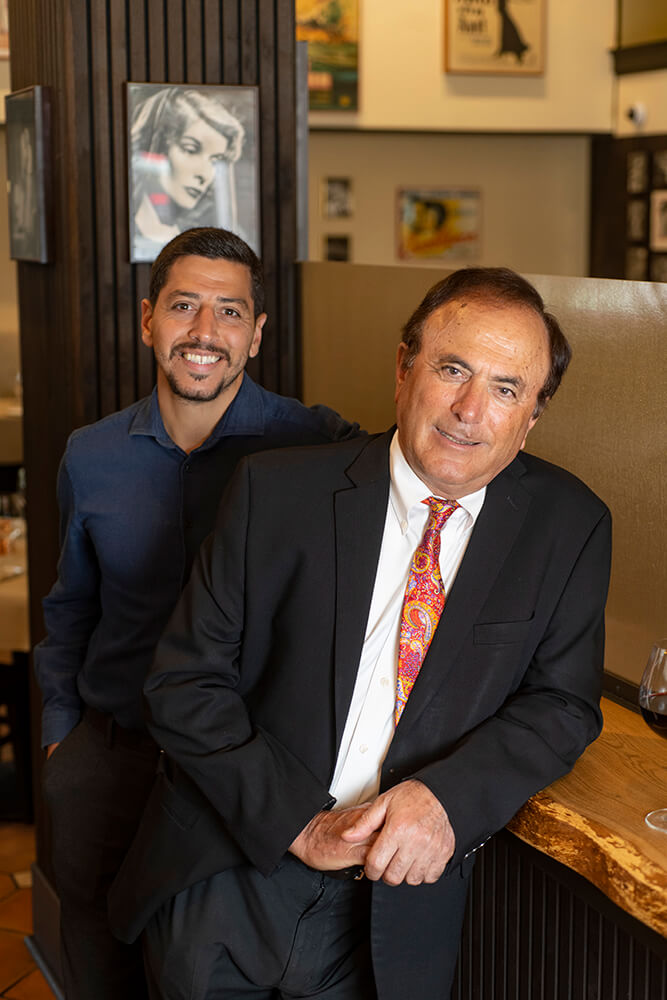 As the evening nears an end, it's time for a curtain call. Conclude with a tableside dessert—like the Grand Marnier souffle, an eggy cloud with crème anglaise drizzled over as you watch. Then again, you might choose to go out in a blaze of glory with Bruno's banana foster flambé. "Sometimes I never talk," Bruno says of his tableside performances. "They're there for the flambé, you know what I'm saying?" Steve adds with a smile.
The Monroe

1.5 oz pot still Jamaican rum
.5 oz rhum agricole blanc
.5 oz dry orange curacao
.75 oz orgeat
.75 oz fresh lime juice
.75 oz fresh pineapple juice

Directions
Add all ingredients into a cocktail shaker, add ice and shake for 10 seconds. Double-strain into a highball glass with shaved ice. Garnish with a dehydrated pineapple slice and enjoy!