Words by Silas Valentino
Elite athletes may attempt to tune out the noise to focus on the hustle but for ultra-runners Leor Pantilat and Erica Namba, every sensory in-take contributes to the run.
The married couple are elite backcountry endurance runners who have finished first in multiple local races and set speed records on some of the most gorgeous trails in the state. They've run over 50-mile distances in competition and have gone even farther just for the fun and a chance to test their athletic limits.
By day, Erica works as a physical therapist for the County of San Mateo and Leor is a corporate counsel for Robert Half. For 15 years, Leor has been an ambassador with the outdoor brand La Sportiva, which has helped sponsor his endless endurance. The couple reside in San Carlos and have just welcomed their
first child, a baby daughter
who's already earning her miles on the trail—swaddled inside a baby carrier.
On their runs, the two aspire to a headspace enveloped by the elements. Erica would never think to plug in music when the symphony of the chirping birds is more than enough. Meanwhile, Leor can become so enthralled by the outdoors that time seems to melt away.
"Sometimes it's just, wow, I just did an 18-hour adventure—what did I think about? Not much," he admits, laughing.
The two met in 2012 via OK Cupid ("I tell people I ordered him off the Internet," Erica quips.) and married in 2017. Their weekends often include remote trails, a symphony of foot strikes and if they're lucky, charting a path towards an outlying alpine lake to float atop the icy waters, becoming utterly engulfed in the natural world.
PUNCH caught up with the two ultra-runners (and their newborn) for a chat about the runner's high, how to promote the best trail etiquettes and why the Peninsula is the ideal region for their tireless endeavors.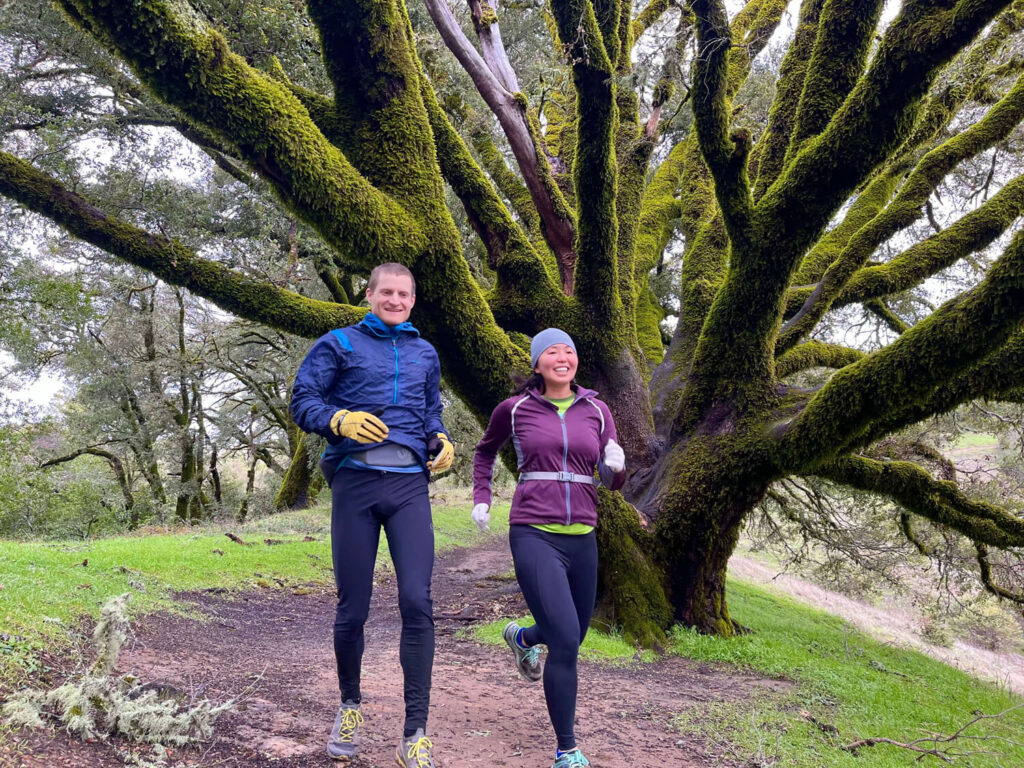 I read that one of your favorite running spots is Woodside's Huddart Park—is that still a favorite and what strikes you about it?
Leor: How peaceful it is. It's almost entirely forested there, a mix of redwoods and Douglas fir. There are creeks, it's rarely ever busy and there are miles of trails. You can connect into other parks from there and it's near where we live so we don't have to travel far. And we both love Edgewood. Erica is a volunteer there.
Erica: Edgewood is my favorite park around here because of the biodiversity and all the native plants. Every evening when we go out there, you never know what you'll see. A lot of times you'll see hares, bobcats and tons of deer. It's just such a gem. It really showcases what the Peninsula was like before development—and it's a really important piece of land for us to preserve.
You promote recreating responsibly. Of course, we always hear 'pack it in, pack it out' and 'leave no trace behind,' but what does this mean to you?
Erica: I worked at Philmont Scout Ranch in 2005, and that was my first wilderness experience. It was kind of a crash course and the gold standard of how you should behave in the wilderness. Eventually moving on and being an outdoor enthusiast, you witness so many infringements. Like, can we just throw orange peels? It's like, 'Oh yeah, it's biodegradable.' But then you read about it more and how it takes two years for that to biodegrade. We live in a densely populated area and if we all just did what we wanted, then we wouldn't have these pristine lands to enjoy for everyone.
Leor: In Russian Ridge, we see people cutting the switchbacks and part of recreating responsibly is to stay on the trail because otherwise a used path becomes an actual path before you know it.
Erica: I think it takes 17 people to pass through one pristine area for it to become a path. Oh, I hear the baby crying. [Erica leaves to retrieve their daughter.] We are addicted to our lifestyle so it was really hard to transition to having a baby, but we kind of see it as a new beginning to explore things that we've already done with new eyes.
Leor: We try and do a hike with her every single day, seriously. And right now it's in a carrier, but soon she'll graduate to a stroller or backpack. Hopefully she'll love nature as much as we do.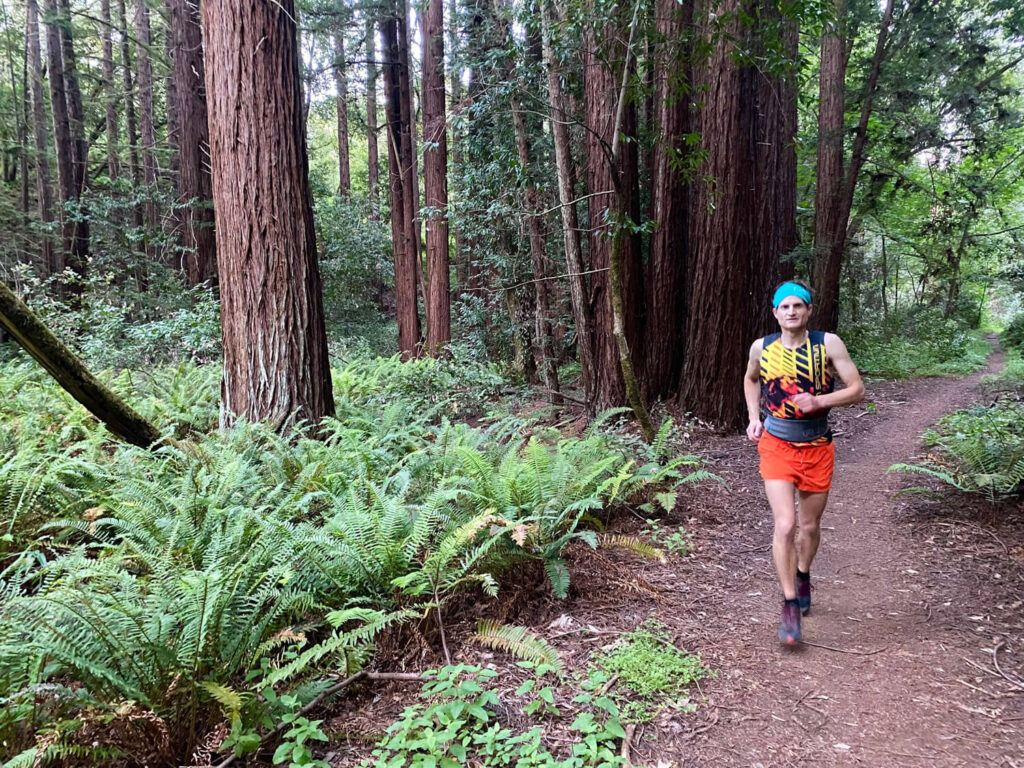 If she's out hiking daily, is that even a question?
Erica: That's why we live on the Peninsula. You know, we don't need to live on the Peninsula. Leor can work remotely and I'm a physical therapist at the San Mateo Medical Center. I can find work anywhere. But we love the nature here and the ease of getting to these beautiful, world-class trails on a daily basis. And then being able to hit the mountains on the weekends.
Is a runner's high something that you feel each time you go out or is this something that you're searching for?
Erica: I don't get it every run but I'm coming back from having this baby. When you hit that runner's high, usually it's a combination of all your muscles and joints being in this perfect length/tension relationship. And you've probably got this beautiful scenery that looks extra beautiful and the sky just opens up. That's the feeling that's just priceless. I think we both go out into every run that we embark on with the hopes that we hit that. There are plenty of runner's highs to be had in these Peninsula hills.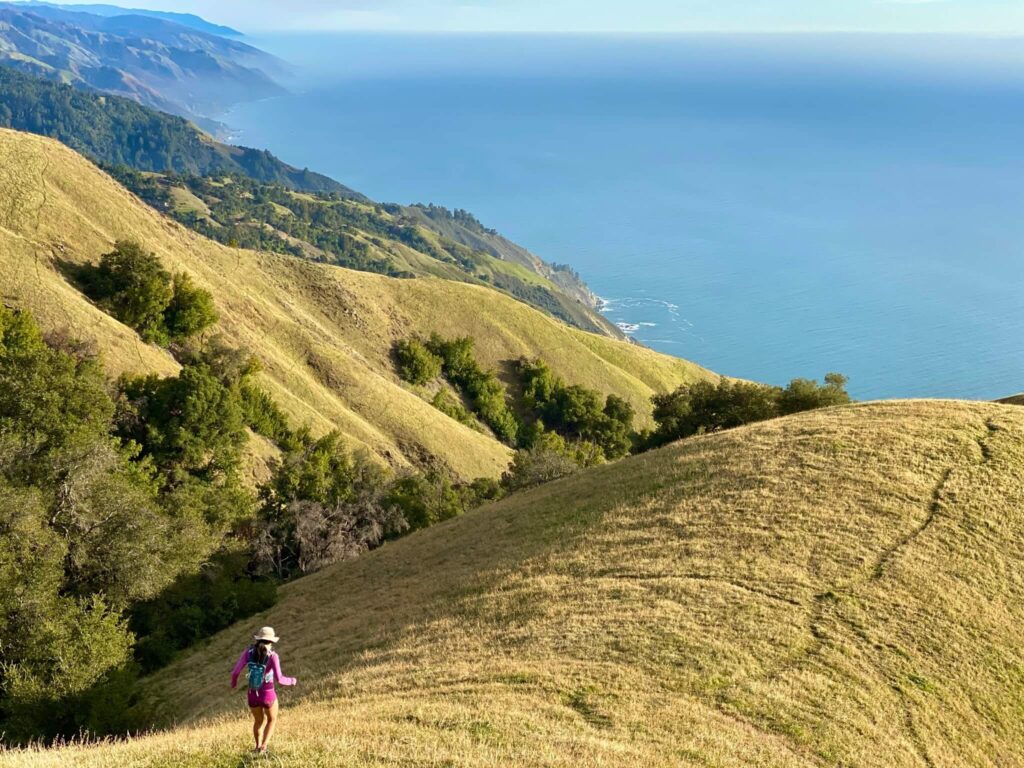 What's a fresh goal that you're currently working on?
Leor: Public access to public lands is a huge priority for me. I joined the Ventana Wilderness Alliance board and there are a lot of issues down in the Big Sur area with public access, whether it be unreasonable post-fire closures or locals wanting to just cut off access to public beaches or lands.
Erica: And he's gotten really into learning about all the species in all these places that we visit. He's just totally engrossed in it all.
Leor: I enjoy meteorology and ecology, especially conifers, they're my favorites: endemic conifers to California. When you visit these places, at some point you want to learn more about them—peel back a layer. Not just run with your head down, you want to learn the beautiful trees that I'm seeing along the trail or when can I expect the thunderstorm to avoid putting myself in an unsafe situation? You start to want to know more about meteorology, the plant communities and the animals and their characteristics.
Erica: How it all fits together, you know?