When the term "reposado" appears on a bottle of tequila, it refers to the time that the spirit has spent "resting" in oak barrels to develop flavor. But the word can also mean "relaxed," which is why restauranteur Rob Fischer, chef Arnulfo Hernandez and manager Eric Beamesderfer chose it when they opened a Mexican restaurant in 2009. Originally, the plan was to open a small place, but when a building came up for rent directly across from the group's other restaurant, the Peninsula Creamery, ideas shifted. Today, Reposado's expansive dining room is graced with high ceilings, vibrant Mexican art and garage-style windows that bring in downtown Palo Alto's vibrant atmosphere.
The menu hews as closely as possible to the home cooking that Hernandez grew up with in the costal Mexican state of Nayarit. He travels south of the border a few times a year to gain inspiration and keep up with the ever-changing restaurant scene. Hernandez also uses these trips to source the few ingredients he has trouble finding locally, including Tepin chilies, which are barely the size of a marble and pack a smoky, fiery punch. Luckily, most of the other items in Hernandez's kitchen are available at the Peninsula's many Mexican grocery stores. Although the team at Reposado is always ready to welcome guests to the restaurant, whether for a quick drink or a celebratory meal at the chef's table, they were also willing to share some recipes with PUNCH. Below, you can learn how to make Yucatán-style salmon, which is served at the restaurant over a farro salad with fresh tomatoes. The fish and its dipping sauce are so delicious, we're betting that your guests won't even remember what you serve alongside it.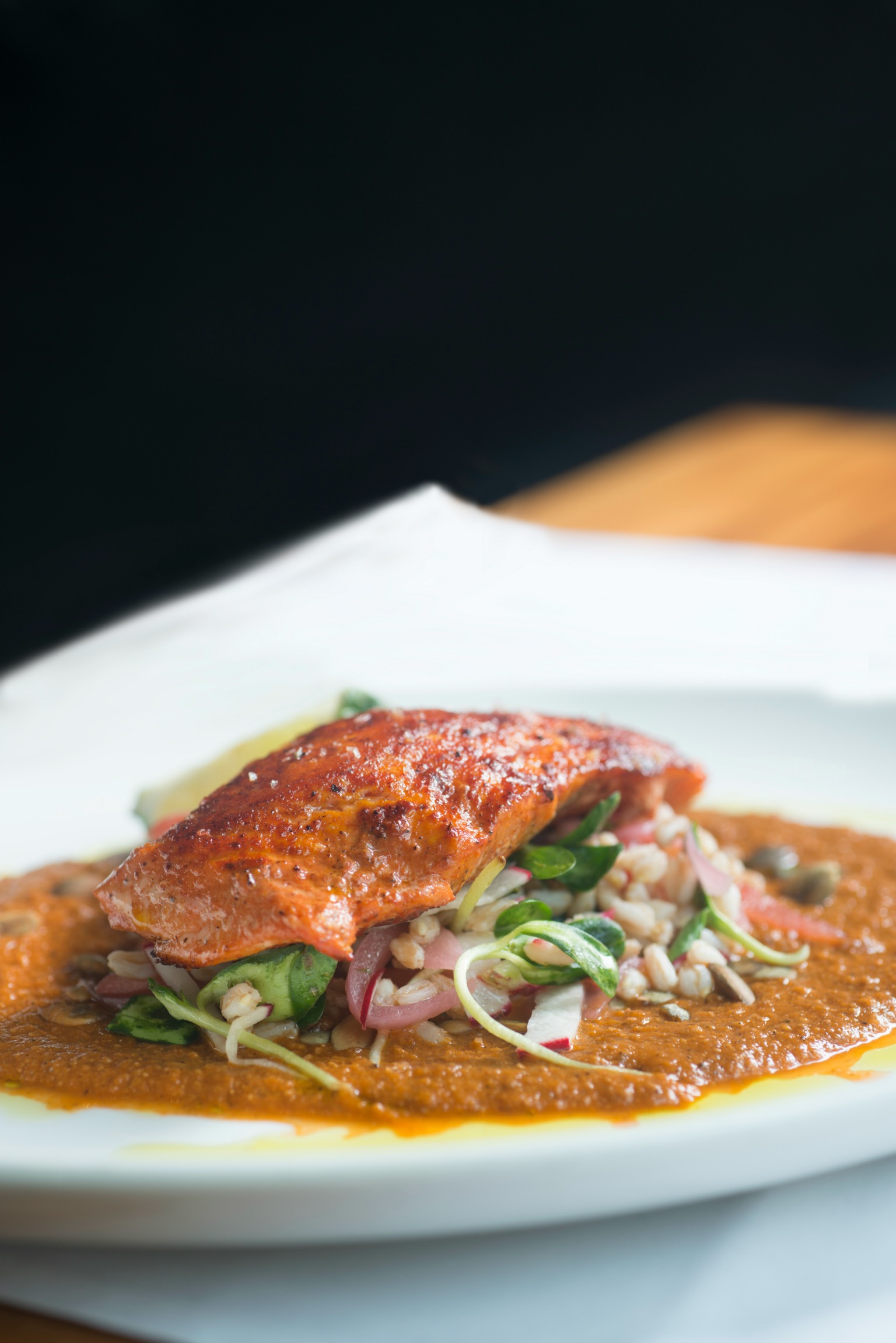 make it
Salmon Yucatán & Sikil Pák Sauce
2 lbs boneless, skinless salmon filet,
cut into 6 portions
Kosher salt to taste
Achiote Marinade
5 oz Achiote paste (Available in
Latin grocery stores)
2 tsp garlic, minced
½ cup yellow onion, small diced
½ cup orange juice, freshly squeezed
½ cup grapefruit juice, freshly squeezed
2 Tbl lemon juice, freshly squeezed
1 bay leaf
½ tsp cumin, whole
1 tsp black pepper, whole
⅛ tsp cloves
Sikil Pák Sauce
This sauce is an adaptation on a Yucatán dipping sauce, which is usually thicker than what they prepare at Reposado.
1 medium yellow onion, cut into ½- inch slices
2 cloves garlic
1 habanero chile
5 large ripe tomatoes, washed with the stem core removed
1 cup pepitas (pumpkin seeds), toasted
canola or other neutral cooking oil
1 Tbl kosher salt
Pickled Onions
1 red onion, thinly sliced
1 cup apple cider vinegar
1 cup water
⅓ cup brown sugar
3 cloves
½ cinnamon stick
1 bay leaf
Prepare the Achiote Marinade
• Place the aromatics, the bay leaf, cumin, black pepper and cloves in a spice grinder and pulse to a fine to medium grind.
• Combine the ground spices along with the achiote paste, minced garlic, onion and citrus juices and mix well to a thick, saucy consistency. (Any unused marinade can be stored in the refrigerator for 3 days, or frozen for future use.  If freezing, place 1½ cups in a quart-size freezer bag and freeze flat.  The marinade will thaw overnight in the refrigerator and be ready to use.)
Marinate the Salmon
• Sprinkle the salmon with kosher salt and take 4 Tbl of the marinade and rub over the salmon to evenly coat.
• Place in a non-reactive pan, cover and refrigerate ideally overnight, at least 4 hours. (The marinade can be prepared a day in advance.)
Prepare the Sikil Pák Sauce
• Preheat the oven to 425F.
• Lightly oil the sliced onion, garlic, chili and tomatoes.
• Place two slices of onion, chili and garlic on a baking sheet and the tomatoes on a separate sheet. The tomatoes will take longer to roast than the onions.
• Place in the preheated oven and roast, stirring once or twice until caramelized brown.
• Place roasted vegetables and all the remaining sauce ingredients into a food processor and pulse until the onions and tomatoes are coarsely chopped, about the consistency of a tomato purèe.
• Heat a large sauce pan enough to hold the pureed tomato mixture and add 1 tbl of oil.
• Add the tomato mixture and "fry" over high heat for 2 minutes to bloom the flavors, stirring constantly so it doesn't burn.
• Reduce the heat and continue stirring until the sauce comes to a boil in the center.
• Season with salt to taste. (The sauce can be made up to 24 hours ahead and reheated before serving.)
Prepare the pickled onions
• Combine the cider vinegar, water, brown sugar and spices in a non-reactive pot and bring to a boil.
• Remove pot from the stove, add the sliced red onion and rest at least one hour before using. (These can be prepared ahead and will keep refrigerated for up to two weeks.)
Preparing the salmon
• Preheat a charcoal or gas grill.
• Place the salmon on an oiled grill grate over moderate heat. Cook for 3 to 4 minutes.
• Turn the fish over using a metal spatula and continue cooking to desired doneness, about 2 to 6 minutes more.
• While the salmon is cooking, prepare your serving platter by spreading it with a layer of Sikil Pák sauce.
• Place the cooked salmon on the platter on top of the sauce and sprinkle with pickled onions.