Like a country doctor of yesteryear, Lisa Sten makes house calls to better understand what's causing the pain. "You need to find out how bad it is for them," she says. To aid in the diagnosis, she asks a series of questions: How long has it been a problem? What have you done to fix it? How did that work for you? Are you committed to change?
In the same way a doctor evaluates a patient, Lisa examines Peninsula houses with an eye out for sturdy, quality parts. "It's a lot of waste to tear a house down and throw it away," she responds, when asked to address the "scrape vs remodel" dilemma. "For me, if the house has good bones, you're actually being a green builder by saving what you've got."
As CEO of Harrell Remodeling, a design+build firm based in Palo Alto, Lisa emphasizes that new construction isn't the only option: "We hear it all the time, 'Help! What do I do with my home that isn't bad enough to tear down?'" That's where the site evaluation and client interview come in—frequently resulting in a positive prognosis. "There's good housing stock here," Lisa notes. "The houses were built pretty substantially in the '50s and '60s with solid wood and the rooms tend to be bigger." That bodes well if the plan is to "revive the patient."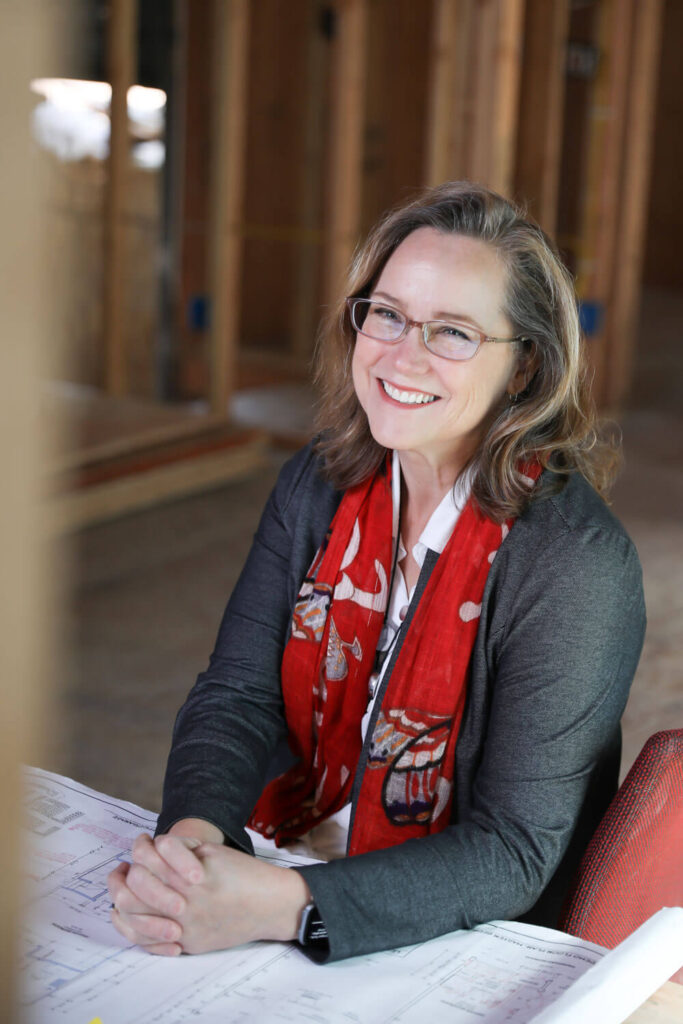 At the risk of exhausting the metaphor, "Space planning is the backbone of everything," Lisa says. "Maybe you don't need the big, formal dining room. Maybe you don't need the four or five bedrooms. It's really looking at a floor plan and determining how the client wants to live—and reworking the existing spaces. We bring a fresh perspective and knowledge of what's going to work and what's not going to work."
The namesake of Harrell Remodeling is Iris Harrell, a female trailblazer in the remodeling business. With a background in teaching, Iris found herself with time on her hands, while living with her future wife, Ann Benson, in Texas. "Ann said, 'Here's an electric screwdriver. Why don't you try to hang some things up on the walls?'" is how Lisa recounts the firm's origin story. "She was instantly hooked on creating things and working with tools."
Iris found a mentor to teach her about carpentry and building and started doing small home improvement projects. After moving to the Bay Area in 1985, she launched Harrell Remodeling in Menlo Park—in a garage, of course. She later went back to school for her kitchen and bath specialty degree and the firm evolved into its design+build approach. "Her clients would ask, 'Why can't you just do it all for me?' so she hired her first designer and estimator and found a way to do it all," says Lisa.
Thirty-five years later, Harrell remains committed to the firm's streamlined approach. "The benefit of design+build is that you have your design staff and your construction staff within the same company," Lisa points out. "Buildability is considered from the get-go."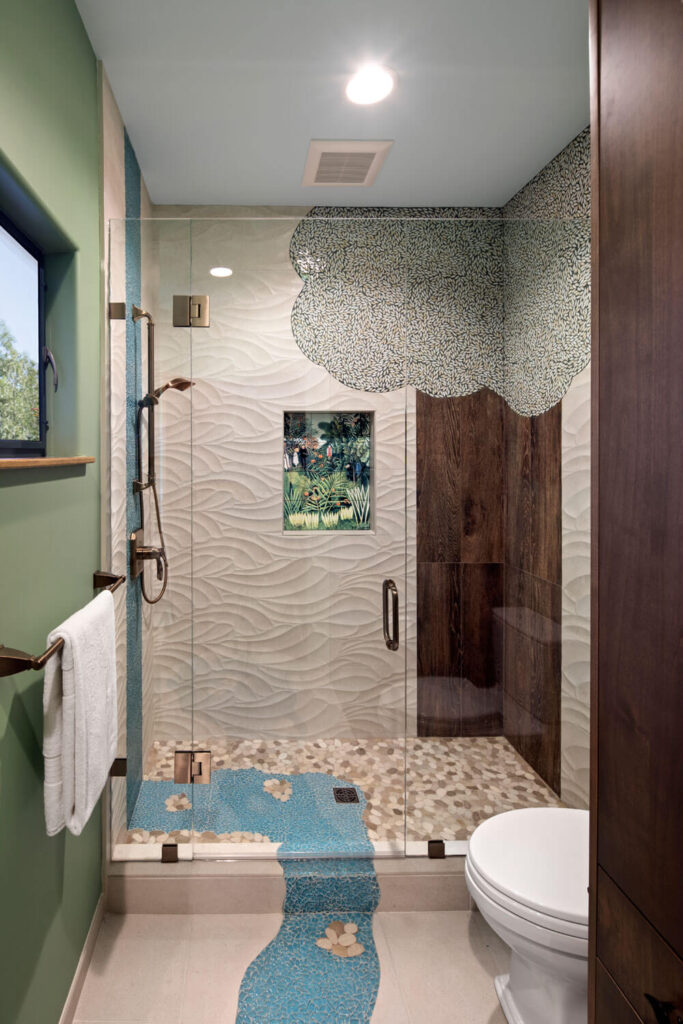 ISSUE: I want my kids to love their space. How do I involve them in the design?
SOLUTION: Have your designer speak with your kids and interview them as they do the adults in the house. Do they have a favorite book or image in mind that brings them joy? Have them peruse the materials you are considering using (pare it down so as to not overwhelm them), and see what they're drawn to.
Back in 2001, Iris and Ann started an Employee Stock Ownership Plan (ESOP) for Harrell Remodeling, and over the years, the employee-owners purchased shares of the company. "Iris and Ann decided early on that they wanted to reward and acknowledge the people who helped them build their business," Lisa says. By the time Iris retired fully in 2014, the company was deemed 100% employee-owned. "It definitely fosters team spirit and collaboration. We just dig in and help each other," she adds.
Originally from Minneapolis, Lisa moved to the Peninsula in 2000 and joined Harrell that same year. Having previously co-owned an interior design firm with her mother, Lisa says construction and remodeling felt like a natural calling. "What I like the most is space planning and that's what remodeling is all about: You're figuring out the puzzle. You're taking existing space—and whether you're doing an addition or leaving this window or not moving the toilet, you have to figure out the best way to use that space. For me, remodeling is just the best puzzle."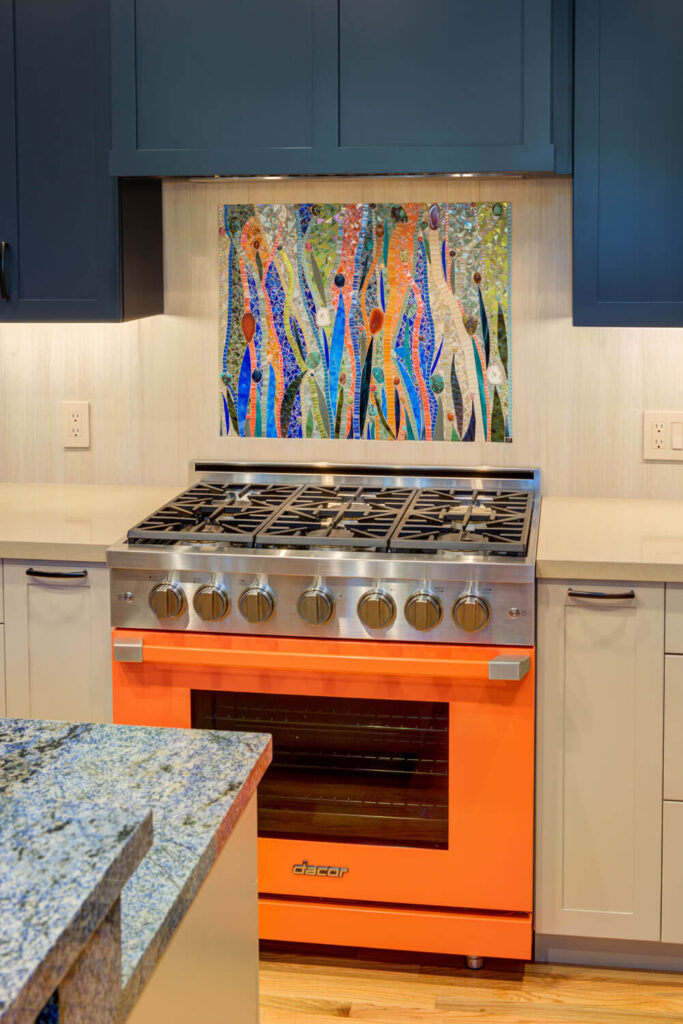 ISSUE: I love color—but where should I put it?
SOLUTION: If you're color courageous, there are many areas where you can apply color! If you aren't totally committed to color on something that "stays with the house," like an appliance, artistic backsplash or cabinets, start slowly with wall paint colors, upholstery and accessories. Check your closet for the clothes you feel most comfortable in—those are "your" colors!
Having worked her way up from designer to CEO during her 20 years with the firm, Lisa is encouraged about current housing trends and Harrell's prospects for the future. "Homeowners are staying in their homes longer," she says, "so that's great for remodelers. We do a lot of whole-house remodels but also a fair number of smaller projects—a bathroom or one side of the house or the kitchen-living-family room or a bedroom wing. We are developing our small projects division even more because we want to serve a wide variety of clientele."    Harrell's motto is, "We never forget it's your home," which Lisa says plays to two meanings. "A lot of times people stay in the home when we're remodeling, so we want to make it a nice place for them to live during construction but we are also designing for them—it's their home. If you look at our body of work, it doesn't all look the same and that's very intentional because we are designing for individuals."
When it comes to nailing down priorities, Lisa cautions that resale shouldn't be top of mind because you never know what the next owner is going to do. "If you're planning on staying in the house for a while, you should design it for yourself. There's ROI, return on your investment, and there's ROE, return on your enjoyment. Make it nice for you," she advises. "The classic is that people get ready to sell their house, and they say, 'I never knew it could look this nice now that we did this and we did that.' The thought that always pops into Lisa's head? "Don't you wish you had done that 10 years ago so you could have enjoyed it?"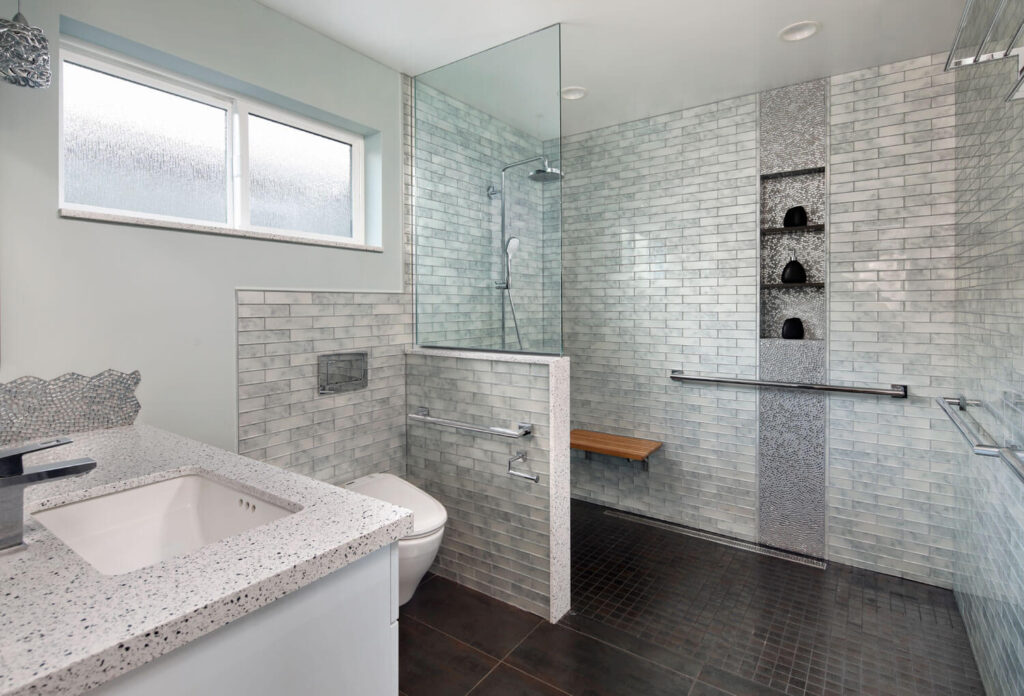 BATHROOM: A lot of our clients travel a fair amount and they will send photos from their hotels: 'I want a bathroom like this!' They want it to be nice and they want it to be functional. Medicine cabinets are really great these days with illuminated mirrors and integrated lighting. Instead of a typical shower curtain on a rod, we'll install a ceiling track that is embedded in the ceiling drywall, and the curtain hangs from the ceiling—a super clean look! We are seeing a lot of demand for performance showering; there are a lot of new shower systems with digital control boxes. Whether it's for kids, visiting parents or aging-in-place, Universal Design ideas include wall-hung toilets, stylish grab bars and curbless or low-curb showers.