Keto. Paleo. Whole30. Vegan. DASH. Mediterranean. Intermittent Fasting. Atkins. If eating healthier is on your list of 2020 resolutions, the list of fad and trending-hot diets vying for your attention can be both mind-numbing and stomach growl-inducing. And yet it's likely that you don't even know the half—one-sixth—or even one-twelfth of it. As a certified health coach, Michelle DeWolf is well versed on the pros and cons of 100 different diets. And while the right plan can serve a purpose, Michelle will tell you that the very thinking behind "going on a diet" is wrong.
"The definition of diet is to eat food, so we're all on a diet," she points out. "We can be on the Cheetos diet. We can be on the fast food diet. We can be on the grapefruit diet. It's just about the choices we make."
Guided by the conviction that there's no "one size fits all" answer, Michelle helps clients examine their choices through a nutrition and lifestyle lens. Rather than fixating on a number on the scale, the ultimate goal is achieving a mindset shift to healthier, sustainable habits. It's a process that requires opening a much bigger umbrella that also encompasses hydration, sleep, relationships, work-life balance, stress management, physical movement and self-care.
"Every person is different and every person needs something different," notes Michelle. "Your body is pretty miraculous in that when you give it what it needs, it gets to do its great work; when you're not giving it what it needs, it's hampered."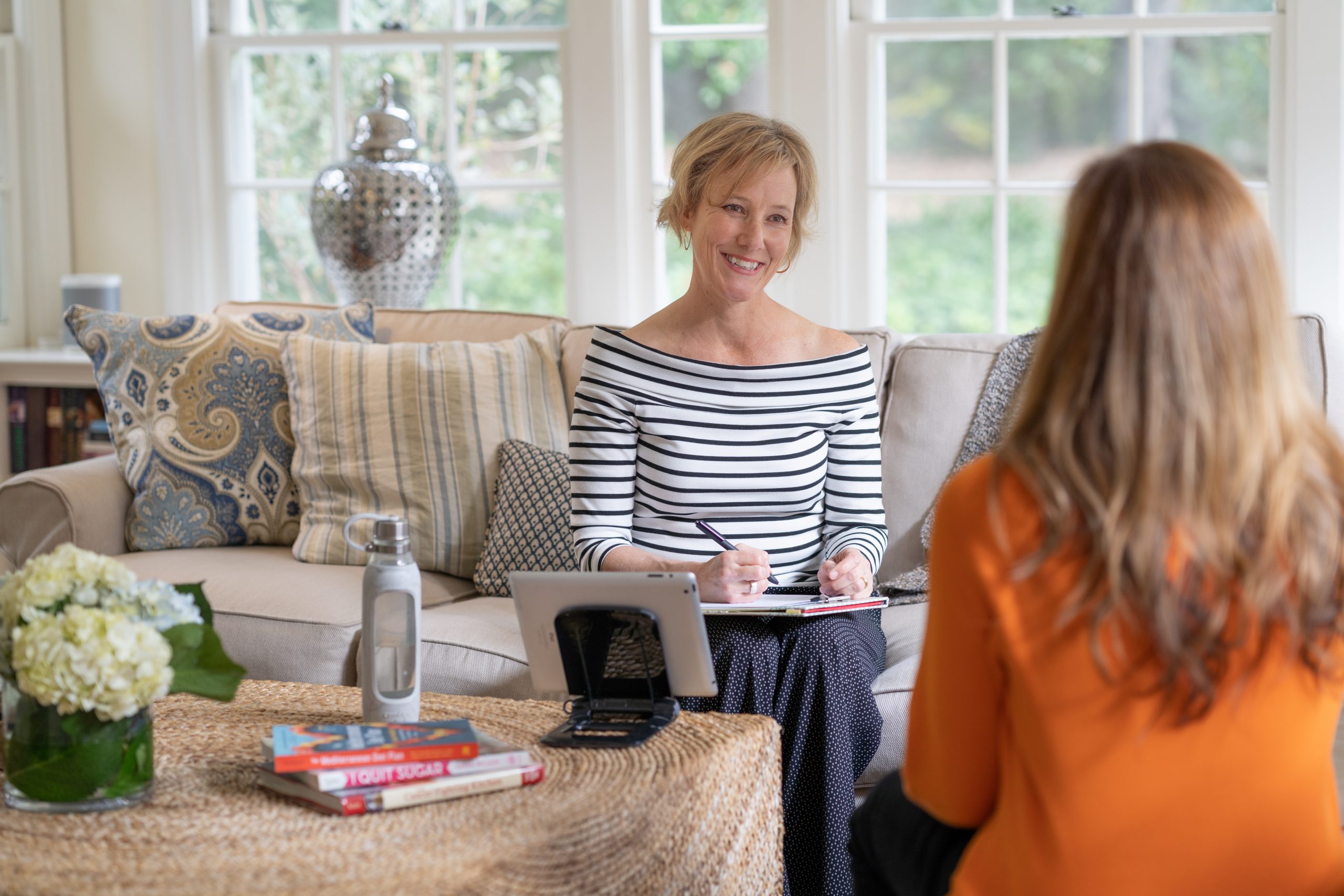 Michelle didn't set out to become a pied piper for wellness. Growing up in the Redwood City/San Carlos area, she credits her single mom with helping her eat healthy at home, although admits to downing her share of junk food as a Woodside High School student. "Certainly like any other young girl, I had body image issues and beat myself up if I weighed this much or that much, but it wasn't excessive," she recalls. Other early influences? "Cooking," she responds. "I've just always loved cooking."
After earning an advertising degree from San Jose State, Michelle went on to found her own agency, Wallop Marketing Group, with a roster of high-tech and non-profit clients. After settling in Menlo Park, her interest in nutrition expanded in tandem with her family. "Someone said, 'You should make your own baby food,' and I said, 'You're insane. I'm not going to make my own baby food,'" she recollects with a laugh. "And then I did it one time and it was so ridiculously easy that I did it the whole time. People thought I was crazy, but if you make peas for dinner, you just blend a bunch up, put them in ice cube trays and you're done."
Getting her three kids to eat vegetables led to more experimentation and then volunteering to teach cooking skills in the classroom. Before long, Michelle's phone began to ring. "I started having parents call me out of the blue and say, 'Can you teach me how to do what you're doing with your kids?'"
After-school cooking classes, summer camps and birthday parties followed, along with an invitation to teach healthy cooking classes at Williams-Sonoma—all of which blossomed into a full-blown business Michelle calls "The Festive Table." This was her thinking: "I find that food is so fraught with drama and anxiety that I really want people to be coming to the literal and figurative more festive table every day. It should be a pleasure, not a stressor."
Fully embracing her newfound calling, Michelle enrolled in a master's program in nutrition, which focused on clinical settings with sick populations. Recognizing that nearly half of American adults have diet-related diseases like obesity or Type-2 diabetes, Michelle realized that she wanted to tackle issues earlier in the cycle—on the prevention side. That led her to a program in integrative nutrition coaching. "When people ask, 'What should I eat?,' it's a really big question," Michelle explains. "It's so individual. Now I've got this broad swath of information and how it can pertain to each individual. I look at the big picture with a program that helps people step by step add these healthy habits."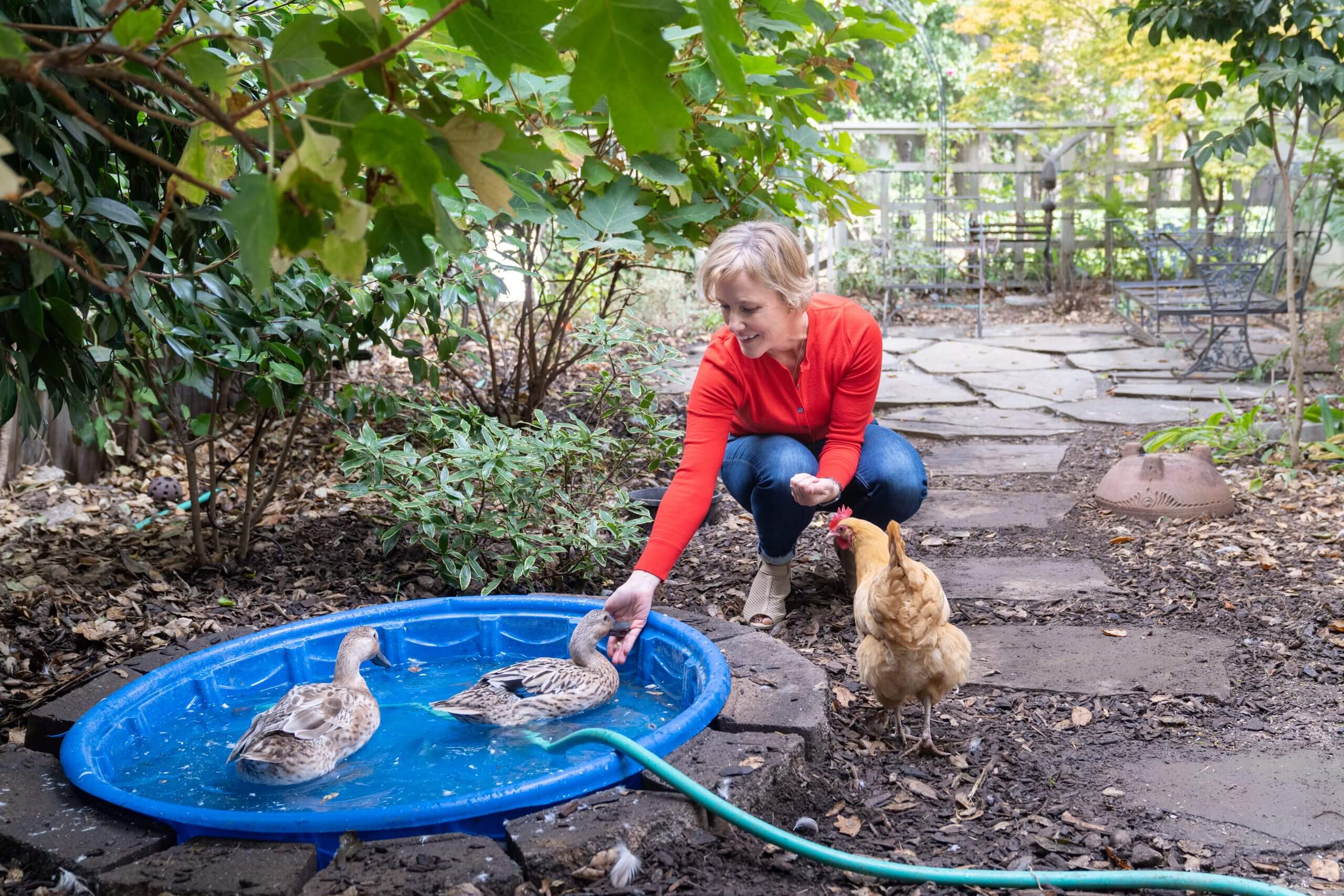 On any given day, Michelle might help prep a kitchen for a Whole30 program, devise an approach to get blood pressure or cholesterol in check and remotely check in with a college student navigating the minefield of dorm food. Included in her toolkit is a workbook she created called Reboot YOU! A Guide to Your Best Health and Wellness, which breaks down healthy habits into tips and steps, homework sheets and goal setting.
Heading into 2020, Michelle is also prepping for her annual health and wellness fair, Resolution Reboot, scheduled at the Allied Arts Guild in Menlo Park. "My idea for Resolution Reboot is that it's on January 31st because everybody has set their goals on January 1st, and by the 31st, they've all kind of petered out," she says. "People will say, 'I'm going to join a gym, drink more water, run a marathon, get more sleep, go back to church,' but doing all of those things at once is not realistic. Resolution Reboot is about realistic expectation-setting—where do you want to start, what is the one thing you can do today?"   
As she tosses out feed to a backyard chicken and two Welsh Harlequin ducks (a family endeavor that provides a steady supply of fresh eggs), Michelle expands on the idea of setting a vision for the future.
"What is it that you envision in your dream, even if you don't know how to get there?" she muses. "My motivation is that someday I'm going to have grandkids and I want to be down on the floor playing with them, so I've got to stay strong and I've got to stay fit. Do you want to sail around the world? Do you want to live on a lake quietly and be able to kayak? It's about making it attainable one step at a time. What's the one step you can take today?"