You'd expect an interior designer to have a beautiful home, but it would be hard to find someone with a deeper connection between where she lives and what she does than Lucile Glessner. When the French-born designer moved to the Peninsula in 1988, she fell in love with one of the Bay Area's unique architectural features—Eichler homes. Though you've likely driven past dozens of them, many people don't know the whole story behind these striking, Modernist buildings.
Joseph Eichler built over 11,000 homes around California in the 1950s and '60s, and while Eichler himself was a developer rather than an architect or a designer, he had a specific vision for the neighborhoods he was creating. Working with forward-thinking architecture firms like Anshen & Allen and Jones & Emmons, both based in San Francisco, Eichler brought Modernist design concepts embraced by the likes of Frank Lloyd Wright to affordable, single-family tract homes.
As soon as Lucile saw the Sunnyvale Eichler where she still lives, she knew it was the house for her. "I thought it was perfect," she says, and with two children, her family was exactly the type that Eichler had in mind when building these homes. Although Lucile had no formal arts training at the time, she eventually left her tech job and earned an A.S. in Interior Design from West Valley College. Though her first design clients were friends of friends, now her company has developed a specialty—decorating Eichler-designed homes.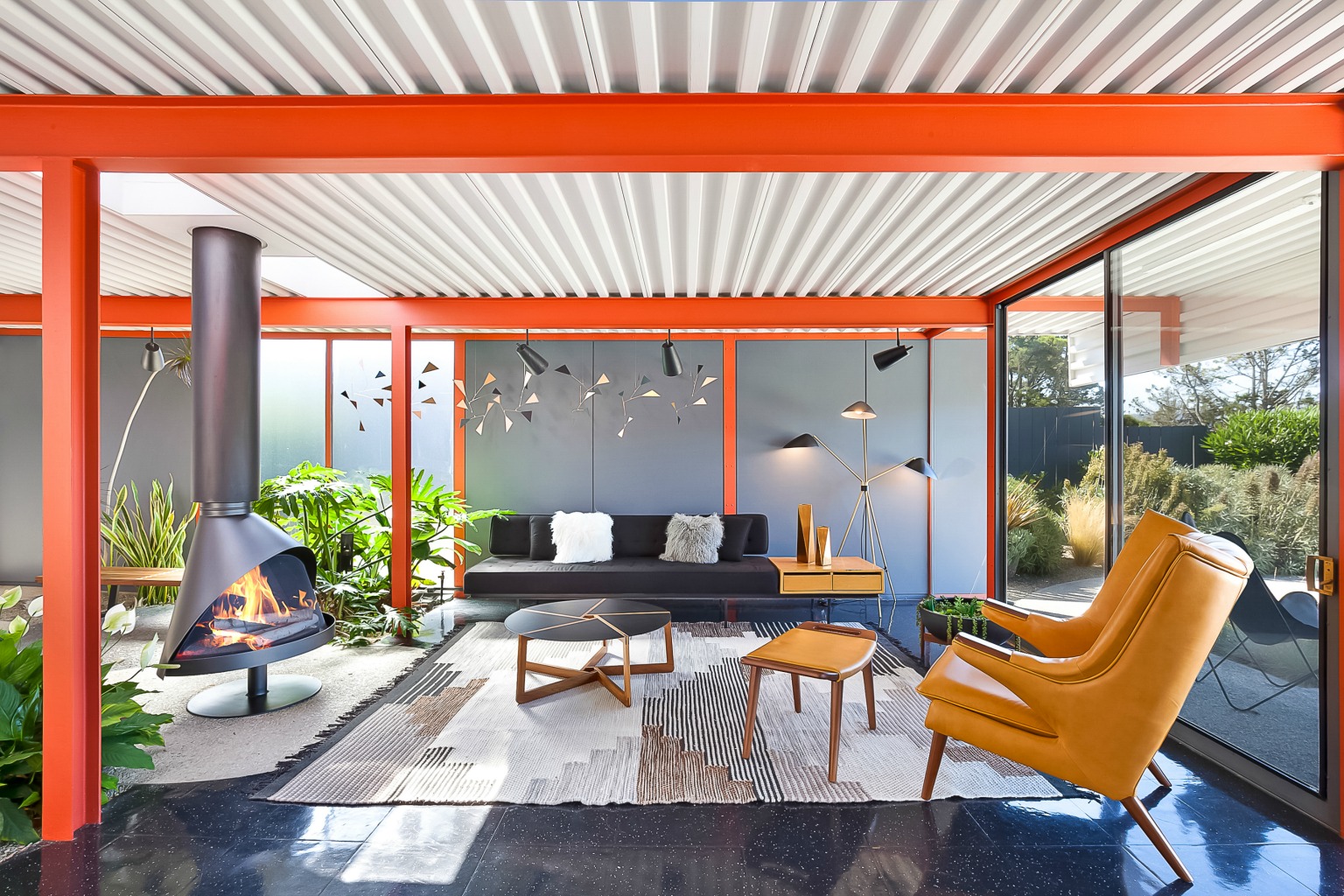 Lucile speaks about Eichler as if he were a colleague, and in some ways her work is a continuation of his vision. Eichler homes were built to blend with the environment and blur the line between indoors and outdoors, and Lucile uses as many natural design elements as possible to emphasize those traits. Mid-century furniture, or at least pieces that aren't too heavy, keeps the relatively small homes from feeling cluttered. "You want to look for things that are simple, organic, light," Lucile says. "And then you mix things."
Recently, Lucile was part of a team that brought a unique Eichler back to life. The X-100 was an experimental home built in 1956 in San Mateo, and it's remarkable for being constructed out of steel rather than wood. Lucile went back and found the original paint shades to add splashes of color, but she also chose new pieces like an updated fireplace during the restoration. With planters sunk into the concrete floors and huge windows looking out over the Santa Cruz Mountains, the X-100 truly achieves Eichler's dream of breaking down the barriers between a home and its environment.
Luckily for those of us who don't live in an Eichler or even have a particular affinity for mid-century Modernism, many of Lucile's design concepts can transfer over to any space. She's a proponent of biophilic design, which means that she tries to bring as many organic elements indoors as possible. Some of the best examples of this are her use of plants, like the artwork made of moss on Lucile's kitchen walls. These plants act as artwork, along with improving the air inside a space and brightening the mood of the people who live and work there. And as a final bonus, the piece is made of moss that doesn't even need to be watered! How's that for accessible design?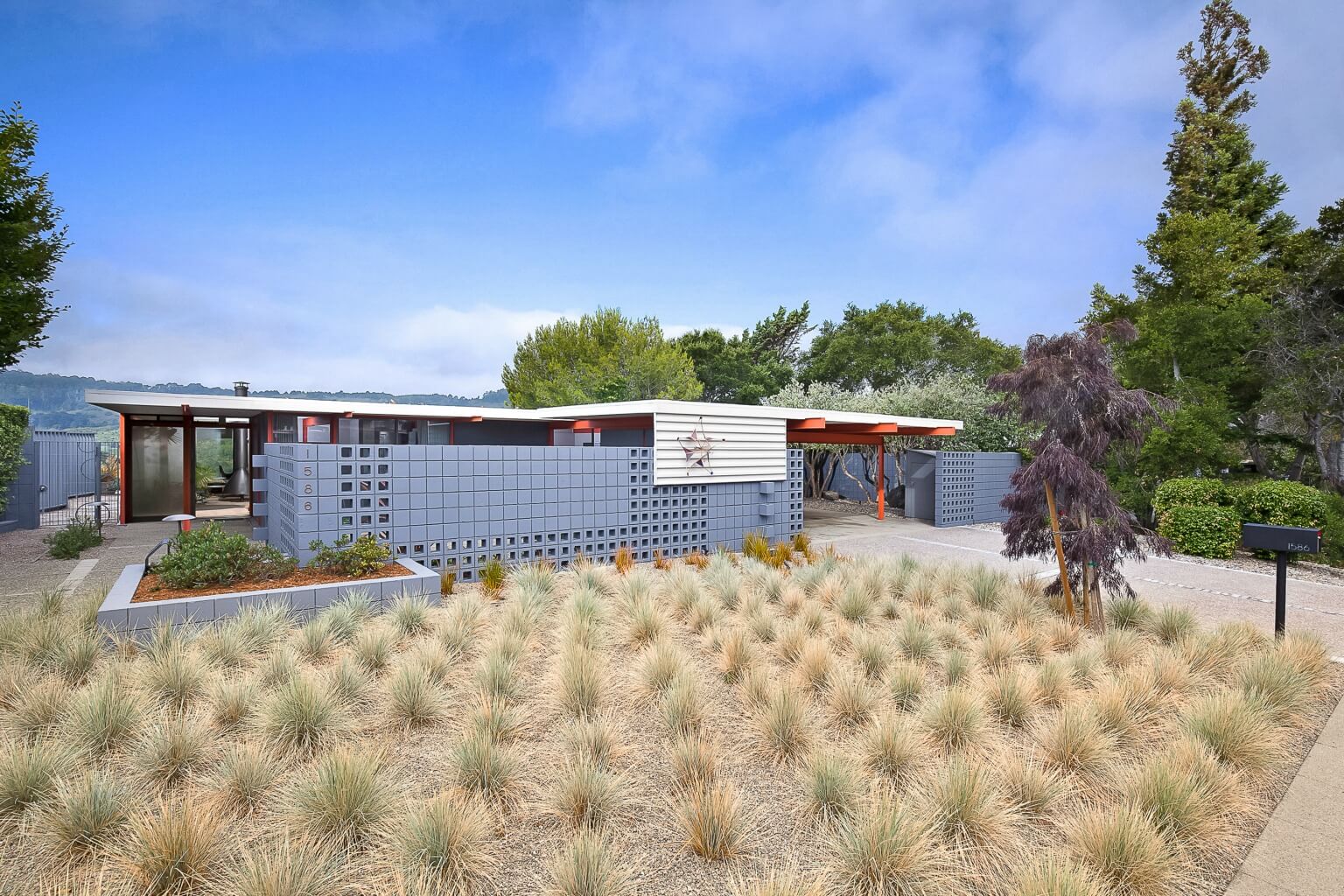 more?
LUCILE GLESSNER