Back in 2008, award-winning food writer Cheryl Sternman Rule and award-winning food photographer (and PUNCH photography director) Paulette Phlipot met at a culinary conference in New Orleans. They immediately hit it off and began brainstorming ways to work together in the months that followed. They envisioned an eye-popping and mouthwatering cookbook arranged by color, not season—such as RED (beets, cherries, radicchio, raspberries), YELLOW (bananas, corn, lemons, pineapples) and GREEN (apples, artichokes, asparagus, avocados).
To produce the content for the book, Cheryl traveled to Paulette's then-home in Sun Valley (she now lives in Half Moon Bay), and Paulette traveled to Cheryl's home in San Jose. In addition to cooking and photographing when together, emails flew, and frequent phone calls kept the pair in sync. The result? Ripe: A Fresh Colorful Approach to Fruits and Vegetables.
In recent weeks, Paulette found herself reflecting back on this positive collaboration that fueled her creative spirit: "With extra time at home giving us a chance to get back into our kitchens, it's an opportunity to revisit the cookbooks we've enthusiastically collected over the years, yet struggled to find the time to really cook from. Nutritious food has never been more essential for our bodies, and surrounding ourselves with color can be calming and uplifting. Vibrant hues are popping up everywhere on the Peninsula right now in the form of flowers, fruits and vegetables—in our gardens, on local farms and at the markets. We need to remind ourselves to embrace, nourish and be grateful!"
For inspiration, Paulette and Cheryl offer up recipes and photographs from their book, Ripe: A Fresh Colorful Approach to Fruits and Vegetables.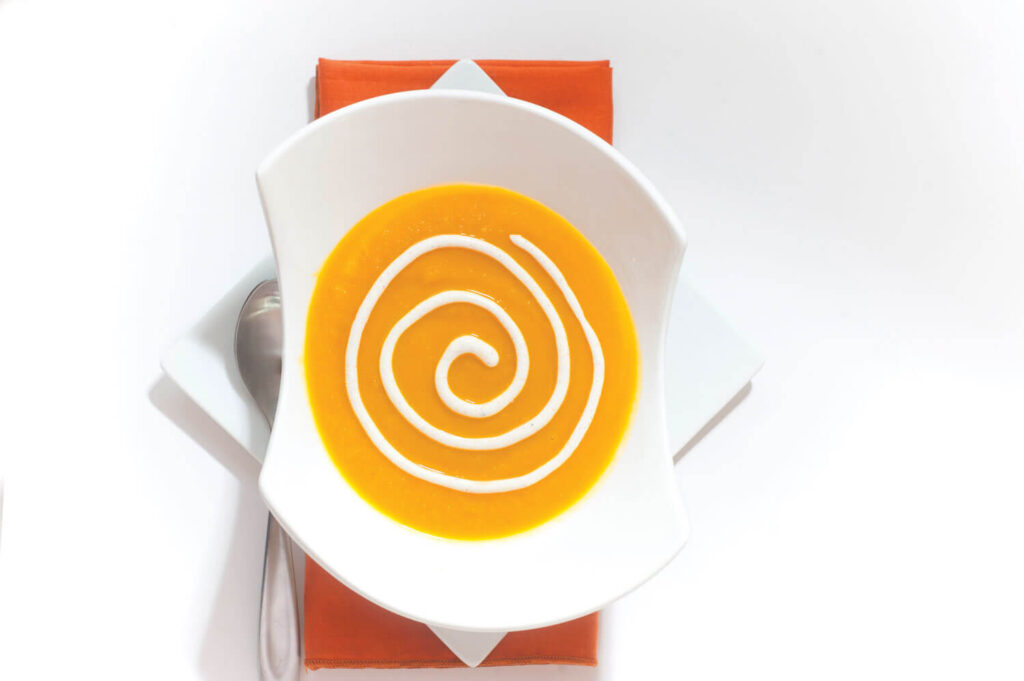 Carrot Soup with Garam Masala Cream
Here's a creamy soup with a gentle kick from the spice mix garam masala, a warming combo of coriander, cumin, cinnamon, clove, pepper, bay and several other spices. You'll find it in any Indian market.
Serves 6
¼ cup olive oil
¾ cup yellow onion, diced
4 to 6 medium carrots (about 1½ pounds), peeled, quartered lengthwise and roughly chopped
1 small yam (about 7 ounces), peeled and diced
Kosher salt and freshly ground black pepper
¾ teaspoon garam masala, divided
3 cups vegetable stock
2 teaspoons fresh lime juice, or to taste
2 tablespoons sour cream, plus additional for garnish
Heat the oil in a large soup pot over medium heat. Add the onion, carrots, yam, 1 teaspoon salt, ¼ teaspoon pepper and ½ teaspoon garam masala. Cook for about 15 minutes, stirring frequently.
Add the stock and 1 cup cold water and raise the heat to high. Bring the soup to a boil, then reduce the heat to a simmer, partially cover and simmer until the vegetables are tender, about 15 minutes. Remove from the heat.
If you have an immersion blender, use it to purée the soup. (Otherwise, allow it to cool slightly and then purée it in batches using a traditional blender. Return the soup to the pot.) Season with the lime juice, to taste, and adjust the salt and pepper.
Mix the sour cream and the remaining ¼ teaspoon garam masala in a small bowl. Swirl into the soup. Serve hot, garnished with additional sour cream, if desired.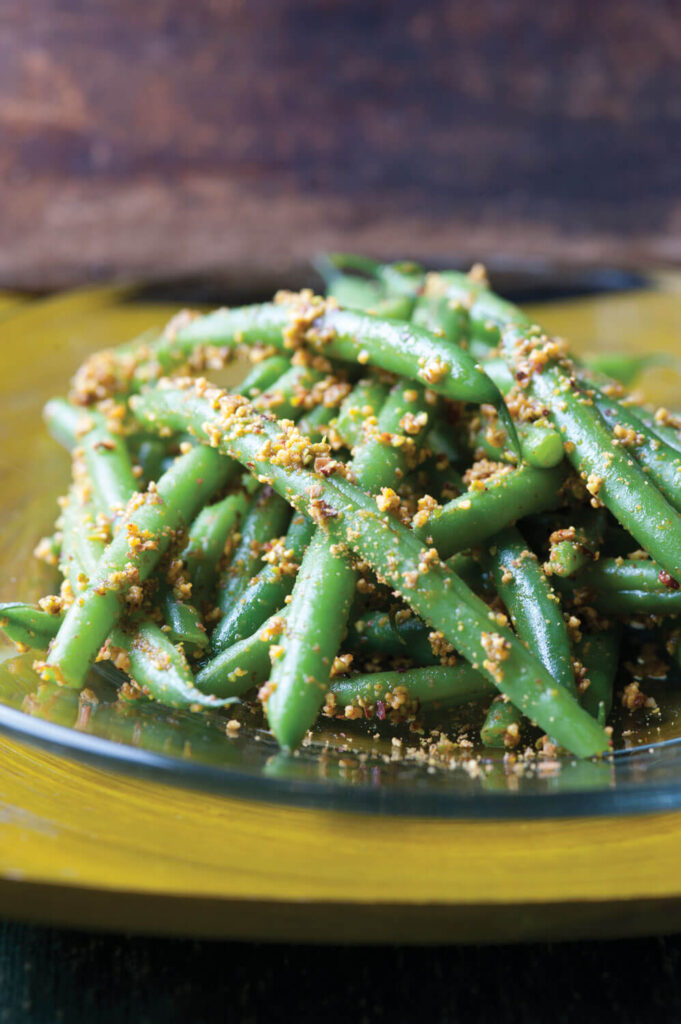 Green Beans with Smoky Pistachio Dust
This dish has it all: beauty, flavor and a unique texture from the pistachio dust. In our family, we eat them like French fries, not stopping until we've cleaned the bowl. Sprinkle the extra dust over boiled potatoes, steamed cauliflower or grilled asparagus.
Serves 4, with extra pistachio dust left over
1 pound green beans, rinsed, stem ends snapped
2 teaspoons olive oil
¾ cup dry-roasted,
unsalted pistachios, toasted
and cooled completely
½ teaspoon smoked paprika,
or to taste
Kosher salt and freshly
ground black pepper
Fill a bowl with ice water.
Bring a medium pot of generously salted water to a boil. Drop in the green beans and boil until al dente, 2 to 3 minutes. Drain. Transfer the beans immediately to the ice bath to set their color and stop the cooking process. Drain again, pat dry and transfer to a large bowl. Drizzle with the olive oil.
Combine the pistachios, smoked paprika, ½ teaspoon salt and ¹⁄₈ teaspoon pepper in a food processor fitted with the metal blade.
Process for 30 seconds, or until finely ground and reduced to "dust." Sprinkle ½ cup dust (reserve the rest for future use) over the green beans, adjust seasonings and serve at room temperature.
Tip: When grinding the pistachios, use a full-size food processor if you have one, as it will give you the finest, "dustiest" consistency. A mini chop is fine in a pinch but won't break the nuts down quite as much.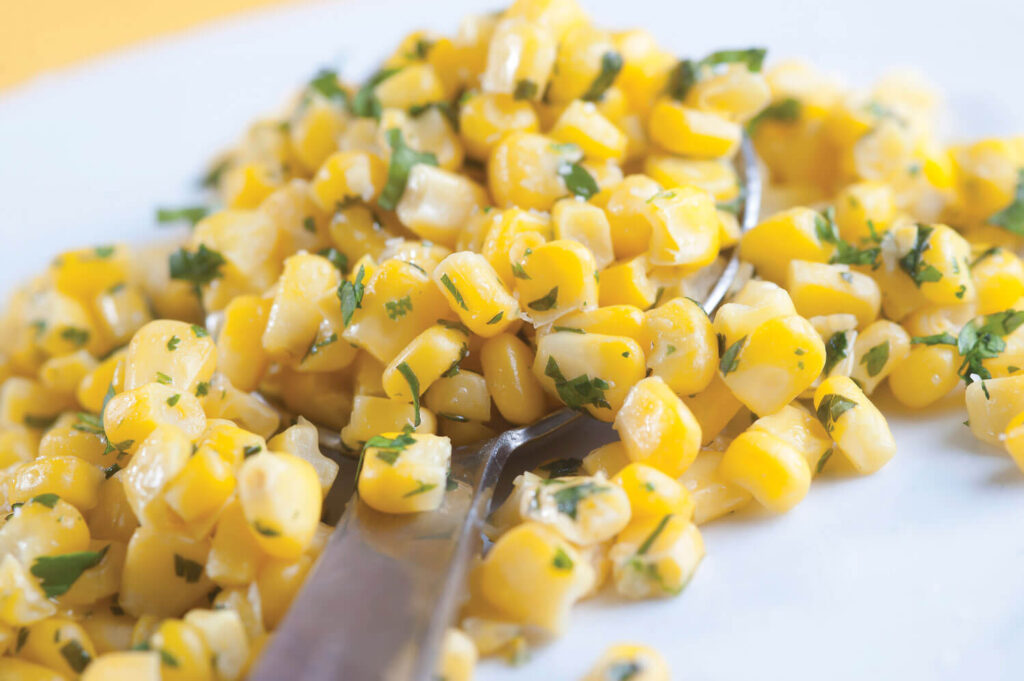 Corn with Cilantro-Lime Salt
Fresh, bright and summery, this simple side dish perks up sweet corn with classic Mexican flavors. Be sure your cilantro leaves are completely dry before mincing them with the lime and salt. You don't want them to clump up.
Serves 4
4 ears corn, husks and silks stripped and discarded
¾ cup loosely packed cilantro leaves (no stems), rinsed and completely dry
1 lime
½ teaspoon kosher salt
1 tablespoon unsalted butter, melted
Bring a large pot of water to boil. Boil the corn until tender, 3 to 5 minutes, depending on its freshness. Drain.
Mound the cilantro leaves on a cutting board. Zest the lime so that fine shreds fall directly on the cilantro. Sprinkle the salt on top. Using a heavy knife, mince the cilantro, zest and salt together. Scrape into a small bowl.
When the corn is cool enough to handle, cut the kernels from the cobs using a downward motion. Transfer to a serving bowl.
Drizzle the butter over the corn. Sprinkle with the cilantro-lime salt, and squeeze with lime juice to taste. Toss to coat. Serve immediately.
Tip: When fresh corn is not in season, substitute 3 cups of frozen, cooked corn.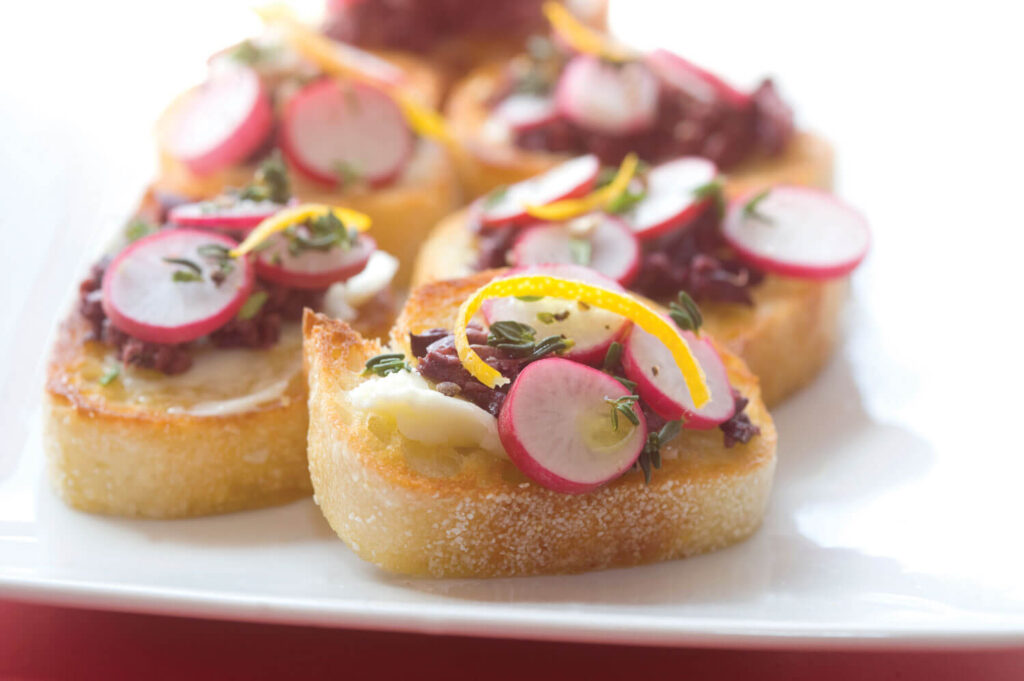 Radish Olive Crostini
Serve these fresh, colorful hors d'oeuvres at any outdoor gathering. Or serve them indoors. Or start serving them outdoors, then move indoors if it rains. I've given a range for the toppings as baguettes can vary wildly in thickness.
Makes about 18 toasts  (if using a half baguette or 25 if using a full baguette)
½-inch-thick slices of French baguette
Softened butter
¼ to ½ cup pitted Kalamata    olives, drained and minced
1 to 2 bunches radishes (French "breakfast" radishes preferred), scrubbed, trimmed and   thinly sliced
1 bunch fresh thyme, leaves only
Zest of 1 lemon
Coarse salt and freshly ground black pepper
Extra-virgin olive oil, for drizzling
Set the broiler rack 4 inches from the heating element.
Lay the bread slices on an ungreased baking sheet. Broil until the edges just turn golden, 1 to 2 minutes, watching carefully. Flip and broil the other side for 30 seconds to 1 minute longer. Cool to room temperature.
Spread each crostini with butter and top with olives and radishes. Sprinkle with thyme leaves, lemon zest, salt and pepper. Finish with a thin drizzle of olive oil. Serve at room temperature.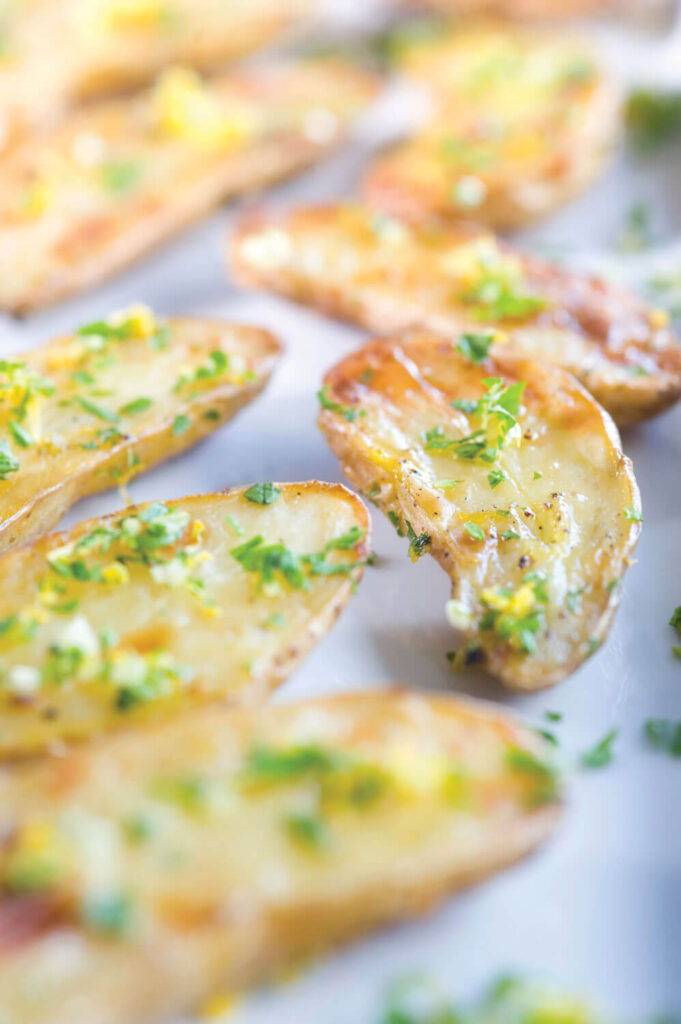 Gremolata Fingerlings
Potatoes are so often mashed and fried that it's easy to forget that they can be quite elegant, as they are here with a simple topping of lemon, garlic and parsley. Of course, some will eat these like French fries, but I'm not naming names.
Serves 4
12 pounds small fingerling potatoes, scrubbed and
halved lengthwise
¼ cup extra-virgin olive oil
Kosher salt and freshly ground black pepper
4 garlic cloves, divided
1 lemon, zest finely shredded, juice squeezed into a small bowl
2 tablespoons fresh Italian parsley, minced
Preheat the oven to 400°.
Lay the potatoes on a rimmed baking sheet and drizzle with the oil. Season with salt and pepper. Mince 3 of the garlic cloves and sprinkle on the potatoes. Use clean hands to rub in all the seasonings. Spread in a single layer.
Roast until the potatoes are browned and crisp, with tender insides, about 30 to 35 minutes total, flipping with a spatula every 10 minutes. (Cook time may vary as fingerling potatoes can diverge in size, so check them frequently.) The potatoes should face cut side down during the final few minutes of roasting.
To make the gremolata, mince the remaining clove of garlic. Add it to a small bowl with the lemon zest and parsley. Stir to combine.
To assemble, drizzle the roasted potatoes with lemon juice to taste, and transfer them to a serving platter. Sprinkle with the gremolata. Serve.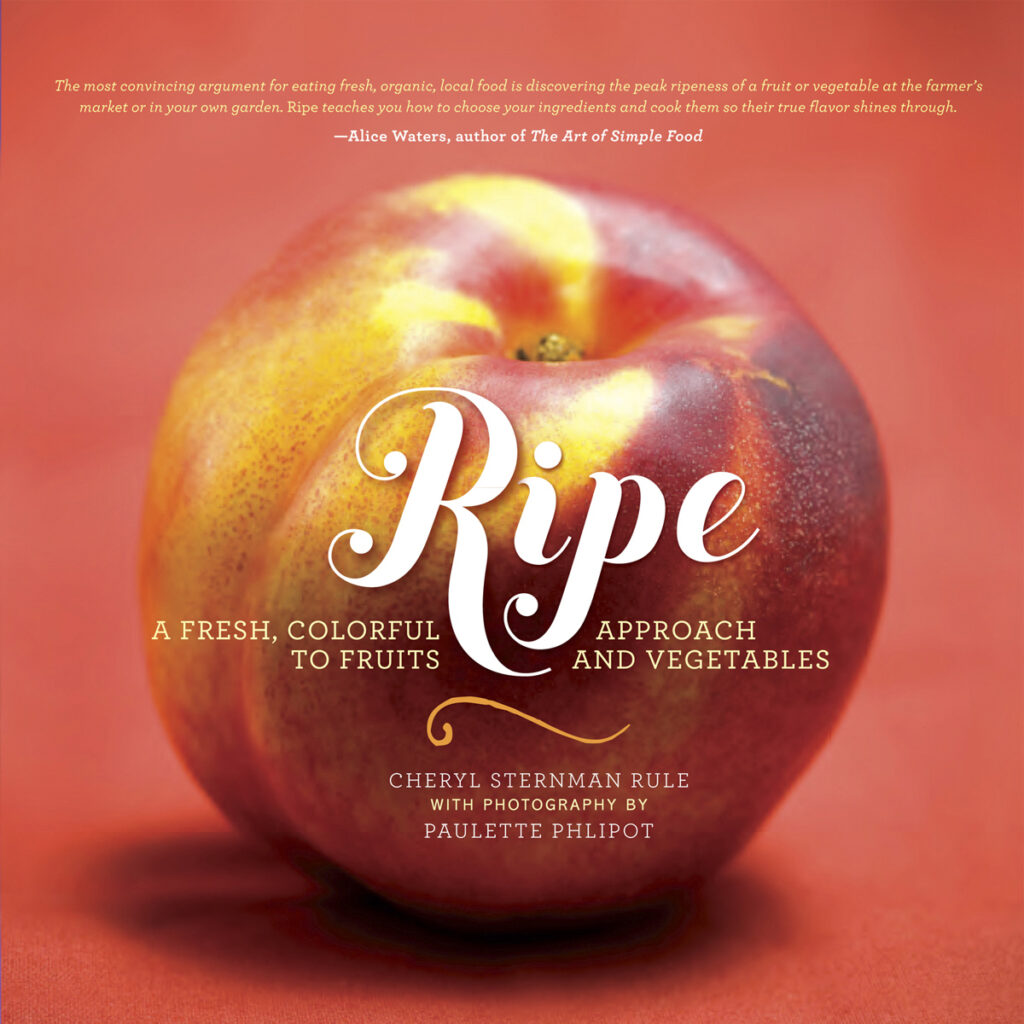 Fresh and Flavorful
foodasart.com
cherylsternmanrule.com