Happy, healthy turkeys, chickens, ducks and pigs. That's the uncompromising goal that Dede Boies of Root Down Farm has set for herself, and it's obvious from first glance that it's working out. As we walk to the turkey enclosure, we pass pigs wallowing blissfully in mud pools, chickens scratching about in the sun and ducks playing in a blue paddling pool. The enclosures are widely spaced, and there's the scent of warm vegetation in the air.
"Turkeys are a noisy, friendly, curious lot," Dede tells us as we approach their enclosure, before conversation is all but drowned out by excited unison gobbling. Two hundred and fifty turkeys actually don't look like a huge flock even from close up, but the noise they make is cacophonous. When we go in, the last few birds sprint out of their house to join us, and the whole group remains gently clustered around Dede as we talk.
These heritage birds are surprisingly beautiful. Most are dark-feathered, shining with well-being, with blue heads and pastel pink wattles—worlds different from their plainer wild cousins.
Like all Root Down Farm animals, their home is a fenced, transportable enclosure complete with a house-on-wheels that is moved to a new area of pasture every other day. They have water, shade and abundant space to roam—with a diet of organic, non-GMO grain and zero hormones. As November draws to an end, Dede will personally drive this year's turkeys to a specialist processing plant to become the stars at local Thanksgiving tables. Untill then, they're living a blissful life.
At the 62-acre farm she leases in Pescadero and shares with her wife and one-and-a-half-year-old toddler, Dede has spent the last six years pursuing her mission: to humanely raise the healthiest animals in a natural outdoor setting while respecting and supporting the ecosystem. "The animals clear the land but also give nutrients back to it," notes Dede. She does all of this and more with just a single full-time helper.
"It's the hardest thing I've ever done," she admits. "Animals need to eat; they're not like broccoli that you can leave for a day or two. But it's rewarding. If it weren't for my wife and baby, I'd probably work 24/7. They keep me from overdoing things."
Between May and November every year, Dede raises a single batch of slow-growing heritage turkeys for Thanksgiving and Christmas. Year-round, she raises heritage cross and heritage chickens, as well as Berkshire and Berkshire cross pigs, selling the meat at local farmers markets and to restaurants and online grocery stores. Reflecting more specialized demand, she also raises groups of Pekin ducks about four times a year.
Dede's focus on slower-growing breeds is intentional. Unlike commercial birds that mature very rapidly, heritage breeds and heritage crosses have time to develop naturally and as a result are healthier, stronger, and consequently, tastier.
While Dede breeds some of her own piglets, sourcing the remainder from a local breeder, her poultry doesn't come from her own eggs. "Other people do that really well," she explains. "I raise chicks in batches of 500 every two weeks. For me to produce that many on the same day on a regular basis I'd need a lot of different infrastructure."
Dede is particularly excited about this year's class of turkeys. Not only is it the biggest flock so far but these noisy beauties are also the strongest and healthiest birds Dede has ever raised.
"We sourced them from legendary breeder Bill Niman," Dede tells me. "On the day they were hatched he hand-picked each poult especially for us from a few different heritage breeds and we brought them to the farm the same afternoon."
Turkey poults are delicate creatures initially, so they spend their first three weeks under heat lamps in the barn alongside the baby chicks. They then move to their outdoor houses where they have between 4,000 and 8,000 feet to roam within an electric fence. The house and enclosure are moved every other day. This not only provides new plant and insect fodder, but also allows the pasture to recover and for the soil to enrich itself from their droppings.
"Turkeys are truly magnificent and entertaining creatures," muses Dede. "As a group they are constantly echoing every sound they hear—from a motorcycle to a sneeze or a baby cry. They really thrive in the outdoors and do an incredible job foraging."
With such a lot of land and so many potential predators, it's surprising not to see more cages and fencing. Instead, Dede relies on two white Pyrenean-mix livestock guard dogs, bred for the task of keeping animals safe at night, that she has raised since they were puppies alongside their future charges. They are super-friendly yet extremely effective livestock guardians.
"This is the most effective and humane way to acknowledge we're in nature and there's a lot of wildlife that wants to eat what we're raising," observes Dede. "The dogs do an amazing job at night."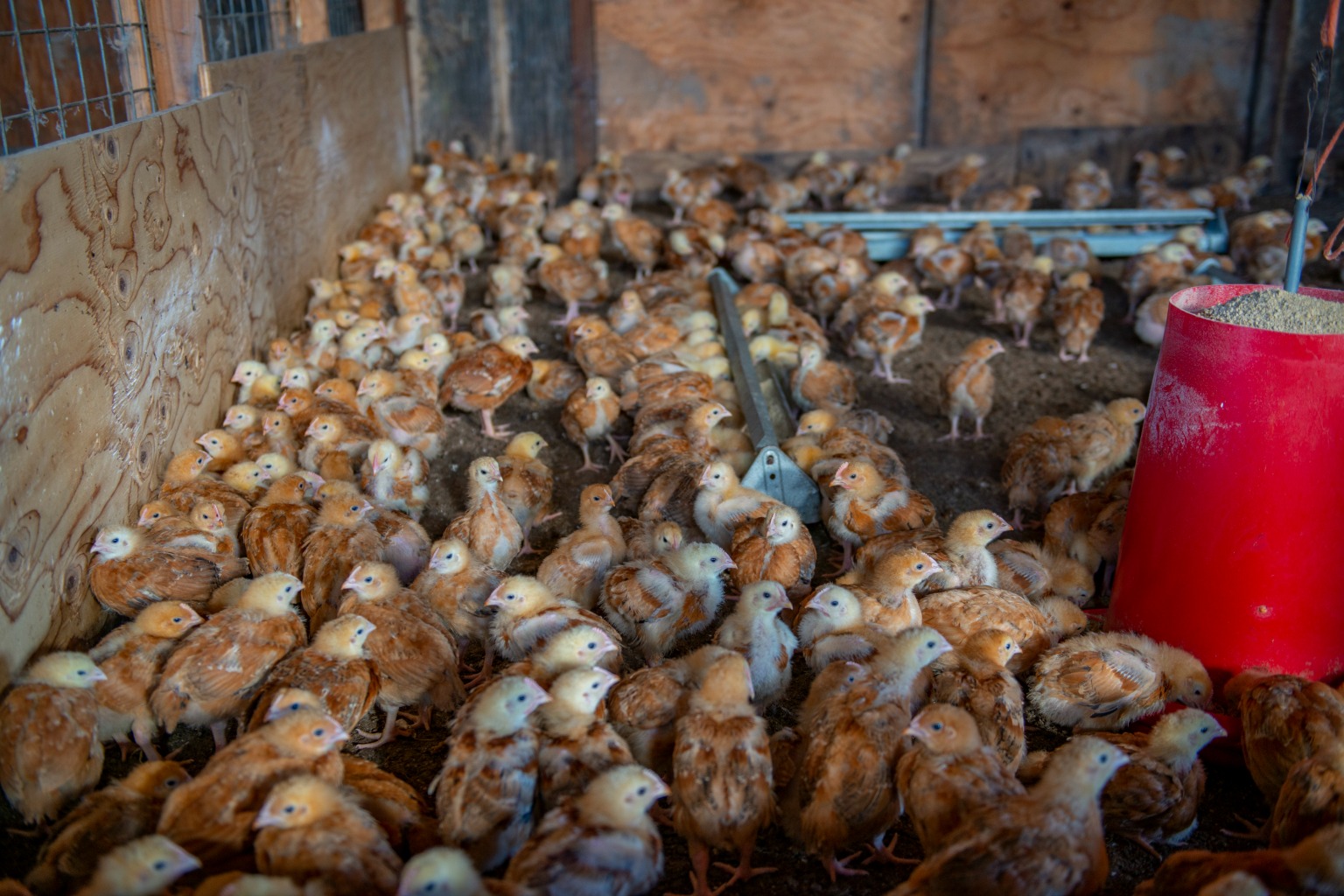 Not surprisingly, Dede's pasture-raised Thanksgiving turkeys are in high demand. Orders and deposits are taken online at rootdownfarm.org and customers attend one of the two open farm days the weekend before Thanksgiving (this year November 23 and November 24) to pick up their orders. "You can come to the farm even if you haven't ordered a turkey," says Dede. "There'll be animals around, apple pressing, produce from other local farms. It's become a holiday tradition for many people." Visitors can also look forward to being greeted by Dede's patchwork-mix dog Oaty, who does a fine job of herding cars and people into the proper places.
Dede is quietly passionate about the ethics and stewardship of her way of livestock farming. "It's hard to be a consumer these days," she observes. "We live in a reality where people eat meat but I want the animals to live the best life possible."
make it
Spatchcocked Turkey
Dede Boies' favorite turkey recipe is this spatchcocked version. It accommodates turkeys of all sizes, cooks quicker than whole birds at about six minutes per pound and is especially delicious using heritage breeds.
For a 12-pound bird
Instructions:
• Preheat oven to 450 degrees. Stir together a mixture of melted butter, salt and pepper in a small bowl.
• With kitchen shears, cut out the backbone. Set aside for stock.
• Place your hand on one side of the breast, close to the breastbone, and push down firmly until you hear a crack. Repeat on the other side.
• Spread the turkey so it's lying fairly flat. Remove any large pieces of fat.
• Brush with half the butter mixture.
• Turn the turkey breast-side up and brush with the rest of the butter.
• Place the turkey on a rimmed baking sheet on top of a few sprigs of fresh herbs (your choice of parsley, thyme or rosemary).
• Let stand for 30 minutes.
• Roast, rotating baking sheet halfway through and basting twice, until an instant-read thermometer inserted into the thickest part of the thigh reaches 165 degrees, about 72 minutes.
• Leave to stand for 20 minutes before carving.