Words by Anni Golding
On a sunny Sunday afternoon in South San Francisco, a group of wine enthusiasts settle in at long tables in San Francisco Wine School's central classroom for Wine 101, a beginner-level workshop. Each place is set with six Riedel wine glasses, a water glass and a dump cup. "Note-taking is optional. This is for fun," advises David Glancy, master sommelier and founder of the wine school, after checking that the audio-visual system is ready for remote attendees.
Kicking off the workshop, David demonstrates how to open a bottle of sparkling wine. "Safety first!" is the message here, as he removes the foil and then places a small towel on top of the wire cage covering the cork, holding it in place with his thumb. Pro tip: Don't remove the wire cage after loosening it. "This is where people go wrong," he comments. "Most people remove it, and sometimes BOOM: sparkling wine shower!" Holding the bottle at a 45-degree angle, David gives it a few twists. The cork comes away soundlessly, eliciting a spontaneous chorus of "wow" from the group. He pours tastes for everyone and then offers a toast before launching into the two-hour information-packed class.
Moving at a good clip, David intersperses practical information and tastings with personal anecdotes and the occasional movie quote from Ghostbusters and The Princess Bride. "My goal is edu-tainment," he explains after the hybrid in-person/online session wraps up. "It's much easier to learn if you're enjoying yourself."
Born out of David Glancy's two-decade-plus career as a wine professional and educator, San Francisco Wine School (SFWS) delivers more than 80 different workshops for consumers and wine trade professionals. Typically two to four hours in duration, offerings focus on a particular subject, like natural wines, or developing a skill, such as blind tasting. More in-depth programs cover the breadth and depth of a topic, such as food pairings, Italian wines or wine grapes of the world. There are also one-off events—for example, an evening seminar and tasting of Cava or Australian rieslings—which are free to the trade and open to the public for a fee.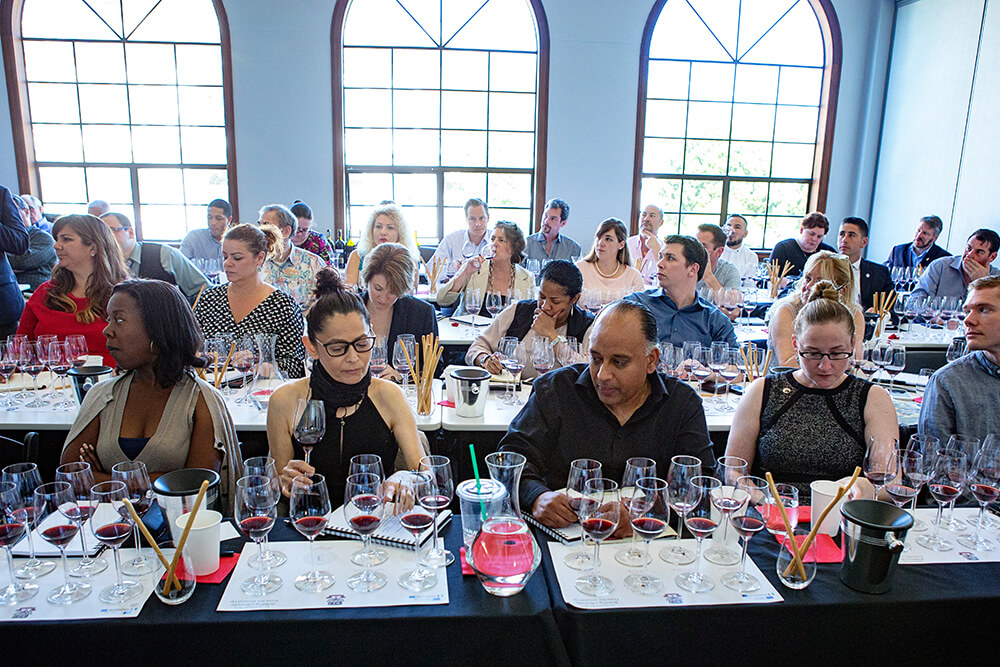 For serious enthusiasts and members of the trade, the school provides preparatory coursework for all relevant wine credentials including certifications from Court of Master Sommeliers (CMS), Institute of Masters of Wine (IMW), Society of Wine Educators (SWE), Wine Society Guild (WSG) and Wine Spirit Education and Trust (WSET), in addition to several proprietary San Francisco Wine School certifications.
David's own educational journey came through self-direction, determination and hard work, although he also notes that his path to becoming a highly credentialed wine educator was hardly a direct one. He obtained his first credential, the CMS Introductory Sommelier certificate, while managing Palo Alto's MacArthur Park, but had no intention of progressing further. "That was it for me," David says. "It was one and done, just to be a better manager."
However, when he started a wine consulting business several years later, David recognized the value of more credentials. After putting together his own curriculum of study, he passed the challenging three-part CMS Advanced Sommelier exam, which boosted his credibility, and opened the door to networking with some of San Francisco's elite wine directors. As he built his business and reputation, he went on to pursue additional credentials, most notably the highly-regarded Certified Wine Educator (CWE) and Master Sommelier (MS) certifications. His achievements make him a rarity in the wine industry: He is one of only 12 people in the world to hold both credentials.
In 2005, after two years of teaching wine classes at the California Culinary Academy, David was tapped to create a sommelier program for the International Culinary Institute (ICC) in Campbell. He built the curriculum from the ground up. During his tenure as program director, 400 people passed the Certified Sommelier exam, "which at that time," he points out, "was 10% of the world's sommeliers." While at ICC, David recognized a need for a wine education resource that could meet a variety of interests, goals and career paths. With a mission of bringing together "all relevant credentials under one roof," in a center that would train the trade, David launched San Francisco Wine School in 2011.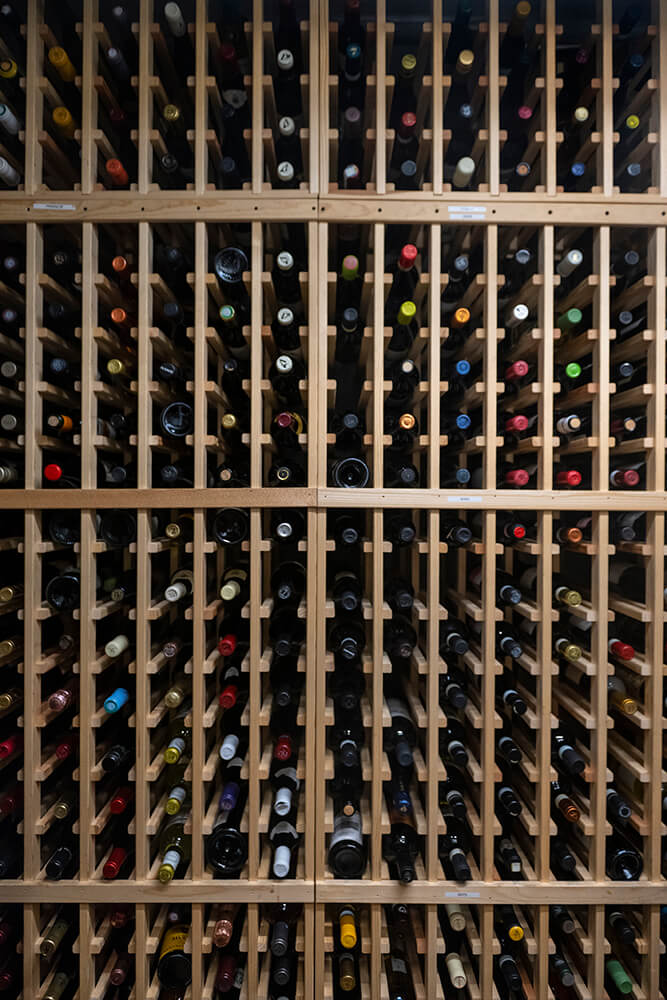 While David is responsible for the school's curriculum development and team of industry-leading instructors, he credits partner and co-owner Kristin Campbell with taking the lead in the school's growth and operations. "I was bitten by the wine bug through my career in public accounting," recounts the Menlo Park resident. Right after graduating from UC Berkeley, Kristin worked at KPMG, where her client roster included Beaulieu Vineyards and Bernardus Winery. Onsite audits gave her an education in both the business and the process of making wine, but she passed on an offer to join Bernardus. Instead, she jumped into the tech startup world, fast-tracking her way from controller to the C-Suite by the time she turned 30. Once she started having children, Kristin moved into consulting for early-stage tech companies. Wine, she says, was always an ongoing interest and hobby.
In early 2013, Kristin was applying her finance skills as a volunteer in the Menlo Park City School District, when a VC friend who had been advising David contacted her. San Francisco Wine School was still nascent, and David needed help on the business-planning and fundraising side of things. Would she meet with him? Kristin's volunteer work had ignited a philanthropic interest in education, and she was a longtime wine enthusiast with deep startup experience. The idea of a wine school intrigued her, so she took the eight-workshop California Wine Appellation Specialist® Program that David had created. "It totally opened my eyes; I never looked at wine the same way again," she recalls, adding, "There really is so much to learn." Within a year, she became a partner and COO. David notes that, although he launched the business, "Today, Kristin is the one who makes things happen."
Housed in a renovated building across from South San Francisco City Hall, the school's flexible 4,000-square-foot, top-floor space has three public rooms, separated by floor-to-ceiling divider walls that can be opened up to accommodate large groups. "We can have three classes simultaneously," Kristin explains, "or have one big event that hosts up to 400 people." In addition to classes and corporate events, the school also hosts an annual gala onsite to support the Glancy Wine Education Foundation.
Although San Francisco Wine School was founded to train the trade, both the wine curious and committed oenophiles discovered the workshops and signed up. Noting the influx of new students, David and Kristin developed additional curricula for enthusiasts. Today, attendees are "about fifty-fifty consumers and trade," relays David. "We have enthusiasts who have gone on to get more credentials than most of the pros and win competitions," remarks Kristin, who underscores that all workshops are open to everyone.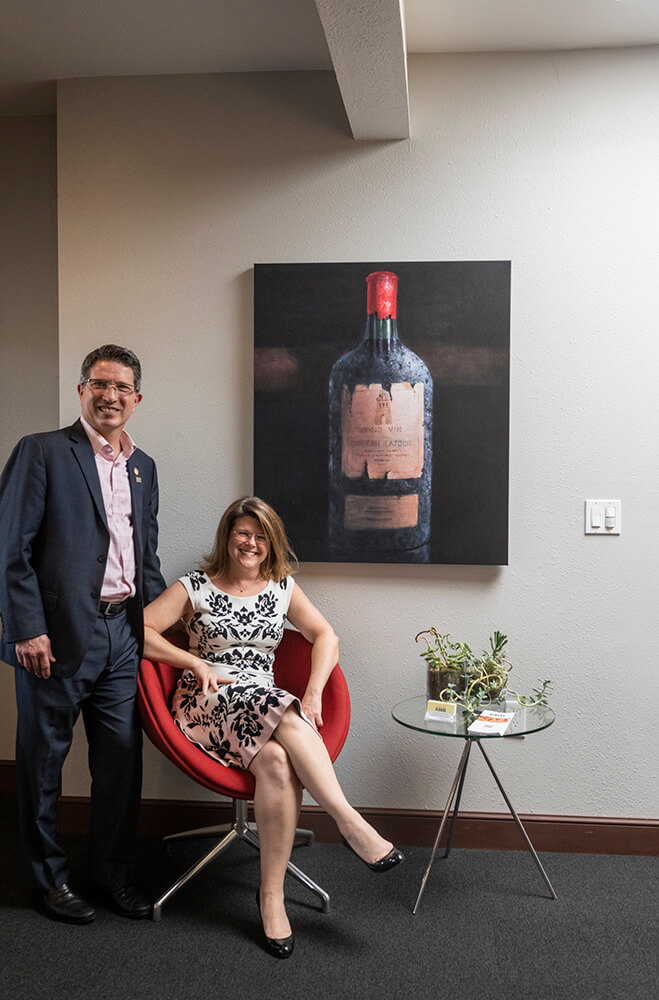 Blind tastings are an essential component of workshops, and in Wine 101, SFWS's standalone survey course, David uses them to introduce not only how to taste wine but also to help students tap into sensory memory and find words to describe their impressions. He keeps the approach simple, asking questions like, "Does the wine seem rich? Creamy? Nutty? Tart? Fruity?" He emphasizes that individual sense of smell and previous exposure to different flavors will affect how each person perceives a wine.
"It's all highly personal," he reassures. The takeaway: When you're tasting with friends, there's no wrong answer. In contrast, he points out, the master sommelier exam requires more precision and skills honed through concentrated study and training.
Wine 101 runs past the two-hour mark as David fields questions about a variety of topics, from wine vacuum accessories ("They do absolutely nothing; just throw them out.") to understanding how long to age a wine.
Depending on the type of grape, tannins and other variables, even a professional has to make their best guess, but David's maxim is, "When in doubt, pull it out," meaning if you're concerned that a wine might be past its prime, take it out of storage and open it up. And if you plan to serve that bottle for a special occasion, be sure to have a back-up—just in case.
Attendees leave with the course materials, a wine order form (so that they can order any of the wines sampled) and suggestions for next-level workshops. To echo Kristin's sentiment: there really is so much to learn about wine. As she sums it up, SFWS "is really just a place for everybody to come and learn, stay curious and have new experiences."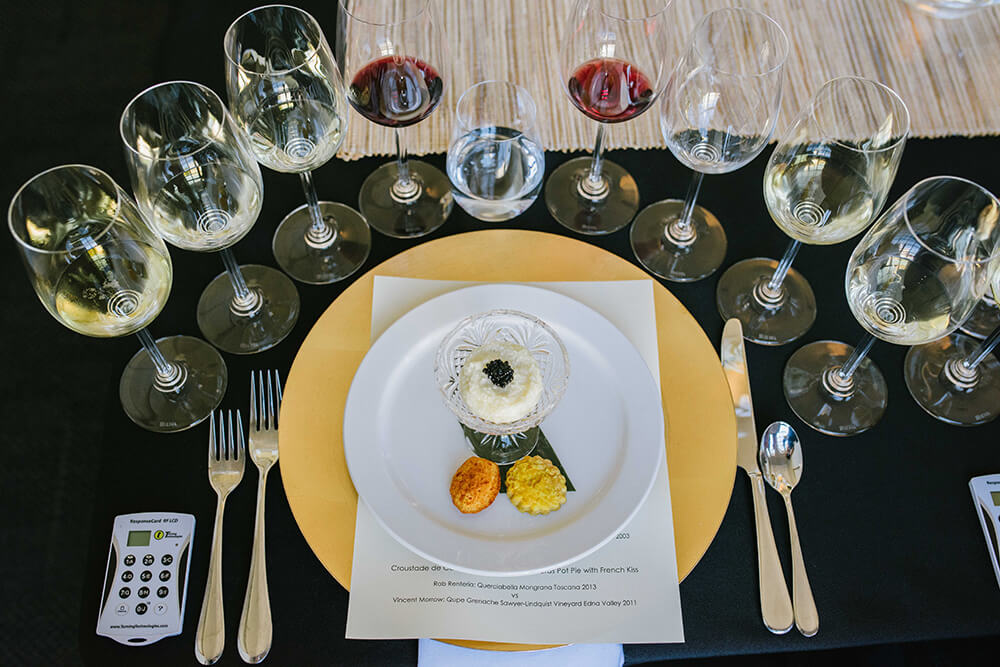 Tips from a Master Sommelier
+ Don't be afraid to ask for help when purchasing a bottle of wine in a restaurant or wine
shop. "It's not a sign of weakness," says David. "Wine people like to talk about wine. We
like to turn people on to something new or get them into something comfortable."
+ Do share your likes with a sommelier when asking for help, for example: "I like
pinot noir. What can you recommend?"
+ Don't be afraid to take a chance on a wine; you could discover a new favorite. Notes
David wryly, "There's a really small percentage of food and wine incidents in which the
customer orders the wrong wine, and the restaurant explodes."
+ Do drink wines you like. If white zinfandel or wine in a can is your thing, go for it. "Don't
let anyone tell you what to drink," says David.
+ Do balance wine intake with water intake. As David points out, "The pros hydrate."
swirl, sniff and taste