words by Silas Valentino
If San Francisco is the U.S. city where all residents live within a 10-minute walk to a park, then San Mateo is the county where everyone lives equally close to an exceptional day hike.
 The Peninsula is sprawled with trails, preserves, mountain-tops and a bluff, all within reach for an impromptu jaunt. As the holidays contend with the limitations of 2020, opportunities to gather and socialize in a healthy outdoor setting have never been as cherished. Or, on the other hand, the trail is an individual's safe haven for when four walls and excessive family time begin to feel smothering.
Ensuring that the routes in our region remain accessible and safe is the San Mateo County Parks Department, which is currently overseeing a new initiative for exploring the public lands that border our backyards. Running through the end of March, the inaugural "Take a Hike Challenge" invites locals to complete seven unique hikes dotted across the county. To win prizes, participants snap a photo at a particular point along each route to share online.
"It's exposing people to new places in the county that they might not go to on a normal basis," says Katherine Wright, the parks department ranger who conceived the project. "It's a fun challenge for people to explore and get out there."
1. San Bruno Mountain 
2.7 miles
555 Guadalupe Canyon Parkway
Brisbane
After parking in a grove of eucalyptus and cypress trees with a $6 entrance fee, this loop wraps around the northern saddle of the mountain to offer stunning panoramic views (fog notwithstanding). The mountain earns its nickname as the "island of open space in a sea of development" for its position surrounded by cities and roadways, which make for an urban explorer's fantasy. However, for the insect enthusiast, San Bruno Mountain is home to rare and endangered butterflies including the San Bruno elfin and the (left) Callippe silverspot.  The park bench at the mountain's peak during a clear day becomes your throne for peering out at San Francisco, the East Bay and as far north as your eyes can see.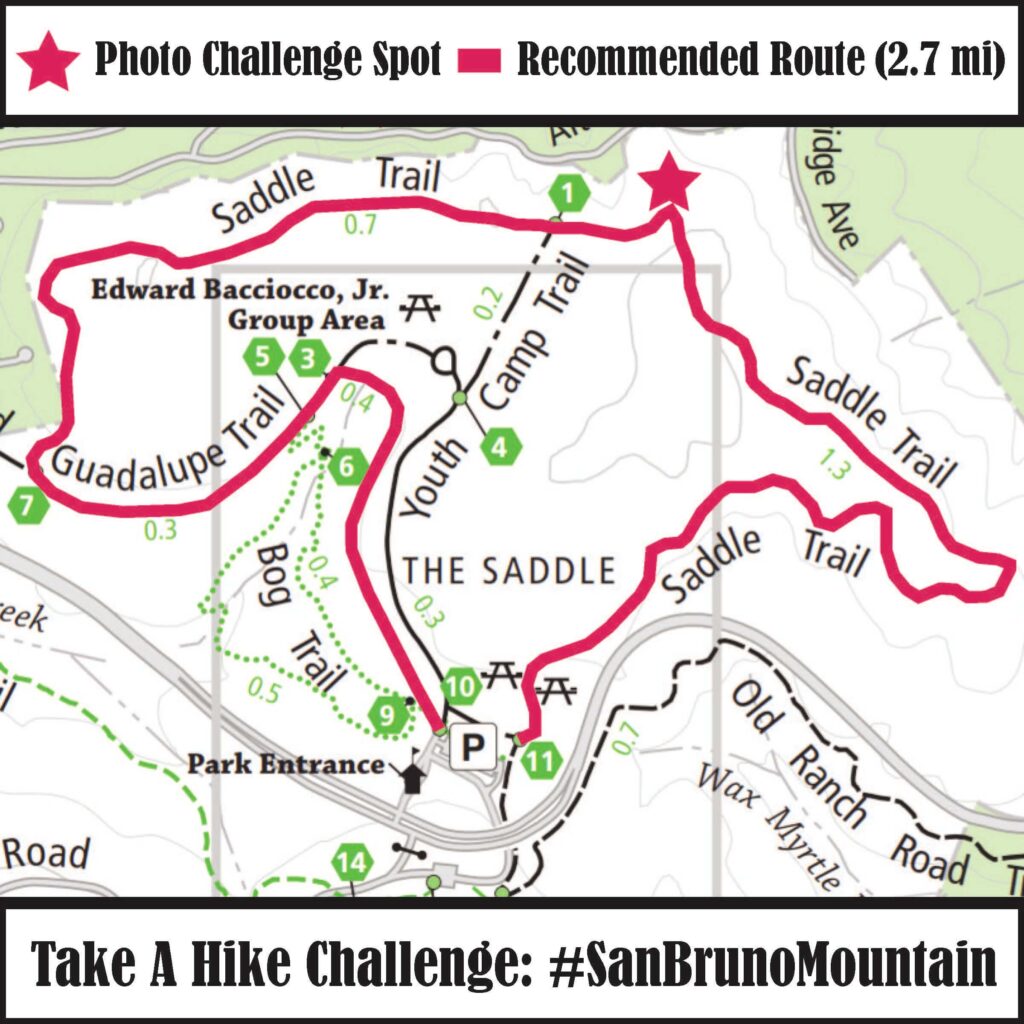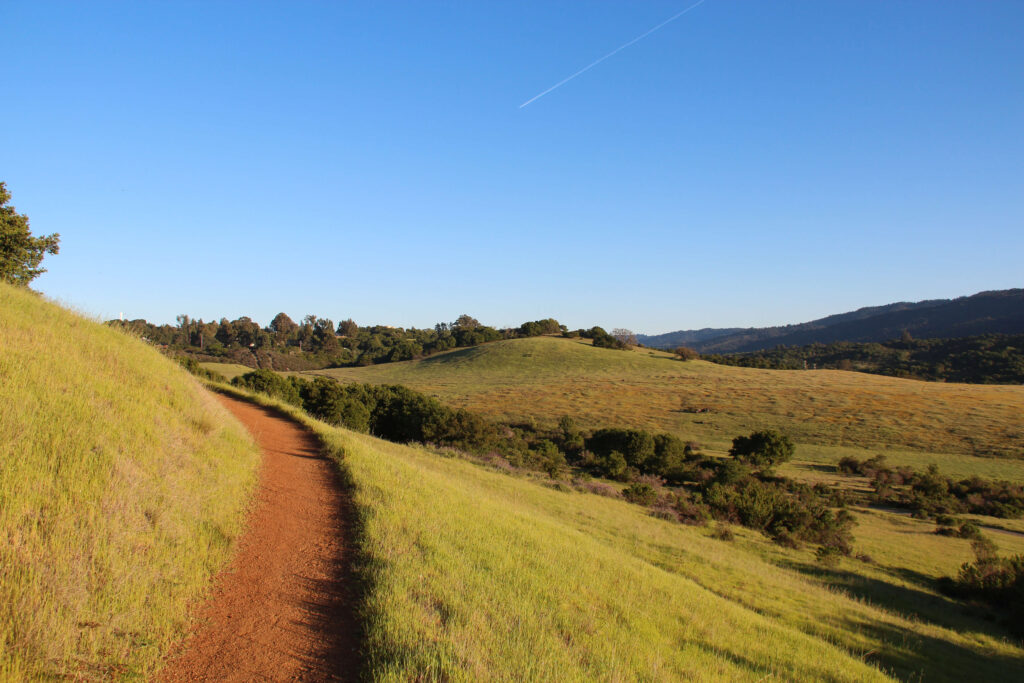 2.
Edgewood Park
3.3 miles
10 Old Stagecoach Road,
Redwood City
An expansive 467 acres of woodlands and serpentine grasslands with pockets of chaparral shrubland converge to make Edgewood Park, Redwood City's environmental outpost. As the sole natural preserve in San Mateo County, Edgewood Park was worth the fight back when developers proposed housing subdivisions and a golf course but locals recognized the worth and secured the swath of natural splendor. The loop around the belly of the park reveals its vast open fields, perhaps best viewed in the late afternoon when the setting sun casts a golden gaze upon the bucolic landscapes.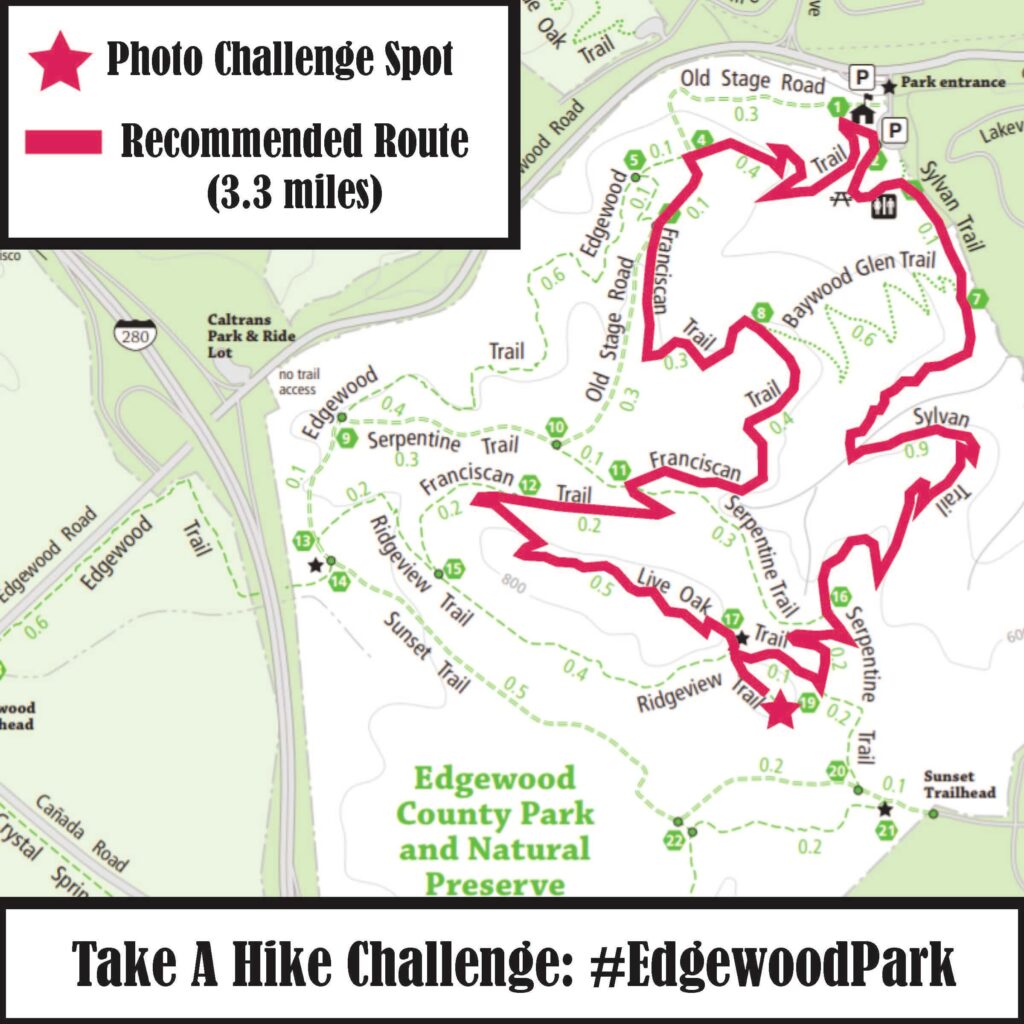 3. Pillar Point Bluff

 
5 miles
200 Nevada Avenue
Moss Beach
When a hike begins with passage through a cypress tree tunnel and concludes with a cliffside view of the ocean embracing the coastline, you know you're in for a picturesque stroll. Charge up your camera battery and park at the Fitzgerald Marine Ranger Station to explore this coastal excursion. As one of the longer hikes on this list, it remains accessible for its relatively flat terrain; however, this is the only trail that comes with an extra warning to keep away from the bluff's eroding edge so as not to tumble into the sea below. The hike is flanked by three miles of state-protected waters where schools of fish and aquatic species thrive and flourish. Leave the fishing pole at home.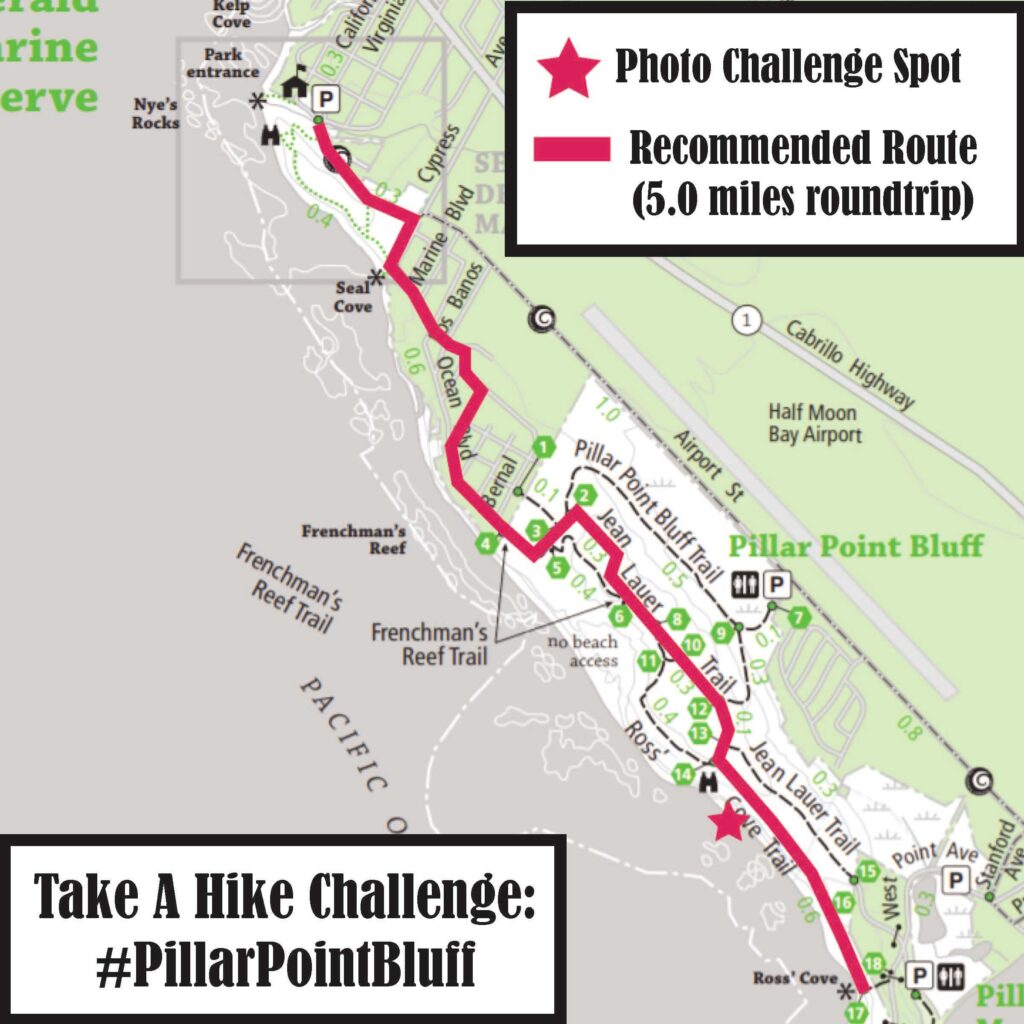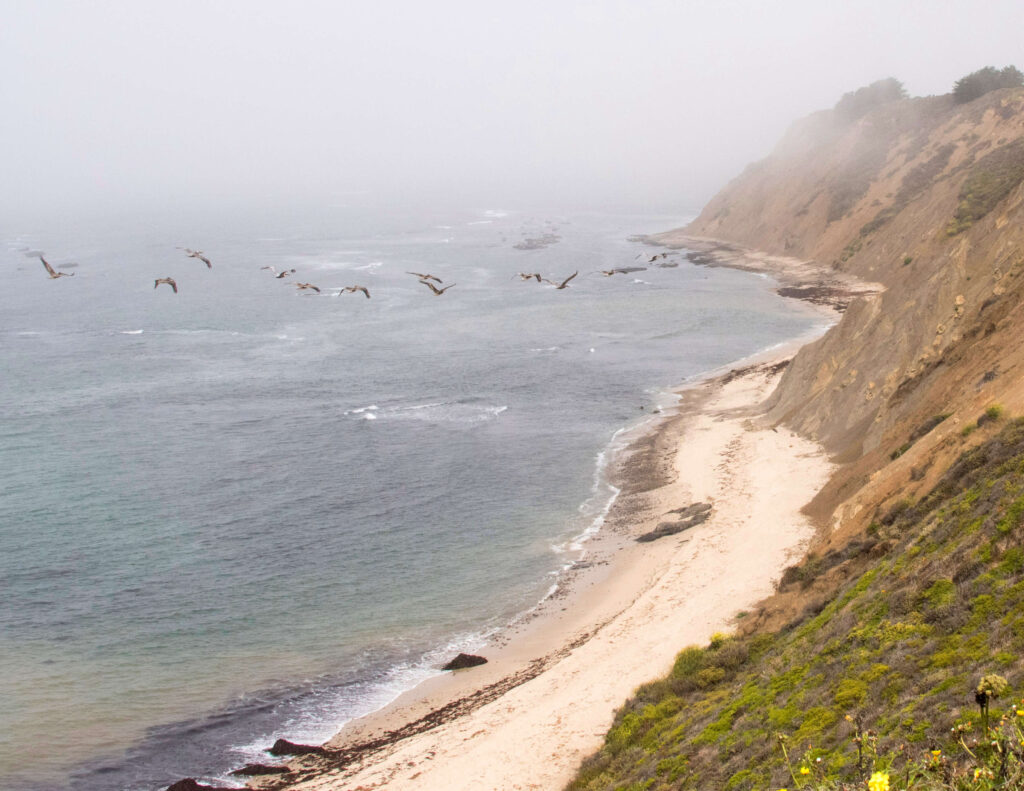 4. Wunderlich Park

 
3.3 miles
4040 Woodside Road
Woodside
A horse rider's haven and a coffee family's legacy, Wunderlich Park's main trail meanders through redwood forest, open meadows and the Folger Family estate. This route passes through the charming Folger Stable where a horse's head might pop out of the stall to nod you along before arriving at the verdant pond, Salamander Flat, which was formerly the reservoir for the estate. Now it's home to newts and their regenerative tails. The hillside hike concludes by weaving through a shaded grove before you stumble out of the mystical woods and back to the parking lot and reality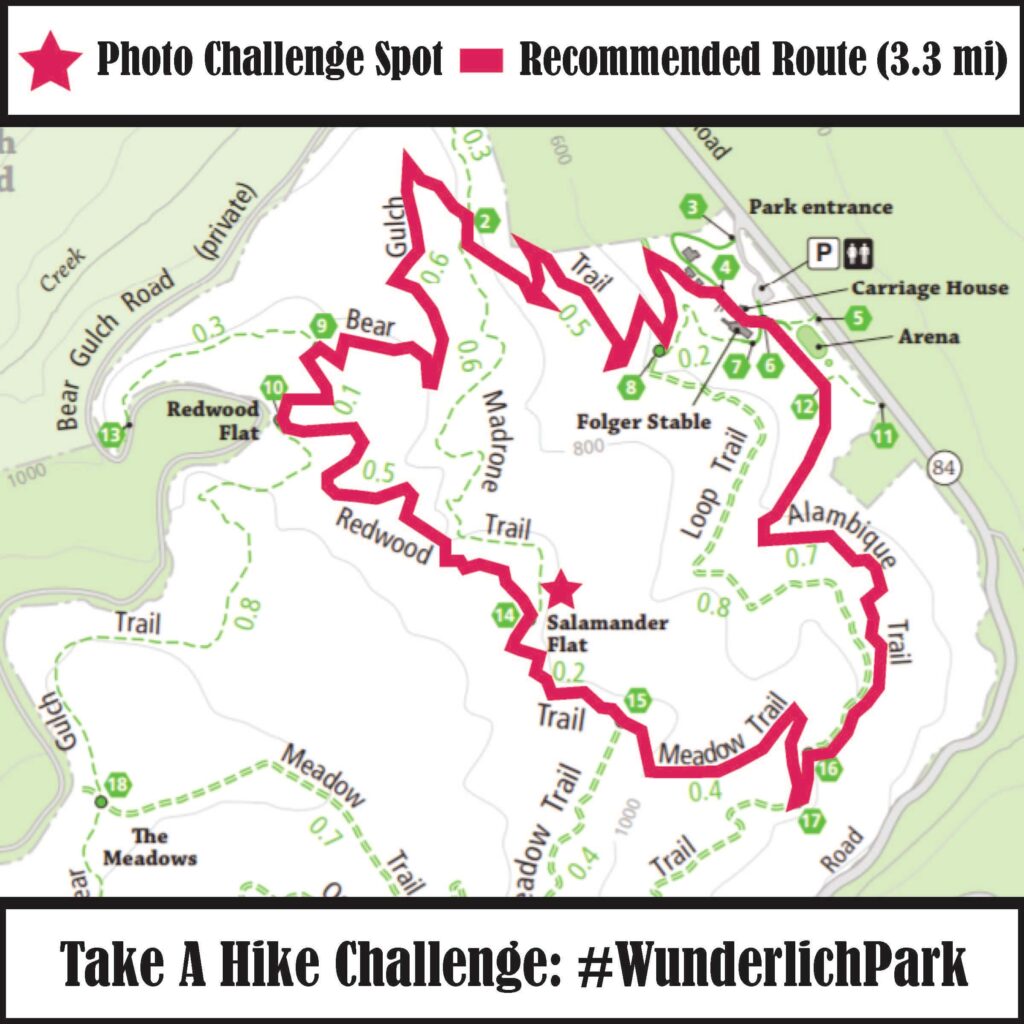 5. Sawyer Camp Trail
5 miles
950 Skyline Boulevard
Burlingame
Of the three segments that comprise the full Crystal Springs Trail, the Sawyer Camp route is the only one that passes by a natural monument that's older than Columbus's voyage. Midway along the paved trail you'll discover the Jepson Laurel, a tree with a 600-year lineage that is the oldest known Umbellularia californica, or bay tree, in the state. It was named in honor of Willis Linn Jepson, a noted California botanist, in 1923. The Sawyer Camp Trail further delivers historical intrigue as it was a former route used by the indigenous Ohlone tribe and was traveled by Juan Bautista de Anza on the Portolá expedition of 1769. Although the trail borders a lake and a reservoir, there are no water fountains available so BYOW is advised.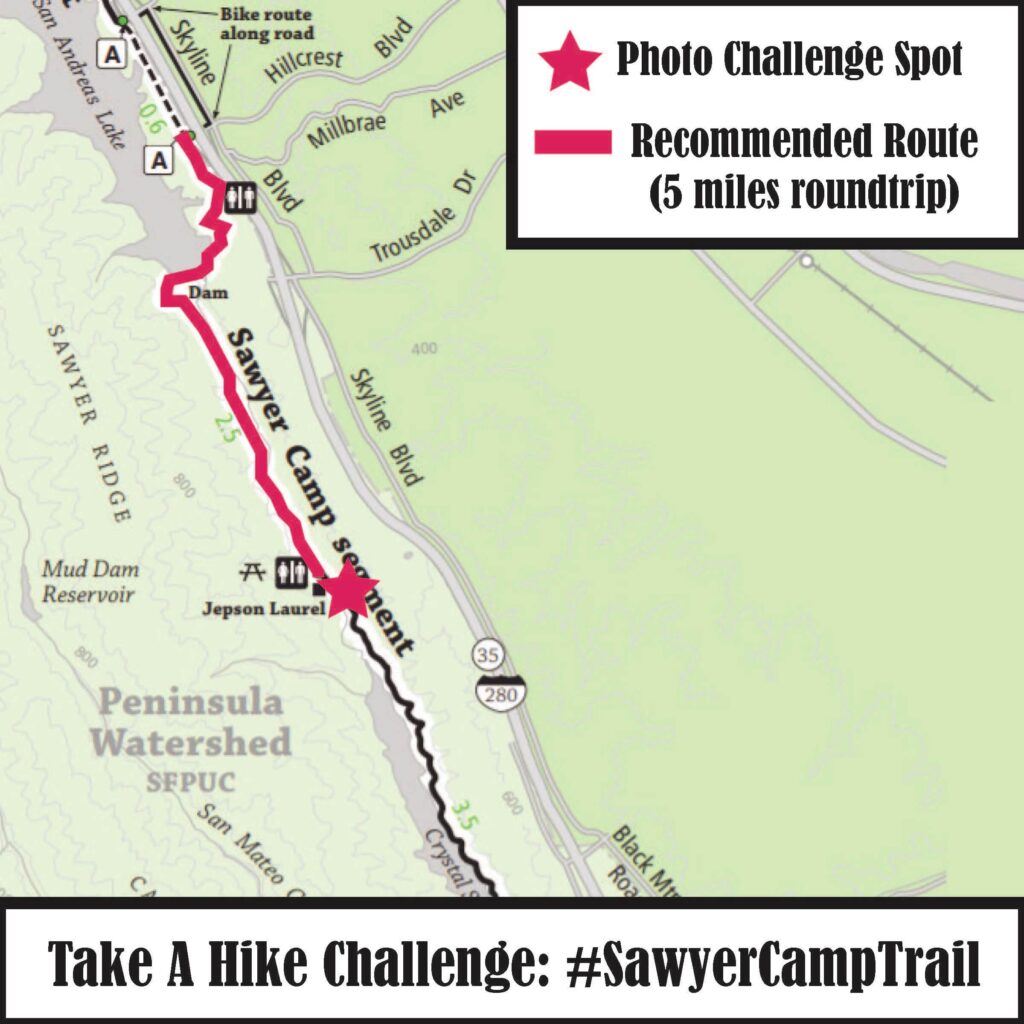 6. Quarry Park

 
2 miles
1195 Columbus Street
El Granada
Just beyond the reach of the bellowing Half Moon Bay foghorn at the foot of Montara Mountain is a rock-lined circular path awaiting discovery. Assembled on the floor of a decommissioned quarry, the labyrinth is a gift to reflect on the nature of journeys and how they all end. Unlike a maze, there's no code to crack here and the purpose is to enjoy a short roundabout while practicing gratitude. Dogs are permitted on this trail that threads through a massive eucalyptus forest before arriving at a Pillar Point lookout. What was once a place to harvest stone, Quarry Park is now an escape into the dense hillside mere minutes from Highway 1.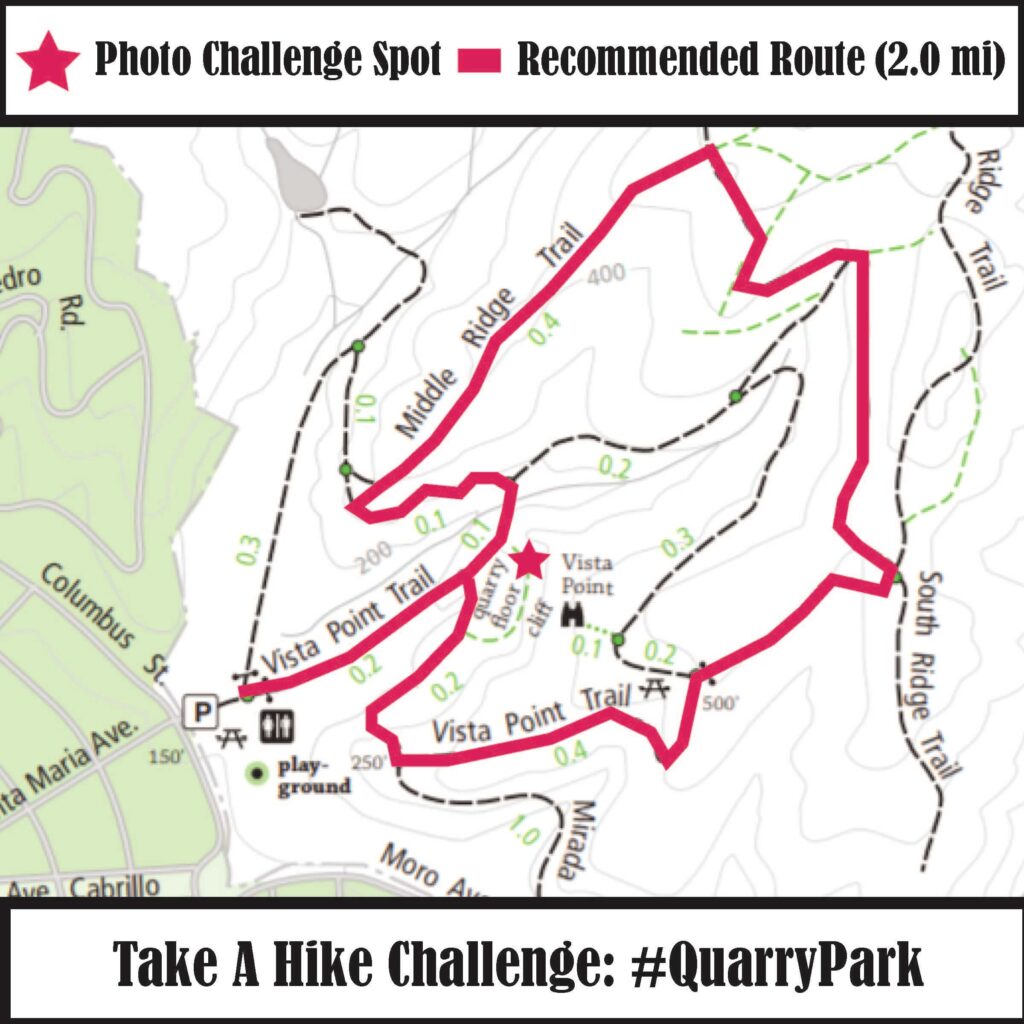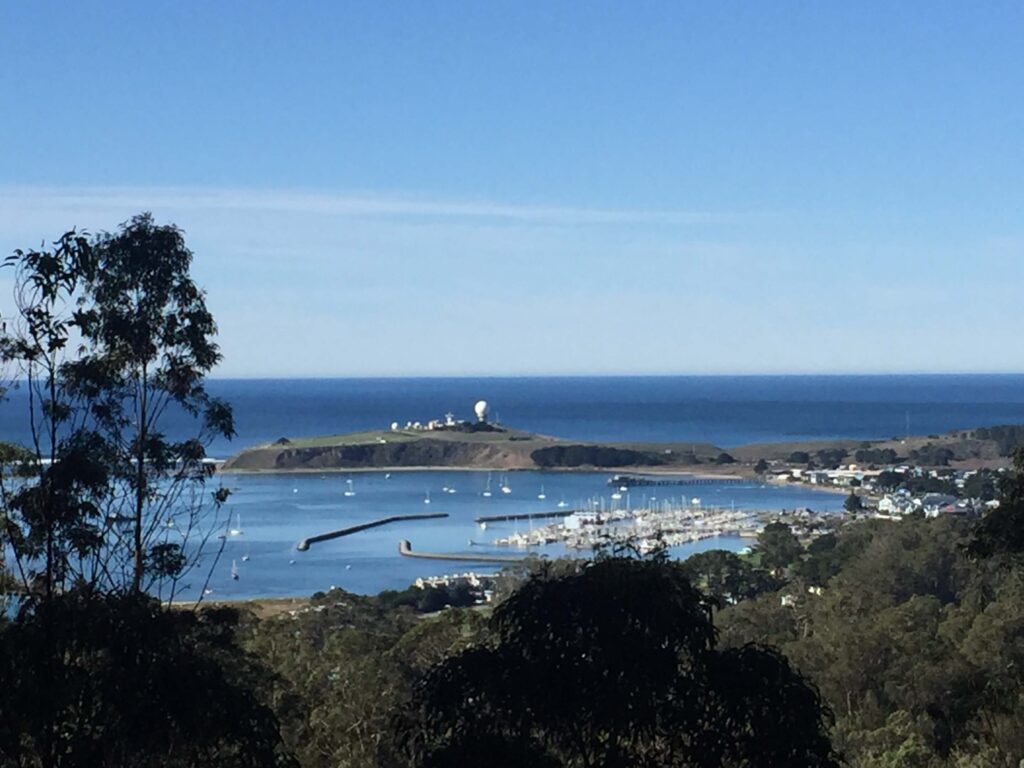 7. Junipero Serra Park
1.8 miles
2487 Crystal Springs Road
San Bruno
Aviation enthusiasts will want to pack a lunch for this one. Located on the eastern side of this hike's route is a park bench with perfect views of SFO where take-offs and landings provide a spectacle for the cost of a slight incline. This hike at Junipero Serra Park is the shortest on the list but doesn't lack historical importance; several archeological digs over the years have revealed how the Ohlone once flourished here thanks to the excavation of arrowheads, pestles, shells and segments of baskets. The route takes you through an evergreen forest while Monterey cypresses and Arroyo willows provide shade, but beware, poison oak is abundant.