Words by Sheryl Nonnenberg
Sandy Ostrau says she did not set out to become an artist. A visit to her Palo Alto studio, where she has been preparing for a solo exhibition at Dolby Chadwick Gallery in San Francisco, would indicate otherwise. Sandy has enjoyed notable success for several decades, with gallery representation and sales of her work to both national and international collectors. But it all started with the humble crayon.
"I was the kid who would go home to color," she laughs. "And I was good at it!"
Sandy relates that her parents encouraged her artistic bent and, as a result, "I was always making art." As a child she took classes at the Palo Alto Cultural Center but when it came time for the Palo Alto High School grad to declare a major at UC Santa Barbara, she opted for art history. During her undergraduate days she took numerous figure drawing classes ("just because I liked to draw") but steered clear of the painting studio.
Fast-forward to adulthood, marriage and children and Sandy was still doing art projects: "I painted furniture and textiles and, for a while, had a business selling silk-screen and hand-painted clothing to retailers like Nordstrom." The business did well, but when she was ready to really expand, she decided to redirect her focus.
Throughout this time, Sandy took oil painting classes at both the Cultural Center and the Pacific Art League, where she had the good fortune to study under Jim Smyth and Brigitte Curt. "They were beautiful artists, great teachers and an exceptional find for a local art center," Sandy says. She credits their teaching as providing the basis for her work with the figure and landscape, especially working in plein air.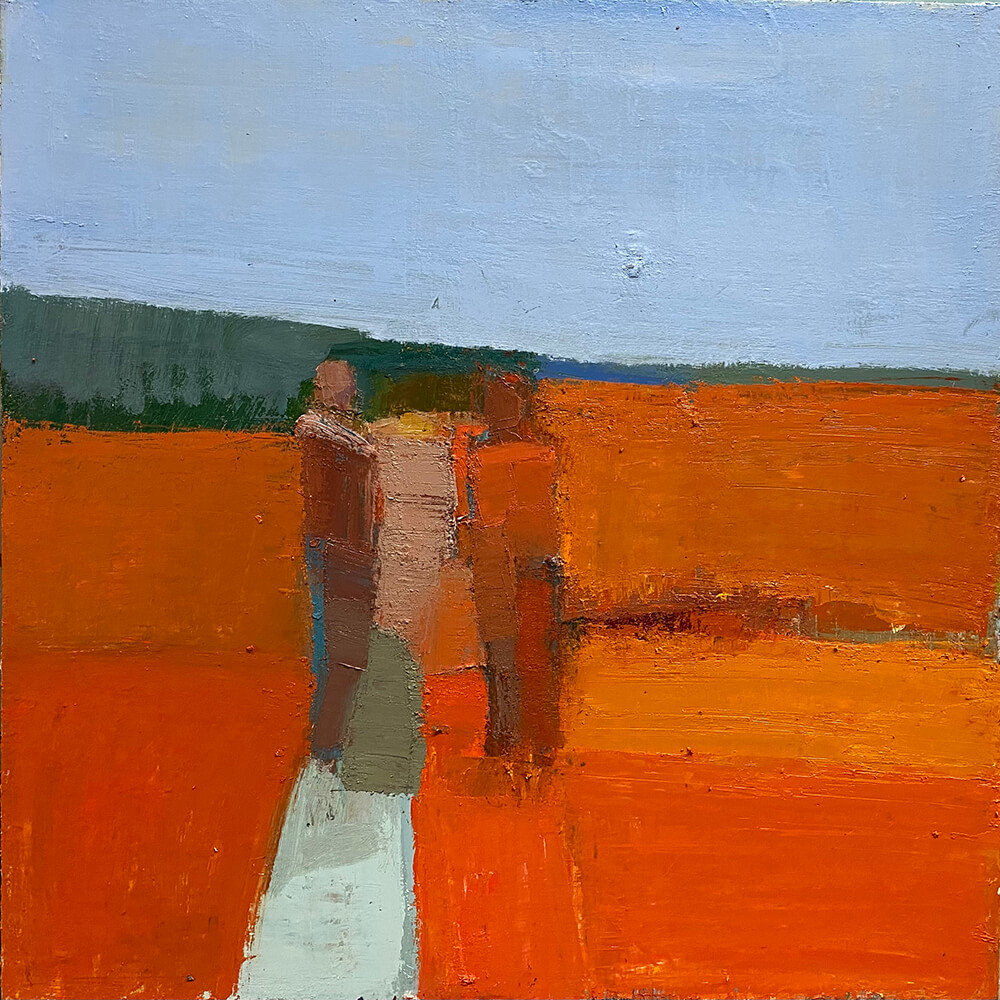 "I really loved outdoor painting. You learn so much about how to distill a scene and it's a great way to learn aspects of art making, especially materials management and how to mix colors."
Sandy continued her studies with Smyth and Curt, even as she began to show her work in small group shows both here and in the Sea Ranch area, where her family has a second home. But she feels her evolution as an artist really took a turning point when she began to participate in Open Studios, which she did for seven years. It's something that she strongly recommends to every artist. "Open Studios is a great way to get work out there and it's a learning curve," she says. While opening one's home to a stream of strangers may not be everyone's cup of tea, Sandy found it worthwhile. "I did really well and sold a lot of paintings," she shares. "I have a great group of friends who were clients first."
Although those early plein air landscapes found an eager market, Sandy was ready to evolve in her style and technique. She has always admired the work of Bay Area Figurative Movement painters (David Park, Nathan Oliveira, Paul Wonner and Richard Diebenkorn) who bucked the prevailing trend of Abstract Expressionism in order to return to the figure and representational art. Using a limited range of colors, brushes and palette knives, and a wet-on-wet painting technique, Sandy focused her efforts on work that integrated the figure into the landscape, but not in a literal way. "I am interested in getting to the essence in landscape and figure," she explains.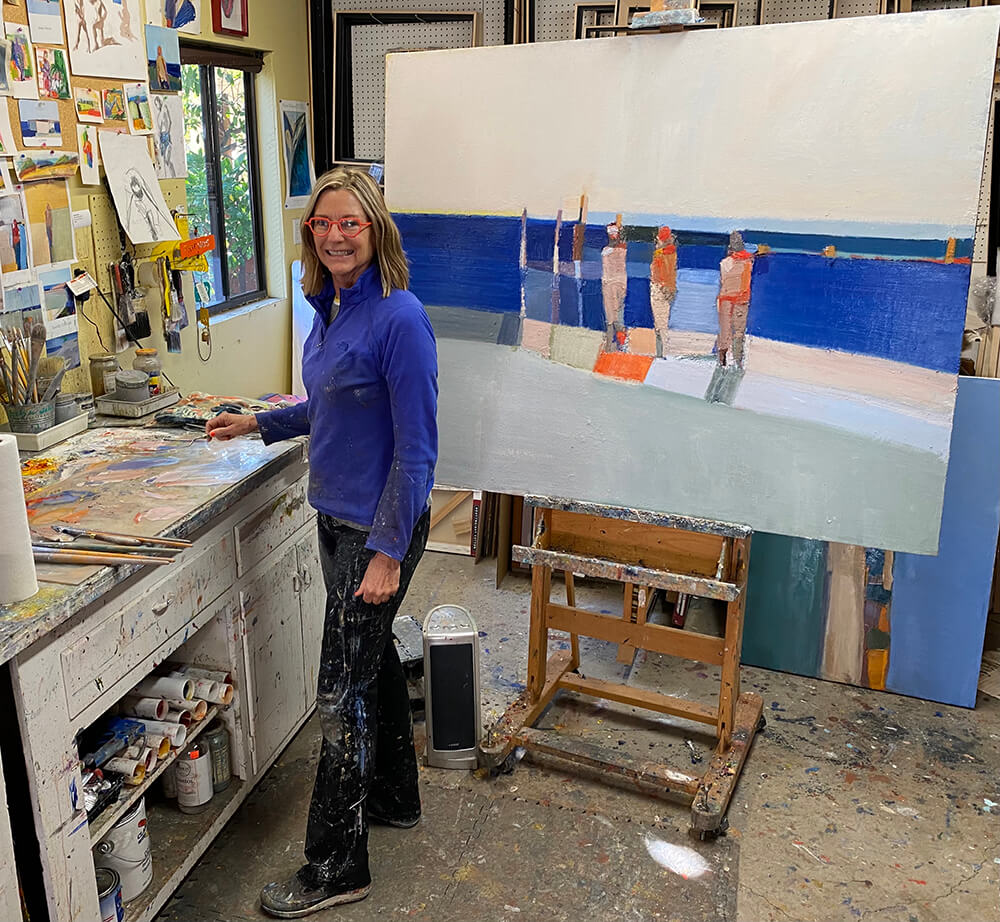 Looking at the paintings that she has prepared for the Dolby Chadwick show, it is clear that the Bay Area figurative painters have been a major influence for Sandy. Does she mind if people see that reference? "Not at all," she says. "All of those artists integrated the figure into the landscape in a way that is expressionistic, gestural but representational. They did it masterfully."
In Sandy's paintings, which are often large in scale and very textural, thanks to layers and layers of paint that have been added and removed, the figure (or figures) is generalized with no specific gender. She explains that she "doesn't want to give too much information" and they are often placed in a location like a beach or pier, which serves as "a metaphor for the connection of land and sea." In Simple Pleasures, a figure at the far left of the canvas looks out to sea but instead of a line demarcating the horizon line, there are rectangular blocks of purple, red, yellow and turquoise. It is a good example of one of the questions she asks herself, "How do you integrate a figure into blocks of color?"
And color is certainly a hallmark in Sandy's approach. She explains that she really likes to examine how color contrasts work, citing the "push-pull" theory of Hans Hoffman. She is not afraid of adding or removing color and credits all those years of working outside for her ability to mix colors successfully, never working "out of the tube." This is obvious in Fog Rolling Across the Pier, where squares and rectangles of both bright and muted colors are stacked along the horizon line, creating unexpected contrasts and juxtapositions. The three figures are so well integrated you might miss them, if you don't look closely enough. That would be okay with Sandy, who says she wants people to bring their own references and experiences to the paintings.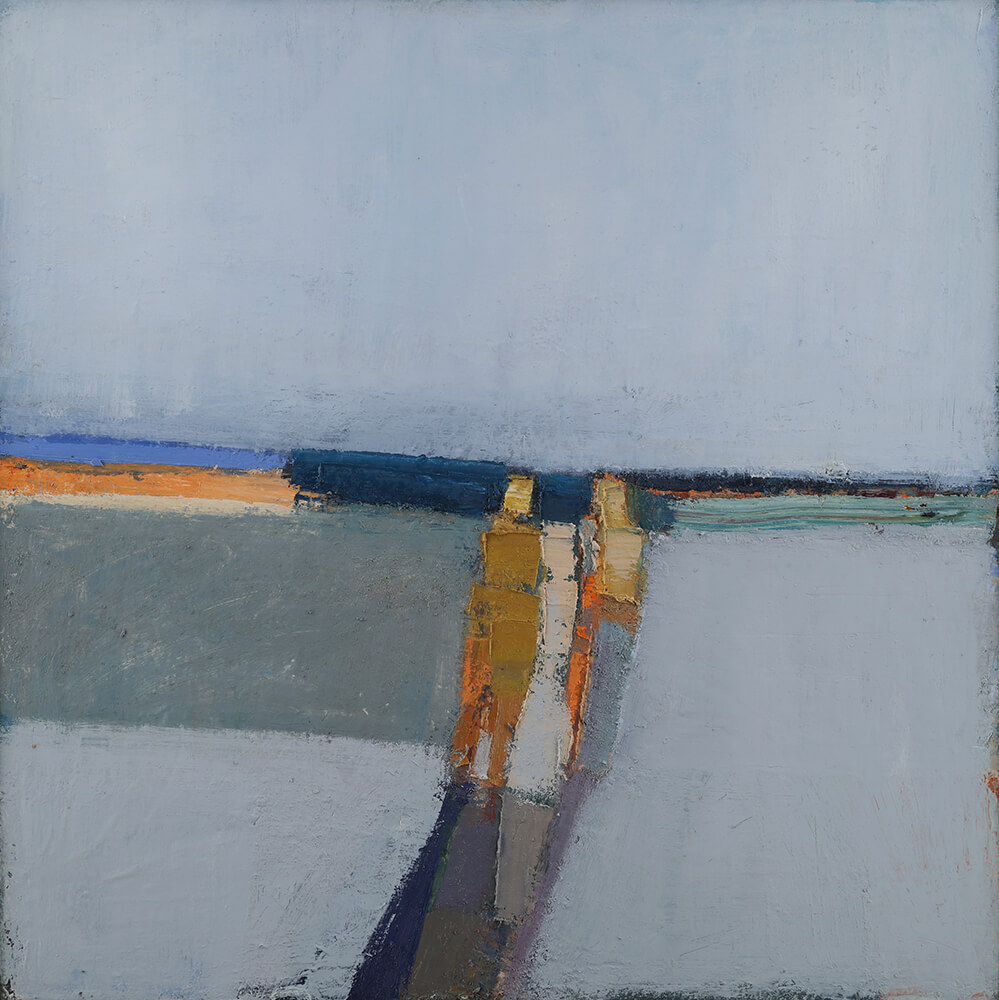 Although she works mainly in the studio these days (and never from photographs), Sandy speaks with great fondness for her early days as a plein air painter. One of her favorite locations was Baylands Park, where she was a regular for years. "It has water, trees, horizon, distant hills and beautiful color changes," she notes. She would paint quickly and the resulting plethora of canvases were stored in pizza boxes. Her son, she recounts laughingly, would exclaim, "Not another swamp painting, Mom!"
In addition to gallery representation, Sandy has also garnered interest in her work via social media, specifically Instagram. Clients as far away as New York City, Italy and Norway have found and purchased her paintings. Pre-pandemic, she also gave private lessons and taught in workshop settings. "Teaching allows you to isolate and define your process,"
she observes.
Sandy is clearly pleased, grateful and maybe a bit surprised at her success. "My original goal was just to pay for my paint supplies," she adds. And what advice does she give to aspiring artists? "Affiliate with a local art center or school to keep honing skills and have a regular schedule to keep making art. You need to put in the time—miles of paint on canvas!"