Words by Sophia Markoulakis
Creating a textile design brand is a gutsy undertaking, even for an interior design veteran like Menlo Park's Sarah Boyden. After a successful 35-year career in residential and commercial design, Sarah recently embarked on a new artistic and professional endeavor as a textile designer. "There is no manual for this type of business," she says of her new venture, a pursuit she affectionately describes as her "labor of love."
Sarah's enthusiasm is palpable, and she sees a touch of destiny in the switch. "I was wrapping up projects so that I could retire my business," she recounts, "and I pulled out drawings of motifs and flowers that I had made years before while traveling to visit my son in college." The pandemic slowdown allowed the time and space to rekindle her passion for the medium, and in October 2022, Sarah simultaneously closed Sarah Boyden Interiors and opened Sarah Boyden Home.
One of the pillars of interior design, textiles (fabrics, rugs, wallpaper, upholstery) comprise pretty much anything woven that tells a story through pattern, texture and color and creates a specific feel or emotion. Sarah credits travel with being a creative catalyst, and her knowledge of European textile history influenced her aesthetic when she was running her interior design business. "Like most designers, I was constantly on the hunt for new textiles," she notes. "I think that many interior designers dream of having their own textile line, and I've thought about it for many, many years, but I've always been too busy."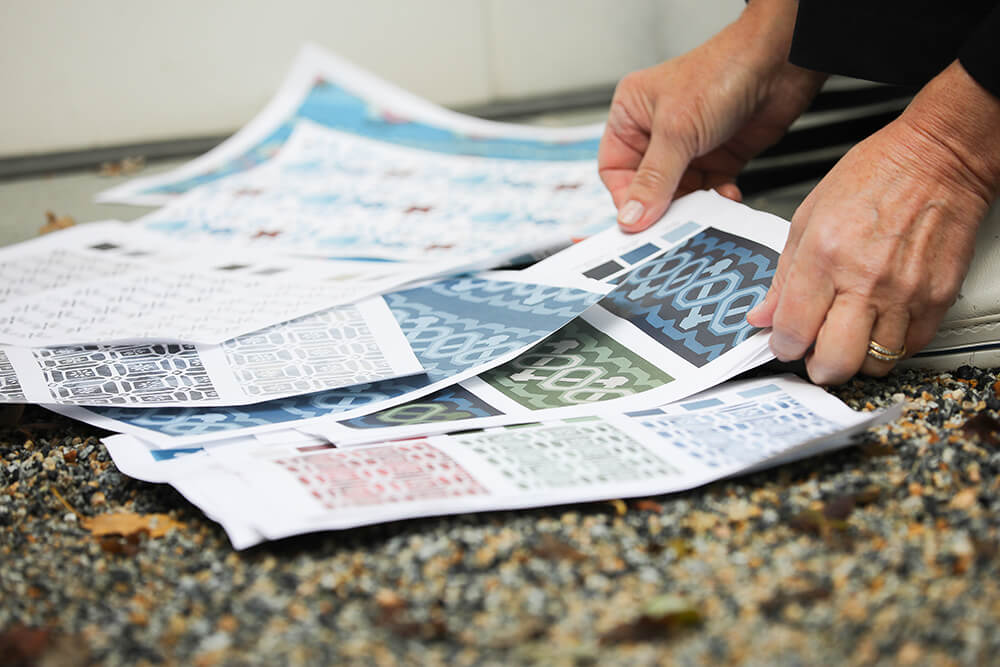 A Virginia native, Sarah has spent the majority of the last 30 years living on the Peninsula. Her brand embraces that duality: Southern roots and California lifestyle. "I love both coasts," she affirms. "I do what I call the 'bicoastal bop' and visit home often to see family and friends. Virginia grounds me." Sarah's Menlo Park home is her lab, and the mix of family heirlooms, modern furniture, art and plein air paintings create a perfect backdrop for her textiles that are prominently displayed through window and pillow coverings. Her style is a mashup of Southern sensibility, elevated bohemian and classically eclectic. Talking about her love of color, Sarah quips, "I'm not a gray or beige girl."
Sarah combines her knowledge of what customers want with her own eye for blending colors and shapes to create whimsical yet classic designs. "There are wonderful fabrics out there, but for me, it was a way to use my skill [drawing] that I learned long ago when I worked for a commercial architecture firm and to pair it with this creative expression that had been simmering on the back burner," she says.
Sarah's introductory lineup includes fabric and wallpaper designs ranging from bold florals like "Abloom" that are inspired by antique French Chinoiserie to linear patterns like "Chainlink" that reference great fashion houses like Hèrmes and Gucci. The bold, geometric pattern "DeeDee" is named after her mother, who was known for her needlepoint artistry. "My mom was the needlepoint queen," Sarah says, "and this design is an homage to one of her original patterns." Each can be ordered in a different color, and designs are created for layering with Sarah's other patterns.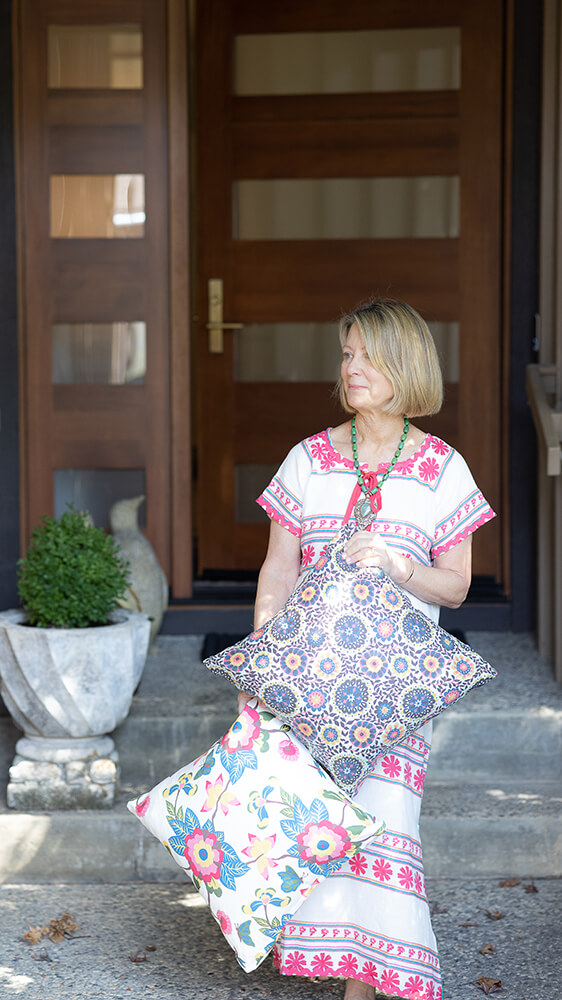 Starting with the sketch of an idea becoming the inspiration for a pattern to the transfer of that pattern onto a fabric, it's a laborious process that can take anywhere from weeks to months. Once Sarah decides on a design, she plays with different color stories to decide how many each will have. Each pattern is grounded in a background color. Her florals, for instance, are composed of different color variations depending on the background. Sarah works with different mediums when determining these color stories.
"Sometimes, I use paint chips or fabric swatches. Sometimes, I paint the patterns in different color variations to determine which color combinations will work together and ultimately sell," she explains. The completed designs are then digitized and printed on 100% Irish linen.
Even factoring in Sarah's deep connections with design colleagues and showrooms, the leap hasn't been easy. "I feel fortunate to have found a few kind, wonderful people who helped guide me and introduced me to the right people, like the woman who takes my designs and digitizes them for production," says Sarah.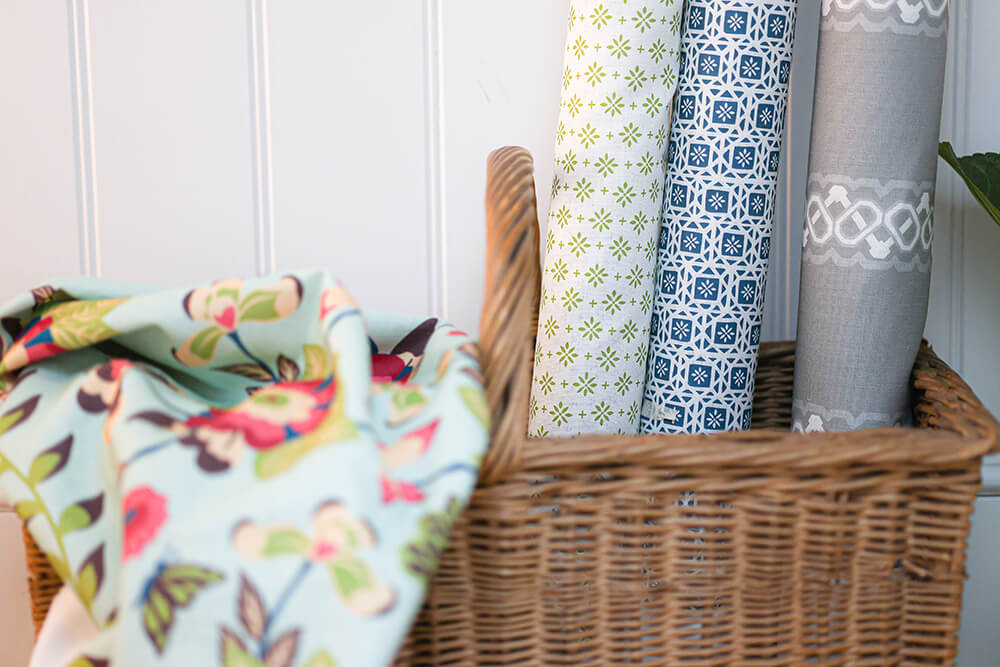 With her company still in its infancy stage, Sarah is actively pursuing designer showrooms and interior designers. "All I need is one influential designer to use a couple of my designs for exposure and to get traction," she says. "I'm really trying to take care of the interior design community before I branch out into direct sales." Currently, Sarah's textiles can be ordered through an Atlanta showroom, Travis & Company.
Sarah's next creative expedition: India, where she will learn the ancient art of block printing, a tedious task that requires hand-pressing color-dipped blocks onto fabric with focused precision. Her itinerary includes stops in Agra and Jaipur, among other historic textile cities. "Hopefully, soon after my return, I'll have new designs to add to my inventory inspired by my most recent trip abroad," she says. "Being in a place that is so uniquely different from where you live is very inspirational."