Words by Silas Valentino
Lisa Spencer, born and raised in East Palo Alto with an infectious laugh and enterprising spirit, had a unique request for each one of her three children: You need to start your own business.
"I wanted them to experience independence," she says, "to see what it feels like to make your own money. I told them that I didn't care what it was and they could decide after three months to quit, but they were going to do it."
Her youngest child Myles was barely a teenager when he launched Pies in a Jar, selling small fruit pies sealed in mason jars. The label described him as an"entrePIEneur."
Lisa's two adult children, Brittanee and Richard, furthered the family's entrepreneurism in their own ways; her daughter is a pastry chef who sells a specialty pound cake while her son started a beard oil company called Hudson & Young Grooming Co.
"I took him to his first sales event on the Intuit campus in Mountain View and he busted $800 on his first pop-up—I only made $200 that day! I was mad and proud at the same time," Lisa laughs at the memory.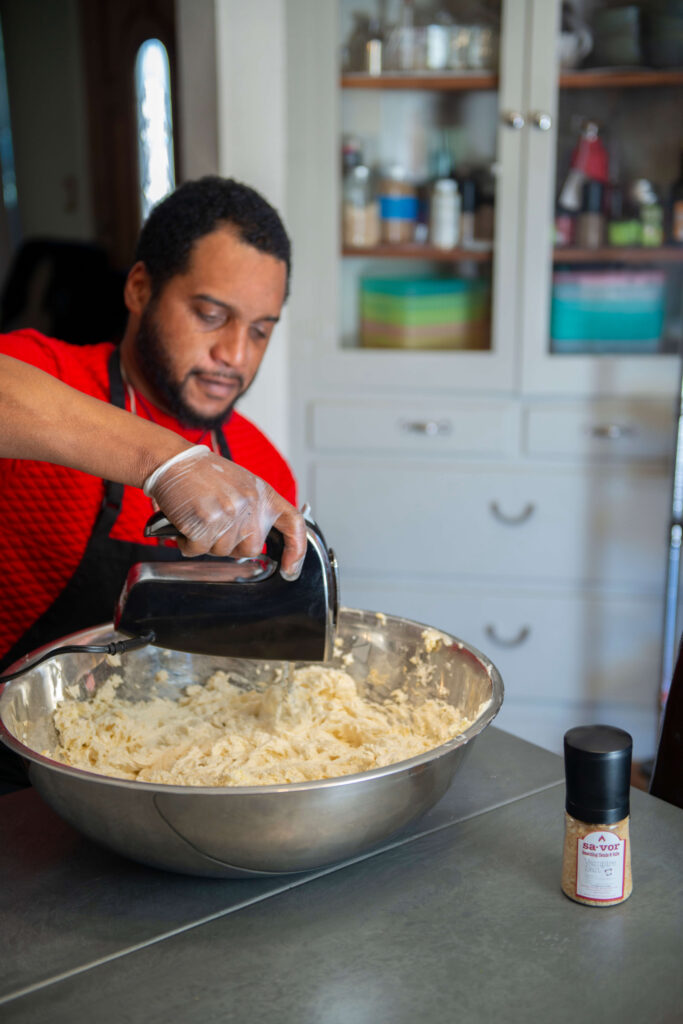 Lisa herself owned and operated her own milliner business called Millinatrix by Lisa Spencer, where she designed and handcrafted hats from her home office, while working for a variety of big companies such as IDEO, Google and currently for the Chan Zuckerberg Initiative.
The entrepreneurial drive is an embedded trait in her family so it came as no surprise when her husband Dulani started using the kitchen to create homemade seasoning blends and rubs to sell around town. In fact, he hatched the idea after Lisa gifted him a copy of the cookbook, Food in Jars: Preserving in Small Batches Year-Round, for Christmas in 2015. 
Over the years, the blends and seasoning matured into Savor Seasoning Blends, a handcrafted business they run together out of their home in East Palo Alto.
Dulani's resume is rich in variety and experience from various local kitchens. He worked at Martha's Pastries learning how to bake from scratch before moving on to Whole Foods, where he sharpened his skillset across the departments from the deli to the butcher. He continued working with meats when he became a butcher at The Market at Edgewood under the tutelage of a longtime butcher, coincidentally named Butch.
"I was getting a feeling for everything," Dulani says. "After I got that book from my wife, I started learning about seasonings because I don't like barbeque sauces. In my opinion, they take away from the true texture of the meat and flavor. Sauce hides it. I wanted to do something that enhances the flavor without masking it. Natural herbs and salt help bring the meat alive—so to speak."
Through experimentation and community feedback (their UPS driver is a trusted tester), Dulani developed a full stock of zesty blends that live up to his purpose of enhancing meats. He blends using simple ingredients mixed at the right amount; such as the "Honey, It's BBQ" that gives meat a crispy, caramel crust. Ingredients: a short list of salts, sugar, peppers and powders expertly tossed together.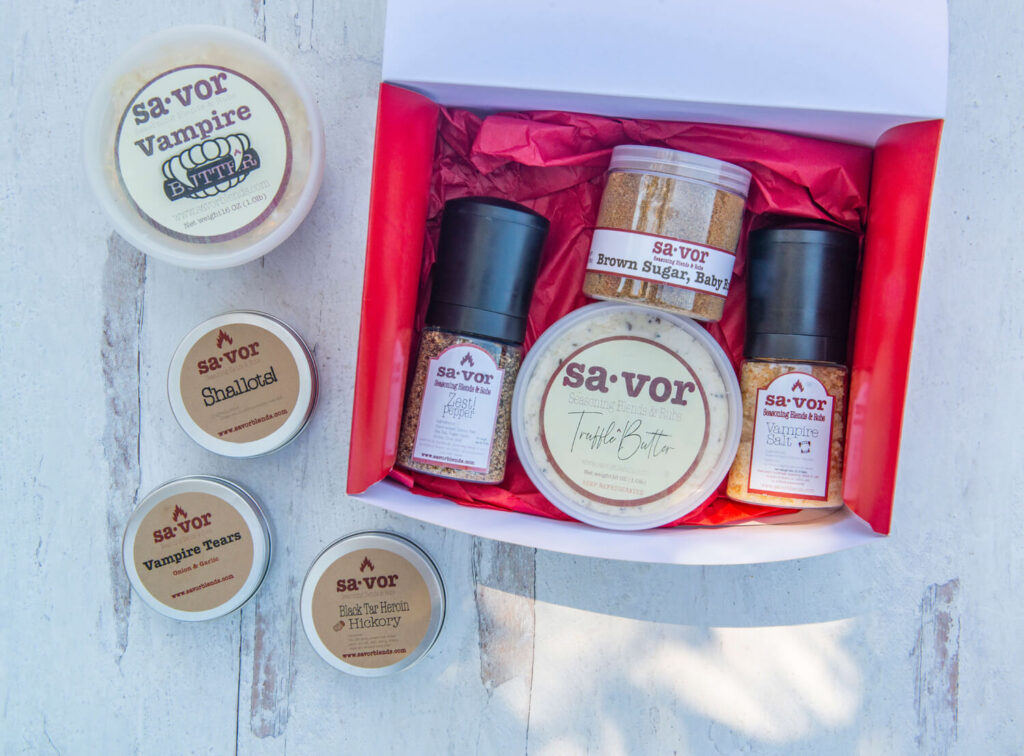 Lisa is the dreamer and idea generator for the business who doesn't mind taking on a large order even if it's a stretch while Dulani keeps them grounded and focused on making sure the rubs keep customers smiling. Their model is effective, as folks travel from all over the Bay Area to stock up on their products.
No rub or seasoning is complete without a clever or amusing name, which Lisa helps devise to match the flavor; some favorites are the Brown Sugar Baby Rub, You Jerk! Rub, Black Tar Heroin Hickory Salt and the Remember the Rosemary Salt, a call-back to her days reading Shakespeare. One of their top sellers is Vampire Butter, earning its name from its liberal use of garlic along with sea salt, parsley and basil. Turns out it's especially well-suited for potatoes, veggies, pasta and lathering on sourdough bread.
Although Lisa and Dulani both hail from East Palo Alto, they didn't cross paths until they were adults. Lisa's father and uncle ran the barber shop on Clark Street where she was introduced to running a business and telling a good story. The couple met in 1995 when Dulani was a youth basketball coach and Lisa was working the door at an East Menlo Park basketball tournament. Their second date was watching the Golden State Warriors play against Michael Jordan's Bulls.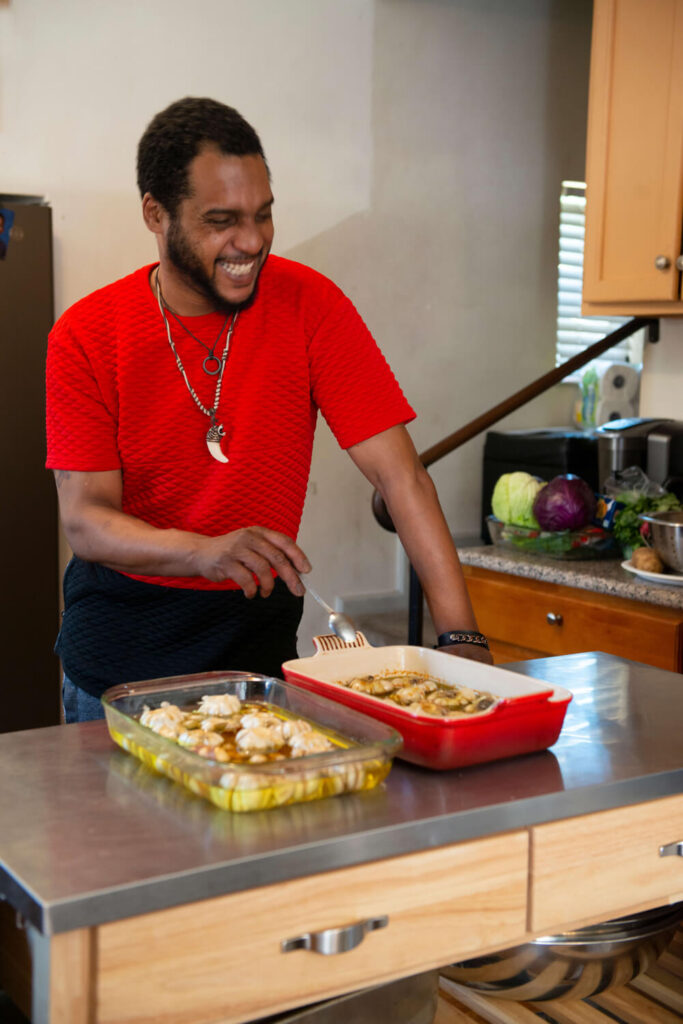 Last December, Dulani started focusing full-time on Savor Seasoning Blends and he's currently developing a new line of rice bowls to sell that use his blends. Lisa, however, can't help herself and is already noodling on the next family goal.
"There's a vacant lot off University Avenue that's been there since the 1980s and it's going to finally be developed into a mixed-use building with retail and office space," she says. Lisa's dream? Opening a butcher shop and deli. "Dulani does both and there's no butcher in East Palo Alto," she points out. "When I was growing up, there were three! Dulani would be in his flippin' element." 
She's already playing it out in her mind: "We can do it. We just have to get enough capital. I would come after I got off work…"