Words by Sheri Baer
Visit Redwood City-based SDG Architecture's website, and a quote from renowned Mexican architect Luis Barragán is the first thing that greets you. It speaks to serenity—making your home a calm, peaceful and untroubled haven.
"It resonated with me," says SDG founder and principal architect Steve Simpson about the premise originally expressed by Barragán over 40 years ago. "It's an elusive goal and it's hard to get enough of any kind of serenity—more so now than ever."
Although Steve believes that serenity is ultimately an internal pursuit, he embraces the idea that your environment and surroundings can play a role. As he frames it, architecture has the ability to provide a conducive backdrop. He cites his own home as an example. When he leaves the office after a frequently overstimulating day of problem-solving and navigating a maze of zoning ordinances, Steve can feel the tension slipping away as he pulls into Belmont. "When I go home, where I live is serene," he notes, "and I think one of the biggest luxuries that anybody can have is just the ability to slow down, relax and enjoy life."
When it comes to designing serenity-inducing settings, Steve relies on basic, centering principles. "In architecture, it's about balance and flow and connecting the inside with the outside, particularly around here where we have beautiful properties and landscapes," he says. "A lot of it is just keeping things simple. Often, that's something that's overlooked. When you can, just simplify, which is probably true in life too."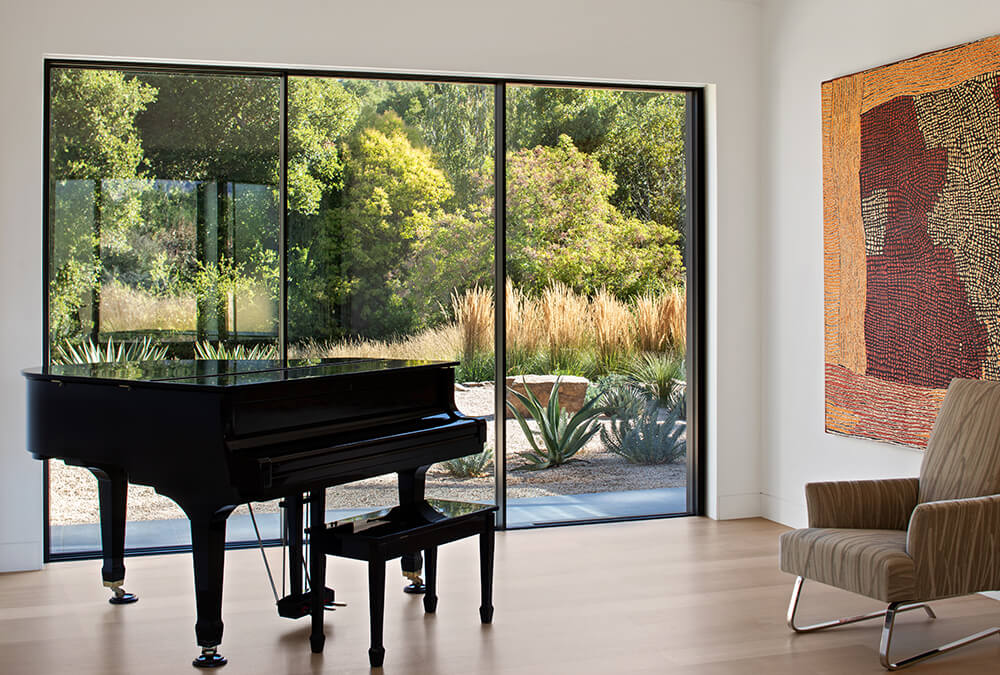 Since SDG's establishment in 1988, Steve's firm has completed over 500 residential projects, with about 90% on the Peninsula—including Woodside, Atherton, Los Altos, Los Altos Hills, Menlo Park and Palo Alto. Specializing in new construction, with a smattering of remodels, SDG's work ranges from estate-sized properties to smaller, suburban sites. For every client, the goal is to strike a balance in terms of design and flow while still optimizing for desired features and function. Understanding a client's priorities—which includes how they define serenity—guides the design process.
A comfy reading nook. The perfect setting for a piano. A view out of the house to something that makes you reflect. "Sometimes," Steve says, "it's just a little surprise that you can add to a house." As an example, he cites a property in Woodside where he situated a small private garden outside the master bathroom: "You wouldn't expect it, but we've hidden this little almost-Balinese outdoor shower there and that can be just a moment of serenity."
In the case of a Portola Valley project, an empty-nester couple felt a disconnect in the home where they had raised their children. "They wanted a house that was more in line with the next phase in their life," Steve explains, "and it wasn't going to be an older two-story house with the master bedroom on the second floor." Rather, on their piece of property with expansive views of Windy Hill Open Space Preserve, they envisioned a new one-story house tuned to the outdoors, with an emphasis on energy efficiency and sustainability—and nods to serenity throughout.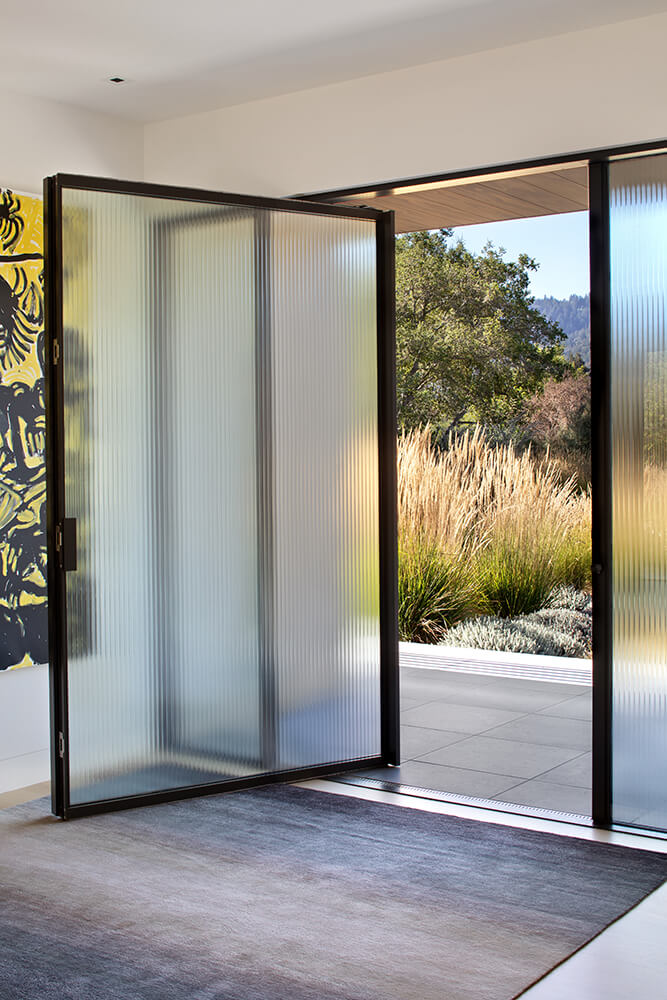 "We rearranged the house and now every room opens up to the outside," Steve relays. "The views of Windy Hill were facing the front, so in this case, which is unusual, we placed the master bedroom in the front." Clean interiors that offset the client's vibrant collection of Aboriginal art. A little music room. Italian-crafted kitchen cabinet doors that appear and disappear to hide any counter clutter. "We end up spending a lot of time integrating details into the design—like hardware and window coverings—that you don't see until you need them."
SDG partnered with landscape architect Cristin Franklin to transform the property's thirsty lawns into stunning drought-resistant landscaping and a new pool area that delivers its own transportive experience. "Although it's just a few steps from the house," Steve points out, "it has this resort feel to it and becomes its own little destination."
Steve takes immense pride in each completed project but says he gets the most satisfaction in the construction phase, watching the house take shape. That's not surprising given his roots. Born in San Francisco, Steve grew up in Fremont in a family of builders—his father was a general contractor with his brother following suit. Although Steve's studies initially took him in a different direction, he rediscovered his passion for architecture and ultimately opened his own firm.
Steve was living in San Francisco at the time but got some timely advice from a friend on the Peninsula. "He said, 'Why would you try to set up business in San Francisco?'" Steve recounts. "'There are tons of architects up there and not a lot of work [at the time], and down here, there's a lot of work and not a lot of architects.'"
In 1988, Steve launched SDG Architecture in Redwood City, which was followed by his own move to Belmont. More than three decades later, working with a team of six, he's appreciative of the evolution he's seeing in Peninsula architectural projects. "The expectations have gotten higher, which drives everybody, so I think the quality across the board has gotten better," he says.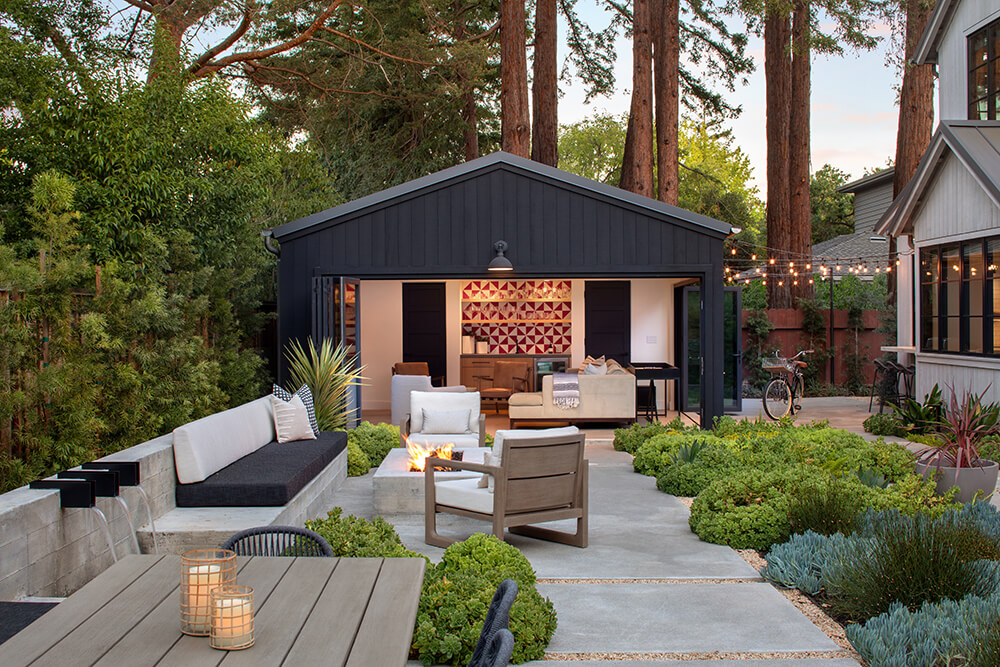 At the same time, Steve acknowledges that building custom homes has never been an easy process, and recent supply chain issues have only made it harder. Not exactly serenity-inducing conditions for clients. His approach? "It's a lot about setting reasonable expectations for how long it's going to take and how much it's going to cost," he says. "There's a lot of balance involved both in the house and how you approach it."
And while Steve aims to create peaceful havens for all of his clients, he's also pragmatic about how much he can achieve. "We can provide a backdrop," he emphasizes, "but ultimately, serenity is kind of like happiness: You have to help yourself to get there."