words by Sheri Baer
When Sasha Landauer heard that a new acquaintance was going surfing the next day, the then-Stanford sophomore jumped at the chance to tag along to Half Moon Bay—erroneously assuming that classmate Alex Friedman knew what he was doing.
"We ended up paddling out and just getting completely destroyed by many, many, many rows of waves—I think the technical term is thrashed," Sasha recounts. "It was terrifying. I could barely hear because I was underwater for the whole hour."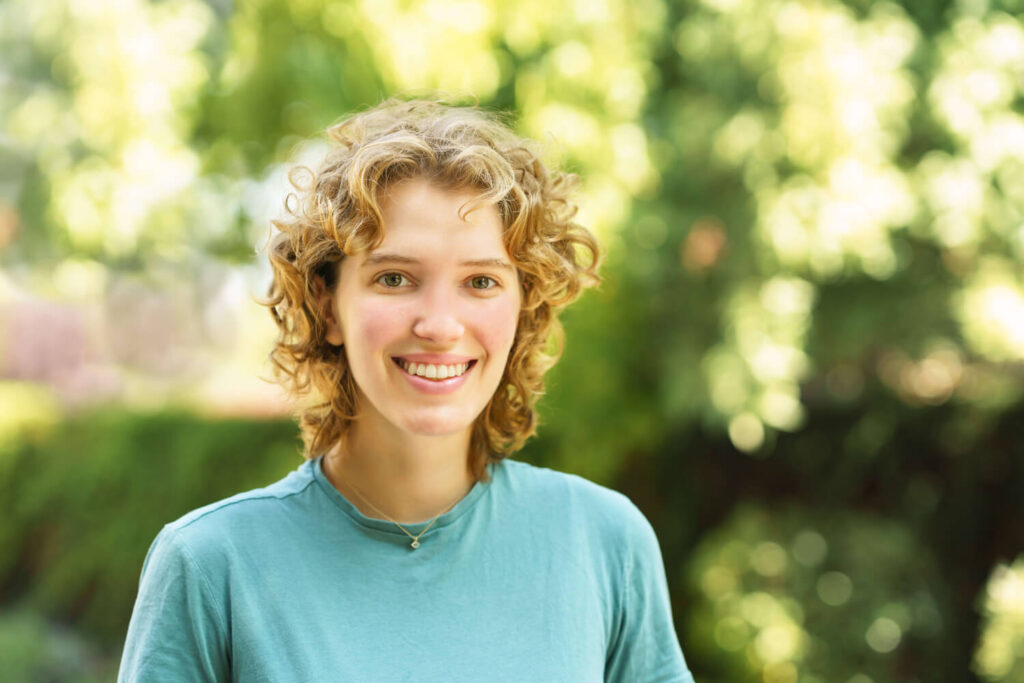 Rather than let a budding friendship wash up on Linda Mar Beach, Sasha forgave Alex for his "surfing misdeeds," and ultimately, it was their shared passion for adventure that aligned them on an even gutsier exploit. As co-founders of Requipper (formerly Switchbackr), an online marketplace for buying and selling used gear, they're on a mission to make the outdoors more accessible and sustainable. 
Starting with his birth at Stanford Hospital, Alex's path to this point has been grounded on the Peninsula. Growing up in Menlo Park, he ventured just a short stretch south on El Camino to college. "My entire educational career has taken place within a five-mile radius," he quips. With his studies at Stanford a bit of a moving target—ultimately settling on a double major of applied math and history—Alex embraced the outdoors as a constant. 
He caught the bug as a Menlo-Atherton High School student after hiking the Skyline-to-the-Sea trail with his father, covering 29.5 miles from Castle Rock State Park out to the coast. "It was this awesome hike," he recalls. "I remember thinking, 'This is pretty sweet. I could get into this.'" Seeking more natural pumps of adrenaline, he added skiing, cycling, trail running and sailing to the mix.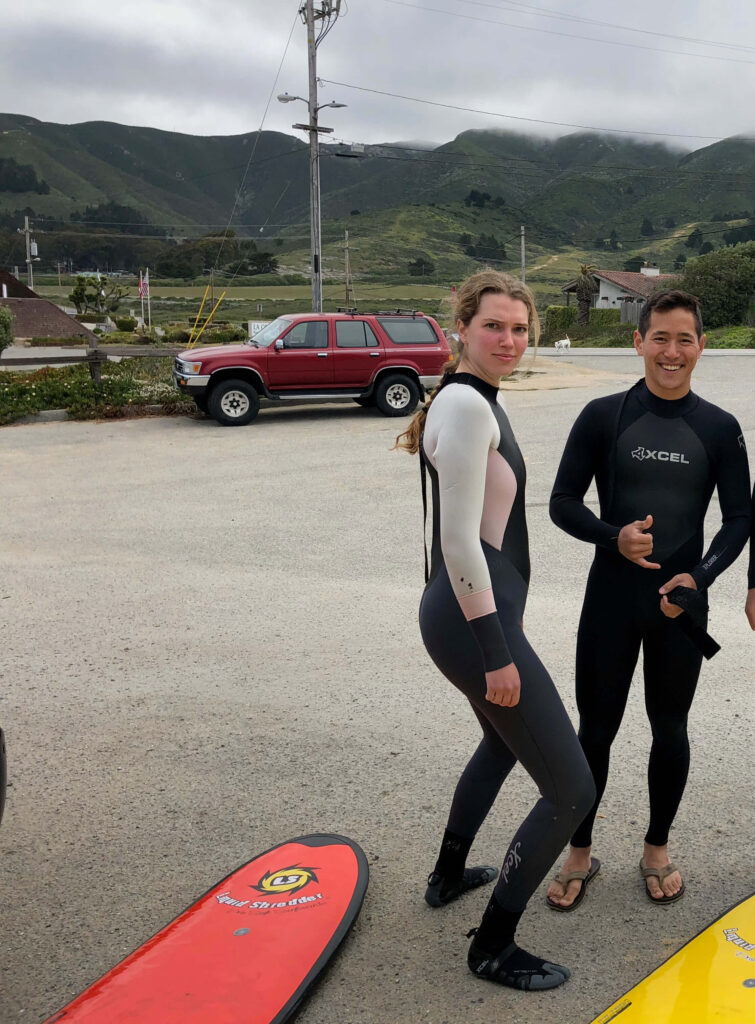 Meanwhile, Sasha made her debut on the East Coast. Born in New York, she moved to Palo Alto when she was nine, where she attended Addison Elementary and Castilleja Middle School, before moving back to the East Coast for high school. Her early childhood recollections of nature entailed forced foggy, cold hikes. "I was just so miserable," she remembers. "It seemed like something people did to torture themselves." 
Sasha took a gap year after graduating high school and traveled to New Zealand, South America and Europe. Discovering the outdoors on her own terms was a transformative experience and, when she returned to the West Coast to attend Stanford, she brought back a fresh perspective. "I was really excited to get closer to the woods," she says. "It was on my mind that I wanted to have a balance of being outside while being in college." 
An avid backpacker and climber, Sasha recognized a kindred spirit when she met up with Alex, and their initial surfing snafu led to more epic outings. Although double majoring in comparative literature and philosophy, Sasha, like Alex, found herself working in finance the summer after her junior year. "It's the summer you're supposed to figure out the rest of your life," observes Sasha. "Except…" Alex jumps in to finish the thought: "Both of us realized we didn't really love finance as a career. I was like, 'No, I don't think so. I love working hard, but not doing this.'"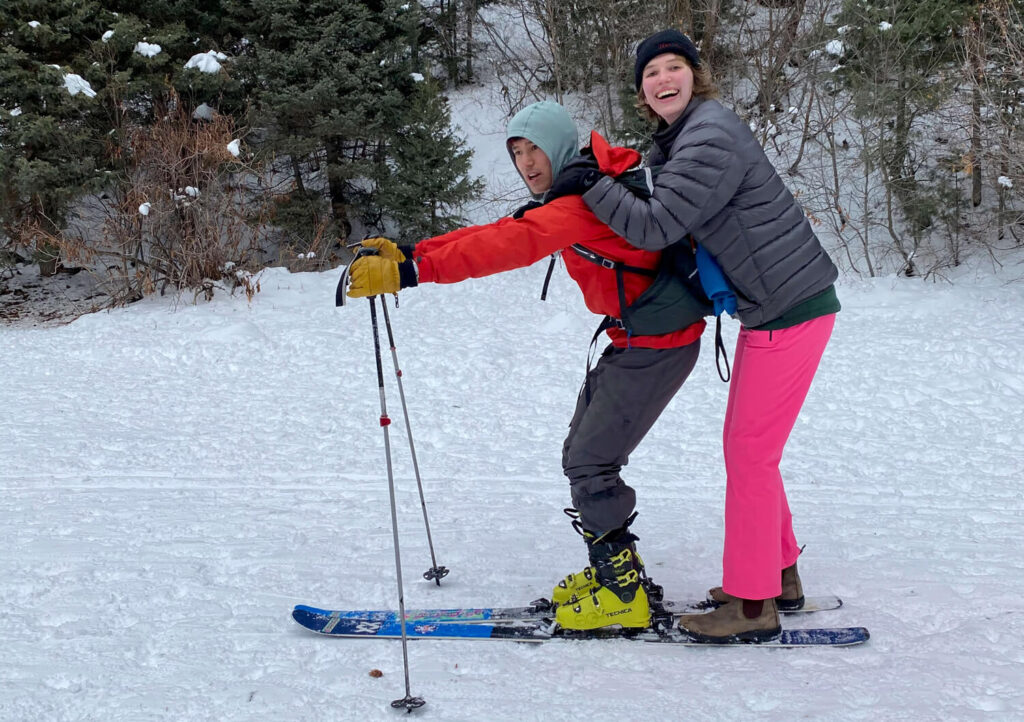 The turning point came that same summer. Through a combination of getting his bike stolen and looking for a way to offload some extra camping gear, Alex identified a hole in the marketplace: an easy platform for buying and reselling used outdoor gear. "That was the epiphany," he says. When he told Sasha, she seized on the opportunity to turn their proven friendship into a business partnership. 
Next came market research. User interviews. Initial testing with three outdoor clubs. Followed by the launch of a beta site right before Thanksgiving 2019. Early in their pitch cycle, investment came in. The timing was April 2020, which coincided with Stanford extending spring break before announcing a remote semester. Sasha says that she and Alex came to the same conclusion: "If school is going to be virtual, it would be awesome if we could fully commit ourselves to making this a reality."
Both took leaves of absences to launch Requipper, which they developed into a peer-to-peer online marketplace, an "eBay for the outdoors," supplemented by relationships with outdoor consignment shops. "It's a unique challenge to sell used gear," Sasha notes, "so we have tech integrations to make it much easier for them to list stuff." Categories include Camp & Hike, Snow and Climb, with gear running the gamut—from apparel, tents and dry bags to cast iron cookware, lanterns and hammocks. 
Alex wears the CEO cap with Sasha tackling marketing and sales as CMO. In addition to the Requipper marketplace, they are also testing a new "GEARage Sale" offering, starting with a pilot program in Menlo Park, Palo Alto, Atherton and Portola Valley.
"If you put yourself in the shoes of the average Peninsula parent, you likely have a bunch of outdoor gear that you probably don't have enough time to use—and definitely don't have enough time to sell," explains Alex. "From a high level, it's a consignment program. We pick up people's gear and then they get their money once we sell it on our platform." And, as Alex points out, it's also a huge win for wannabe adventurers: "It's great for the person buying it because they have access to really awesome deals for outdoor gear, which is a huge issue with this industry—gear is just too expensive." 
Back on the education front, Sasha finished up her final Stanford credits while working full-time this past spring. Alex is still touting Stanford "drop-out" status but has promised his mother he'll eventually complete his degree. For now, the Requipper team says they're eager to ride the wave of two mega trends: recommerce and the growth of the outdoor industry. After hitting an 80% increase in revenue this past quarter, they're looking at expanding GEARage into other big outdoor hubs. "We're really stoked for what lies ahead," relays Alex. Sasha nods in agreement. "You're buying something that has hopefully facilitated someone's adventure, be it a misadventure like our surfing trip or like the best time of their life," she adds. "Everyone should be inspired to share what they don't need and make sure that other people are getting to have similar life-changing experiences."