While traffic rushes up and down El Camino Real, they're tucked out of sight—picturesque nooks and peaceful enclaves laden with historical treasures and unique architectural finds. With the expansion of the railroad through the Peninsula in the early 1900s, clusters of homes began to emerge, rising from orchards, ranchlands and even once-grand hotels and estates. Although our list is far from comprehensive (and we'd welcome your feedback for future rounds), here is a sampling of the secret neighborhoods that can be discovered in the midst of our charming tree-lined streets and towns.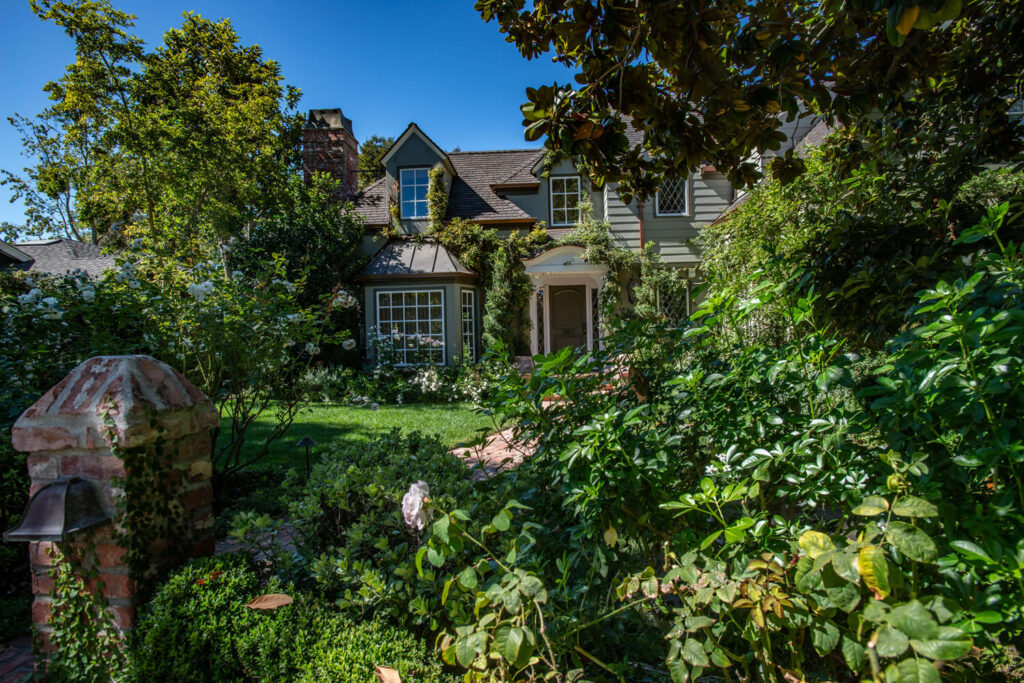 Felton Gables, Menlo Park
Unless they know someone who lives there, even many Menlo Park residents are unfamiliar with the quiet, hidden-away neighborhood of Felton Gables. With only two access points off of Encinal Avenue and no through traffic, the small neighborhood of 115 homes is completely surrounded by Atherton. Settled within the footprint of Senator Charles Norton Felton's 1870 estate, the land was subdivided in the 1930s and '40s, making way for single-family residences. The neighborhood's original cottage homes are either charmingly remodeled or have been replaced by mostly large traditional homes, reminiscent of the East Coast and even English manors. Collectively, the neighborhood is big on whimsy—with touches like rustic wood entry gates, imaginative mailboxes, rusty sconce lanterns and cobblestone drives. Signature features include winding, curvy streets with occasional trees and planter areas stuck right in the middle of the roads. Residents and children treat the streets as sidewalks, with a steady stream of walkers, bikers, strollers and scooters. The secret status of Felton Gables is upended every Halloween by the neighborhood's safe and spirited trick-or-treating tradition that attracts hundreds of children. Homeowners also enjoy a private gate to Atherton's expansive Holbrook-Palmer Park, which borders the neighborhood.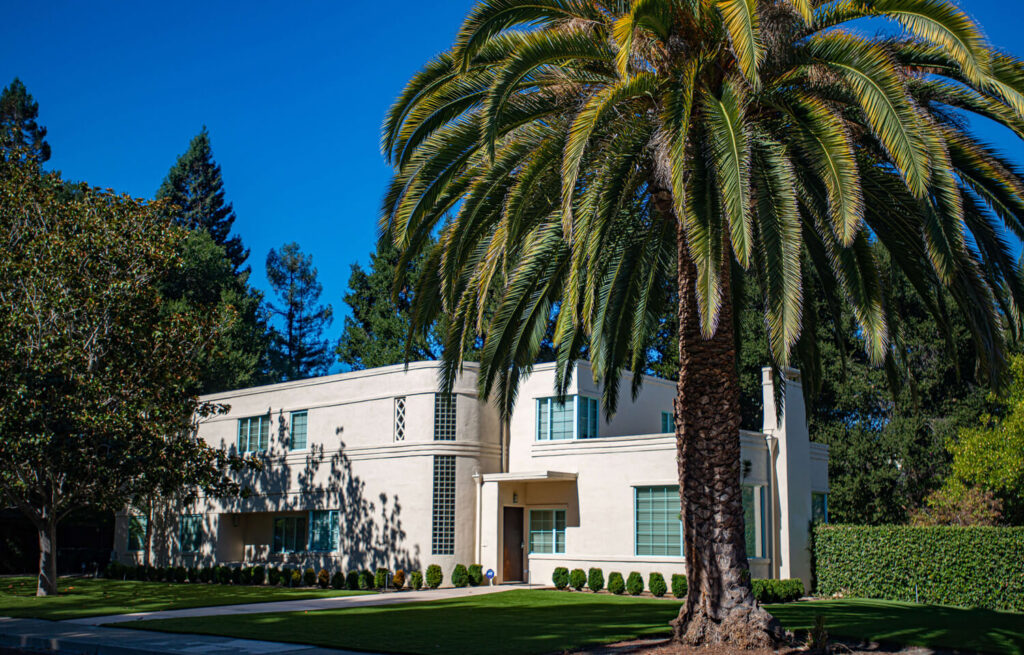 Lloyden Park, Atherton 
The small Atherton neighborhood of Lloyden Park is insulated from the rush of El Camino Real by fencing overgrown with greenery. Originally the Coryell Estate, with gas lamp pillars still marking the entrance, the area was subdivided in 1927, and many of the neighborhood's 86 homes were constructed in the 1940s on mostly one-third-acre lots. Today, antique street lights with green poles and crackle-glass lanterns light the pedestrian-friendly sidewalks. While Lloyden Park is home to a variety of architectural styles—including Cape Cod, colonial, contemporary and art deco—two homes in particular capture the unique flavor of the neighborhood. Designed in 1912 by famed San Francisco architect Willis Polk, the Coryell Carriage House on Lloyden Drive was built for real estate tycoon Joseph Coryell. The Mediterranean-Mission style home is a nod back to California's Spanish roots while another neighborhood showstopper is a nod to the future. Built in 1937 as a "Home of the Future" for the 1939 Golden Gate International Exposition, the George C. Davis House on Rittenhouse Avenue was designed by Mark Daniels in a streamlined modern style. Although Lloyden Park's train depot at Dinkelspiel Station Lane is no longer in use as a Caltrain stop, it is still a beloved part of the neighborhood, with plans to incorporate the 1913-era structure into the Atherton Town Center.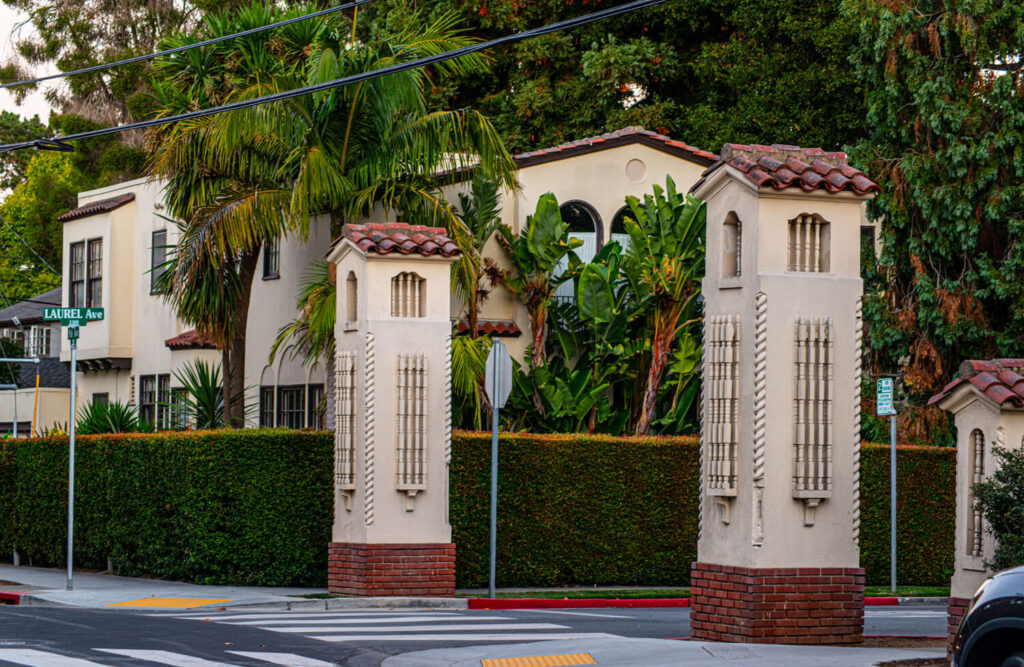 Glazenwood, San Mateo
Decorative stucco-covered brick pillars stand tall at the entry points into the Glazenwood Historic District in San Mateo's Hayward Park. Built on the estate of successful mining millionaire Alvinza Hayward, the property's 100-room Victorian-era mansion was acquired and turned into the palatial Peninsula Hotel in 1908. The pillars are remnants of the iron gates that once surrounded the hotel, which burned to the ground in 1920. In 1921, the Peninsula Hotel site was subdivided into the Glazenwood neighborhood with lots selling for about $15,000. Bounded by Palm Avenue and B Street and 9th and 10th Avenues, about 72 Spanish Colonial Revival homes comprise the tiny community. Although homes reflect a common architectural style, each one has its own unique characteristics with a color palette ranging from shades of white to goldenrod, sage and light pink. Characteristic features throughout the neighborhood include arched windows and doors, cylindrical turrets and bow windows, along with decorative elements like hand-painted tile work and wrought iron grates.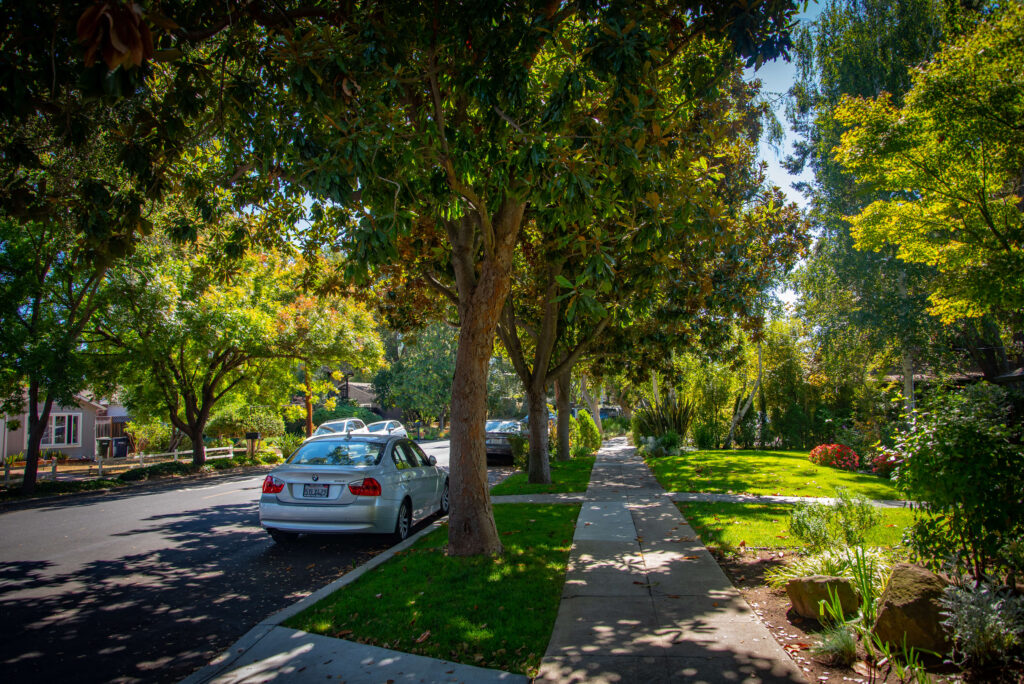 Old Los Altos, Los Altos 
Lincoln Park's lengthy green expanse buffers the wooded serenity of Old Los Altos from busy Foothill Expressway. Appropriately named, the city's oldest neighborhood bounded by Foothill, University Avenue and El Monte Avenue began to take shape in 1906. That's when the Southern Pacific Railroad made a deal to buy Sarah Winchester's 160-acre ranch to extend the rail line down the Peninsula. Paul Shoup, an assistant general manager with the railroad, partnered with other investors to buy the excess Winchester land to establish a town near the new train depot. To promote Los Altos, in 1910, Shoup built a California bungalow-style home for himself on University Avenue—the main artery of the original village. The Paul Shoup House is the only Los Altos home on the National Register of Historic Places. A half-mile away, the Winchester-Merriman House on Edgewood Lane is the oldest home in Los Altos with roots dating back to an 1840 farmhouse. Sarah Winchester updated the home in 1888 into a Carpenter Gothic-style Victorian for her sister Isabelle Merriman. With mature foliage lining its picturesque streets, Old Los Altos gradually filled in over the years and today reflects a diverse range of architectural styles with abundant access to parks and preserves.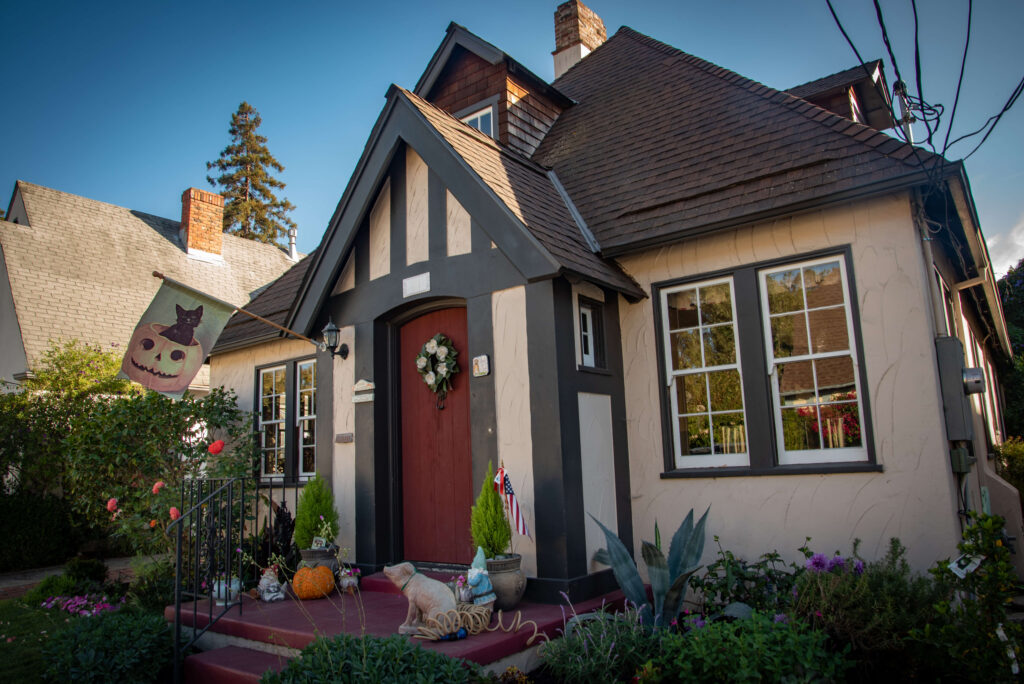 Willborough Place, Burlingame
words by Jennifer Pfaff
In the midst of the Great Depression, early local developers George W. Williams and Frank F. Burrows bet on Burlingame's future by building nearly two dozen homes on the grounds of a former nursery. Wedged between the newly constructed firehouse on California Drive and Crossway Road, the development was named Willborough Place—a combination of both the Williams and Burrows names. The developers engaged acclaimed architect William Charles Frederic Gillam, architect of the newly constructed St. Paul's Episcopal Church, to recreate an English-style village of modest homes built close together to enhance their charm. Bungalows with second-story dormer windows and cottages with steeply pitched roofs line the narrow streets. The designs relied heavily on extensive wood trim, both inside and out. Climbing ivy overtakes the sides of some homes and colorful flower beds and rosebush plantings add curb appeal. For those concerned about property investment in unsure times, real estate advertisements published in 1931 touted "quality and attractiveness, with prices in keeping with the times." Five-room homes were offered between $5,950 and $6,150, while six-room homes could be purchased from $6,300 and $6,500. The homes in this charming neighborhood are largely still intact—a testament to the timelessness of the developers' plans.