By the time she graduated from the Roman Catholic college Elizabeth Seton in New York, Kathryn Renz had completed a childhood of Catholic schools and, while she was destined for a life of sisterhood, becoming a nun was not in the cards.
In Kathryn's Redwood City office, a MAD magazine is tucked in the corner of the square shelves near a 2018 Rand McNally
road atlas that leans against an antiquated glass bottle, one of
the dozens of colorful and classic seltzer bottles she keeps, like the early-century Coca Cola relic from Clarksburg, West Virginia.
Inside this dimly-lit office in an industrial warehouse district, Kathryn presides over the only seltzer home and restaurant-delivery business in Northern California. The largest, perhaps, on this side of the country.
Kathryn achieved this feat after purchasing The Seltzer Sisters Bottling Company, Inc. in 2004. Founded in 1985, Seltzer Sisters was on the verge of fizzling out when Kathryn assumed control. She turned the focus to restaurants and bars, now comprising about 75% of the business, injecting momentum back into the company without abandoning her home customers. Many are transplants from New York themselves—the order sheet shows a lot of folks with the 212 area code—who continue to champion the tradition of seltzer.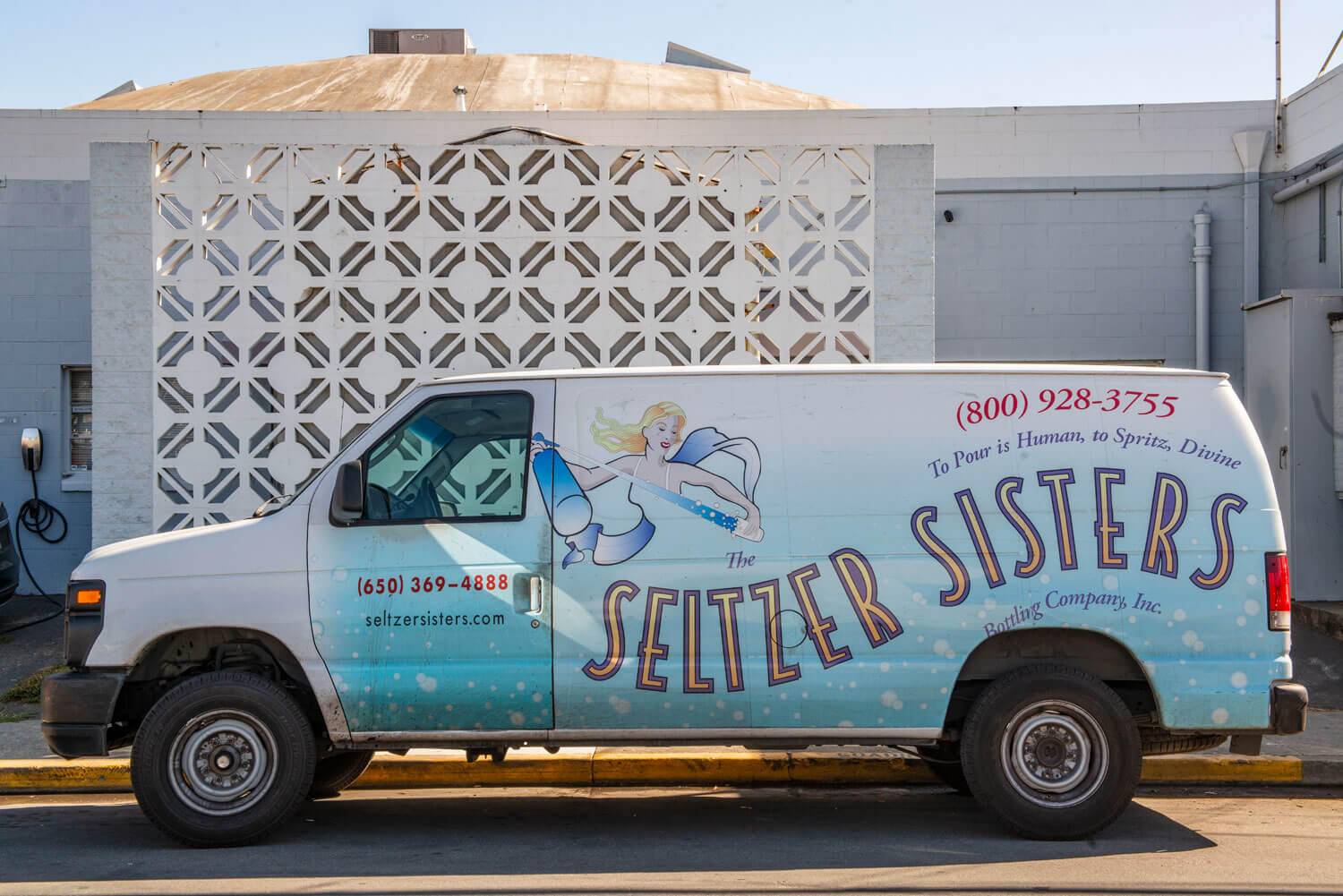 The purchasing of the business came with the name, logo,
a bubbly website and slogan: To Pour is Human, to Spritz, Divine—a cutesy catchphrase Kathryn could do without.
"I'm not a fan," she says. Why? She shrugs. C'mon sister, why?
"I have no sisters!" she comically retorts before leveling, "I don't hate it. It's just very kitschy." (Kathryn also confides that her only sibling is an older brother, who still resides in New York.) As Seltzer Sisters approaches its 35th anniversary, Kathryn plans to roll out a new logo that will wrap around each of her five delivery vans.
Although she comes from a background in marketing, Kathryn's advertising margins for Seltzer Sisters are quite slim. Her fleet of delivery vans do the work for her, such as the time a man chased her driver down to plead for selt- zer. Through word of mouth and customer delight, Seltzer Sisters attracts fans from across the entire Bay Area and beyond. Hollywood called in 2011 for 100 seltzer bottles to appear in the Water for Elephants adaptation and when entrepreneurs in Austin and San Diego recently needed guidance for opening their own seltzer businesses, Kathryn's phone lit up.
She'll tell you that seltzer drinking never went out of style because it truly hasn't. With its environmentally sound practice of refilling bottles, seltzer continues to adapt to future tastes. Look no further than any of the families with weekly orders or follow San Francisco bartenders, who bring Seltzer Sisters service wherever they go.
Seltzer continues to grow in popularity as parents seek a healthier alternative to soda and it's become a carbonic alternative for mixologists to craft cocktails. Chocolate milk, it turns out, comes alive when mixed with seltzer, becoming a classic treat called the New York Egg Cream.
The sparkling water, sourced directly from the much-heralded Hetch Hetchy system, is chilled and mixed with pure carbon dioxide to be pressurized in a bottle at 65 psi. The carbonic taste seems almost sweetened, although the nutrition label clearly shows zeros across the board.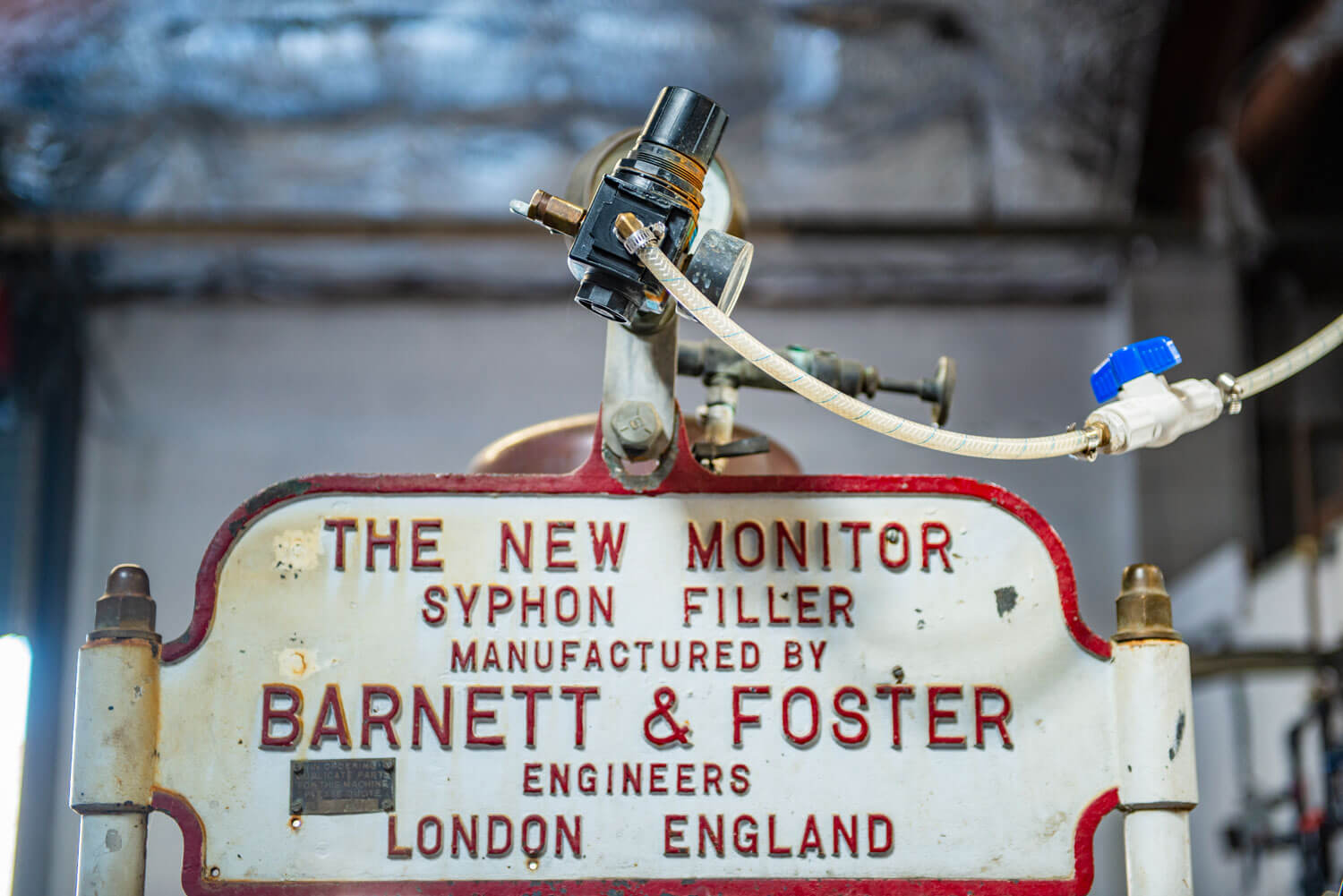 Kathryn checks in mid-afternoon with her bottler Jim Coulter after
he finishes his daily duty of filling about 200 cases holding six bottles apiece. It takes him five hours in the warehouse and a close relationship with an early 20th-century Barnett & Foster bottling machine to complete the order. The machine has six faucets that pump 1.5 liters per bottle. One rotation around the analog machine takes about 50 seconds, giving Jim just enough time to load another round.
When Kathryn had the idea to approach restaurants and bars, she encountered an enthusiastic reception. "Within a month we
had 30 bars," she says. "Within a quarter we had 100." The seltzer is bottled and delivered to customers within a day or two, stretching as far north as Napa. Kathryn used to keep bottles at home in case a bartender had an emergency call over the weekend. She's reluctant to name her biggest customers ("If I mention one, I'll have to mention them all, so I'll mention none," she says coyly.), but an afternoon at the seltzer factory reveals a few notable San Francisco hot spots: The Slanted Door, State Bird Provisions and Coin-Op Game Room, to name a few.
The home delivery system offers a glimpse into the lives in the community and Kathryn cherishes the fact that she's watched kids grow up through the years and glasses of seltzer.
"We have a unique connection with our customers. We know a little bit about everybody and it adds so much to be able to actually like your customers," she says. "Some of these people I talk to on the phone I consider my friends but I've never even met them in person!"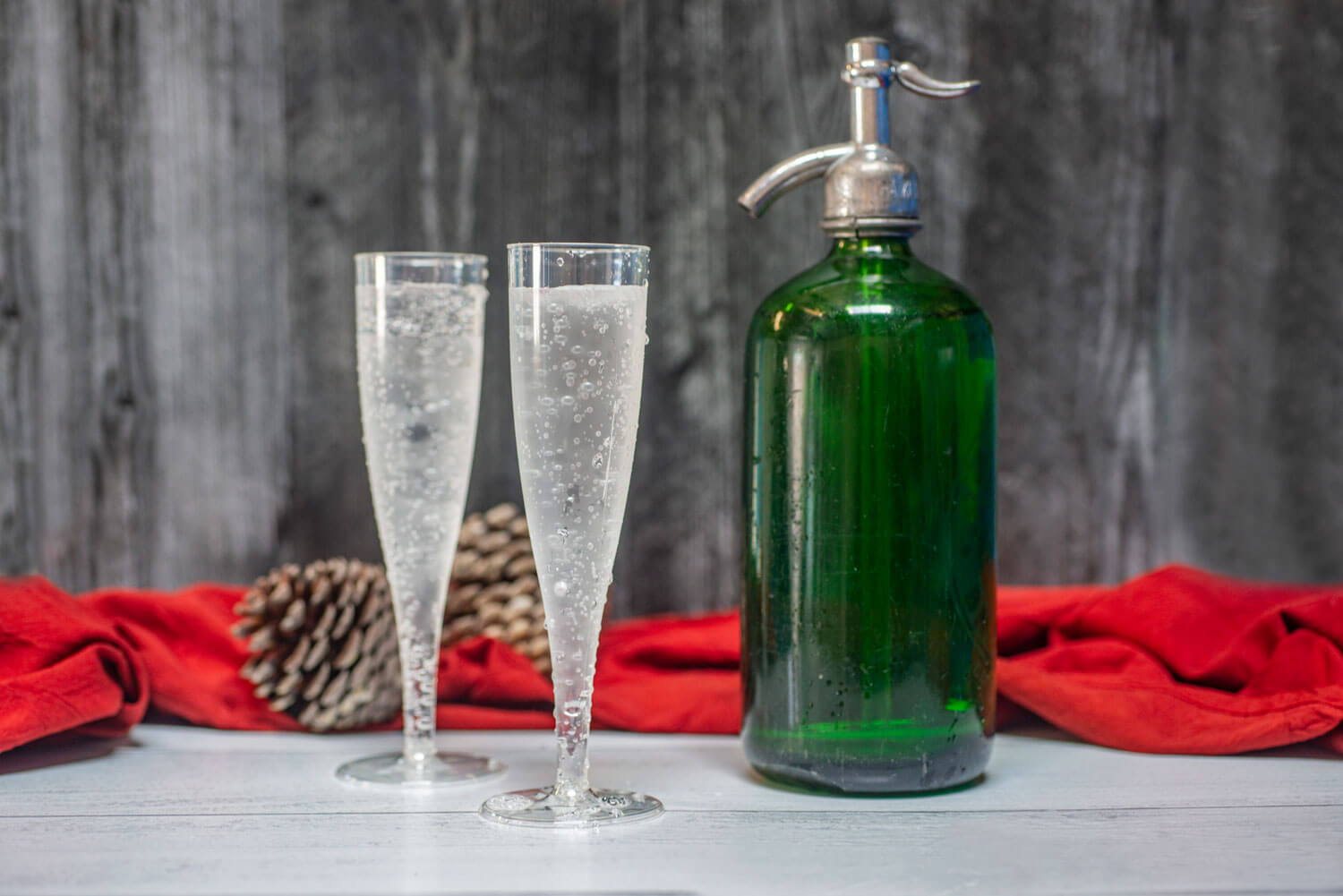 Seltzer Sisters is at its peak for deliveries from March to November and the winter is an opportunity to recharge as bartenders switch to a warmer menu and hot tea trumps sparkling water. It's also a season when Kathryn likes to give her six employees a break to be with their families.
Kathryn, a mother of four and a grandmother of five, lives in Pacifica, where she's been since 1989. Her first career was as a corporate product marketing manager for the likes of Arrow and Avnet Electronics and she found herself drawn to California through business trips. She arrived in 1985 and worked in tech until the early 2000s when her division at 3M was closed. Through the tip of a friend, she learned of the Seltzer Sisters' sale and made an offer. She liked that it was a business that celebrated her New York roots. Kathryn anticipates another few years before retirement and has already purchased a landing pad near Mesquite, Nevada. She then envisions a life on the road, traveling by RV to the corners of the country, maybe with seltzer within reach for when the moment calls.
"I think people see seltzer as a pick-me-up at the end of the day," she muses. "Take a moment, have a glass and then carry on with what you have to do."