We are so lucky. Not only do we live on the glorious Peninsula, but our location comes with proximity to the San Francisco International Airport. Yes, the airport! While other Bay Areans must contend with the vagaries of a long schlep home, we know the value of smiling out the airplane window, knowing our beds are but a stone's throw away—priceless. And there's another reason to smile, one you may not know: the museum at SFO is the only accredited airport museum in America. Another 'only in San Francisco,' except it's right here in our own backyard.
Let's start with the history: in 1969, San Francisco was one of the first cities to enact an ordinance requiring that 2% of gross construction budgets be allocated to the acquisition of artwork for new public facilities and civic spaces, including its San Mateo County-based airport. Then in 1980, funded separately by airport revenue, SFO Museum was established to further enhance the passenger experience. The result? More than 100 pieces of fine art in the SFO permanent collection and, within SFO Museum, over 140,000 objects in the aviation collection and around 45 rotating exhibits per year—featuring everything from photography, popular culture and curios to history, music and decorative arts.
And it doesn't cost the taxpayer anything. In fact, SFO Museum basically pays for itself. Bottom line for you? Free admission and world-class art, along with an ever-increasing list of cool bars and restaurants (give Samovar a try), all creating a great reason to visit SFO for a unique artistic adventure—with or without actually getting on a plane.
As part of a trial program, we received a special badge to access all the terminals both pre- and post-security in order to see as much art as possible. Happily, SFO Museum plans to roll out the badges on a limited basis to the general public sometime this year—stay tuned.
So, where do you begin? Driving onto the departure level, one of the first permanent pieces you'll see is Norie Sato's Air Over Under heralding the entrance to Terminal 2: it's that enormous grid of laminated glass panels shifting from blue to green to purple, illuminating images of birds and clouds. In front of the International Terminal stands more outdoor art, celebrated Mexican artist Rufino Tamayo's commanding Conquest of Space, a 32-foot-tall steel sculpture painted in red and blue.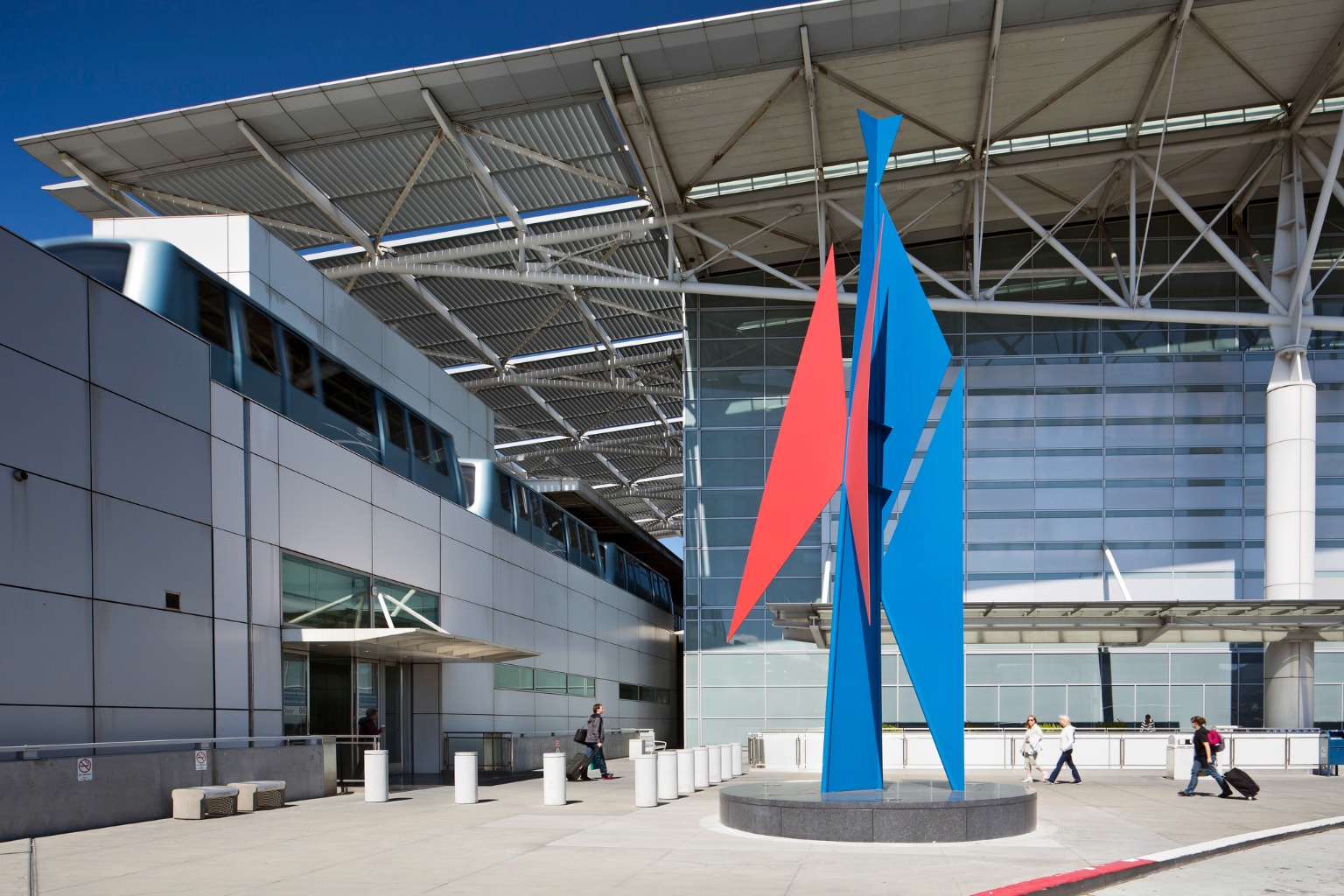 When you're ready for the indoor tour, start by visiting any of the Information stations and pick up a copy of Fly & Explore, a free brochure pointing out the locations of the temporary exhibits and permanent public art sites. The brochure's map illustrates which pieces require a plane ticket to view, so you'll know what to look for, where and when. For a deeper dive, you should peruse FlySFO.com/museum for tons of great background and descriptions. A hint: Don't expect the staff to know everything or even anything about the art; let the pamphlet be your guide and go on your own personal treasure hunt. That's part of the adventure!
If you're not in a hurry to catch your flight or rush home, or just any old time—may we suggest Date Night, Mom's Night or just Somewhere to Take the Kids Night?—pop inside the International Terminal and wonder at the abundance of free art located in its Main Hall. There, you'll find SFO Museum's vast aviation collection, permanent pieces integrated into the wall and ceiling, as well as five areas with rotating shows and video art. Right now, there's a display of hand-shaped wooden surfboards, short films, British silver, and a fascinating collection of incredible insects, appealing to the entomologist in us all.
If you are able to access the International G Gates, you'll discover a virtual El Dorado of astonishingly great artwork from beginning to end. And here's a well-kept secret. If you're flying in or out of Terminal 3 (mostly United), you can pass through security at the International G entrance, view the art, perhaps have a bite or drink, then slip down a passage to the T3 gates to board your plane and bonus: see all the art there. You can also do the route in reverse upon return. If you do, in G you'll find treasures including Leah Rosenberg's Everywhere, A Color, depicting San Francisco through a patchwork of vibrantly hued horizontal slats and Juana Alicia & Emmanuel C. Montoya's Sanctuary/Sanctuario, a rich muralesque painting depicting the Bay Area as refuge to people of different cultures, extending to the shore birds flocking annually to our surrounding wetlands.
There's so much to see in G that you might be tempted to take a break or turn around, but don't! The prize at the very end is a secret outdoor garden, opening to a view of the hills and airplanes cruising the tarmac. It's non-smoking, furnished with deck chairs and home to Woody De Othello's three hefty sculptures, Time, Turn and Light. They contribute to the sense of peace and fresh air punctuating the hectic terminal. Grab a Joe & The Juice or a bite at 1300 Fillmore and your respite is complete.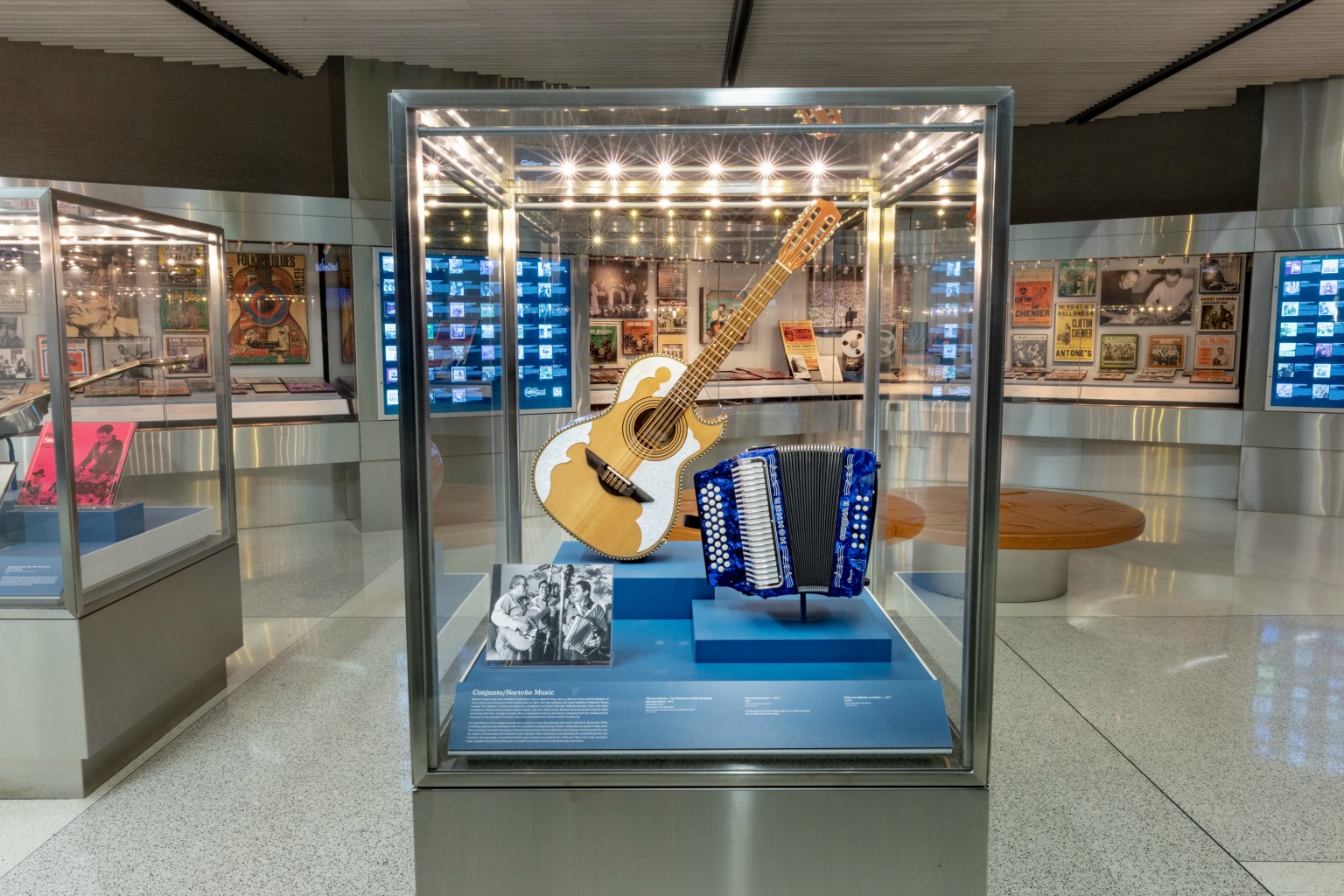 Next, take your treasure map and venture further afield into the aforementioned Terminal 3. There you'll find an original Wayne Thiebaud and Amy Ellingson's majestic mosaic Untitled (Large Variation) past security, as well as a thoroughly nostalgic treat, The Modern Consumer: 1950s Products and Style, showcasing period objects representing consumer culture. Outside security and on view to all is Gustavo Rivera's painting Azul, Azul y Hacer, a singular slice of culture unto its own.
Moving on to the ticketed area of Terminal 2, Janet Echelman's Every Beating Second soaring above is a star of the permanent collection, while the temporary exhibit Down-Home Music: The Story of Arhoolie Records is a priceless collection of authentic mostly black American musical history.
Terminal 1 is in transition as it expands. By July, the first nine gates will open as well as the new Grand Hyatt at SFO, with 60+ new pieces dotted throughout added to the permanent collection, in addition to several new temporary display cases.
Back at the International Terminal A Gates, there's more exceptional art including Joyce Hsu's Namoo House, a sculptural wall piece suggesting that the airport fuses science, nature and imagination to become a transient home to all travellers. Make it to the very end and you'll discover another treat: a couple of restaurants with bars and spectacular views, one of the prettiest and hippest spots at SFO.
Last stop on your tour should take you to the new long-term parking garage 2 located north of the airport. There, Joanna Grawunder's immersive LED installation Coding spells out "San Francisco" across its glass façade in Morse code. Of course.
There's lots more to see at SFO but we won't spoil it. Grab a burrito, banh mi or your roller bag and carry on to an art adventure all your own. You'll be glad you did.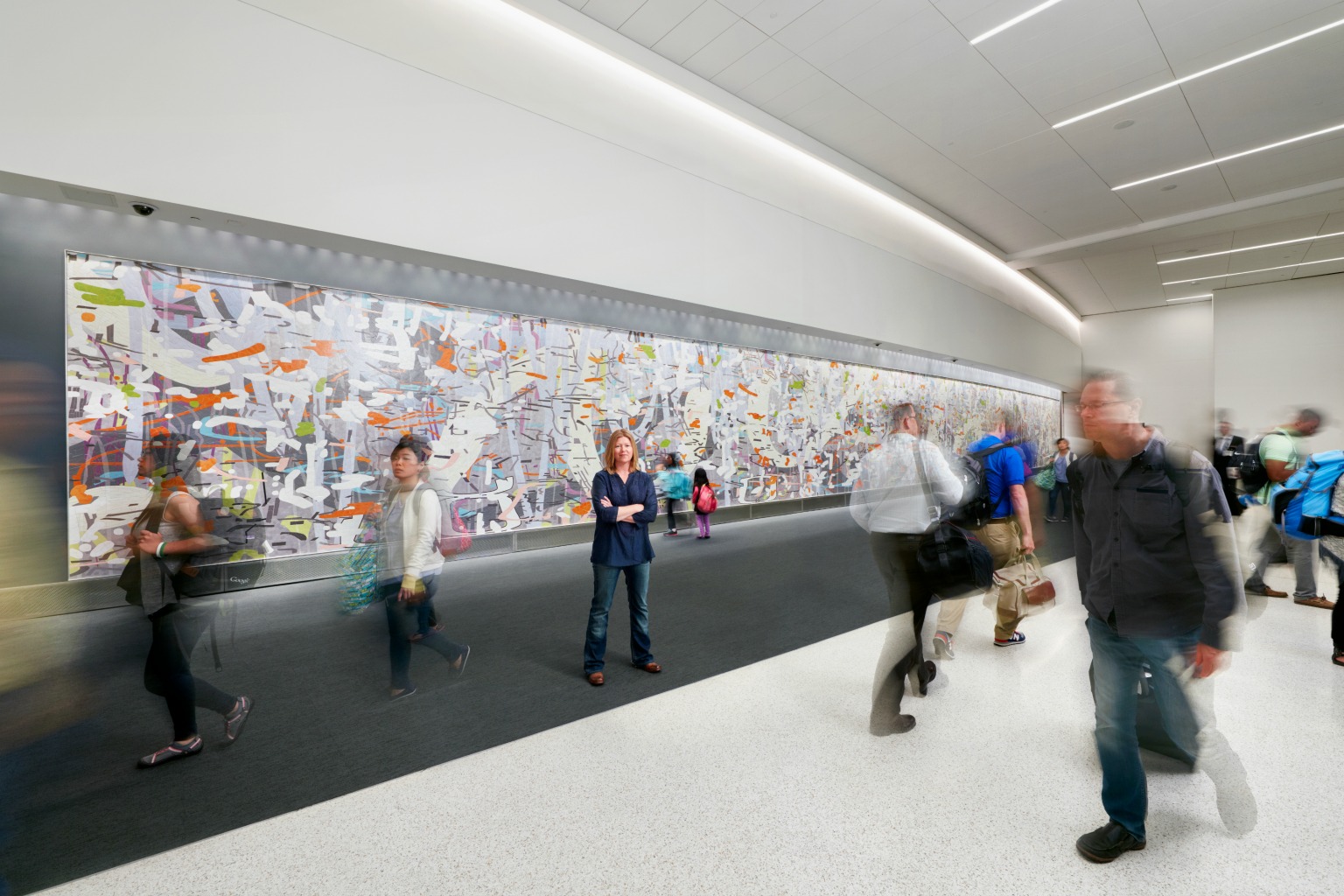 Portrait of an SFO artist: Amy Ellingson
Amy's mosaic Untitled (Large Variation) in Terminal 3 is part of SFO's permanent collection. The work is Amy's first public art piece and will be on display at SFO for at least 25 years—with an estimated seven million people passing by the mural each year, "an astonishing number," says Amy, who is also a Bay Area native.
How does having your work exhibited at SFO make you feel?
I feel a great sense of pride to have contributed to the experience of travelers and staff at SFO. While some might see the mural only once or twice, many people see it often, if they are frequent travelers or airport staff. I like the idea that it silently exists and, in a strange way, 'bears witness' to a range of human activity and emotion.
What kind of impact has being an SFO artist had on your career?
It is wonderful to have a piece that is always on view in a prominent location. Sometimes it results in professional opportunities, but sometimes it's just the pleasure of waking up in the morning and seeing that someone has taken a selfie with the mural and emailed it to me or posted it on social media.
How do you want viewers to respond to your work?
As an abstract image/object, it is not meant to be didactic. People are free to find their own associations and form interpretations. It is intended to communicate a spirit of joy, delight and buoyancy, while providing a perceptual, optical and tactile experience.