Although the calendar pinned up on a cabinet inside the kitchen of his boat clearly states that he's to be on vacation this week, Giuseppe Pennisi smiles as he gets back to work.
In the wee hours on a recent Friday morning, Giuseppe steered his 65-foot trawling boat named the Pioneer to a dock at the Port of Redwood City. The boat is sustainably conscious and uses a net designed not to scrape the ocean floor or catch fish too small to eat.
The F Dock is where Giuseppe has sold freshly-caught bottom fish directly from the boat for the last six months through his business—Pioneer Seafood. As the sun starts to set following a day of torrential downpour, Giuseppe and a slim crew are still working to offload thousands of pounds of ice-cold fish.
 Giuseppe operates a crane to lift barrels of fish from the Pioneer onto the dock, where his crew receives them in blue bins mixed with more ice. Another member of the crew works a forklift to load up a truck as a radio suspended by rope off the ship plays upbeat 1980s classics.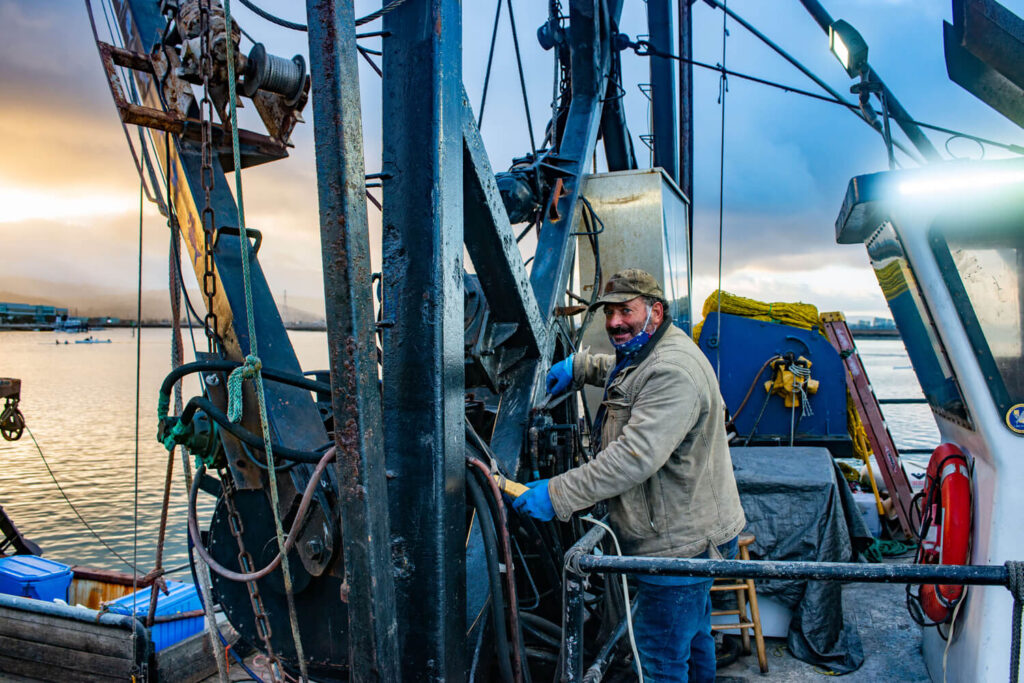 Pretty soon a crowd forms, both to admire the spectacle but also to purchase fish that, until 12 hours ago, were swimming deep in the Pacific off the California coast. Customers read the post on NextDoor or catch Giuseppe's update on his Facebook page, an active captain's log that he updates regularly with photos, videos and announcements for when the public can visit the dock for fresh purchases.
While the F Dock is active with a flurry of fishermen, the patrons are patient and treated to one-on-one focus and geniality from Giuseppe. He offers to slice each fish into fillets and is happy to relay a favorite recipe for preparing the chilipepper rockfish.
Giuseppe is approachable and easy to share a laugh with. His boots are splattered with residue from a long day at sea (he caught nearly 10,000 pounds of chilipepper rockfish along with 700 pounds of petrale sole) and his sense of humor quickly rises to the top.
"If I didn't love my wife and my kids, this would be the best job in the world," he says of the long hours and demanding work.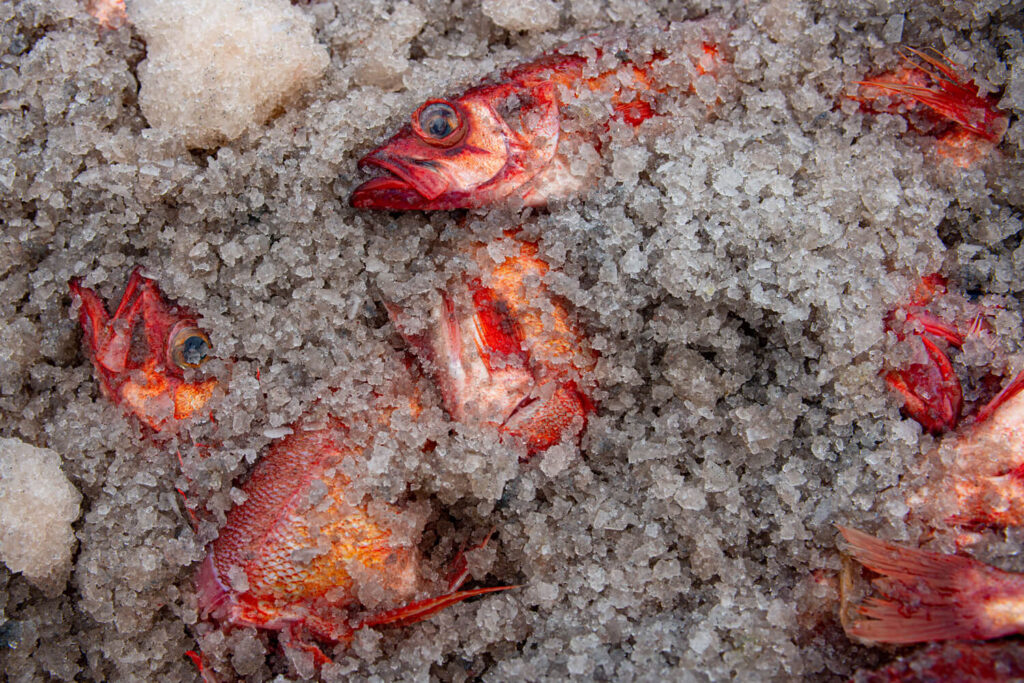 "When I describe what I do, it's something special. When somebody comes to the boat, they're so excited about picking out the fish and they ask questions. They're enthralled. They cook it and send us pictures. That puts on pressure to go back out fishing and bring joy to people."
But conditions on land are proving difficult for the third-generation California fisherman. He's watched an entire industry shift in his lifetime. Due to government regulations and pushback from environmental activists, Giuseppe says that independent fishermen like himself used to provide 90 percent of the fish consumed but now, decades later, it's down to three percent, replaced by either foreign or farmed fish. The squeeze has left him feeling dismayed but not discouraged.
"This is kind of like my last gift," he says of his business selling directly from the dock. "This comes from all the things I've learned. But this is not going to go on for another generation. This is over when I step off the boat."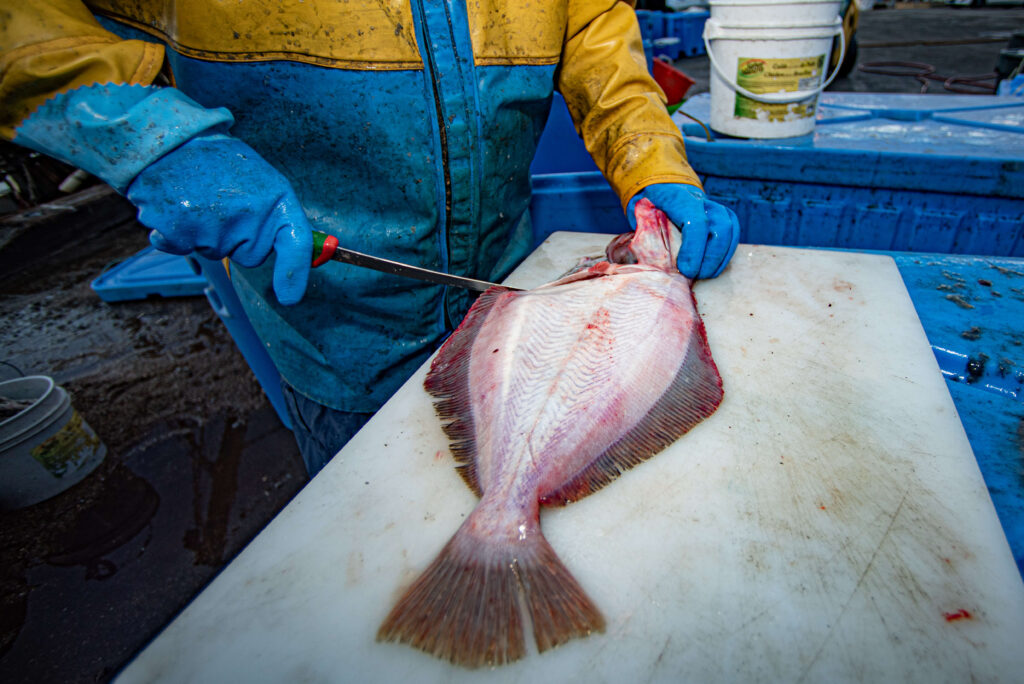 Giuseppe learned the trade from his father—who in turn, learned it from his grandfather who moved from Cecila, Italy, to fish in Monterey Bay—and grew up on the docks in Monterey and nearby Carmel Valley. His babysitters were fishermen who taught him Italian words and how to brew strong coffee.
Fishing and family were entwined, as was an aptitude for business. Giuseppe recalls a proud memory when he was a child on the Monterey pier presiding over the 5,000 pounds of red rockfish that his father had just caught. It was a sunny day on a weekend and someone asked if they could buy directly from Giuseppe. He sold a fish for 50 cents, then another and another. Before long, he and his brothers were hustling the entire wharf and hooking sales.
"I think by the end we only had 700 pounds of fish left," he remembers. "When my dad came back he was so surprised, 'What happened to all the fish?' We had these coffee cans full of money. I think about that day a lot. The people were so excited to get the fish off the boat."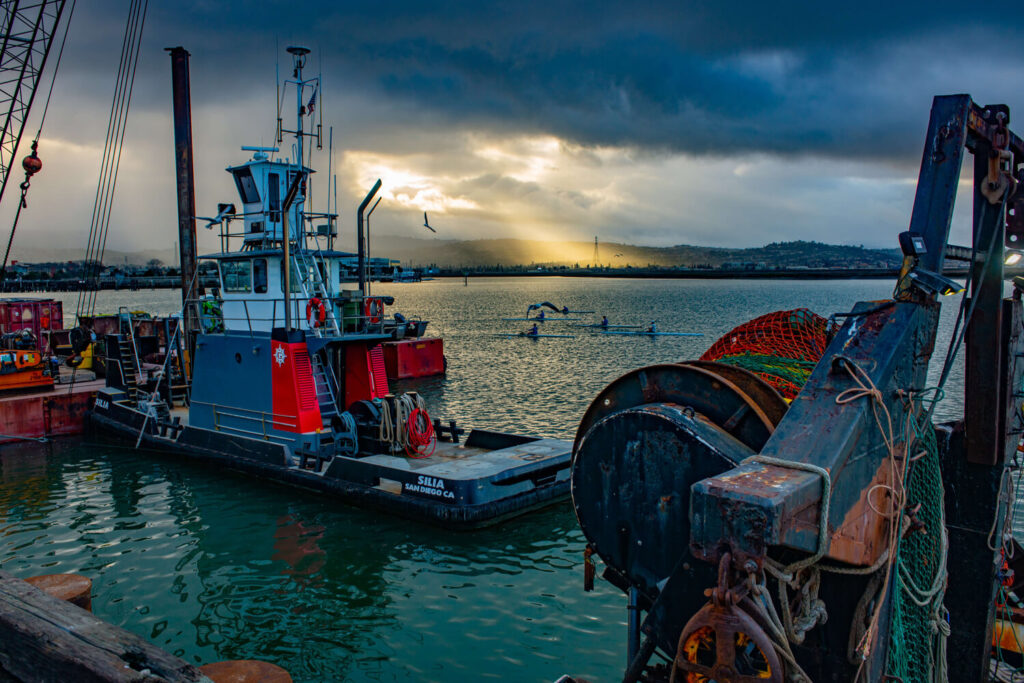 By age 15, Joe was working on one of his father's boats. He would eventually purchase a boat with his brother and they fished in the Bering Sea. He later worked for factory trawlers as well as a welder for a large fish company.
In 1997, Giuseppe met his now-wife Grazia, a Sicilian also from Monterey. They have six children together (Giuseppe has another child from a previous relationship) and the family lives in Chico. Giuseppe frequently makes the drive to the Redwood City docks and is sometimes away from home for weeks at a time.
"I struggle with that every day," he confesses. "Sometimes I only see my family three days of the month. I balance all of this in my head when I look at all the people who come down to the boat and are so happy to have access to this really great product. When you look at the money, the danger, the government challenges—it's a lot of weight. We've been hanging onto the bottom rung of this ladder for close to 30 years and I don't want my kids subjected to these harsh rules."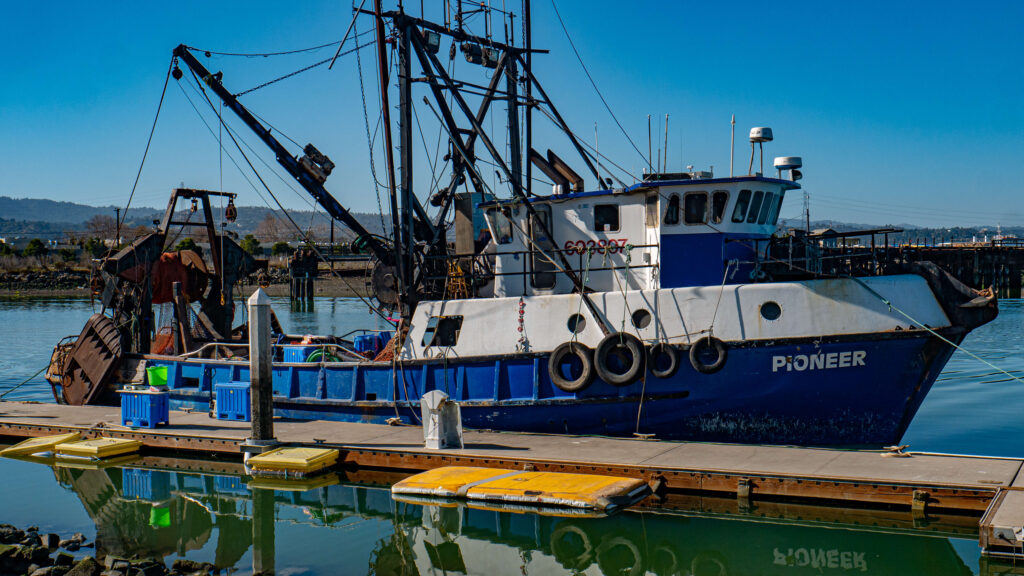 The difficulties haven't kept Giuseppe from sharing the sea with his children. In fact, about a year ago, he was fishing with some of his children off the coast when an unexpected storm gathered. He had studied the weather reports predicting a calm day but soon conditions grew severe. Waves crashed on top of the Pioneer and water began pouring out of the electrical sockets on board. Giuseppe downplayed the danger to keep his children from worrying but said it took everything he's ever learned to guide the boat to safe harbor in the San Francisco Bay.
It was an experience that nearly cemented Giuseppe's discouragement of his children following in the family's footsteps. However, he knows the lure of the sea and how a boat captures the imagination of a child.
"The kids will have eyes like hard-boiled eggs the minute they walk up the boat. When I see kids like that and people holding up a beautiful fish, it's really a special and magical moment," he says. "Even after all those sacrifices, when you see that person smile and how happy they get—there's something good for your soul at that moment."