Chef Simona Oliveri didn't plan to become the executive chef of Oak + Violet, the Park James Hotel's chic farm-to-table restaurant. In fact, when she answered a Craigslist ad for a prep cook to join the restaurant's opening team in 2018, her goals were modest.
"I wanted to be a part of this community, to have a place to go to work," says the Menlo Park resident, who emigrated from Sicily in 2017. The idea was to work the morning shift while her son was in school and build a catering business on the side. But things didn't quite go as planned.
When Oak + Violet's management got a good look at her resume, they came back with a better offer: the sous chef position. Simona signed on. Three months later, when the executive chef departed suddenly, Simona stepped up, taking on culinary operations for the entire property. Serendipity? Certainly. Not to mention a case of preparation meeting opportunity.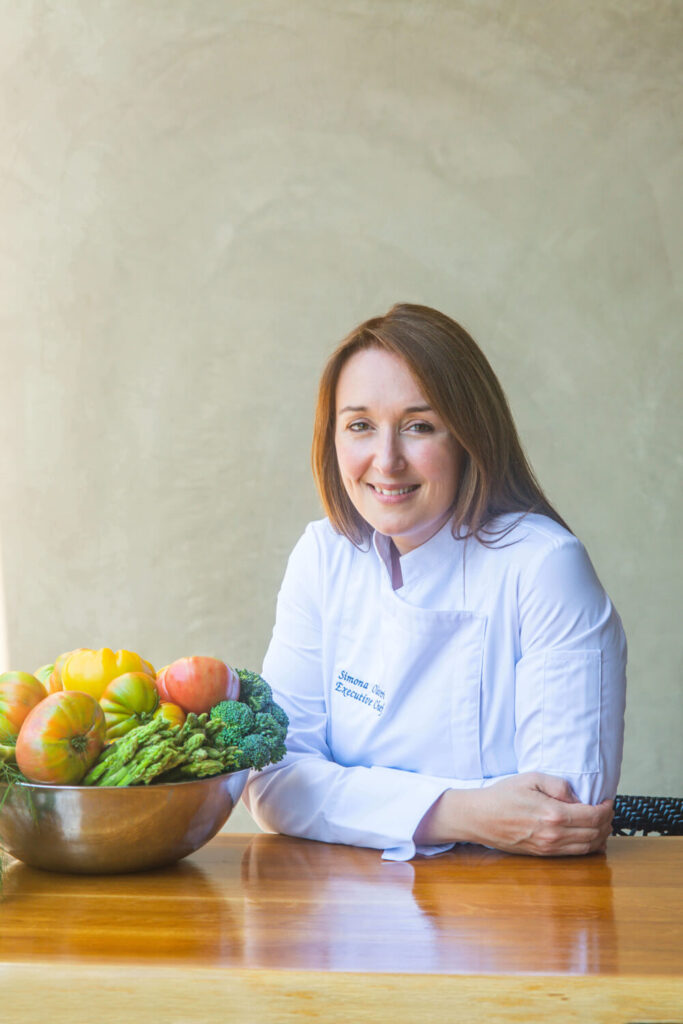 Born and raised in Palermo, Simona learned about growing, cooking and preserving food during weekends and summers spent at her family's country home. "When I was little, we went to the country house on Saturday," she recalls, "and Sunday night we'd load the car with olive oil, bread for the week and a big container of fruit." Everything was grown or made on the property. "I remember summers were spent cooking. We would have a truckful of tomatoes to make the tomato sauce for the next year," she says.
However, a career in food wasn't her goal. Simona knew soon after finishing high school that she wanted to be an architect. To fund her education, she worked as a prep cook, server and hostess for luxury yacht charters that traveled to the south of France and the islands around Sicily.
Traveling around Sicily provided opportunities to teach herself about ingredients and train her palate. She was intrigued by regional differences in familiar ingredients and ways in which those ingredients were harvested and used. On days off, she sought out local chefs who generously invited her into their kitchens.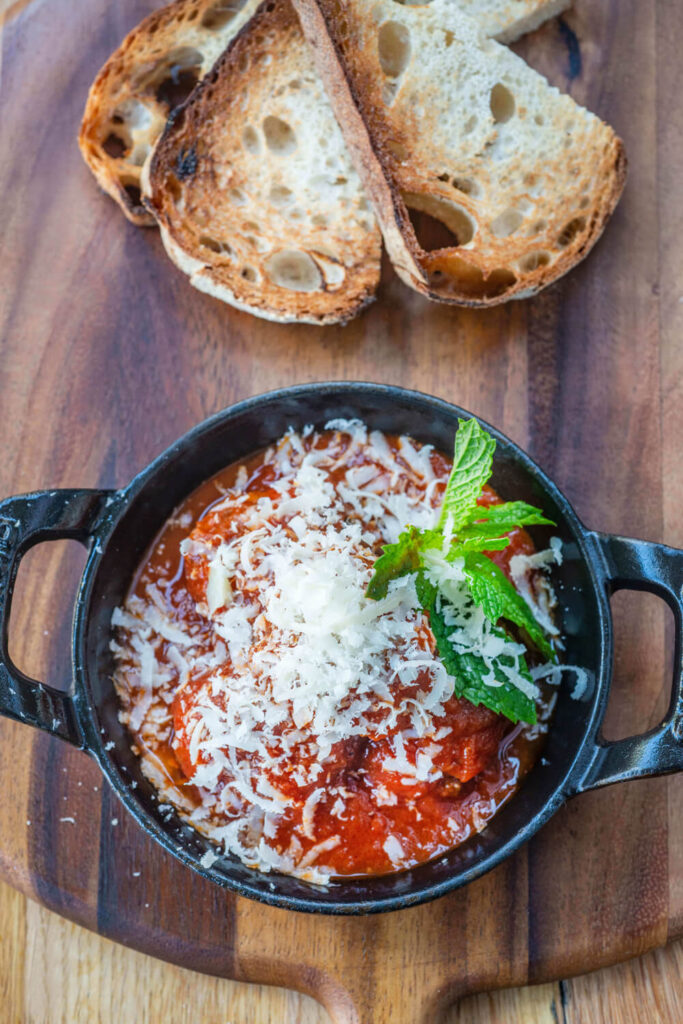 After completing her architecture degrees, Simona went to work for a large firm. Soon after, a friend who was a successful painter asked Simona to cater her exhibit opening. Simona took it on, treating the event like a design project, integrating the food with the exhibit. Her unique approach was a success.
"It also changed everything," she says. "It was more creative than architecture and a chance to get a connection with people and work with heart. I was able to blend two of my passions." Word of mouth brought more catering gigs her way. She left architecture and spent seven years building her catering business while emphasizing fresh ingredients, promoting small suppliers and creating memorable experiences for clients.
Leaving her business to come to the U.S. was "really, really hard," she says, not to mention that "the first year, I was isolated because I couldn't speak English." Focusing on what she knew, Simona started Boniface Fine Catering, creating her style of Italian food for private events in Palo Alto, Menlo Park and Atherton.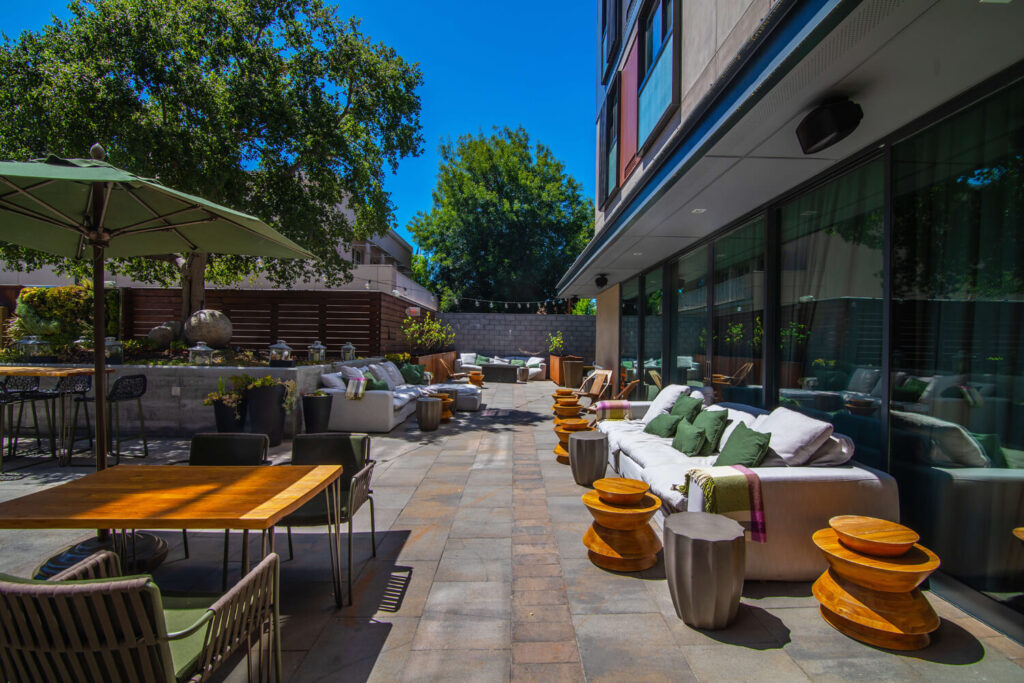 Still, she was struggling to find her feet here and decided that she needed to be part of a team: "I needed to walk into an American kitchen and see what they do, see how it works here." Oak + Violet provided that opportunity, and now she's leading the team. Simona is grateful for the experience and their support. "I love my team. They're everything," she says. Acknowledging that she's in a role that only a small percentage of female chefs attain, she notes, "As a woman chef, you know it isn't easy. You need to work harder."
Central to Simona's culinary responsibilities are menu creation and day-to-day production for Oak + Violet and O + V Courtyard. With an upscale mid-century style, both spaces provide an elegant yet comfortable spot to drink and dine for hotel guests and locals alike. Created by Parisa O'Connell Interior Design, the dining room is decked out with light wood floors and slatted wall panels, warm white walls, barrel dining chairs upholstered in violet velvet and luxe leather banquettes.
Unique touches include the Connemara marble dining bar that gives diners a view of the glassed-in kitchen and a custom cowhide wall design that incorporates the property's color scheme. (The dining room remains closed while COVID-related health concerns continue.)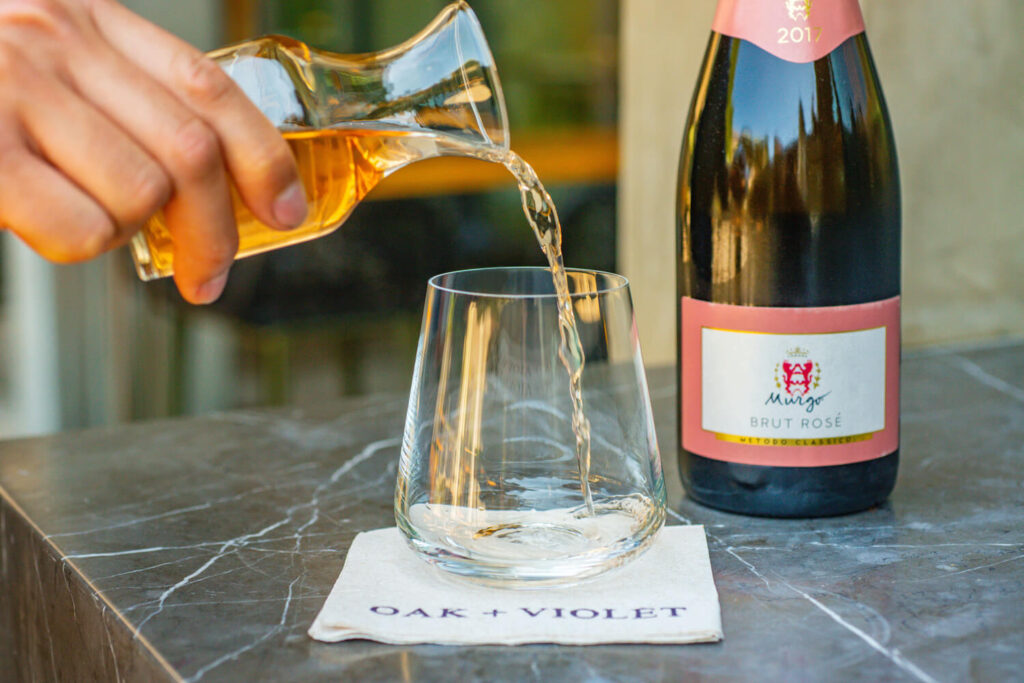 The dining room leads to O + V Courtyard, an outdoor space that echoes the interior's clean-lined design with light wood tables, dark metal chairs with green cushions and a large gas fireplace. String lights hang above the space, creating a cozy ambiance at night. The courtyard's large cushy couches have been removed, and the space has been redesigned as the hotel's sole dining area during 2020.
Oak + Violet offers weekend brunch and Monday–Saturday dinner service. The brunch menu includes the requisite Avocado Toast, along with indulgences like Croissant French Toast and Chicken Confit + Waffles. Day drinkers can enjoy a Courtyard Bloody Mary or a choice of four flavors of mimosa. The bar program also includes craft cocktails, a California-based wine list, assorted beers and mocktails.
The dinner menu recently received a creative redesign when Simona partnered with Shelley Lindgren, award-winning co-owner and wine director of A16 restaurants, to create a new food and wine experience for Oak + Violet diners. Dubbed "Sicilian Summer Nights," the seasonal menu draws from Simona's culinary roots and Shelley's passion for Sicilian wines.
Sicilian cuisine, influenced by a variety of cultures—including Arabic, Greek, French and Spanish—relies heavily on seafood and fresh produce, ingredients that are abundant in the Bay Area. Simona wants the new culinary offering to "bring people to another place and provide a bit of an escape," she says, at a time when leisure travel has been curtailed.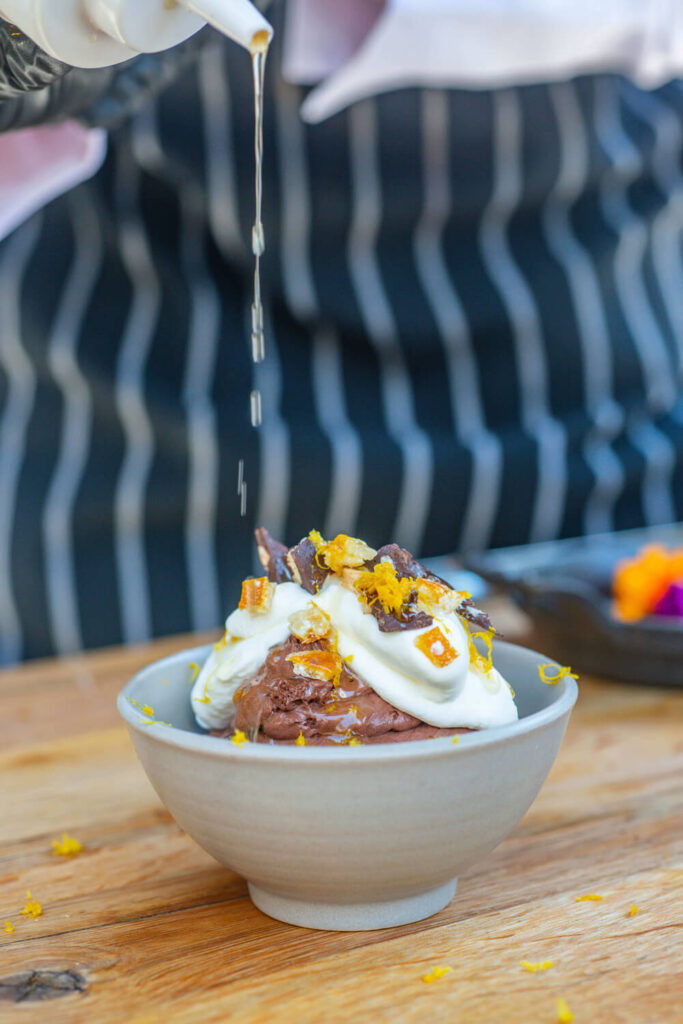 Small-plate highlights include the Sicilian-style Sardine Meatballs, a rustic vegetarian charcuterie board of grilled summer vegetables with dipping sauces and the almost-too-pretty-to-eat Tomato & Burrata Salad with watermelon, pistachios, fresh herbs and edible flowers.
Summery main courses include Seared Scallops and Shimeji Mushrooms, Linguine Trapanese with almond pesto and roasted Branzino with olives, fennel, sweet peppers and romesco sauce.
Sweet indulgences like the Gelo di Melone, a delicate watermelon pudding served with chocolate and pistachios, and the refreshing Lemon Sambuca Sorbet, along with a Dark Chocolate Mousse, make up the dessert menu.
Shelley has selected eight Sicilian wines to pair with Simona's dishes—a sparkling rosé, three whites, and four rosés. The idea, Simona says, "is to pair each dish with one or two wines," offering a complete tasting experience. Keeping with the Sicilian theme, several new cocktails have been added to the bar menu, including the tequila-based Palermo Punch, a nod to Simona's birthplace.
Chef Simona is already thinking about the next culinary journey menu. She's also considering a project to bring the extra virgin olive oil from her family's country property to the U.S. But for now, she says, "I'm one hundred percent focused on Oak + Violet. This is everything for me."